Preview: Michael McIntyre ready to delight Aberdeen fans with show packed full of silliness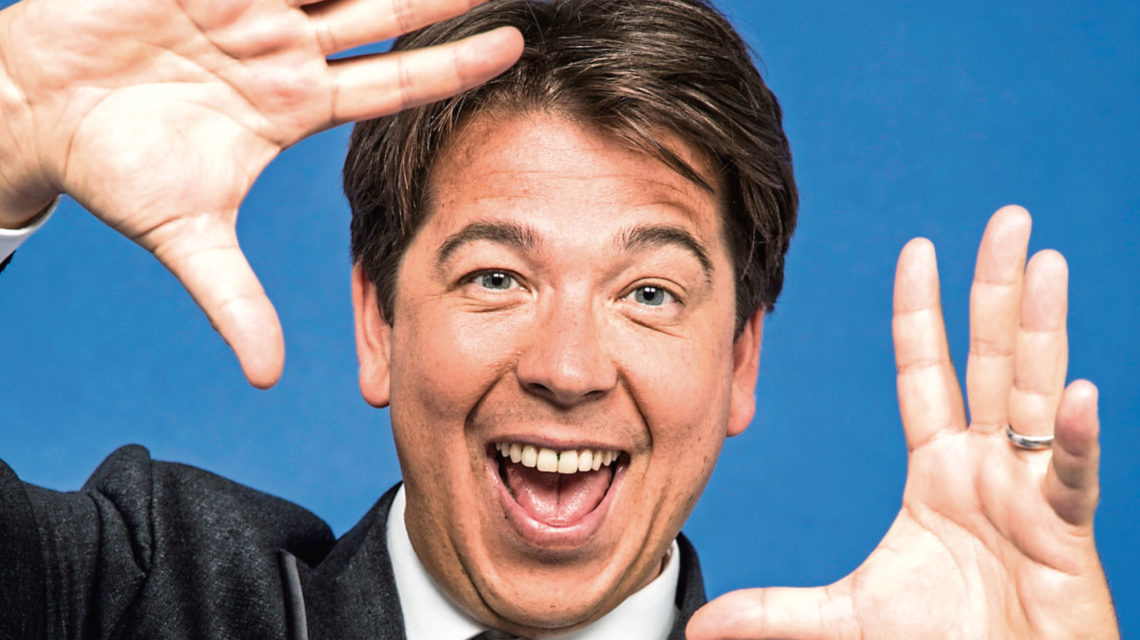 It used to be that when Michael McIntyre looked out at the sea of faces in an arena audience he would think: "Great, what's on tonight? Oh, my God, it's me."
But these days the much-loved comedian has absolutely no qualms about the prospect of entertaining thousands of people in the country's biggest arena venues.
He just keeps to his mantra…just be really silly for two hours.
"My show is about silliness and exaggerated stories," said Michael, ahead of his two-night stand at the AECC next week with his Big World Tour – his first in three years.
"I like jokes where people don't stop laughing. I want that all the time."
And the funnyman confesses he has little use for punchlines – especially in arenas.
"They freak me out. There is nothing worse than 15,000 people waiting for a punchline. You're standing there thinking: 'I hope I remember the punchline', but once you think that, you immediately forget it. I much prefer getting into that sense of rolling laughter. When you get that right, there's no better feeling."
Michael, who has a huge following in the north-east thanks to his many TV appearances, is renowned for finding the funny in the ordinary and mundane.
His "man drawer" and "herbs and spices" routines are frequently cited as fan favourites.
"We're all living the same lives. I highlight something that people haven't really thought about before. They realise we all do the same thing and it makes them laugh. When I hit those moments it creates a very big laugh indeed."
One theme Michael likes to return to is his family – and they will be front and centre of his Granite City show.
"I always talk about my two boys," he said."That's an ever-evolving subject.
"I will definitely be doing jokes about my oldest getting a little bit teenager-y. He has an amazing ability to say the word 'sorry' in every way other than the one which means 'sorry'."
But the comedian's wife may not feature as much as she might have done in the past, he says.
"She seems to be in the clear at the moment. She's had it quite bad in the past. That was never clearer than when we went to the Royal Box at Wimbledon. "At one point Prince William walked past. He stopped and said 'hello Michael'. Then he turned to my wife and said 'so you're the one in all the jokes'.
"Prince William has been watching jokes about my wife farting at night! But things are looking pretty good for her in this show."
It's called the Big World Tour because Michael is, basically, playing the world – including Europe, Australia, New Zealand, the US and Canada.
Michael said: "I'm one of the biggest acts in Norway! Who knew? I'm playing to 7,000 people in Oslo in 2019 and the show has already sold out. I think they come along to practise their English and laugh, even if it's just to pretend to their partner they get the joke.
"But what I really like about Norway is that I can't read the reviews because they're all in Norwegian."
As for those arenas, which once daunted him, Michael now thinks there is something magical about them. And that includes the screens, which he thinks makes the performance very intimate by letting people see the subtlety of a stand-up's facial expressions – something you might not pick up in a large theatre.
He said: "Some people say 'you might as well watch an arena performance on the TV'. But it's not the same. An arena show is live, it's not an edited TV programme. Things will be happening in that room that night which will never happen again.
"When you're there, the atmosphere is amazing and you're surrounded by people really laughing. Nothing beats that.
"Rather than be frightened by that, I really feed off it and enjoy the fact that each night is a one-off. It's everyone's special night out and I have the privilege of sharing that with them and I work to make it the best night it can be."
So what does Michael hope his Aberdeen audience will take away from his two AECC shows?
"I would like them to take away the programme, the merchandise and the motivation not to write a bad review which I will read in the car on the way home."
Unless it's in Norwegian, of course.
Michael McIntyre's Big World Tour is at the AECC on Tuesday and Wednesday next week.