One Night In Las Vegas to arrive in Aberdeen this weekend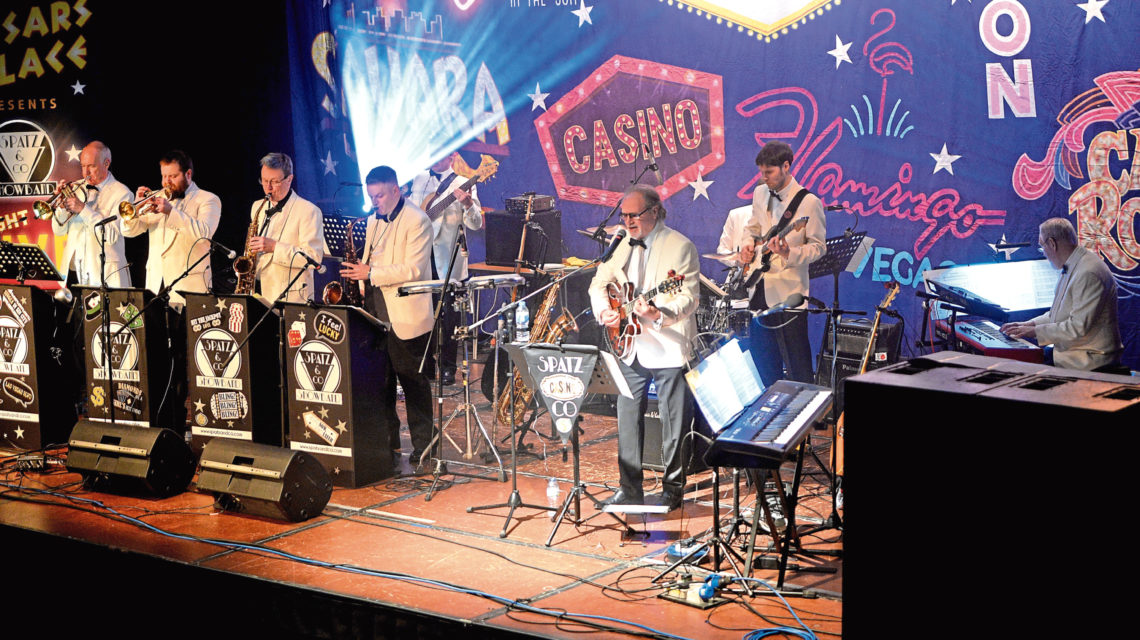 Las Vegas is a magnet for everyone who loves to see a huge, glittering show with some of the biggest names in showbiz – it's just a bit of a trek to get to from the north-east.
But a crack team of top musicians are out to solve that problem – by bringing One Night In Las Vegas to Aberdeen.
And Spatz & Co promise a night that will recreate the megastar wattage of acts from Frank Sinatra to Eric Clapton who played in iconic venues like Caesars Palace, The Sands and The Flamingo.
The evening, at Aberdeen Arts Centre tomorrow (Saturday), isn't just a concert with music from big band to blues, reggae to swing… it's a theatrical experience, said Spatz bandleader and vocalist Roy Mac.
"I've put together a group of very fine solo musicians. Over the years a proper platform for that kind of excellence doesn't exist anymore. We've wrapped our music into a theatre show and setting," he said.
"There's a story there with a history.
"It makes it more interesting than just sitting in a concert. Also, being in a theatre means it has to be highly visual, so there's a bit of humour and a bit of showmanship to go with the stage setting."
Roy said the show was inspired by the fact all the great acts have appeared in Vegas. It's a theme that allows Spatz to explore the razzamatazz and showmanship of the "entertainment capital of the world".
"We went through the shows staged there over many years, selected a few then chose music from them. "One minute its big band, the next it's blues, or it's soul or it's funk, or it's pop, or jazz or even reggae. It's really a variety show."
Spatz & Co is Scotland's only professional showband and is made up of nine musicians with a raft of experience.
Between them, they have played with some of the biggest names in music and showbusiness, from The Drifters to Cleo Laine, Jamie Cullum to Curtis Stigers.
That means the level of musicianship which they bring to the show is second to none, even when switching between such a broad range of styles and genres, said Roy.
"The disciplines required to play all those genres don't really exist, so what I've done is bring together a group of musicians, all of whom are specialists in the genres. They are all band leaders with their own outfits so they only come together for these kind of theatre shows."
The show itself took about a year to put together as Roy carried out research into the acts and music, ensuring the mix and variety of numbers was right, along with the arrangements for them.
As a vocalist, he has his work cut out, too. But he admits he does have some favourites.
"Sinatra is a particular favourite and I've done it for years. I never try to be Sinatra, though, I never try to be the person we're singing about. It's always about the music, it's about the song," said Roy.
"The other one I would say is Gerry Rafferty. "Interestingly, the very first professional gig I ever did at the age of 16 was a warm-up act. The headline act was The Humblebums, which was Gerry Rafferty and Billy Connolly."
And Roy, who was born in Aberdeen before his family moved to the Borders in his teens, is looking forward to welcoming a mixed audience back to the Arts Centre to enjoy the range of music.
"Audiences react extremely well. We've been on the go for three and half years and the question we always get asked at the end is 'When are you back?'.
"We have them rocking in the aisles at the end. "Expect to have that feelgood factor – everyone goes away on a high."
One Night In Las Vegas is at Aberdeen Arts Centre tomorrow