Louie Spence to bring spellbinding energy to Aberdeen panto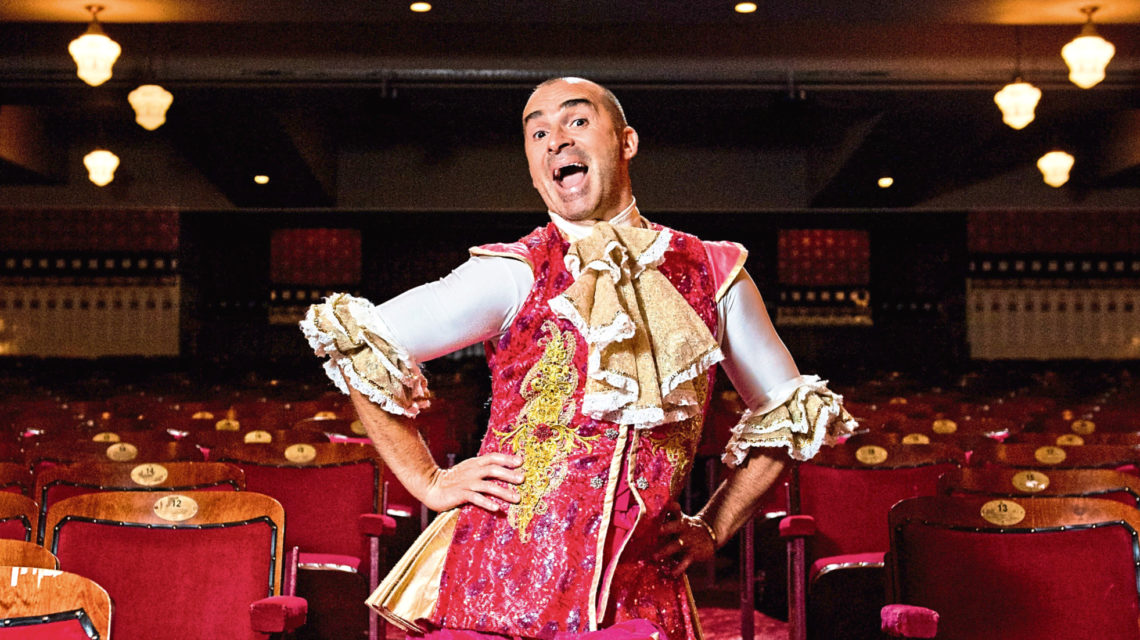 Louie Spence is good with languages… he speaks Italian and Spanish as well as English. But Doric, now that's another story.
"There were moments when I didn't understand what was going on in the script, until I got here," said the dance star and TV personality, who is getting to grips with the mither tongue for his headlining role in Cinderella, His Majesty's Theatre's glittering panto.
"I am bilingual, I just don't speak Doric… but it is being translated for me. It's not even about speaking Doric. The other day, everyone said 'we're going over the road to rehearse' so I literally went over the road. They were looking for me. When I came back they were next door (in the church next to His Majesty's). I said, 'Why didn't you say next door, we didn't go over the road at all?'. Never mind Doric, I don't even understand where they are sending me to rehearse."
Overcoming language barriers apart, Louie can't wait to get in front of an audience from this Saturday.
He said: "I love doing Cinderella, it's the pantomime I have done the most. This is my 10th or 11th and it is one of my favourite characters, being Dandini.
"Dandini is Prince Charming's manservant and because of my character, it's very camp and over the top. I think the young kids are just spellbound by the energy and that kind of character. It's very physical with me, and I do all the little dance moves, which they love. My Dandini is very fast, very quick and very witty, and we have some great dances.
"And it's one of the most magical pantomimes, the costumes, the special effects… I always feel the magic with Cinderella."
But then Louie, who shot to fame with hit TV show Pineapple Dance Studios, loves everything about panto.
"Pantomime is something where audiences are invited – they don't feel threatened about going to the theatre and not understanding the script. I've done that, I've gone to the National and things, and I haven't got a clue what's going on. But with pantomime everyone knows they are welcome and knows they are part of the show because there is that interaction. With that relaxed atmosphere, that's what makes it so special.
"Also, families get together, it's part of their tradition for Christmas."
And the TV star, who found new fans in shows like Celebrity Big Brother and The Jump, says His Majesty's audiences are in for a treat when Cinderella starts its five-week run this Saturday.
"Cinderella always works. Everyone knows the story, some of the routines we have in it are funny and family-friendly. There is something for everybody and the audience will love it."
And Louie is full of praise for his fellow Cinderella stars, including Aberdeen's own Laura Main, panto dame Alan McHugh, and Paul-James Corrigan as Buttons.
"It is lovely when you have a really together cast. You know everything is going to hit."
Central to his role will, of course, be some eyecatching dance moves. It is, of course, dancing which is Louie's first love – even if he did get in to the art form in a roundabout way.
"I had two elder sisters who went dancing and there were three of us. My mum had three kids in the space of three years, back to back. I think she just wanted to get rid of all of us so she could have a couple of hours on Saturday morning to do the food shopping, so that was the main reason I went," he said.
"But I ended up being really quite good and I loved it. But that was the main reason I started dancing. It wasn't because I wanted to, it was because my mum wanted to go shopping."
It was a move, though, which saw him take off in a glittering career, with West End musicals including Miss Saigon and Cats, as well as leading to his TV work.
"As a dancer I really lucked out. There are not many dancers who become a household name. It is a very difficult profession.
"But I am incredibly blessed to have an amazing career as a dancer and then I stopped dancing when I became known. It was maybe my character that caught the nation of just being really fun and carefree."
And Louie is more than happy to have appeared in a rich range of reality shows.
"Anything with celebrity that pays me, I'll do it," he joked.
And Louie admits he would love to do I'm A Celebrity… Get Me Out Of Here.
"God knows, I have so many phobias. I think it would be a challenge and fun."
His next project, after the panto, will see him sparking that love of dance in a new generation.
"I have started doing a Louie Spence Masterclass," he said. "I did a tour last year, going around the whole of the UK, with three other choreographers doing four different styles of dance.
"It is trying to take these incredible professional choreographers I use to all these different areas, so these incredible young dancers get a chance to experience what it is like to work with people, and the standard they will have to be at if they want to do this as a profession.
"But it is in a really comfortable, friendly, not threatening environment, where they can feel relaxed and enjoy what they do. If you don't love what you do, it's not worth doing."
Louie said he loved seeing so many kids thriving after a day with him and his team that he is doing another tour next year between January and April, including Aberdeen.
He said: "I am in such a fortunate position and I forgot how much I love to dance. And the buzz I get about seeing young people achieve their goals – I remember what that felt like."
For now, though, his focus is very firmly on bringing Christmas joy to city audiences in Cinderella.
"I love that interaction in panto," he said.
"You can see how much people are enjoying it. When you see people genuinely laugh and you know you have made someone laugh, which in panto is always guaranteed, it's an amazing feeling."
Cinderella runs at His Majesty's Theatre from this Saturday to Sunday January 5. For tickets visit aberdeenperformingarts.com