From existential tap dancing to love and marriage at heart of crime drama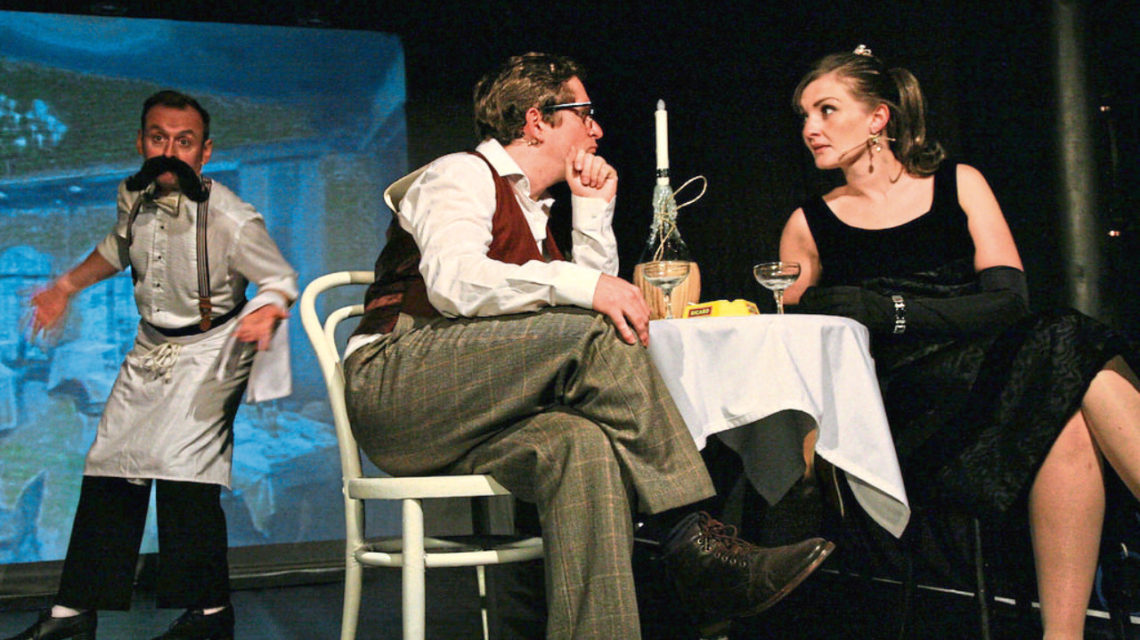 So the world's most beautiful woman, the world's greatest dancer and the world's most influential philosopher are in a room…
It sounds like the set-up for a high-brow joke, but it's actually the premise of Tap Dancing With Jean Paul Sartre, the latest play from Grantchester author James Runcie.
And he promises Aberdeen audiences are in for some fun – with a message – when it arrives at The Lemon Tree to kick off the new season of A Play, A Pie And A Pint on Monday.
"I'm very keen that everything should be fun, but with a serious twist, so just to be flip this is intellectual panto – or the world's first existentialist musical," said James.
The premise is an unlikely one, bringing together Audrey Hepburn, Fred Astaire and Jean-Paul Sartre in a room in Paris in the spring of 1956 during the making of classic film Funny Face.
James said: "In the film, Funny Face, the plot centres around this bogus philospher.
"The concept is really, really simple. They teach Sartre to tap dance and he teaches them the meaning of life. That is the play in a nutshell."
While that might seem all a bit heavy, James – who is the son of former Archbishop of Canterbury Robert Runcie – says the aim is for the audience to have fun.
"There are lot of jokes," he said. "We've worked very hard on making something that is just light. But I think it is terribly good fun. You do want people to go out singing and dancing, you don't want them to go out feeling worse than when they went in. I have a line in there – 'that's what serious plays are for'."
And it seems to be working, going by the audience reaction in Òran Mór in Glasgow, where this A Play, A Pie And A Pint work was first performed.
"It has gone down a complete storm," said James.
But then Tap Dancing With Jean Paul Sartre, directed by James' wife Marilyn Imrie, is blessed with a talented cast, including Ashley Smith, of Scot Squad fame, as Hepburn.
James said: "It was written for Ashley, then we have Kevin Lennon, who plays Sartre, and we have a wonderful performance from Darren Brownlie, who has choreographed it."
Given the nature of the show – not to mention the dancing to music such as It Don't Mean A Thing If Ain't Got That Swing, Some Of These Days and I Love Paris In The Springtime – was it a challenge to write a short play that people can take in over a pie and pint?
James said: "Well, you've got to keep it on the move, keep it going. People have got their pies, they've got their pints, they might even chat to each other during it. You've got to keep it up, get downstage and show off, basically."
This is James' fourth work for A Play, A Pie And A Pint and he's a huge fan of the concept, crediting it for creating new writing and theatre, launching careers and giving artists the freedom to take risks.
It's certainly a gear change from James' best-known works, the Grantchester Mystery novels, which feature 1950s crime-solving vicar the Rev Sidney Chambers. It's now a hugely successful TV series starring James Norton as the clerygyman sleuth, and Robson Green as Detective Inspector Geordie Keating. What does James think Grantchester fans will make of Tap Dancing With Jean Paul Sartre?
"There's the same spirit of humanity in it, so it's not actually as big a leap as it sounds," said James.
"Grantchester are kind of moral fables. They are not necessarily whodunnits – they are whydunnits. They are moral stories about human behaviour and what people do when they are desperate. This is a moral fable about who are we, what are we doing. There's a bit less God in this but there's plenty in it for Granchester fans."
James thinks his Grantchester novels are popular in part because readers can track the story of the five or six key characters' lives over time, almost like a soap opera.
"It chronicles the story of a small community and tracks sometimes the quiet desperation of everyday life, with a kind of loving humanity and I think people like that.
"It's not some big dark pschyodrama, it's the small things – admittedly laced with murder, sex, betrayal and intrigue.
"And it is about the nature of love and marriage," said James, referring to the relationship between Rev Chambers and his wife Hildegard, which is pivotal to the novels.
"There are six books which eventually become a portrait of a marriage and it's very much about marriage and family life."
While he enjoys the TV series, James does say it's like a "parallel universe" with the show departing radically from the books.
"The major crucial thing is that in the TV series, he doesn't marry at all," he said. "I think they want to give the audience the illusion that you too could marry James Norton, anyone could. He's available."
But he's delighted by the show's success and pleased it is now filming a fourth series to go out next spring… one in which James Norton, who has been tipped for major stardom and linked to the role of James Bond, bows out.
"James is wonderful, but he is much sexier than he should be," joked James. "But he's off to be an international film star. Whether he'll be James Bond or not, my money's still on Idris Elba.
"But now he's being replaced they have another sexy priest. In the publicity shots there are two sexy priests either side of Robson Green."
A new sleuthing cleric is being introduced, the Rev Will Davenport, played by Outlander star Tom Brittney.
"I think he will have to make him sexy in a different way. It's 1957 so there's a chance we may have to move from bicycle to motorbike."
But for now the focus is on Tap Dancing With Jean Paul Sartre, with James heading to Aberdeen to see it at The Lemon Tree on its last day.
"I'm really happy with the show," he said. "It completely sold out in Glasgow and had five-star reviews. I think it just delivers. It's thoughtful entertainment… with dancing."