Classic fairy tale with Doric twist full of surprises for Aberdeen panto fans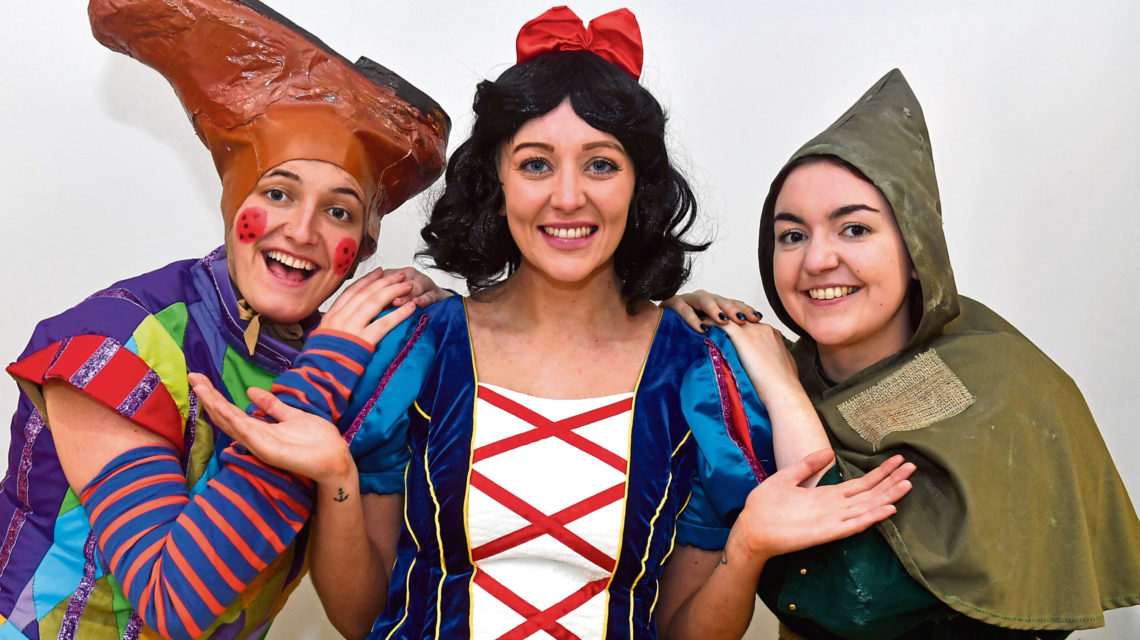 When you put an Aberdeen spin on Snow White, there is one thing – well, seven things – you definitely need… Doric dwarfs!
And that is exactly what Attic Theatre will be serving up when the cast takes to the stage of the Tivoli from Saturday with its hugely popular panto.
"The town it is set in is Aberdonia and our dwarfs are Doric dwarfs," smiled the show's director Scott Jamieson.
"We couldn't pass up the opportunity to have them as that, so we have changed their names to fit the Doric."
But using the Mither Tongue won't be the only spin for Snow White's pals in Attic's take on the classic pantomime fairy tale.
Scott explained: "We have our seven dwarfs, but they may not be how you expect them. In fact, we have a few surprises, a few things slightly different from the normal panto world.
"We have a dame who, again, might not be what you expect to see. I'm not going into exactly what the surprises are because you need to come and see it to see!"
Adding in twists is Attic's way of keeping the panto fresh and engaging. The end result will be a show that everyone will enjoy, said Scott.
"We have lots of songs," he said. "There are some well-known songs and we always like to throw in a few retro songs for the parents. We will have audience participation, laughs… And a good bit of evil thrown in from our Wicked Queen."
Scott hopes the pantomime will be a Christmas box of delights for audiences.
"I really want them to come away talking about having had a great family evening's entertainment," he said. "I want them to say they enjoyed the music and they loved the characters."
Sending audiences home happy will be worth all the hard work those at Attic have been putting into their annual treat for not just the past few weeks, but for several months.
"We have ramped our rehearsals up recently, as you can imagine, so December has been rehearsal crazy," revealed Scott.
"But we need to as we have a cast of more than 50 – we have the Aberdeen Academy of Dance as well as all our principals. Everyone has been working really hard."
Scott who, until two years ago, was on stage with the panto before taking up the director's reins last year, has also been heavily involved in the script.
"For me, panto begins back in January," he said. "As soon as you have the last one done, you start the next one. I just enjoy the creative side of it and, with panto, you can have a bit more freedom.
"You don't have to stick to the usual theatre rules and etiquette – you can just mix things up a little bit and have a bit of freedom.
"It's nice to be able to say I've helped create a Christmas feeling for some families. I do enjoy that side of it."
He believes it is essential to weave local culture into pantomime, sitting right alongside the glamour and the magic.
"I think a panto dame for a local panto needs to have the references so the audiences can relate to it," said Scott.
"If it doesn't have the local references, I think people switch off. If you make it too generic, it doesn't work. I think it's important to keep it local to keep it alive.
"Also, when you have a panto dame with a local accent, there is a lot of comedy in our local dialect. You can play on that."
Keeping it local extends to the cast too, with Scott explaining that they are all drawn from the cream of the local acting community.
"We have people from Peterhead, from Inverurie and from Aberdeen," he revealed. "We held open auditions back in August and, while we have a team of people who do Attic panto year in, year out, we do have quite a few new faces this year, which is great."
It is perhaps that local touch that makes Attic's pantos a hugely popular draw in the Granite City every festive season.
"It is about understanding your audience and speaking to everyone who is there," insisted Scott. "You have grannies, granddads, uncles, aunts, children, parents, so you have to cater for everybody. But ultimately, it has to be for the children. They have to be engaged in it."
And Scott has a simple message to people coming to enjoy the Christmas magic of Snow White.
"Attic panto gives you good value for money for families who come along to see it. It's in the fantastic Tivoli Theatre, which keeps getting more and more audiences," he said. "We have local jokes plus a great live band, which not all pantos have.
"And I like the fact it is supporting a local dance school, so they get an opportunity to showcase their work.
"So just come along, enjoy yourselves and start your Christmas with Attic."
Snow White is at the Tivoli Theatre from Friday to Sunday December 22. For tickets visit aberdeenperformingarts.com