Boys in the mood for a spectacular night out with their Aberdeen fans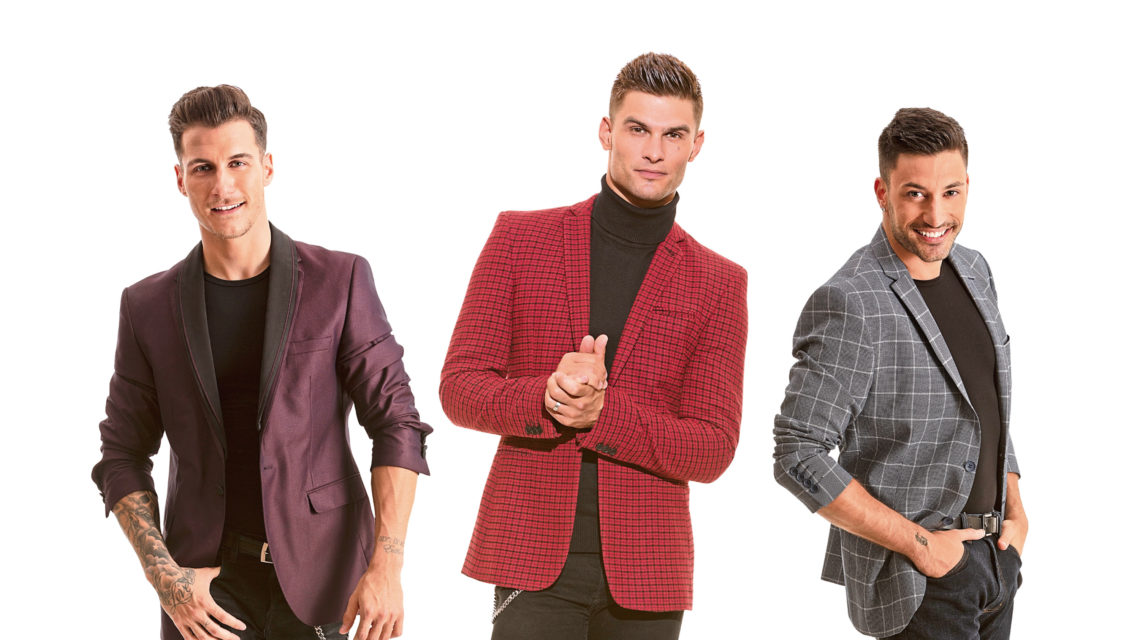 If the stars of Strictly Come Dancing were to form a boyband, fans would probably demand it be made up of Aljaz, Giovanni and Gorka…
And that is exactly what they are going to be treated to when the three professionals arrive at the Music Hall a week today with their new show, Here Come The Boys.
It will be a high-energy night of dance, music and spectacle, that the trio promise will have fans up out of their seats.
Set in a club, the boys will go head-to-head with Latin, ballroom, commercial and contemporary routines, set to tracks by the likes of JLo, Bruno Mars, Gloria Estefan and a bevvy of dance club anthems.
Aljaz Skorjanec, whose wife Janette Manrara has worked on the choreography for the show, said they were all looking forward to performing in Aberdeen.
"Seeing happy faces out there for two hours at every show makes it worth it," said Aljaz.
"When we're performing on Strictly, you don't see the much smaller studio crowd in quite the same way. But a tour puts you directly in touch with the fans."
That said it's an intensive tour, kicking off in Carlisle this Saturday and running until July 28.
Gorka Marquez said: "Well, we're all fit and this is our job. Yes, you can wake up each morning and then remember you've got to travel however many miles to get to the next venue.
"But it's the show, the audience that gives you the impetus. We simply love performing in front of the people who watch the TV show. There's such a buzz about a live audience."
Then, of course, there is that good-natured competitive edge to it, with the audience judging who is the winner on the night.
Giovanni Pernice said: "I am so excited to be starring in Here Come The Boys with Aljaz and Gorka, two of the world's greatest dancers. It really is a dream team scenario for all of us.
"I also know Aljaz and Gorka will really want to beat me, as they both secretly know I'm the best dancer. I can't wait to be crowned champion every single night!"
All three agree on one thing… Strictly has totally changed their lives.
Gorka said. "I was 10 years old when I started dancing so I had a lot of experience. But being chosen to dance on Strictly opened all the doors."
"I've been in the final more than either of these two," says Giovanni, "and it means you get recognised in the supermarket."
Aljaz said: "Yes, but you've never won."
Never let it be said that these boys – for all the joshing – aren't fiercely competitive.
The world of dance in general – and Strictly in particular – has also delivered a number of romances. Giovanni's 2015 partner, former Coronation Street actress, Georgia May Foote, became his off-screen girlfriend in a relationship that lasted until the autumn of 2016. Most recently, his name has been linked to Ashley Roberts, a subject that the otherwise voluble Sicilian is clearly reluctant to discuss.
When it comes to matters of the heart, Gorka, by contrast, can't say enough. In the 2017 series of Strictly, actress Gemma Atkinson was partnered by Aljaz; Gorka's partner was singer Alexandra Burke. Both couples reached the final (won by Joe McFadden and Katya Jones). But romance flared between Gorka and Gemma. A year later, the two have moved into a flat together in Manchester and they're expecting their first baby this summer.
"I was first attracted to her because she's friendly, normal and easy to talk to. My English is improving all the time." Big smile. "I now know what 'chuffed' means."
Nor does it take much cajoling to get Aljaz to sing the praises of Janette. How did the two of them meet? "We met in London at somewhere called Dance Attic in Fulham where I also trained. One day, I walked into a back room – there were 20 people in there, 10 boys, 10 girls – and Janette immediately caught my eye. But it took me a year to convince her to go on a date with me. And then, we never looked back."
Here Come The Boys is at the Music Hall on Thursday June 20