Boy band-inspired musical set to shine on Aberdeen's HMT stage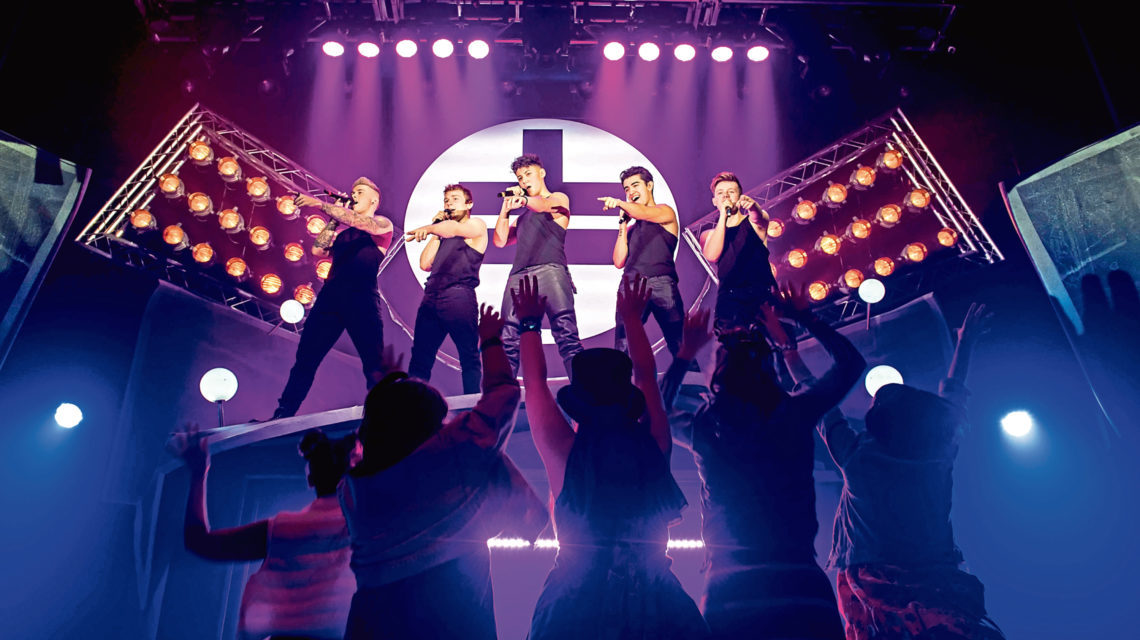 The band in The Band isn't Take That (though it is really)… so which of the boys is Curtis T Johns supposed to be?
The singer laughs at the question – "your words," he says about the Take That reference.
As for who he "is": "That's entirely up to you on watching the show… but when you watch the dancing it becomes fairly obvious."
The audience can do just that at His Majesty's Theatre from next week, when The Band, Tim Firth's musical with the songs of Take That, arrives in Aberdeen.
Society caught up with singer Curtis and one of his co-stars, actor Katy Clayton, ahead of the acclaimed show arriving in the Granite City as part of an extensive UK tour.
It tells the story of childhood friends united by their love of an (unnamed) boy band, who are separated by tragedy but meet 25 years later to find their lives have turned out in different ways.
It's a funny, moving story, driven along by the music of Take That, as performed by Curtis and the rest of Five to Five, who won the BBC talent contest Let It Shine.
Both Curtis and Katy say they've been overwhelmed by the reaction of audiences on the tour so far.
"It has gone way past what any of us expected," said Katy, who plays fiesty young Heather, who has dreams of being a fashion designer.
"We have been to all these different locations, completely different audiences and different walks of life yet – no matter what – at every performance you have people standing on their feet joining in with Never Forget at the end. It's amazing."
Curtis agreed, saying: "It really is nothing like any of us expected."
But central to The Band is the music of Take That, as performed by Five to Five. Curtis said: "We capture elements of Take That across their entire career – their early days and their re-formation. You will see glimmers and callbacks to all eras of Take That and little homages that audiences can enjoy on a different level.
"But we get to do so many different songs and in such a different style to what Take That did. It's a really enjoyable show for us."
As a long-time fan of both Gary Barlow and Mark Owen, Curtis – an accomplished singer-songwriter in his own right – loved taking part in Let It Shine.
"That was such a brand new experience for me going through a different kind of audition process that was televised. It really was up to the public to decide who they wanted.
"Without us even realising it, through that process they were preparing us all for what would eventually become the rehearsals for the show. After we won, it all paid off."
And he was thrilled to be working with his childhood heroes, as the members of Take That are producers of The Band.
"It was pretty crazy for me. Working alongside them and no longer being a fan but kind of a colleague is a pretty bizarre feeling when they say hi to you or watch over the show."
Katy was keeping a close eye on Let It Shine, too, and not just as a fan. During her auditions for The Band she found out she would be doing three weeks of workshops with whichever boyband won the show.
"I was driving home from work really quickly on Saturdays, thinking 'oh my goodness, I wonder who's going to win. I'm going to be working with these boys.This is exciting'."
And was she rooting for Five to Five?
"Absolutely. With the beautiful, soulful voice of Curtis T Johns, how could you not? They were clear winners from the start," said Katy.
Given the length of the tour – it started in September last year, has done more than 300 shows and is set for 50 shows in the West End in December before going back on the road until March next year – how do they manage to keep things fresh?
Katy said: "With any new venue you always get really excited for the first night. The audiences are also different from place to place, so certain moments have different reactions in different places, so even the audience reaction keeps you on your toes.
"But generally we keep ourselves fit and healthy and there's a lot of camaraderie. We are one big family and that keeps it fresh among the company."
"Everything Katy just said… plus Red Bull," added Curtis.
But all of the hard work will be worthwhile for Aberdeen audiences, especially given the reception The Band has received elsewhere.
Curtis said: "Tim Firth's writing in this musical is full of wit and heartbreak and there is something relatable to everyone watching.
"We always find when people come up to us, we have older women saying 'that character was me 25 years ago'. But the show is so multi-layered. You have us boys, you have the older women, the younger girls. There's something for everyone."
Katy said: "The story is about friendship, which is such an accessible topic for everybody. And, obviously, it has the incredible soundtrack of Take That's music. But even if you're not the biggest Take That fan, you can enjoy the story and the way the music interweaves with it.
"The boys do an incredible job with the music.
"You are going to laugh and cry and sing and dance."
The Band is at HMT from Wednesday October 3 until Saturday October 13