The Twilight Sad to play at Aberdeen's True North festival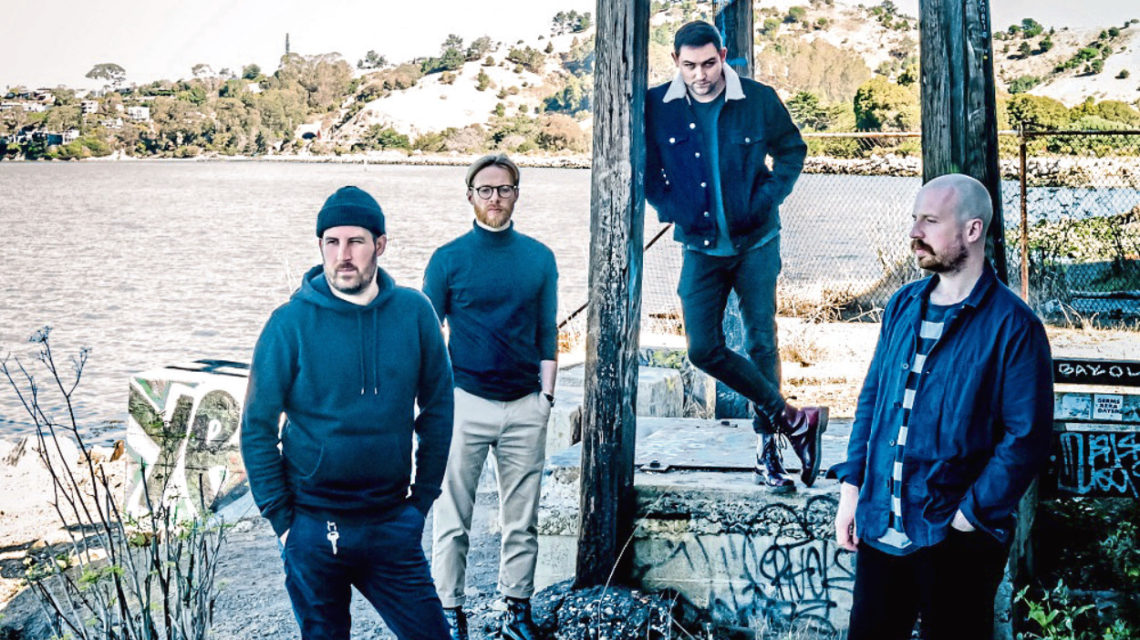 The Twilight Sad frontman James Graham hopes the True North festival can lure big international acts to Aberdeen in the future.
Fresh from supporting The Cure in front of 25,000 fans at Bellahouston Park in Glasgow last month The Twilight Sad are one of the main draws of True North.
They headline the Music Hall on Saturday September 21 as part of a festival which James has previously travelled north to visit as a fan.
In a stunning double bill The Twilight Sad will be supported by Aidan Moffat and RM Hubbert.
James said: "True North is very important for the north-east. The last festival I can remember is Tryptych that put on some good bands in Aberdeen.
"Aberdeen used to be on everyone's tour dates but that seemed to die off a wee bit.
"I don't know why, although the Granite City has always been somewhere The Twilight Sad have played.
"That is important to us because I know there are a lot of people up in Aberdeen that like our music.
"The line-ups for the True North festival over the last three years have been really great and I went to see Mogwai play the festival at His Majesty's last year.
"I have seen Mogwai about 100 times now and that was only the second time I was able to watch them sitting down.
"I am friends with Mogwai as we are on their record label (Rock Action) and I know they really enjoyed that show in Aberdeen.
"It is a great city to play and hopefully True North can spark international acts being able to play the city and experience the crowds."
Headlining in Aberdeen in one of the key shows of the festival will have added resonance for James who has close connections with the area.
Playing a headline show at the recently renovated Music Hall is something James always dreamed about – now that will become reality next Saturday.
He said: "I am up in Aberdeen all the time because my wife's family are from up there and for my sins I support the football team.
"I often go up there with my dad to watch the games at Pittodrie.
"Aberdeen is a place that I love and to think we are going to play the Music Hall is very special for me.
"I have always thought one day it would be cool to play the venue but never imagined we would get the opportunity."
The Twilight Sad have played in Hong Kong, China and Japan this month and travelled across America on an extensive headline tour earlier this year.
Regardless of which far flung corner of the world James is in he will always try to find a way to tune into an Aberdeen FC game when they are playing.
James said: "I always follow the games when on tour.
"The easiest way to do it is to follow the feed on Twitter.
"I was in Prague when we played against Morton in a semi-final.
"I remember that as I was wearing my Aberdeen top at the sound-check.
"Football is part of who I am.
"I am accepting of all people who support all football teams, so hopefully people will be accepting of me that I am an Aberdeen fan."
The Twilight Sad will be supported by Arab Strap vocalist and writer Aidan Moffat and former Scottish Album of the Year winner RM Hubbert.
It will be one of the final shows for the duo who will disband the partnership that produced the acclaimed album Here Lies The Body.
James is now good friends with Moffat and they live close to one another.
However, it was the brutal realism, emotional rawness, as well as the humour and warmth of Moffat's work with Arab Strap that initially inspired him to write.
"Aidan is one of my good friends which is strange because without him I would not be in a band and I would not write lyrics," he said.
"We both decided having them play on the same line-up as us would be great, so we could have a night out after it.
"Aidan and Hubby's albums are brilliant and I think this might be one of their last gigs together.
"It will be a nice way to send them off as we are all friends."
The chiaroscuro of Moffat's lyrics with Arab Strap, balancing the dark and light of normal working class life was the catalyst for James.
It led to his fledgling writing, the formation of The Twilight Sad who released superb fifth album It Won't Be Like This All the Time earlier this year.
James said: "Before I started to write any songs it was Arab Strap that inspired me.
"I thought that guy (Moffat) is just talking about where he is from and is singing how he speaks in the local dialect.
"It opened my mind.
"It taught me just to be brutally honest and do it in my own way.
"I realised that if Aidan could do that then I also have my own things I want to say and I don't have to be like anyone else.
"Aidan is a genius to me.
"I wouldn't say that to his face, though," laughed James.
"Although I will tell other people," he added.
"He is one of the funniest but also one of the most intelligent people I have met.
"The way he can make you laugh and cry within one tune is unbelievable.
"He is an amazing storyteller, so clever and honest.
"Aiden is one of Scotland's greatest lyricists and poets because he also writes poetry and books.
"I put him up there with the best.
"Without him there would be so many bands that wouldn't be where they are."
This summer marked one of The Twilight Sad's biggest shows when they supported The Cure at Bellahouston Park in Glasgow.
It was The Cure's first show in Scotland since 1992 and the continuation of a relationship with the bands that has developed in recent years.
In 2016 they supported The Cure across the US and Europe on every date of their tour.
That includes three nights at the Hollywood Bowl in Los Angeles, three nights at Madison Square Gardens in New York and three nights at London's Wembley Arena.
James said: "I am nervous before every gig, but I was really feeling it that day at Bellahouston.
"It was probably because we hadn't practised for three weeks," he laughed
"However, we had played so many gigs over the summer we were OK.
"That was probably the most people we have ever played in front of – it was unreal.
"One of those pinch yourself moments and then punch the air as you walk off as you didn't mess up.
"It was amazing – I was told there were about 25,000 people watching us, which was unreal.
"We have so many pinch yourself moments with The Cure but to play on home soil in front of friends and family, that many people was a total dream.
"But we were up early the next morning to go to Hungary to play a festival, so we didn't get to revel in it too long."
There has been no fresh material from The Twilight Sad since January's It Won't Be Like This All the Time.
James revealed The Twilight Sad are set to release a double A Side of heavier sounding songs that didn't make the album.
He said: "We have two songs that we haven't released from the last album sessions.
"We felt they didn't fit on that record but we want to get them out there.
"We are planning on releasing both of them as a double A side single.
"They are a bit heavier for us which I am quite excited about because it is a contrast to the record which is a good thing.
"That is probably why they didn't make the record but I think they stand on their own which is pretty cool.
"It still nods back to the album but at the same time it is trying to do something different."
As for the band working on fresh material James insists that won't happen until their extensive touring schedule slows down.
He said: "I know Andy our guitarist has been working on a lot of new music but he has not sent me it yet.
"I don't write on the road.
"I need to stop touring and settle down to get back to some kind of normality to get back into writing.
"It would be rushed if I did it on tour as I like to just focus on playing the gigs.
"I get a lot more inspiration from being back home than in the back of a van."
The Twilight Sad play the Music Hall on Saturday September 21. For tickets visit aberdeenperformingarts.com