The magic of Peter Pan – and a robot parrot – will delight north-east fans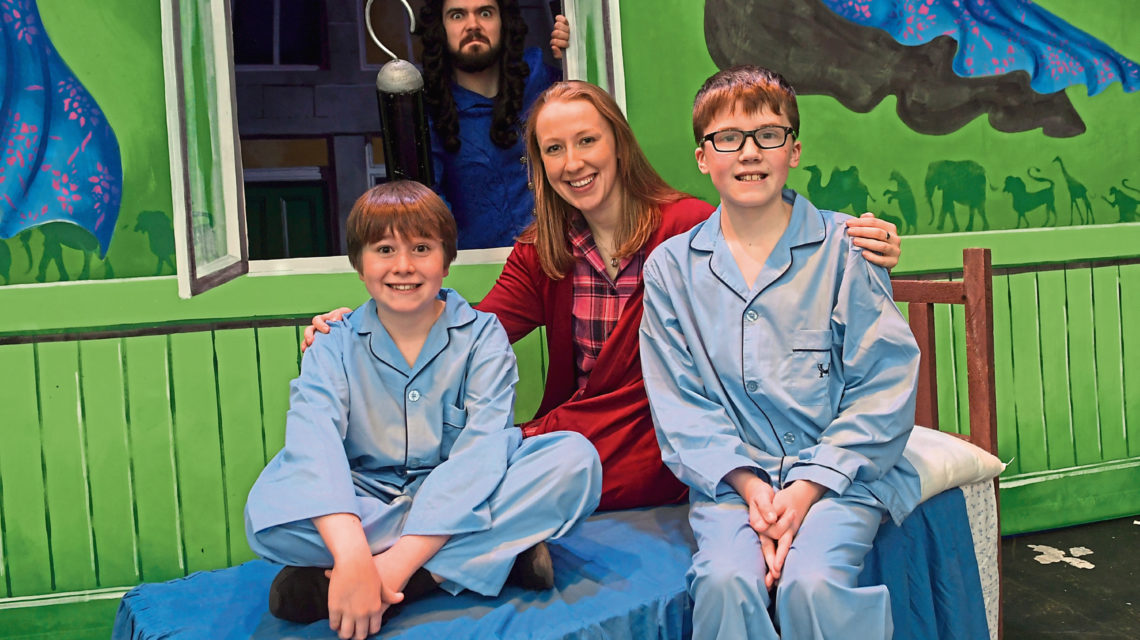 Sometimes you need a bit more than a sprinkling of fairy dust to make the magic of Peter Pan happen.
Sometimes, you just need to roll up your sleeves and build your own animatronic parrot from scratch.
That's precisely what Keith Donaldson, producer of the hugely popular Inverurie Panto, has done to make sure Peter Pan is populated with enchanting creatures.
"We have an animatronic parrot, Polly. She's totally interactive and speaks with the children and acts on the stage. It's something I designed and built myself," said Keith.
"I am a software engineer to trade, that's my real job and I do control systems. So lots of research and development and my experience of puppetry and theatre and stagecraft went into this.
"She's working brilliantly. I'm so pleased with her."
Parrots apart, Keith promises that this year's festive treat, which runs from Saturday through to Christmas Eve at Inverurie Town Hall, will be a feast for the eyes and ears and packed with laughter from start to finish.
"Peter Pan is just a fantastic story, it's brilliant for kids, adults, everybody loves it," he said.
"So we take the traditional story and we tweak it to add a Doric twist. It's a very funny script, with lots of laughs."
Other twists include having the opening scene in Aberdeen, not London, and there's a character – Mrs Clarty, the dame – Captain Hook's cook.
"She is terrible at making butteries. She has all these ridiculous flavours in mind."
And this will be a Peter Pan the entire family will love, said Keith.
"We concentrate on being family based and family entertainment – all good, clean fun. You shouldn't be embarrassed to take your children along to the show."
As always, Keith and the crew of the Inverurie Panto strive to make their annual show as close to professional standards as possible.
"We challenged our senior dancers a bit this year with a contemporary dance that forms part of the flying scene to Neverland," he said.
"We engaged with Frantic Assembly in London who came up and did a workshop. They are the company who did the choreography for The Curious Incident Of The Dog In The Night-Time, amongst other things.
"They work nationally doing lots of elevated lifts and fancy manoeuvres."
Backstage too, there is a professional touch to proceedings.
Keith said: "Our lighting designer, Lewis Todd, is just off the national tour of Kinky Boots. Our make-up and wig artist, Millie Begg, has this year been working in Drury Lane on 42nd Street. Both are locals who have gone away to work and come back for Christmas and are working with us.
"We have just tried to lift the whole game again."
Keith said the entire cast and crew have been working flat out to bring Peter Pan to life, putting their all into making this a panto to remember.
"We are just at the manic stage at the moment," he joked.
"But the rehearsals are going really well. The company is working extremely hard. In fact, they have been working their socks off this year."
The Inverurie show has a few new faces in the cast this year – Gavin McKay playing the dame, Alex Brown (who played the Glaikit Showman in the Student Show) playing Smee and Mikey Innes as Captain Hook.
Keith said: "But we also have some familiar faces and the safe hands of Sophie Hamilton-Pike, playing Peter Pan, Laura Burnett, playing Tinkerbell, and a few others who have been in the show before."
Inverurie Panto always draws crowds from across the north-east and is hugely popular. In fact, this year's run is already at 92% capacity.
He added: "I think our popularity is because we have such a fantastic team and they are pulling for the absolute best and that spills into the show itself.
"And we have such a family atmosphere. We refer to ourselves as the panto family and that comes through in the production and people seem to enjoy that.
"But we are always delighted and absolutely grateful for the support we get."
Inverurie Panto prides itself on not only giving audiences a good time, but doing good at the same time by tirelessly raising funds for local charities.
"We have totalled up what we have raised for charity thus far and it's just over £69,000 since I took over in 2008," he said, adding that more than that has been given away in tickets for good causes to enjoy the show.
The charities to benefit this year will be: For The Love Of Garioch, a local community group; We Too! an inclusive magazine for young people with additional needs; Befriend A Child; and the Archie Foundation.
But more than anything else, Keith wants audiences to come away loving the magic of Peter Pan.
"I would like them to have a smile on their face from laughing so much," he said.
"With everything else that is going on in the world at the moment, the audience can come in and suspend belief for a couple of hours and just be entertained.
"So we want them to come out feeling happy, having had a wonderful time."
Peter Pan runs at Inverurie Town Hall from Saturday to Christmas Eve. For tickets visit inveruriepanto.com