Snowman concert set to melt hearts in Aberdeen this Christmas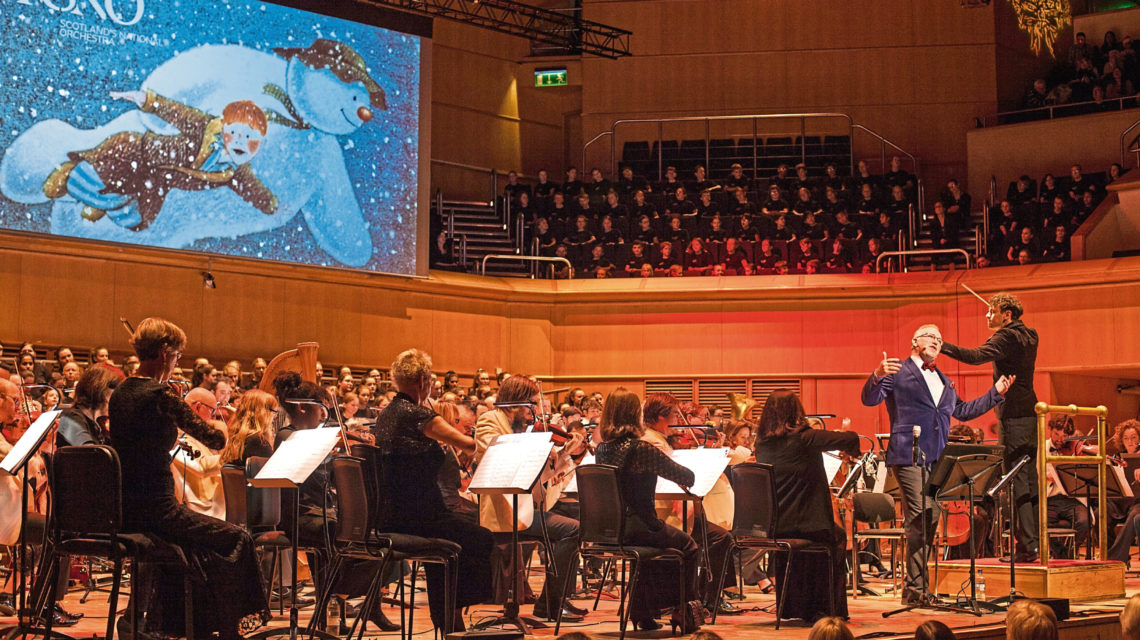 For many people, Christmas doesn't really start until they've walked in the air with Scotland's national orchestra.
So expect the Music Hall to be brim full of festive cheer next Thursday, when the Royal Scottish National Orchestra performs the lush score to the animated classic The Snowman.
And the evening doesn't stop there, with glittering yuletide music and carols to sing along to, as well.
All in all, the RSNO Christmas Concert creates a magical night to remember, according to acclaimed Scottish singer Jamie MacDougall who is fronting the show.
"I'm presenting, I'm narrating, I'm also singing and generally making the tea," joked Jamie, who is "Scotland's voice" for classical music on BBC Radio Scotland, presenting Grace Notes and Classic Unwrapped.
"I (narrated the film) for the first time last year. It requires a bit of timing, a wee bit of skill, just trying to get the text in line with what's happening on the music and in the frame.
"It's a classic story, everybody knows the story, but there are two key moments you have got to nail. It's crucial that you don't pre-empt what's going to come out of the orchestra. But generally the whole thing flows nicely."
While narrating The Snowman as it is projected on a big screen is tricky for Jamie, it's also a challenge for the orchestra to play Howard Blake's score in time with the action.
"This is when the conductor (Gregory Batsleer) earns his crust," said Jamie.
"He really has to get to know the film very well. But the orchestra have been playing this for 26 years. They could probably play it with their eyes shut, they know it so well."
The animated version of Raymond Briggs' enchanting tale of a snowman who comes to life and takes a young boy on an unforgettable adventure has a special place in Jamie's heart.
"I remember seeing it when it first came out on Channel 4, that was before I had kids. Then I had kids and watched it with them," he said.
"There is a lovely innocence about it. For me, I still have very vivid memories, still see my kids watching it with me and watching their faces as the Snowman comes to life and we're travelling to the North Pole and we see Santa and they are all dancing at the end.
"They were dancing around the living room to it. So I have very strong emotions about it as I saw my kids growing up watching it."
There is plenty to enjoy in this box of delights of a concert, other than just the film, said Jamie.
"I get to sing a couple of lovely classic Christmas songs, like It's Beginning To Look A Lot Like Christmas and It's The Most Wonderful Time Of The Year. It's a most terrific orchestral arrangement.
"And I also get the chance to sing with a wonderful boy treble, called Alistair Hillis and we'll be singing a duet Panis Angelicus together."
The evening will also feature top classical repertoire, such as selections from Tchaikovsky's The Nutcracker. Jamie said the audience plays a key role in the concert, too.
"I think it's a very strong part to what a symphonic carol concert can bring and that is to get the opportunity to sing along with the orchestra and so sing some well known carols and Christmas songs. There will be plenty of opportunities for that," he said.
Jamie also believes the concert is an excellent introduction to the world of classical music for all ages.
He said: "Within the mix you have classic repertoire, Christmas carols and songs and, of course, The Snowman. So every box is ticked there and it would be a perfect opportunity to bring a young person – or any age – who has not seen an orchestra, to actually come and experience that live. That is such a thrilling thing and it's hugely important."
In fact, to this day he still remembers the first time he saw an orchestra perform live.
"It was at the City Halls in Glasgow, when I was 10, and there is no bigger impact," he said.
"Everyone should have the opportunity to experience that."
By then, though, he already knew he wanted to be a singer, inspired by his grandfather, who was a trained tenor opera singer and who had an extensive collection of records featuring legendary tenors.
He said: "The story goes that I was five when I was asked by a friend of the family what I want to be when I grew up and I said 'I want to be a tenor opera singer'. And that was it."
One of the recordings he enjoyed as a child was of religious music sung by the great Franco Corelli.
"One of the tracks was Panis Angelicus. So I get to sing it, which I used to sing with my grandpa."
And he is looking forward to doing that at the Music Hall with The Snowman concert.
"One of the main reasons is it will be the first time I have been up at the Music Hall since its refurbishment. I am looking forward to coming up and seeing it," he said.
He is also excited about sharing the Christmas spirit with Aberdeen audiences.
"Just come and enjoy. Leave the shopping, leave the worries, leave all that behind. Let the magic of The Snowman settle on you and enjoy a great night."
RSNO Christmas Concert: The Snowman at the Music Hall on Thursday December 19. For tickets visit aberdeenperformingarts.com