Scottish Album of the Year winner Kathryn Joseph to perform in Aberdeen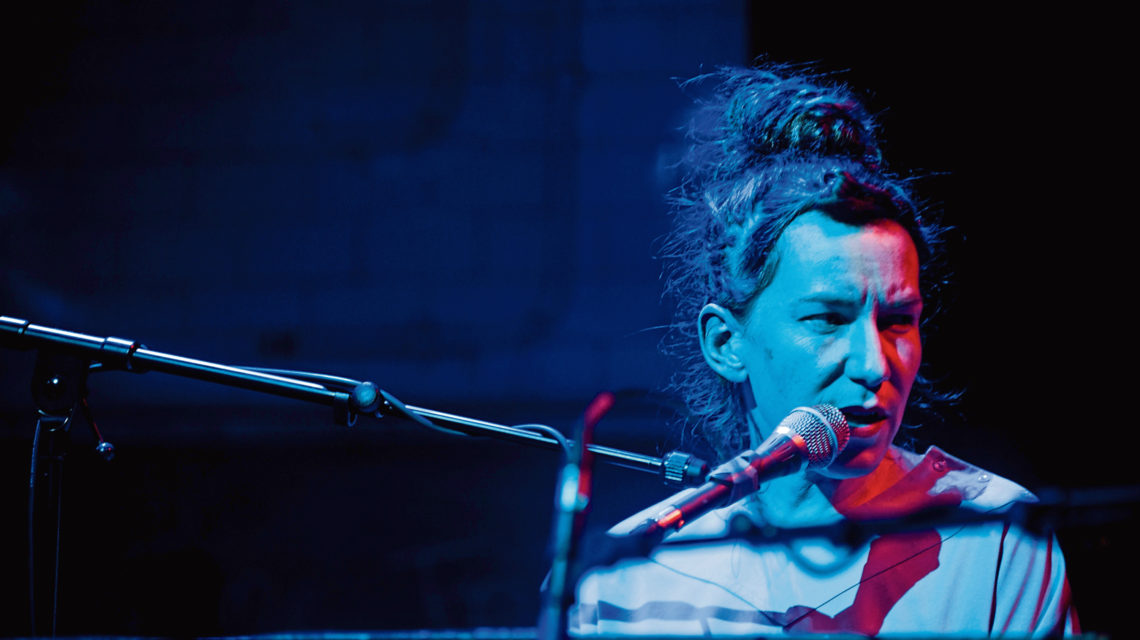 Scottish Album of the Year winner Kathryn Joseph will play a unique homecoming show at the recently refurbished Cowdray Hall tomorrow.
Also performing at the acoustically superb venue adjacent to the Music Hall is Steven Milne, front-man of Aberdeen pop-alt rockers The Little Kicks.
The Valentine's Day gig will see both musicians use the in-house Steinway Piano in a show that is not to be missed.
Now signed to Rock Action records, the label run by Scottish post rock legends Mogwai, Joseph will play tracks from her two acclaimed album.
She said: "Playing live is my favourite bit of this and I love every single gig.
"It doesn't matter to me how many people are there or how 'important' it's seen to be: any gig is a really lovely and special thing to get to do.
"The fact that people actually do want to come along and see me is a strange and lovely thing."
Dunecht-raised Joseph won the prestigious Scottish Album of the Year award for debut Bones You Have Thrown Me And Blood I've Spilled in 2015.
Follow up From When I Wake The Want Is was released in 2018 to further critical acclaim.
Such is Joseph's reputation she was personally requested by The Cure's Robert Smith to open the band's 40th anniversary outdoor show at Hyde Park.
Joseph said: "I don't know if anything is going to top supporting The Cure – that's probably as good as it gets for me.
"Hyde Park was just amazing, and it was so lovely to be part of it.
"I thought I wasn't going to see Twilight Sad as the timings were going to clash.
"I was just watching my friend James (Graham, front-man of The Twilight Sad) and thinking that nobody is as good at playing live as he is and bawling my eyes out, then running across the field to play my set.
"But the whole day I had a brilliant feeling."
Tomorrow's show is another from Interesting Music Promotions who have also promoted memorable performances by The Boredoms, Thee More Shallows, Noxagt, tUnE-yArDs, Broadcast and many more.
Joseph first played an IMP show in early 2004 and since then has played for the vital Aberdeen promoters a further 15 times.
Having written and performed for years, Joseph finally made a record in 2015 when the small Scottish label Hits The Fan released Bones You Have Thrown Me And Blood I've Spilled.
The catalyst for that record was striking up a friendship with producer Marcus Mackay and Claire Mackay, who released Frightened Rabbit's first single on their Hits The Fan label.
Mackay would go on to produce and play on Joseph's debut release.
Devastatingly beautiful the timeless album emerged as if from another dimension. Fragile, raw, emotionally brutal and challenging there was also a life affirming under-current of optimism.
It was recognised by the Scottish Album of the Year award.
Joseph said: "It's lovely that people liked the record, but I know people who have written absolutely beautiful songs and they get nothing.
"It just seems unfair. It's about taste.
"It's just 10 people who decide you've made the best record.
"I didn't think about the record as something that would be of interest to anyone else.
"Really, it was just for myself. I was thinking, this is the only time I'll ever do this and here are my favourite songs.
"I didn't think about how it would make people feel.
"It had been so long without any concept of people listening to it or being affected by it.
"When they were it was fascinating, weird and lovely.
"I know how lucky I am but I still struggle with imposter syndrome."
Delivering a follow up as powerful as Joseph's debut could be perceived as daunting. However the singer delivered with From When I Wake The Want Is.
It explores loss and grief but, as with her debut, shimmering through that darkness is light. Recorded at Mackay's Diving Bell Studios in Glasgow From When I Wake The Want Is was written during a tough year when Joseph split from her partner.
As it was near completion they resumed their relationship.
Joseph said: "For that record, it was one of those strange, handy times in my life when I'd just had my heart broken again.
"Definitely I write less if I'm happy.
"How I make myself happy is by writing about it. I've never had songs come out so fast.
"I'm very glad there's a happy ending or I probably wouldn't have been making the record at all."
Ultimately, writing songs and the honesty of delving into those emotions became a form of coping mechanism during that break up.
She said: "I remember my friend said 'turn all of this into songs'.
"It was a really strange mix of 'this will make me better, although it's making me feel worse right now'. But I love that about it.
"I love that there's a way to turn things that aren't nice into something you can fall in love with.
"You've created something from the pain."
From When I Wake The Want Is was released on Mogwai's Rock Action label, home to diverse bands such as Part Chimp, Sacred Paws, Swervedriver, Blanck Mass and Remember Remember.
She said: "The thought of writing an album or signing a record deal which meant that I'd then have to write another was terrifying to me. I didn't think I'd be able to deliver anything within a time limit. "But Rock Action let you do whatever you want. "That's really important to me; to not feel that there's something I should be doing."
The Cowdray Hall concert is Joseph's only performance before jetting down under to perform at the WOMADelaide 2020 festival in Adelaide, Australia on a bill that also includes Ziggy Marley, The Blind Boys of Alabama, Rhiannon Giddens, Ezra Collective and Dyson Stringer Cloher.
Joseph added: "I love that this is my job now. I absolutely love that I get to do this."
Kathryn Joseph will perform at Cowdray Hall, Schoolhill, Aberdeen, tomorrow at 7pm