Rising alt pop Aberdeen Pages to play The Lemon Tree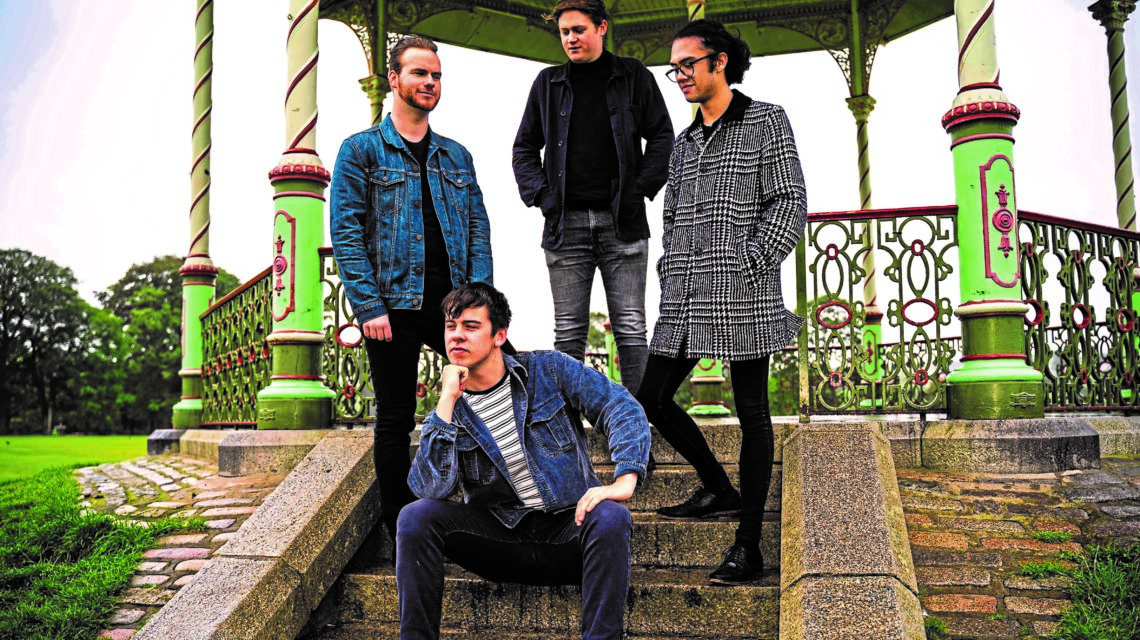 Rising alt pop Aberdeen four-piece Pages will celebrate a breakthrough year with a high profile home city Christmas show.
Pages will headline the Lemon Tree on Sunday to promote new single In A Conversation which is out now.
Formed in summer 2018, Pages will call time on a successful year where they linked up with renowned American producer Rob Murray.
Now they are ready to make a statement of intent for the future with a headline show at the iconic city venue.
Drummer Kyle Robertson-Smith said: "It is quite an honour to headline the Lemon Tree as we have all played there before in opening slots for other bands.
"To headline the venue is amazing, especially so close to Christmas. We are so excited as we will be able to play in front of all our friends who are back home for the festive period from their studies.
"So many massive, established bands have played there, such as Radiohead in the 90's.
"Bands such as Biffy Clyro and The Libertines have also played there. There have been so much great gigs at the Lemon Tree over the years."
Pages have performed support slots to bands including The LaFontaines, Dancing On Tables and Llovers.
The hotly-tipped quartet played the Lemon Tree in only their second show since forming.
Singer and guitarist Matt Fraser accepts playing the venue so early in their fledgling career was perhaps too big an early step.
Now, however they are ready to headline the venue and are promising a memorable night.
Matt said: "Whenever I think about the Lemon Tree I remember Pages' second gig as a band when we supported The LaFontaines.
"When we walked out onto the stage, the venue was full which I found quite overwhelming. I thought we were ready to do that at the time but we probably weren't.
"I am really looking forward to going back to such a brilliant venue again but in the knowledge that we are now ready for it. Knowing that we can put on a great show at the Lemon Tree."
The catalyst for the formation of Pages was regular jamming sessions between three former Grammar Academy pupils last year.
The trio of Matt, lead guitarist Jack Lovie and bassist Alistair McKinlay began playing live before drummer Kyle joined in February this year to further complement their sound.
Support on Sunday comes from Aberdeen alt rockers Connor Clark and the Matador Kings who recently released single Once A Pretty Liar. Also playing on the night are Edinburgh-based Vandal Palace.
Matt said: "When we finished our summer tour we thought about a Christmas show and which venue we could play it at.
"We knew how big a deal playing the Lemon Tree would be as it is such a great venue.
"We were in two minds about it and mentioned it to Tom Simmonds who runs Captain Tom's studio in Rosemount.
"Tom encouraged us to go for it and gave us the confidence to book it and begin promoting the show.
"There is something about playing at Christmas as it seems a much more joyful time. For a lot of people coming to the gig it will be the start of their festive break. It is not a full-on Christmas gig but people should expect a Christmas song."
New single In A Conversation is the follow up to Bubble Brain which was mastered by American producer Murray at his Poolside Studios in Austin, Texas.
Murray has previously worked with chart-topping stars including Mark Ronson, Britney Spears, David Gray, Mike Posner and Sia.
In A Conversation was released last Friday, the day after the general election.
Matt said: "We had set the date for the single release before the general election was announced.
"Obviously social media was so occupied with the election and then the fallout on Friday.
"However we decided to stick with the release date and are really happy with the feedback from people on the single. It will be great to play the single now that people will know it and it is also a song that translates really well live."
Pages plan to release another single in the new year as they continue to make waves in Scotland.
Kyle said: "At our stage and with our budget, singles suit us more at the moment.
"Obviously it is an absolute dream to make an album but for now we prefer to zone in on one and perfect it.
"We are releasing singles and giving people more things to look forward to rather than put it all out at once."
Pages have released three in the 18 months since their formation – Get Out of My…, Bubble Brain and In A Conversation.
Matt said: "Going forward there will be another one coming out in the new year and from then we will start thinking about what the next release will be.
"We have been working on singles and are able to put a lot of focus on that to get the best result from the song.
"I don't think people have the longest attention span for albums now. I was on Twitter last week and Stormzy, one of the biggest artists in Britain, had released a new album (Heavy Is The Head).
"The first comment I saw on his announcement tweet was 'what song should I listen to off it first?'
"Stormzy replied listen to it from start to finish.
"It is not just about a band from Aberdeen, albums are not fashionable at the moment and a struggle even for bands at the top."
Pages have received national attention from Radio Scotland DJs Vic Galloway and Nicola Meighan this year. They also came close to landing a coveted support slot to Biffy Clyro when winning the local heats of a competition organised by Irish pub chain O'Neill's.
Although they didn't win, Pages made an impact in the city and aim to continue to spread their name.
Matt said: "We have a headline show in Glasgow in February. The main focus is to play more gigs all around Scotland and establish ourselves here first.
"Yet if any opportunities come up whether in England or abroad they would certainly be welcomed."
Pages play the Lemon Tree on Sunday. For tickets visit aberdeenperformingarts.com