Interview: Up-and-coming rockers VUKOVI talk touring and playing in Aberdeen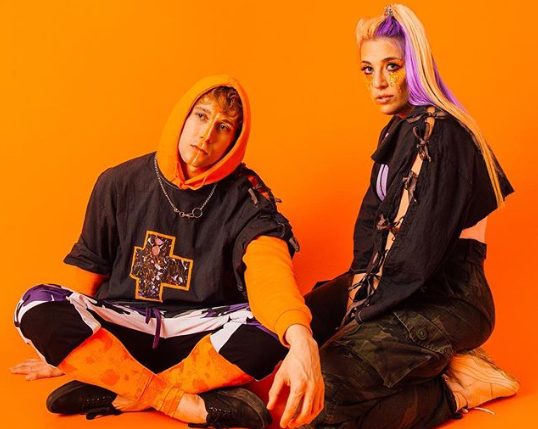 Since releasing their widely praised debut album in 2017, Scotland-based rock band VUKOVI are proving a force to be reckoned with.
Consisting of Janine Shilstone and Hamish Reily, the dynamic duo have gained extensive global Spotify support over the years, and have performed at an abundance of festivals across the country.
Currently well into their biggest UK tour to date, they are all set to rock the stage at Tunnels this Friday from 7-10pm.
We caught up with lead vocalist Janine to hear about her thoughts on touring and the pair's busy calendar.
---
How has touring been so far for you guys?
---
To begin with it could be a bit stressful. We went straight from being on a support tour to starting our very own headline tour, so everything has been going on back-to-back. But once we managed to get into that routine and passed the lack of sleep, it's been great. I'd say we've definitely got what we wanted out of the tour so far and there's been a busy turnout to most of our shows, which makes everything worth it.
---
What can people expect from the gig at Tunnels?
---
When we perform at concerts it's as if everyone in the room is on stage together.  We just want everyone to have a great night and for us to give the best performance we can because if we have fun, everyone else does.
---
What songs will you be performing?
---
There's only one new song being performed because we're focusing on the music from our debut album on this tour. We didn't get the chance to do a post-album tour back when it was released, so we thought we owed it to everyone to showcase the songs on it now.
---
Do the pair of you have any other plans while in Aberdeen?
---
We've been invited by a friend to go along to a barbecue on Friday before the gig. I wish we had the chance to do a few things, but other than that it'll be a case of getting ready to head to Glasgow the next morning.
---
What's next for VUKOVI after the tour has finished?
---
We'll hopefully be releasing our brand new album by the end of the year, and a few singles here and there. We also have a four-day writing session with a few guys that wrote some of the Spice Girls songs. I've always been a huge fan of the Spice Girls and the guys are really interesting, so I'm really excited to hear what we come up with together.
Tickets for the Aberdeen performance cost £11 and can be purchased here.
For more information on the band click here.