Aberdeen singer-songwriter releases two new albums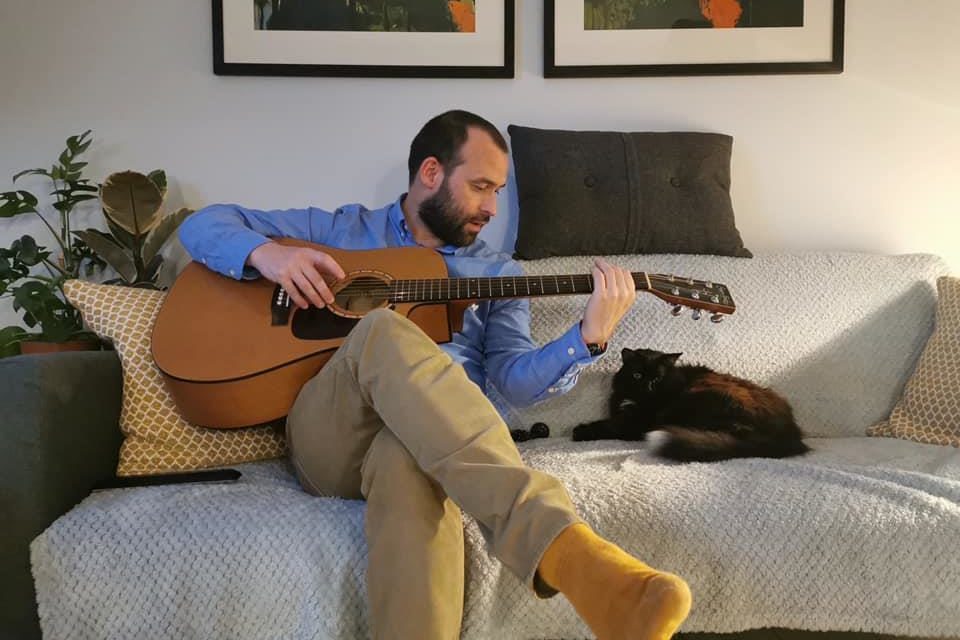 Aberdeen singer-songwriter CS Buchan has released two albums on the same day on a record label he will now fold.
Where Have All My Friends Gone Volume 1 and 2 are both out now on the Fitlike label run by CS, aka Charley.
A superb, expansive release the albums are the latest releases from one of Scotland's most beguiling musicians.
American country star Daniel Donato also makes a guest appearance on Going Down Together, the single from Volume 1.
They will be the final issue on the label which released key records by Best Girl Athlete, CS, Tryptamines, Death Let Her and Kitchen Cynics.
Charley said: "The albums were a labour of love and grew and grew.
"I hate to say it but they probably took about a year and a half.
"I did bits and bobs during lockdown but it was largely done before then.
"It has taken quite  a long time between getting the right players and getting it produced properly and sympathetically.
"There are two volumes out at the same time because I wrote so many tracks I initially thought I would do a double album.
"I whittled it down to enough for one album, then an album and an EP.
"Then it was two albums.
"I am really happy with it and it is probably the best albums I have done."
The albums were preceded by single Going Down Together which was accompanied by a memorable video where Charley's face is transposed onto characters from seventies government safety films.
Through the power of green-screen he becomes rock icon Alvin Stardust and the Green Cross Code man.
The video, available here, manages to negotiate a tight-rope successfully of being both hilarious and chilling.
Highly rated Nashville-based songwriter Daniel Dorato, who recently released the acclaimed album A Young Man's Country, makes a guest appearance.
Charley said: "Daniel Dorato is making quite a name for himself in Nashville.
"I follow him on Instagram and he has 100,000 followers so I was under no illusions I was friends with him.
"I actually befriended his drummer and he ended up doing some session work for me.
"He just said maybe this track could do with a guitarist and I know amazing session players in Nashville if you want.
"So he got a guitarist to play on Going Down Together and when he sent the recording over I thought it was great.
"Then he said it was Daniel Donato. I was very pleased with that."
Other guests on the albums are Charley's daughter Katie, who has gained critical success as Best Girl Athlete.
The Haggis Horns, described by chart-topping producer Mark Ronson as the best horn band in the world, also perform on Charley's new records.
Members of the Haggis Horns have recorded with John Legend, Adele, Amy Winehouse, Elbow and Take That.
Despite the title All My Friends Have Gone, Charley is quick to point out it is not a reflection of his social life.
He laughed: "I can assure you I still have friends.
"It was a chance conversation with one of my pals where we noticed a lot of the guys we used to play in bands with when we were younger are married and have bairns.
"There are not that many of us still involved in music.
"People's priorities change when they get older and start having families.
"I was just fortunate that my family became part of the music as well and I have not stopped.
"I don't see a reason to stop music just because I am getting older.
"Of course I am still friends with them but in musical terms, they are not involved anymore."
Volume One closes with the beautiful and elegiac Watching Over You.
The track features audio of Charley's grandmother Kathleen Thomson in conversation with her sister in law Anne in Peterhead, recorded shortly before her passing in September 2020.
Charley said: "It was pure chance as I got it back from the guy who produced it two days after she passed away.
"It was a lovely thing to get.
"I let my mum hear and she said we will have to use it at the service.
"It was the right thing to do as to play that song and hear that words, her voice full of energy and life just as we remember her was a really nice way to see her off.
"I think she would have approved.
"The song itself wasn't written about my grannie and I had written it a wee while before she started to get ill.
"I had taken her through to her sister in law in Peterhead, and was just listening to them.
"I was enjoying hearing them chatting so I thought I would record them, not for any purpose.
"In the back of my mind I thought I would maybe use it in a song and sample a bit.
"That tune just stood out. The words weren't written about her but they just seemed to fit.
"I picked out a few choice sentences from the chat because I had about an hour's worth.
"With the lyrics and tone of the tune it felt right.
"I didn't set out necessary to write about her but being able to use it at her service was fitting and lovely.
"She was quite a vivacious woman and opinionated."
In Watching Over You Charley sings: In the morning you will find I am still here by your side,
In the evening whilst you sleep I watch over you to keep,
All the bad things, all the good things, inside."
The video for Watching Over You contains footage of Fraserburgh beach.
He said: "The new video has bits of the Broch and me down at the beach of the Broch.
"She had a real connection to the earth and the elements, she loved her garden and nature.
"I had a few things I filmed that involved the elements so it is a bit of an ode to Granny Thomson.
"I think the song is quite soulful but I would hope it leaves people feeling quite upbeat, although it is a downbeat song.
"There is something nice and uplifting about it.
"When I was putting the album track listing together that was the one I was focused on and it seemed to write to finish the album off with that."
The previous album CS Buchan & Friends was critically acclaimed and was named album of the Week on Roddy Hart's BBC Scotland Radio Show.
It received national radio airplay on the BBC Radio 6 Music Cerys Matthews Show and Laura Barton's BBC Radio 4 series, Notes from a Musical Island.
That was released on Fitike Records, the Aberdeen based label he set up showcase North-east musicians.
The Scottish Album Award shortlisted Best Girl Athlete, recorded by Charley's daughter Katie, was also released on Fitlike.
However, after years of giving a platform and voice to emerging vibrant talent, Charley has opted to end the label.
He said: "Where Have All My Friends gone will be the last thing I put out on Fitlike.
"It has just run its course.
"I have not done much with it in the last years and it was costing me so much financially at its peak.
"I am not sad about it as this is a new chapter.
"It is just a natural end to it.
"Fitlike started with a release of my own and I finished it that way.
"When I sit down and look at everything that has gone out on label there is some great stuff."
The coronavirus pandemic has shut down music venues since March, denying musicians their major income source.
Charley insists it is wreaking a devastating impact on musicians.
He said: "I have never been one for touring but I totally appreciate that a lot of my pals are professional musicians and that is their lifeblood.
"That has been denied them.
"It is quite awful to see a lot of musicians going online to create GoFundMe campaigns.
"I have tried to support as many people as I can by buying their music."