Magic of Aberdeen's Aladdin gets touch of Doric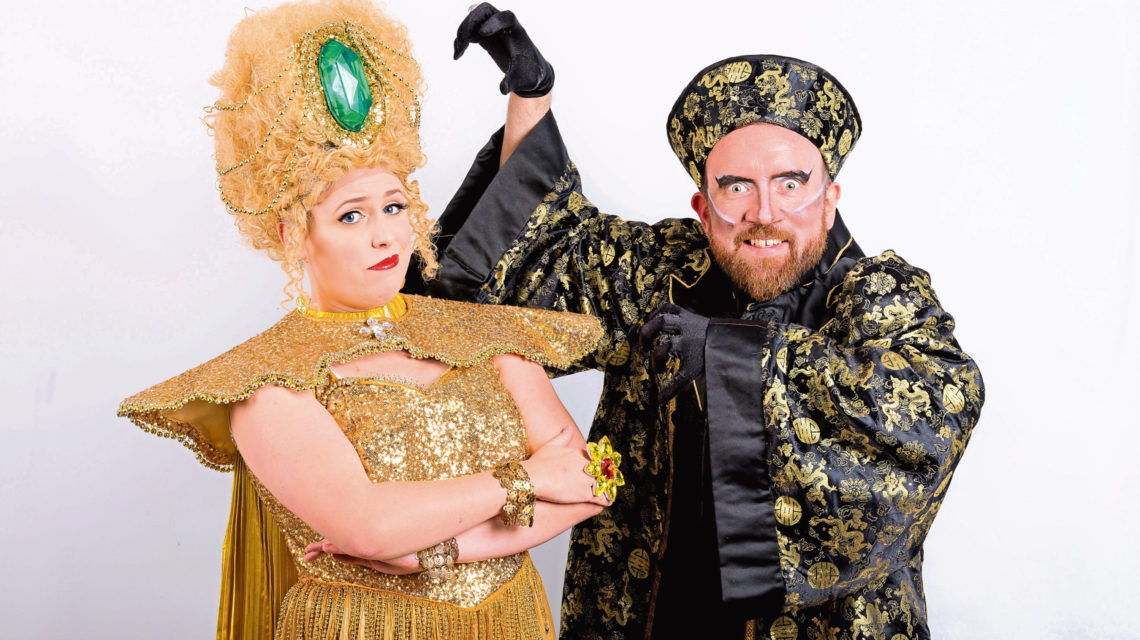 Most of us have three wishes when considering a good panto – lots of laughs, plenty of music and more than a sprinkling of magic.
And there is a talented team down at Aberdeen Arts Centre working hard to make all of those dreams come true when Aladdin, presented by Castlegate Arts and TaleGate Theatre, takes to the stage from this Sunday.
So says the man directing the festive treat, James Worthington, artistic director of TaleGate.
"The first thing to do is ignore any kind of Disney reference to Aladdin," he said.
"It's a real, traditional proper pantomime that has adventure, magical special effects and Aladdin's mum – who doesn't feature in the original, called Widow McTwankey."
And if you've every wondered why one of pantomime's most famous and best-loved characters is called Twankey, James has the answer.
"In the Victorian era, the golden age of pantomime, they were obsessed with tea. Chinese tea was really expensive, so they made a British version and it was called Twankay… so Twankey is a take on this rubbish tea."
Other characters in the show include Jasmine, who falls in love with Aladdin, plus there is a special effect genie and an excellent evil villain, Abanazar, who wants to take over the world.
James said the talented cast and crew have been pulling out all the stops in rehearsals.
"It has been fantastic. We only rehearse in the space of a week, although a lot happens before that.
"The scripts have been out for three months, the songs have been out for three months; everything comes together at the last minute, but everyone has been amazing."
The director is full of praise for his cast of professionals, comprising of some of the best home-grown talent the north-east has to offer.
"We have a local cast who are all just so talented," said James.
"Our Dame is Philip Napier, he's Aberdeen born and bred; we have Fraser Sivewright, a local lad done good who moved to London but has come back up to Aberdeen to play our villain for us.
"We have Nik Grundison (Slave of the Ring) who has done some amazing tours around the world and pantomimes down in Sunderland.
"We also have a new graduate from Glasgow, Xander Gordon, who is Aladdin. He is going to blow people away. If he's not on the West End stage next year, I'll eat my hat."
Playing Princess Jasmine is Sarah Ord, a stalwart of the Aberdeen Arts Centre who helps run its youth theatre.
"She's well known by all the children in the area and people will recognise her from last year's panto when she played Jill in Jack And The Beanstalk," said James.
But Aladdin also offers a chance for young local talent to shine, with more than 30 children and teenagers from 15 dance schools across Aberdeen and Aberdeenshire forming the junior chorus.
"We have three teams of eight to 10 children," said James.
"They've been working really hard since October with our local choreographer Shaun Stickland.
"He's such a talented guy and they've had a wonderful time learning the routines."
Of course, at this time of year there is a rich selection of pantomimes to choose from across the north-east, but James said the Aberdeen Arts Centre's organisers hope theirs will stand out from the crowd.
"Our panto has really high quality performers. We don't rely on any kind of celebrity status, they are just hard-working, strong performers who bring a fast-paced, entertaining pantomime.
"We put loads of special effects in, but that doesn't affect the ticket price, so it's a good value pantomime for people to come and watch and have a great time."
Those special effects include a flying carpet moment which, James said, is as fun and spectacular as any big budget production.
"Also, our Widow McTwankey has 11 different costumes, each growing in size and grandeur," he said.
"So look out for her amazing and, sometimes, impossibly fast costume changes."
James said the Art Centre Aladdin will be a real celebration of Aberdeen and the north-east.
"We drop a lot of place names in, the nice places, the places you probably wouldn't go," said James, laughing, and adding that Doric features heavily, too.
"And we will just have constant laughs."
So, with the scripts in place, rehearsals well under way, all that is needed now is an audience to get this glittering season up and running. James said it is the audience who, ultimately, make panto magical.
"It's all about the relationship with the audience.
"You have to bring them in and make them part of the story themselves. So we have lots of classic shout-outs – oh no, you haven't – and all the booing. It gives it a real community feel and we are telling the story with each other.
"I would love people to go away saying they were wowed by it – and there are some wow moments in the show."
Aladdin is at Aberdeen Arts Centre from Sunday to Christmas Eve. For tickets visit aberdeenperformingarts.com