Les Musicals to arrive in Aberdeen this week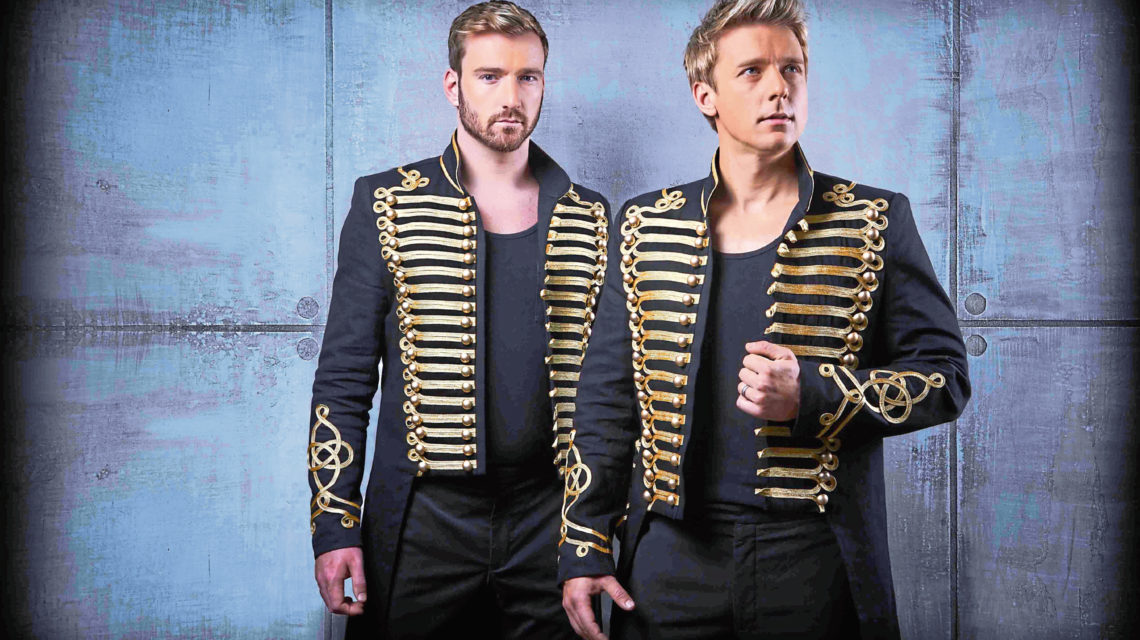 No matter what your favourite musical, there will always be those big songs you really want to hear and others you're not so keen on.
This is precisely why the talented duo of Jonathan Ansell of G4 fame and Britain's Got Talent winner Jai McDowall decided to stage their hit show Les Musicals.
Jonathan said: "You may have to sit through a whole three-hour production to hear that one number you really want to hear, so the beauty of Les Musicals is that you hear all of them back to back in one evening.
"It's exhilarating that you don't have to wait for the libretto and all the acting in between, you just get the big numbers that really grab you."
So when they pair arrive at The Tivoli on Thursday next week, they will be presenting a musical box of delights with some truly showstopping numbers.
Jonathan said: "We have the big ones from Les Mis, a big finale, we have Phantom Of The Opera and Wicked. There's a real ebb and flow, so there are moments when the audience will have their tissues out – for Bring Him Home, say – then we are having a really fun time with some of the Chicago numbers.
"We will take the audience on a lovely dynamic journey from tears to laughter, then at the end they will be leaping up on their feet to sing along with the We Will Rock You tracks."
Jai added: "We have a few fast numbers, a few slow numbers – maybe not the staple ones you might be used to. It will be quite an exciting night."
There are some challenges that go along with tackling some of the best-known songs in musical theatre, Jonathan and Jai admit.
"It is just the two of us on stage, so we have a lot of singing, we have a lot of big numbers," said Jonathan. "And the physicality throughout the show is draining. But it is one of the most rewarding things you can do – travelling day by day to new cities, and bringing the show night after night is so rewarding."
Along with the trickier moments, there is also the sheer delight of performing iconic numbers.
Jai said: "I sing a song called Dancing Through Life from Wicked. It's not something I would usually do, there's a bit of dancing in it. I make it up on the spot – sometimes it happens, sometimes it doesn't. That's the most fun for me, and there's a couple of Chicago numbers where I just get to be silly."
Jonathan said his big moment comes when he sings Gethsemane from Jesus Christ Superstar.
"It's possibly one of the hardest musical theatre numbers ever written – it may be a little crazy to have it in at all – but it's so dramatic with crazy high notes. It's really powerful, and knowing I've got to bring that is daunting. Touch wood, the voice has survived so far," he said.
Both Jonathan and Jai are delighted by the audience reaction so far on the extensive tour, which boasts live musicians and a stunning light show with the music.
"Everybody loves a musical and there will be songs in the show for everybody, young and old," said Jai.
"It's a feel-good show that people can come to and just escape, which is nice.
"The audiences have been loving it, we've had standing ovations every night so far, sometimes multiple standing ovations every night."
Jonathan said he loves the age range the show is attracting, from teenagers to grandparents, celebrating the music they all adore.
"There is a huge appetite out there for musical theatre. We've seen it since the beginning of Andrew Lloyd Webber's Search For… series, initially with Joseph, then Sound Of Music, then the likes of Ball and Boe, along with the real elevation of Les Mis with the movie coming out," he said.
"It's not officially a musical, but we open the show with a medley from The Greatest Showman. The fact that it has connected with so many people has made it so appealing for people to come and see musical theatre."
If they could have their pick of any lead in a musical, Jai said that he would return to his roots.
"In my first amateur dramatic show I played Anatoly the Russian in Chess. If the opportunity came around for me to play that role professionally I would jump at it," he said.
"The other role would be the Phantom. I like the idea of being creepy."
Jonathan said: "For me, it has to be Jean Valjean from Les Mis. It's such an incredible role. I would love to one day have that opportunity."
Even though the two are on the road, they still have other projects on the go.
Jai is working on a new album, which he hopes to release next year, while Jonathan is planning to hit the road for a Christmas tour with G4, who shot to fame on the X Factor, before a theatre tour next year.
Before any of that, the pair are determined to give Aberdeen musical theatre fans a night to remember.
Jai said: "Enjoy your evening, have fun, sing along because it's a fun show."
Jonathan said: "Can't wait to bring the show to you. It's a real privilege."
Les Musicals is at The Tivoli on Thursday.