Jason muddles along with his funniest show yet for Aberdeen fans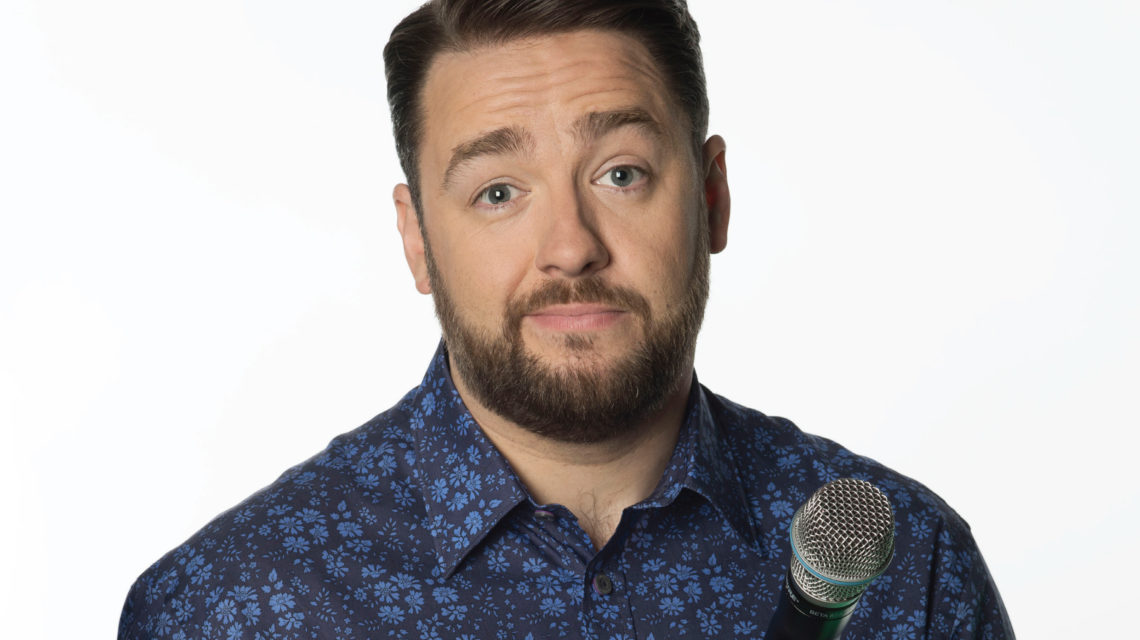 Comedian Jason Manford makes a welcome return trip to Aberdeen with his Muddle Class show this Saturday.
This time around the funnyman will perform at the Music Hall, after his acclaimed gig at His Majesty's Theatre last November.
Before he arrives back in the Granite City, Society caught up with Jason for a chat about how much he enjoys Aberdeen, his surprise sets at Breakneck Comedy Club and how he is – or isn't – going to celebrate 20 years in comedy.
---
You're coming back to Aberdeen, you must like us…
Yeah, I've been a few times and it's been great. It was a lot of fun.
---
So what's the appeal of the Granite City?
It's the audiences really, that's the main thing. I think they appreciate the fact you've come so far from where you live and they don't have to travel down. I know a lot of comics think Scotland finishes at Edinburgh. So it's been really nice on this tour to make sure we, hopefully, have done as many places as we could. The comedy club you've got there is good fun as well. It's a good night out.
---
Did you pop into the comedy club when you were up last?
I did, yes. I've done it a couple of times over the years. I remember I was up there doing a corporate event one time for the oil industry. It was quite a dry night. I was finished by half eight and got off stage thinking 'crikey, that was hard work… not very funny'. So I rang the boys at the comedy club, Breakneck, and said do you mind if I just pop down and remind myself that I'm funny.
---
So should we look out for you after your gig on Saturday?
Yeah, you never know.
---
So you are back with Muddle Class. If you didn't see the show at HMT in November, what can you expect from it?
It's very funny… if I do say so myself. What I have really enjoyed about it, is how much stuff people have seen of their own lives in the show. I talk about coming from a working class background and having children who are posher than you and the difficulties of those two worlds colliding. We cover a wealth of subjects and it's a lot of fun. What I have found up to now is I get a lot of messages afterwards from people saying "it was just like you were saying my life out loud" which is really lovely to hear.
---
Do you still get that nervy feeling before playing live?
I do, yes. I think we all do. I don't think that ever goes away.  It's certainly not supposed to go away and if it does, maybe you should stop doing it. I think the nerves are part of it. People who haven't performed in front of people can think the nerves are debilitating and that's a reason not to do something. Actually, they are the bit that is releasing the endorphins and the adrenalin and you turn it into a nervous energy and do the show. It's exciting. The thing about stand-up, which is very different to music and theatre and anything with a script, is that you are sort of only as good as your last show. So even if you go out and you have a solid show you think is really funny, if you get one thing wrong early on you can lose confidence, you just don't know when it can be gone. It's a sort of magic in a way. There's a famous phrase about dissecting a frog to see how the frog works, but once it's dissected the frog doesn't work anymore. That's sort of what comedy is and what jokes are. If you try to look at it too much and why that works and why that doesn't work, suddenly you are overthinking it and you've lost it.
---
You are touring up to May?
Actually, the tour finishes in April, but I'm doing one last swansong in May for my birthday at the closest theatre to my house.
---
So how are you staying fresh on the road, what do you do in your downtime to stay sharp before you get on stage?
The good thing is I always try and book hotels that have got a pool so you can have a swim in the afternoon or you have wander around the town and do a little shopping in the centre, I'm also writing for other work, so I try to spend the day writing those things as well. But at the same time, it's a lot of Netflix or you end up seeing things in the cinema you generally wouldn't have seen. It can be a bit long and boring and lonely sometimes, but is has so many positives, so you don't focus on those. Also, I have five kids so when you have kids at home, as much as you miss them, you are like "oh, what a lovely lie-in that was".
---
One of your next projects is Curtains, (the Kander and Webb musical about a murder on a Broadway opening night where Jason plays musical theatre fan and detective Frank Cioffi) so you'll be back on the road again…
I'm off from May to September then we hit the road again. What's nice is we are doing quite a lot in the north-west (of England), like Manchester, Leeds, Sheffield and Liverpool so are in places that are commutable for me. Then we get away, up to Glasgow and various other places. I was saying it can be lonely when you are on tour as a stand-up, but in musicals it's the opposite. You have lots of people to hang around with and it's a lot of fun. So, yeah, I'm looking forward to that. It's a great show and its very funny and the music is fantastic. It's a whodunnit so I think the audiences will be surprised all the way through. There are lots of twists. It's a good show.
---
You were talking about nervous energy in stand-up because it's not scripted, but this is scripted so does that bring different pressures?
It does, when people are counting on you saying something at a certain time and standing in a certain place. With stand-up you can kind of cover it, if you say something wrong you can blag it, generally, because nobody knows what you were going to say in the first place. Whereas, in a play or musical, everybody knows, so that comes with its own pressure. With Chitty Chitty Bang Bang, I remember one night getting to the very end of the show, I don't know if it was exhaustion or concentration, I just forgot to propose to Truly Scrumptious. It's at the very end of the show and the poor girl was just stood there waiting for me to say "will you marry me?" I didn't, I just got in the car "right, come on kids, let's fly home." You have to laugh about.
---
Had a few musical roles now, is musical theatre where you want to be?
I think it's just another thing to do. You can't do a stand-up tour every year – unless you're a robot like Jimmy Carr. I can't do a stand-up tour every year. I need time to live and experience things and for things to happen, for me to notice things and write jokes about that. I'm on my fifth tour, my 20th year  of stand-up comedy. I've delved into everything. There's nothing in my past, I've used it all. So it a case of giving yourself time to write a new tour and not putting yourself under undue pressure to do one. This tour I'm on now is probably the best tour I've done. It's certainly the funniest and most thought-provoking. You leave thinking "oh, he made some good points there, actually". Which is fun to do in a stand-up setting. So I feel like the next tour has got to be even better than this one. It will be difficult but I'm looking forward to it.
---
You just said 20 years. That's a big anniversary…when you started did you think you would still be doing it 20 years later?
That's the weird thing about stand-up When I started it was sort of a hobby really, the sort of thing where you think "oh, that might be good". Now there is like a degree in it, people see it as a business opportunity. It has totally changed. I definitely hit stand-up at the right time.
---
So what are you doing to celebrate 20 years?
You know what, I don't know. I need to find out what the actual date is. But I don't know what I'll do… probably nothing. But you're right, I should do something.
---
Back to musical theatre, other than giving you that break from stand-up why that and not, say, painting or rally car driving?
Because I can't do those things. But I've always been able to sing, my family can all sing. My grandparents were Irish folk singers and came over to the UK in the 50s. I sort of grew up around music. I always thought that's what I'd end up doing, but stand-up became a thing. It doesn't feel like a massive difference in a way. It's another way of entertaining people and keeps me on stage. Also, it's something I think I can do when the laughter stops. I don't know if you're always going to be funny and the world of comedy has changed dramatically in the 20 years I've been in it. What it does is give me another option.
---
What would be your message to people coming along to see the show in Aberdeen?
You have lots of pressures and lots of stresses and life is hard and all these things. The beauty of stand-up and coming to see the show is my aim is for those couple of hours you just relax and forget about all those things going on in your life and have a laugh.