Former Deep Purple singer Glenn Hughes to perform in Aberdeen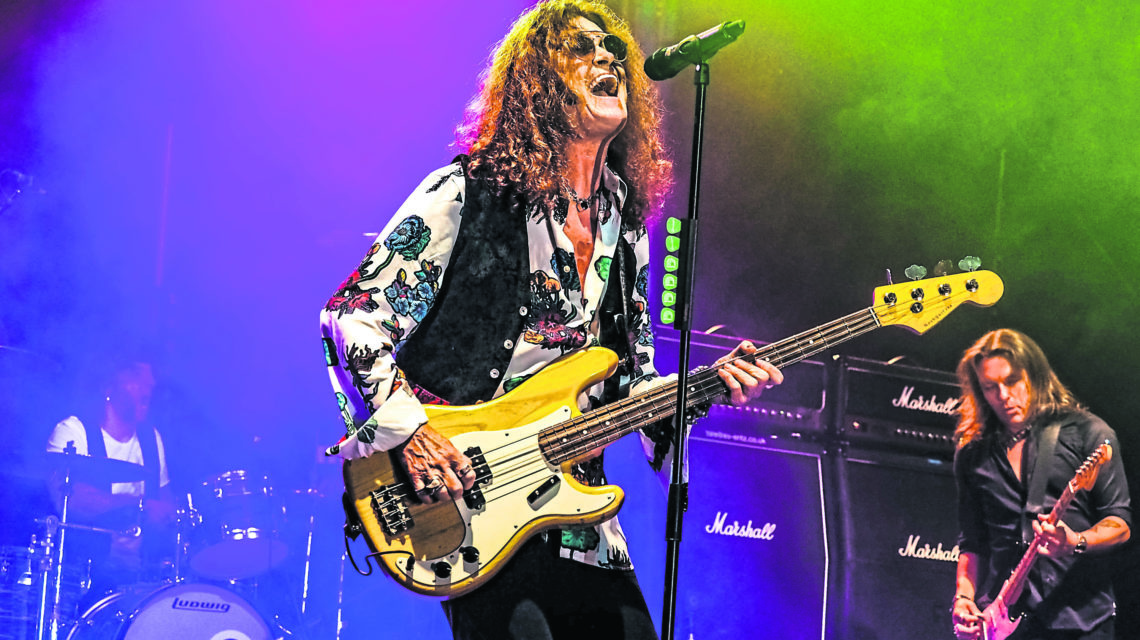 Former Deep Purple singer and bassist Glenn Hughes will roll back the years with a celebration of legendary rock music when he performs in Aberdeen.
Hughes and Deep Purple joined rock aristocracy when inducted into the Rock 'n' Roll Hall of Fame three years ago.
Now he will pay homage to the band by performing classic Deep Purple tracks at the Music Hall on Monday November 25.
Based in the United States, where he fronts rock super group Black Country Communion featuring Joe Bonamassa, Jason Bonham and Derek Sherinian, the singer is relishing playing in Aberdeen.
He said: "I am from the United Kingdom but have been living in America for so long I am very grateful to be returning home.
"The show will be a great, great time.
"I can't wait to bring the love that the fans have shown so freely to me back to them.
"In early 2017, I was asked by many promoters across the world if I would be interested in doing an evening performing classic Deep Purple live.
"After a few months of debating this, I went to Australia and New Zealand as a trial run.
"It was a success and I loved it, I was dedicated to performing these great songs. So now, here I am on this worldwide tour and I am very happy.
"My favourite part of touring is the time I spend on stage with my band giving the love back to my fans. "The most difficult part of touring is the time zones I am travelling in where I may lose a little sleep."
Renowned as the "Voice of Rock 'n' Roll" before he embarked on this tour, the last time Hughes performed a show solely of Deep Purple material was his last show with the band at the Liverpool Empire on March 15 1976.
He said: "This cycle of shows will be around two years long and after that I'm not sure what I'll do.
"What I won't do is sit back and relax. I'll take a short break and then I'll be on to the next thing, whatever it is and I will embrace it and I will give it love."
When he was just 20-years-old Deep Purple secured Hughes from British funk-rock outfit Trapeze in mid-1973. As bassist and co-vocalist (with David Coverdale), he helped steer the legendary rock group in the progressive direction of Burn (1974), Stormbringer (1974) and Come Taste the Band (1975), while touring the world for three years.
Although recorded before he joined Deep Purple Hughes will play classics Highway Star and Smoke on the Water.
He said: "A few years back, I cut a barnstorming version of Highway Star for the Machine Head anniversary tribute album with my good friends Steve Vai and Chad Smith.
"I'm not playing anything on this world tour that I didn't either play live or record in the studio with Purple.
"As my manager pointed out to me, the first time Smoke on The Water was ever played live at Madison Square Garden was when David and I were in the band in 1974.
"I did play both those numbers during my time with Purple and they were mainstays of the live set when I was in the band."
Hughes offers an insight into the other Deep Purple favourites he will play in Aberdeen.
He said: "Primarily it's the album Burn, Come Taste The Band and Stormbringer. These albums are so important to classic rock fans and for MK3 and MK4 Deep Purple fans."
Away from Deep Purple Hughes has released acclaimed solo albums and also sang on later albums with Black Sabbath. He collaborated with KLF on hit single America: What Time Is Love? in 1992.
He has also released four top selling studio albums in recent years with Black Country Communion.
His work with Deep Purple was acknowledged when he and the band were inducted into the Rock 'n' Roll Hall of Fame.
Hughes said: "My induction with Deep Purple in the Hall of Fame in April 2016 was a monumental occasion.
"I'm truly grateful to be given the gift of music, to be a songwriter and performer."
For tickets visit aberdeenperformingarts.com