Elaine is back at His Majesty's by popular demand from her Aberdeen fans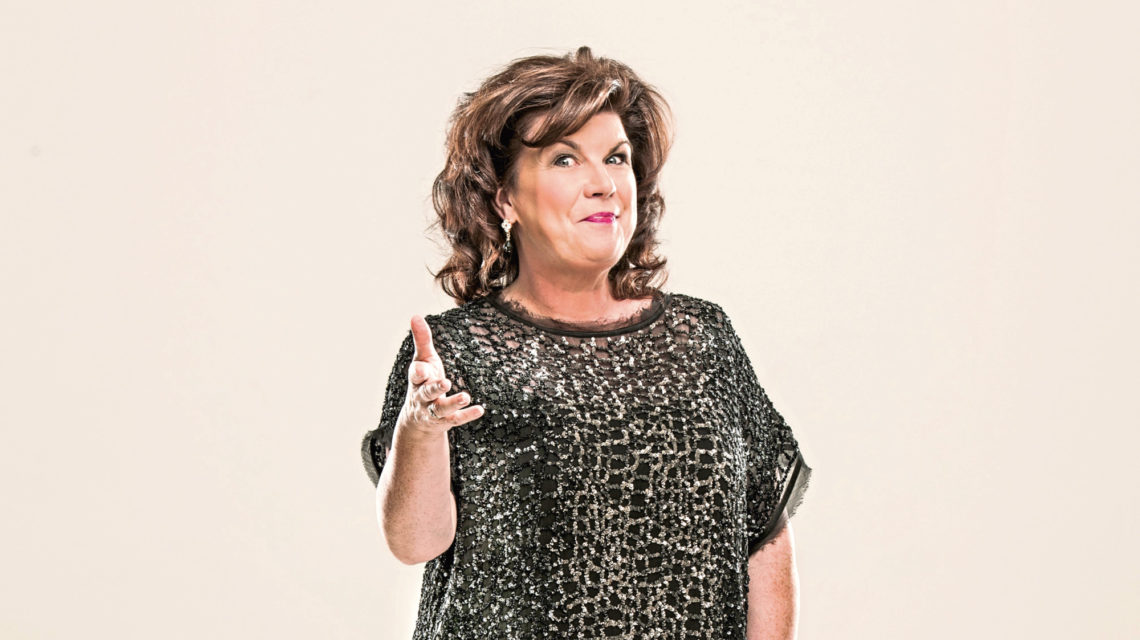 Elaine C Smith is coming back to entertain her fans in Aberdeen – and it really is by popular demand.
"When I was up doing The Sweetest Growl at The Lemon Tree last October I was stopped so many times by people saying 'Oh we miss you, when are you coming back?'" said the iconic Scottish actress and entertainer, who won the hearts of Aberdeen audiences with her eight years as His Majesty's panto queen.
That warm reaction prompted her to bring her acclaimed one-woman show An Audience With Elaine C Smith – a night of comedy, music, and storytelling with some special guests – to His Majesty's Theatre (HMT) tomorrow.
"I'm just so thrilled to be coming back," said Elaine.
"It's a nice thing to do in January, because people are looking for something to cheer them up a wee bit – me included, and the audience always cheer me up. And at HMT as well, I have such an affection for that theatre."
So what is involved in An Audience With Elaine C Smith?
"Well it's me with an audience," she said, laughing.
"So they get a show. I draw on life, women, the madness of women – and the madness of men.
"But I do a lot of stuff about Scottish life generally from my perspective. There's usually about 70% women in the audience. I always say it's where the women are women and men are feart.
"But I slag women probably more, myself included, about our madness. For instance, women don't really listen to me for the first five minutes because they are too busy looking at what I'm wearing."
Elaine said even she gets sucked into that judgemental way of women looking at themselves and others in a manner in which men are never judged.
"A pal of mine got a PhD, a First in biophysics or something like that. Everyone is going 'Oh, you were top of the year, that's wonderful, congratulations'. And she was saying: 'Yeah, I know but I looked dead fat in my dress'. A man, no matter how fat he was or ugly he was, would still go 'I know, I'm really brainy, aren't I?' Take the compliment."
Elaine said her show will also feature an appearance from Paul James Corrigan, who was Buttons in His Majesty's panto this year, as well as opera singer Christina Dunwoodie, plus a Q&A session.
"And there might be a wee appearance by Christine from Two Doors Down," said Elaine, referring to the character she plays in the hugely popular BBC Scotland sitcom.
Holding the stage as herself as opposed to playing a character must be a scary prospect, though.
"Not really, because I've done it for so long now. Also it's a version of myself – you're not getting the crabbit woman who's knackered after panto and wanting to watch box sets and not talk to anyone," she laughed.
"You are getting a cheery, happy version, but it's not a lie. It's part of who I am. But it is more difficult because you expose yourself. You do draw to a certain extent in comedy, on experiences where you have been embarrassed, or you have been a bit stupid, or thought stupid things."
Elaine said one of her favourite stories happened in Aberdeen when she first came up to do the panto at HMT and people she met around town were welcoming her and chatting to her.
"This older guy in a bunnet went 'It's yourself is it, you're coming up for the pantomime? Very good… it's Elaine C Paige, isn't it?'. I just said 'That's right, that's me'."
Tomorrow's show comes barely two weeks after Elaine completed a run in panto at the King's in Glasgow.
It marks the start of what will be a busy year for the award-winning performer.
"I start at the Lyceum in Edinburgh (on February 28) and then on to the Citizens in Glasgow doing 'serious theatre, love' – a Brecht play, Mrs Puntila And Her Man Matti – and that takes me up to the the end of April when I start filming Two Doors Down again, so busy, busy, busy."
Elaine said she is delighted with the way the BBC Scotland comedy show – for which she won a BAFTA as mad Christine – has proved to be so popular.
"I love the character and the writing is fantastic, so that's a joyous thing to do," she said, thrilled that the show has found its audience.
"Apparently we are over 10 million on iPlayer now. We got an email from Peter Kay saying this is the funniest thing on television, Richard E Grant has been in touch. I found out just a few days ago Elton John has been watching it."
Elaine has enjoyed her glittering career on stage and TV – memorably in Rab C Nesbitt – and is now picking and choosing projects that appeal to her now she's "at that age".
"That has a lot of appeal for me. You want to go and do stuff that you want to do.
"They don't all work and that can be hard. But sometimes the things you don't think are going to work, work brilliantly."
She still has a few boxes to tick though.
"I have only two or three wee bits in films over the years, maybe something like that. Maybe some voiceover work in a children's film for my granddaughter. They are always looking for good Scottish voices in Hollywood films. But I won't lose any sleep if I don't get that.
"For the last 10 years I have wandered through my life thinking, if this is as good as it gets, then thank you. I've had a great time."
For now Elaine is looking forward to her return to HMT tomorrow, along with all the precious memories of her time in pantomime here.
"I was coming for a year to see how it went and just fell in love with the place. It's a great team and theatre.
"People were really understanding about me wanting to get home (to Glasgow) after eight years, I'm not getting any younger, I've got a granddaughter, but it was a real wrench to leave. I had such a wonderful time there."
So she is hoping to see many familiar faces in the audience, along with plenty of new ones.
"I hope everyone has a good night, because that's what it's all about."
An Audience With Elaine C Smith is at His Majesty's Theatre tomorrow night. For tickets visit aberdeenperformingarts.com