Editors Preview: An electronic edit for band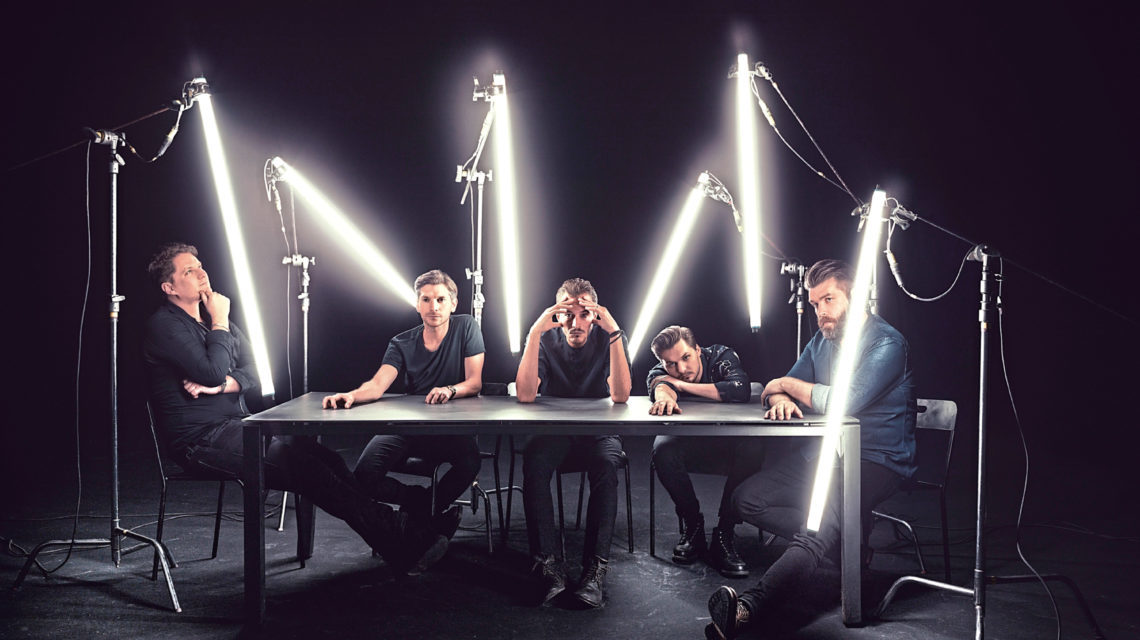 Alt-rock band Editors formed an unlikely sonic alliance with an experimental electronica artist to produce their latest album Violence.
A speculative approach to producer Blanck Mass (aka Benjamin Power) paid off as he agreed to work on their sixth studio album.
On paper the dark indie rock of the Birmingham five piece should not synch with the cinematic, electro soundscapes of Blanck Mass who recently released a soundtrack to the Gallo Italian horror film The Strange Colour Of Your Body's Tears.
However it works to produce an exciting, envelope- pushing new direction for the band.
Aberdeen fans will hear the fruits of that collaboration when Editors headline the Beach Ballroom tomorrow.
---
---
Editors' singer Tom Smith said: "We heard the new record World Eater by an electronic artist called Blanck Mass which sonically took us all by surprise.
"What we liked was how brutal it is as it is quite a hard listen at times.
"However it is also melodic. I haven't heard a record like that in a long time.
"It felt so fresh.
"Justin (Lockey, Editors' guitarist) has this little black book and has pretty much everybody's details.
"He said he was going to contact Blanck Mass, but I said there was no way in a million years that he's going to work with Editors.
"But he did. He said he would love to and asked us to send the tunes.
"Sometimes you just have to ask."
Blanck Mass recently supported Mogwai at His Majesty's Theatre in Aberdeen in one of the showcase concerts of the True North festival.
Violence is the follow up to Editors' acclaimed In Dream (2015) which was recorded in the Scottish Highlands.
Smith said: "We thought if Blanck Mass could have some kind of influence on what we were doing, it might put this record into a place that would surprise us and give it a freshness.
"It worked because when Violence is electronic, it's very electronic. And when there is use of the guitar it is very band driven.
"We've managed to find the balance of those two things better than we have done before.
"Violence definitely is a blend of what we've done but it feels fresh at the same time.
"We're always searching for balance, personality, sound… the last one we did on our own, this one we welcomed some people to help us make it, such as Blanck Mass, who brought different things."
Editors have embarked on an exciting new direction with Violence, something that was fundamental when they began work on the album.
Since their 2005 debut The Back Room they have continually attempted to mutate and move forward.
Smith said: "When you're doing something creative, if you feel like you're repeating yourself, that's the enemy. If you feel like you're just rehashing old ideas, it gets stale.
"It's the complete opposite of what being creative should be which is being surprising and spontaneous.
"Equally, you have to take a step back and not just think that you're the only people that know the right way to go.
With every record we try to do things slightly differently, whether it's the people we work with, the way we work with them or like In Dream where we didn't work with anybody.
"But with Violence we decided to get some people in to help us.
"You do need other people."
Violence is definitely a blend of what we've done but it feels fresh at the same time
Formed in 2002 Editors debut album The Back Room was nominated for the Mercury Prize.
All six of their albums have been critically acclaimed and also commercial successes. Live they are also a force.
Smith said: "When we play live it is not about re-creating these songs perfectly or making sure the performance is perfect.
"It's about that connection with the audience in the room.
"The music we make comes from an intense and emotional place.
"The audience are absorbing what we're doing so it can be quite an intense experience.
"People go on about how dark we are and the darkness that's in our band and I admit that our music is more serious than other indie bands.
"However I still think that the people who come to our shows and like us don't come because it makes them miserable, they come because it makes them happy."