Disney get better than this for talented Scottish skater Myles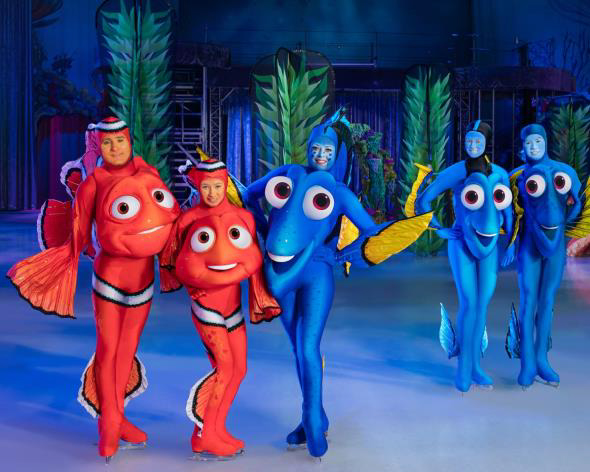 Aberdeen is set to become that bit more magical next week when the Wonderful World Of Disney On Ice skates into the AECC.
The show promises to be a spectacular celebration of favourite Disney films  such as Frozen, The Lion King and – for the first time on ice in the UK – Finding Dory.
Among the cast of hugely talented skaters will be Dundee's Myles Storrier, 19, who was one of the top-ranked figure skaters in the UK before he landed his dream job with Disney On Ice last year.
Society caught up with Myles for a chat, before he arrives in the Granite City next week with The Wonderful World Of Disney On Ice on its run from Wednesday to Sunday.

Are you looking forward to coming to Aberdeen with Disney On Ice?
Yes, I'm super excited to come to Aberdeen and play at home in Scotland with The Wonderful World Of Disney On Ice. It's a great show that's being performed fall around the country.
Do you know Aberdeen fairly well, being from Dundee?
I've been there many times and I've competed there as well.
What was the last gig you saw at the AECC then?
It was actually last year, it was the Disney On Ice show. I was still competing (in figure skating) at the time and I came up to see it with my family. So it's crazy that this year I'm actually going to be performing there.
What can we expect from The Wonderful World Of Disney On Ice?
You can expect a trip down memory lane – there are a lot of Disney movies within the show. There are a lot of classic movies, such as The Little Mermaid, Aladdin, The Lion King. There is also new segments from newer movies in the show, such as Finding Dory.
How would you describe the show?
It is something for everyone for sure. There are new movies a lot of children can relate to, such as Frozen which everybody loves, and Toy Story. But there are older movies, too. I feel everyone can relate and have their own link to the show because there are so many different movies from different times.
What are you doing in the show?
I'm an ensemble skater, so I skate in a lot of the big production numbers. You may find me in the Circle Of Life, probably one of my favourite numbers and it's from The Lion King of course. Being able to put something like that on ice makes me feel everyone should come and watch because it's great to see all the animals bowing down to the king. I'm in a lot of other segments, such as Frozen – you might see me as a citizen in Arendelle – and I'm in Under The Sea. I just help out wherever I can in the show.
What's the appeal for the audience?
I feel like I'm lucky enough to have actually watched a few Disney On Ice shows. For me watching it was such a great experience, such a great day out. To be in the show and see children's faces light up when all their favourite Disney characters come out is such a great feeling.
Who is in the audience?
Everybody comes to Disney On Ice. Younger children, teenagers, we have adults, even grandparents, the whole family comes to watch the show. It definitely has something for everyone and it's definitely family-oriented.
What other reactions do you get from audiences during the show?
We have a flying carpet in the Aladdin section, which everybody loves as Jasmine and Aladdin fly way together. It's such an amazing thing to see on ice. We have a lot of interactive numbers as well. In our Toy Story segment you will find Woody and Jessie teaching the whole audience a dance. We, as skaters,  actually get the audience – with the help of Woody and Jessie – to dance together and learn a whole number together.
What was your favourite Disney film as a kid?
I'd definitely say Toy Story. It was my very first Disney On Ice, too. I used to dress up as Woody and Buzz when I was younger and I loved all the movies. Getting to perform with them in an ice show is such an amazing experience.
You signed up for Disney On Ice towards the end of last year, didn't you?
I put in an audition tape at the end of August and heard back the next day. It was crazy to hear back for them so quickly.
So how long have you been on the road with the show?
Since September and I've been lucky enough to travel all over Europe and now I'm super excited to tour in the UK as well. I'm excited about coming to Scotland and Aberdeen. It will feel like home to me. Being able to perform for my family and friends will be great. They're coming up to see me. They are all looking forward to the show.
You've been skating since when?
I started when I was six years old. I first started to learn ice hockey. But then I changed to figure skating after a year and continued from them.
You were hugely successful as a figure skater, in the top five UK men.
Yes, I competed all over the country. Now I'm in Disney On Ice that's my competitive career over and I'm now a professional skater. I really loved to compete and enjoyed it while I did it. I had a successful career, but I knew I always wanted to go into shows. So getting to have a successful career and then getting to do my dream job was just perfect.
What next for you?
Super excited to tour the UK and hopefully next year I will continue to be with Disney, doing a lot of different other countries. It's something you can only imagine, getting to see different countries, different cultures while continuing to skate. It's just fantastic.
What's your message to people coming to see The Wonderful World Of Disney On Ice in Aberdeen?
Everyone of all ages should definitely come to see the show because to have all their favourite movies, past and present, in one ice show is just a great day out for everybody. You will see Mickey and Minnie and all their friends taking you on all these adventures.