Band of love is at the heart of moving musical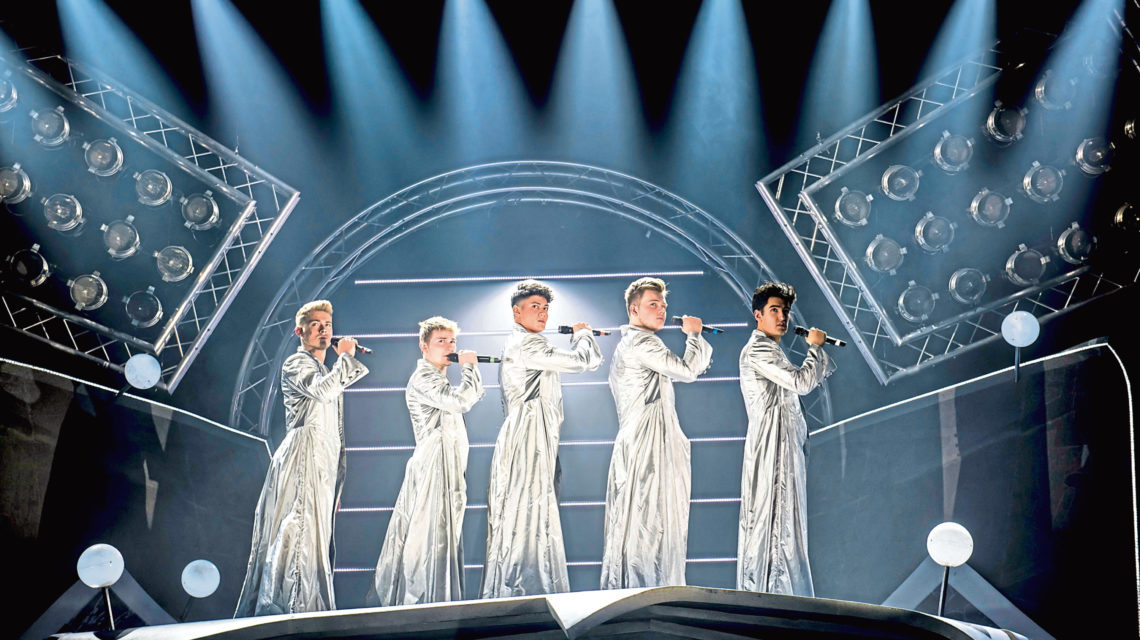 The Band could – some might even say should – actually be called The Girls.
After all, the musical isn't the Take That story, even though it is driven along by hit after hit from Gary Barlow and the boys. It is the story of a group of teenage girls, bonded by their love of the band, driven apart by tragedy, then reunited 25 years later to discover their lives have taken different turns from their childhood dreams.
When you bring Tim Firth's deeply moving and heartwarming yarn together with Take That's music, you get a show that has been playing to packed audiences around the country and winning critical acclaim along the way.
Two of the show's stars – Jayne McKenna who plays grown-up Zoe and Rachel Lumberg who plays adult Rachel – think they know why it has proved to be so popular.
Jayne said: "I have a theory. The thought of coming to hear Take That songs gets people through the door a lot of the time, but it's the story that gets people coming back. We have people who have seen this 22 times.
"It's Tim Firth's beautifully crafted story about these five young girls, these older women, what happens to them in their lives, is the story of the people who are sitting out there watching it. That's what we get at the stage door. People say to us 'you are me up there', we're representing the lives of people in the audience.
"It doesn't matter if they didn't like Take That, it's any band, any musical group that united you as teenagers, it could be Wham! or Duran Duran, then you meet up with those same friends 25 years later. It's the glue that got you together when you are young and that's the friendship that remained."
As for it being called The Band – not The Girls – Rachel said it reflects the different aspects of the story being told.
"It's the band which you get for your wrist when you go to a show, then there's the band of friendship, then there are the boys who sing. So there are three elements of the band. But we tend to go on the band of friendship where there is no start and no end to it, it is unbreakable. We all have friends where you can go away and come back and it feels like you haven't been apart."
Rachel said one of the beautiful things about the story is the way it portrays the changes the girls have seen in the intervening years. She said: "What has happened in their lives isn't what they planned on doing when they were 16 – but quite frankly, whose is?"
The Band, which arrives at His Majesty's Theatre in October, cleverly has one set of actresses playing the 16-year-old friends and another – including Jayne and Rachel – playing them as adults.
"The updated models," joked Jayne, whose stage and screen career has seen her star in West End hits like War Horse and popular TV series like Footballers Wives.
Both versions of the "girls" have worked closely together. Jayne said: "We call them our 'Mini-mes' and we spend a lot of time together. And we learn from our younger actresses as well. Just because you've been driving a car for 25 years doesn't make you a great driver. There's always stuff to learn."
Rachel said: "During the rehearsal process they start before we do, so we were watching a lot of their mannerisms and thinking 'okay, I need to bring that in'. It's those little elements, so when the doors open and the 25-years-later versions appear, the audience go 'oh my God, they just left'."
Of course, central to all of this are The Band, as played by Five To Five who won the TV talent show Let It Shine to win the coveted roles.
Their involvement – from cropping up in teenage bedrooms in the girls' imagination to playing "reunion gigs" – push the narrative along as do the string of hits, including Back For Good, A Million Love Songs, Relight My Fire and Shine.
Rachel, who has won a slew of awards for her theatre work, including The Full Monty, said: "The songs very much drive the story. Often people say, I wouldn't have imagined that song going there. But if you truly listen to them, they absolutely make sense where they have been put. Tim and Take That spent a lot of time making sure they worked.
"Certainly when Gary wrote A Million Love Songs at the age of 16, sitting in his bedroom, never did he envisage using it in the way we use it. That's one of the beautiful things of this story. You forget the song is theirs and completely concentrate on the story."
But, of course, the music is Take That's and, as producers, the band have worked closely with the cast.
Jayne said: "We work for them technically, they are our bosses, but they are so kind and supportive to us. They'll come round our dressing rooms and say 'how are you'… they'll thank us.
"When we first went on stage in Manchester where we opened, they were backstage saying to us 'I don't know how you do this, this is amazing' and we thought 'but you're Take That'. They really respect what we've brought to this."
Right now the cast are having a well-earned summer break from touring, having been on the road since September last year.
But both Rachel and Jayne are looking forward to coming to Aberdeen – even though the trip to the Granite City prompts a confession from East Kilbride-born Jayne. She's not been to Aberdeen.
"This is my shame. My father used to work offshore so he would spend a lot of time in Aberdeen. We never actually got to go as children. For me Aberdeen was the place my daddy went to go work on the oil rigs. So I am really looking forward to going there. It will be lovely to see that part of my country."
Rachel, though is an old HMT hand.
"I've played His Majesty's twice, so this is my third time. I have done Calendar Girls and Fully Monty there. I love Aberdeen. It is a beautiful theatre and a stunning city."
The Band is at HMT from October 3-13.