A house in the woods in College quadrangle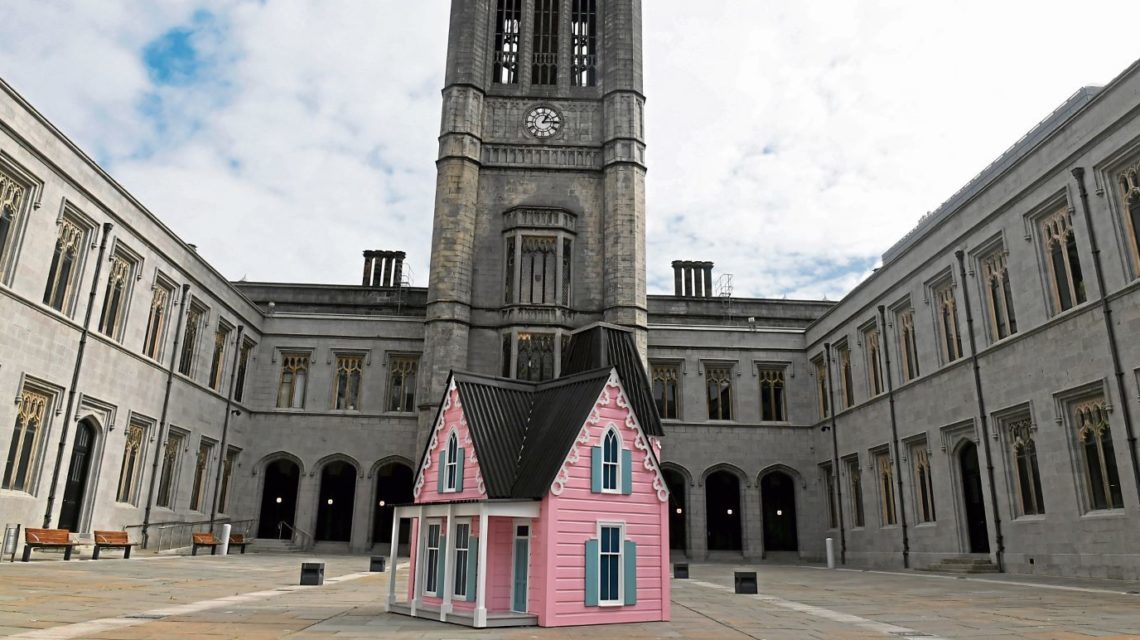 It's a touch of Gothic with hints of fairy-tale, mixed in with the Wizard of Oz – even a dash of Psycho – and it's sitting in the heart of Marischal College's quadrangle.
What is it? It's actually the work of acclaimed artist James Rigler and his A House In The Woods is bound to be one of the major talking points of the Look Again art festival which runs from today until Sunday.
The Glasgow-based artist says his bright pink and pistachio eye-catching work – complete with a hidden ice cream kiosk – was inspired by Marischal College itself.
"Being shown that enormous space of Marischal College quad, I was intrigued by the idea of this enormous Gothic building. There's a John Betjeman quote about it being a forest of pinnacles.
"So, that was the starting point of me thinking 'what does that make this epic empty space in the middle of all that, which feels underpopulated'. It feels like it's missing crowds of people to be in it."
James said that started a train of thought about clearings in the forest, clearing prairies and populating big empty spaces in the US, then about how Gothic style runs through different aspects of our culture.
"So, you have Gothic revival buildings, like Marischal College and that's also related to this little house in the clearing in the forest, which is like the Gothic fairy-tale stories with an edge of spookiness and menace."
James said that concept flows into other small buildings like sheds and beach huts and dolls' houses. "I like the idea of the bothy, or the beach hut, relating to the dolls' house, relating to Dorothy's house in the Wizard of Oz flying through the air and landing in that beautiful American Gothic painting of the couple standing in front of their Gothic house on the prairie.
"A House In The Woods is purposely in a style called carpenter Gothic, so it will hopefully bring in all of those North American prairie house connotations… a little bit of the house is Psycho. So, it's slightly cartoony, slightly surreal and dreamlike."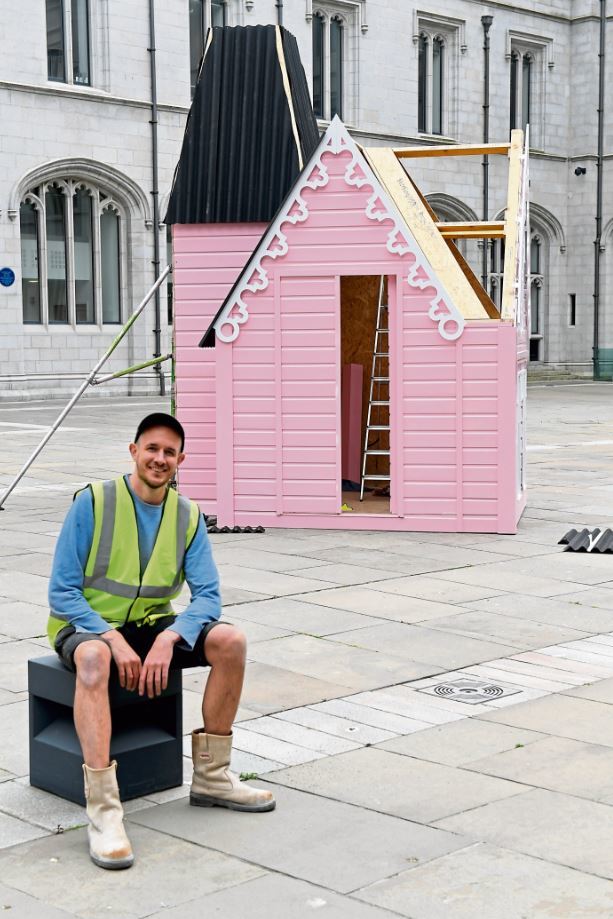 James said that rather than try to rival the college, he has shrunk his house down to half to a third scale, about the size of a medium garden shed.
He chose to work in painted wood – he's trained as a ceramic artist – to reflect the prairie style.
"It gave me a chance to work with beautiful brightly coloured paint, something that will be hopefully surreal and slightly comic, but kind of luscious and juicy in that big expanse of granite in the quad."
James said the house, with its little tower, shutters and porch, will sit like a scale model and people can touch it and walk round it.
So how does the ice cream – a gingerbread flavour made specially by Mackies – come into play?
"It was the idea of the gingerbread house, or the witch's hut, luring people in with something delicious, which is sort of what I was doing," says James.
"When I first went to the quad with the Look Again crew, I was thinking 'this space needs bringing to life, we need to lure people in here, let's give them something delicious'. With Mackies just opening next door, it all seemed to come together."
James said there is almost a secret door at the end of his house which will open to reveal an ice cream "giver-outer" – it's free.
"It will reveal it's secret other life, beyond being an architectural model when the ice cream is given away every day at noon. The rest of the time it's sealed up again, like it's guarding its treasure."
But what does James hope people will take away from his A House In The Woods, apart from ice cream?
"I'm hoping it will bring people into the quad who might not otherwise use it. It's a prompt to remind people this building is part of their amazing architectural heritage, but also a space for people to use.
"It's a strangeness for me coming from Glasgow where all the Victorian and Edwardian sandstone buildings are crumbly, whereas Aberdeen because of the granite has this crispness of buildings, as crisp as the day it was carved. That's really something."
He believes festivals like Look Again have a vital role to play in the lives of cities which host them.
"Culture and art and the creative industry can really bring to life all sorts of exciting things in a city. Aberdeen has this amazing heritage in its built environment and all sorts of other things.
"Any opportunity to bring attention to that is really great. You are celebrating something which is already there and I hope will help people feel differently perhaps about their city.
"I like to think that art in public spaces is a generous act. It's hopefully giving people a free gift. They get to experience something new but hopefully take it away and it will give them a different way of looking at other things, other places, other aspects of their lives."
Beyond installing A House In The Woods, James is looking forward to being in Aberdeen for Look Again.
"I'm looking forward to seeing Aberdeen in the summertime – even if it's raining, because I have been there only over the winter months before. So I'm excited to see that – and the light – and the other exhibits… and sharing my ice cream."