Sculpt your body with this expert guide from Aberdeen's AKR Fitness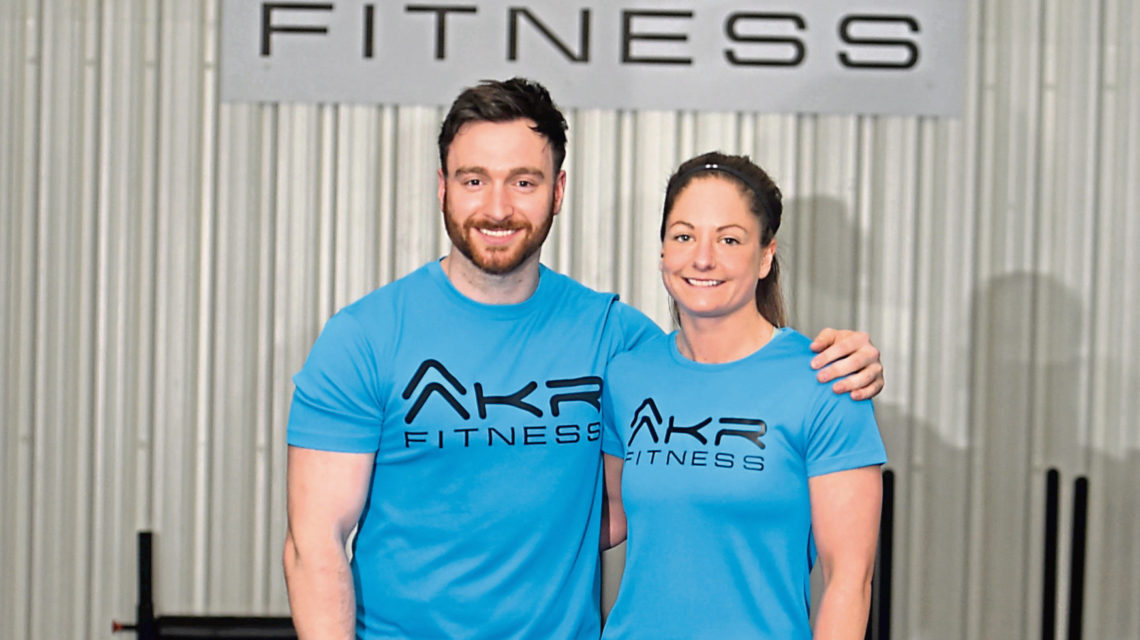 Circuit training is an accessible way to improve your physical fitness.
It's one of the specialities of AKR Fitness coaches Jason Donaldson and Lynsey Gauld, who talked Mr.Society through a full body routine at the personal training gym on South College Street, Aberdeen.
If you're looking to sculpt and strengthen your body, then follow these exercises three or four times a week, performing 10 reps of each movement. Repeat the circuit three or four times. You can start some of the movements with your bodyweight, but when you're ready to scale it up, all you need is a dumbbell, kettlebell and resistance band.
---
Slow seated twist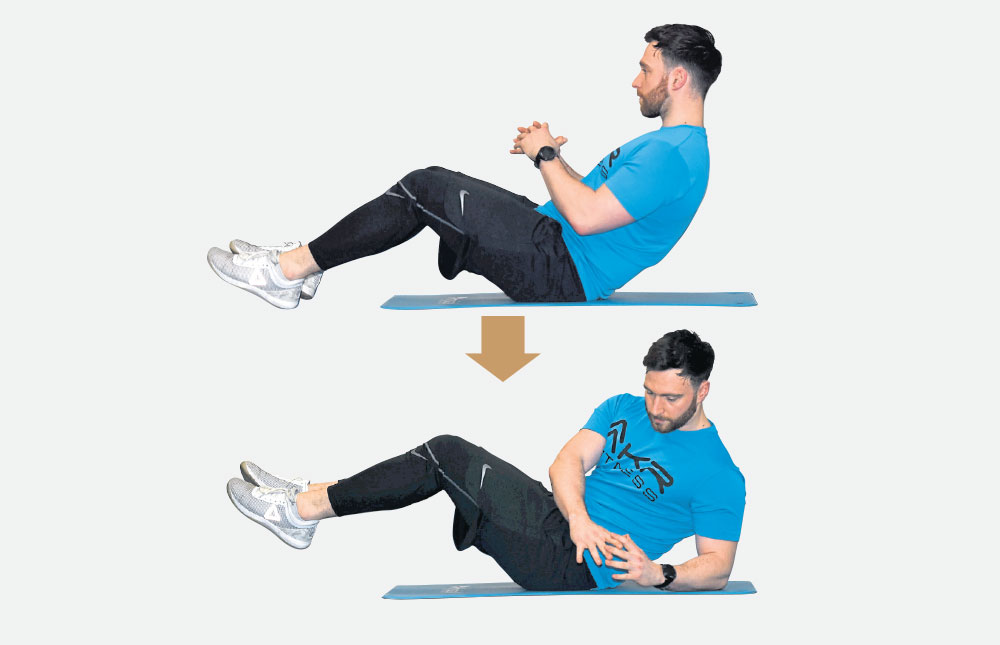 Start by sitting up with your feet raised off of the floor, keeping your core tight. Slowly twist to one side, then back to the starting position, before repeating on the other side. For this mini core circuit perform 10 repetitions of each exercise, repeating the circuit three times.
---
Mountain climbers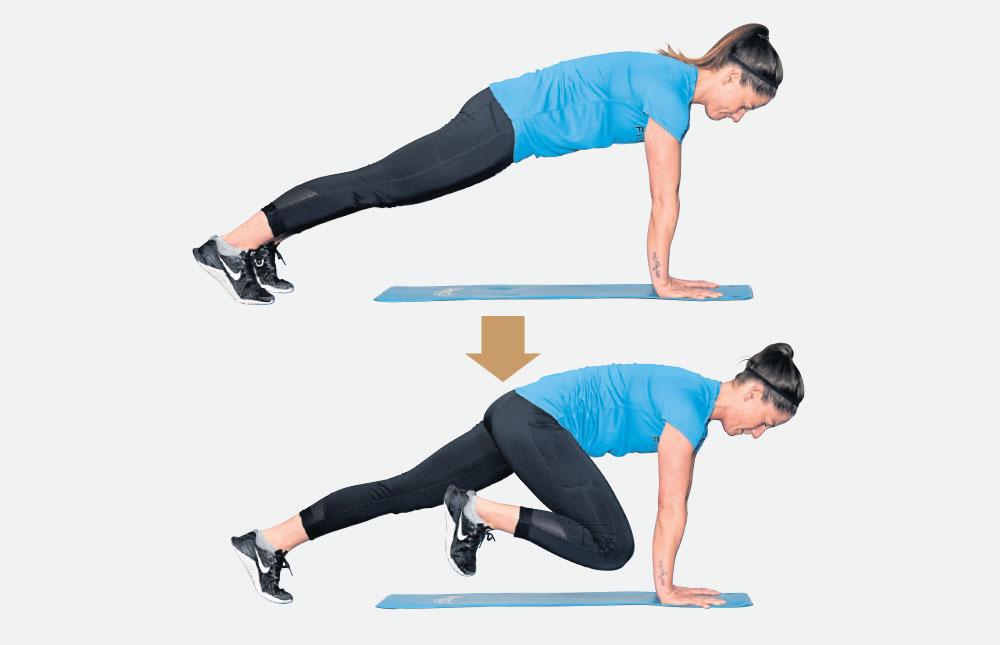 Begin this exercise as if you've just reached the top of a press-up.
Keeping as tight as possible, raise one knee up to your chest and then back down, before repeating with the other leg. That's one rep.
---
Dead bug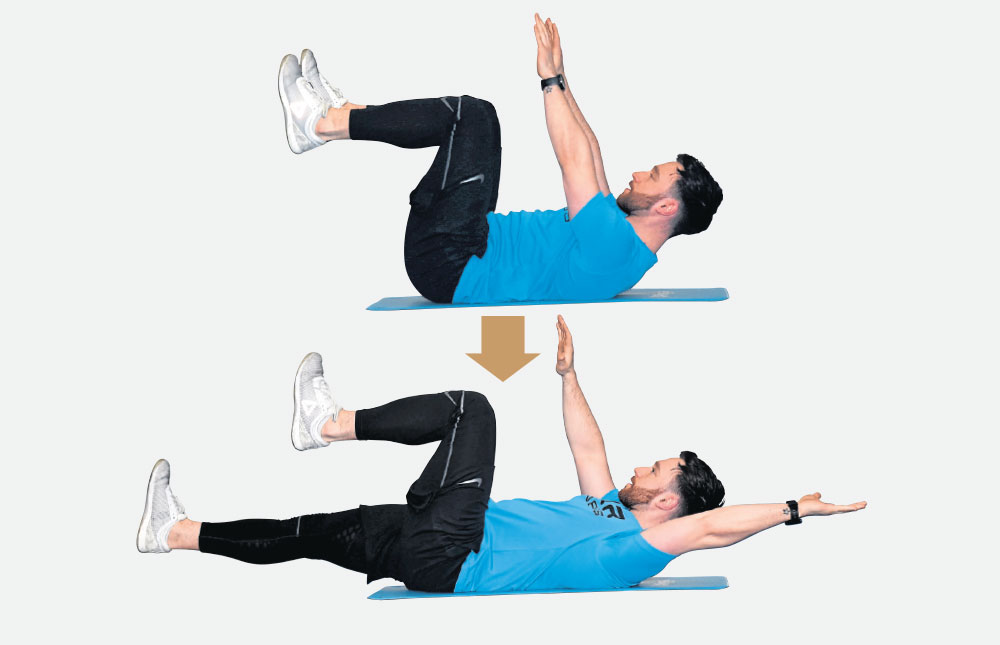 This one looks more complicated than it is.
Lie on your back with your core tight, your knees perpendicular to your torso and arms pointing towards the ceiling.
Lower your left arm and right leg at the same time as far as you can without touching the ground, then return to the starting position.
Complete one rep by repeating with your right arm and left leg.
---
Banded bicep curl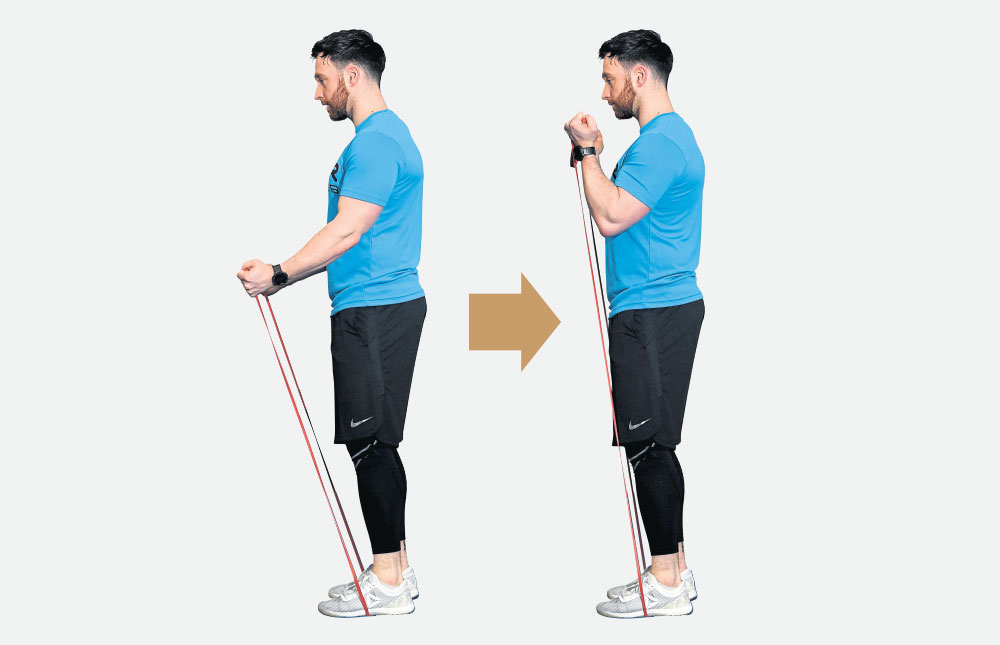 Put a resistance band under your feet and hold the other end out in front of you with both hands at about waist height.
Bending at the elbow, curl the band up explosively to around your upper chest, fully contracting your biceps. Lower slowly back to the starting position and repeat.
---
Banded pull-aparts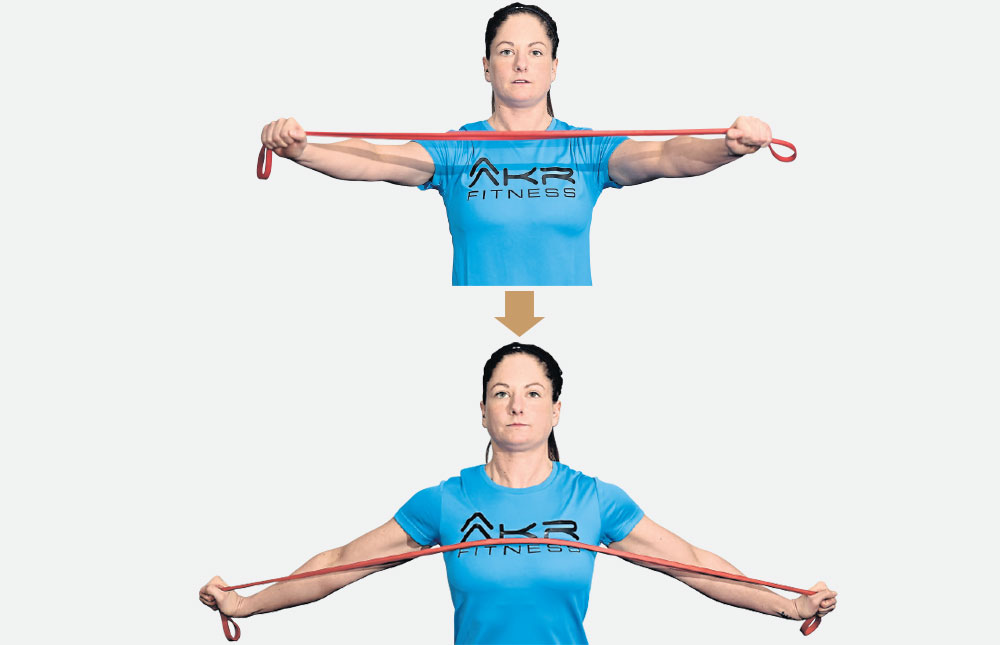 Hold the band out in front of you at shoulder height with straight arms.
Pull both arms back as far you can, which will work the muscles in your upper back and shoulders.
The band will stretch across your chest while doing this.
To complete the rep, slowly return to the starting position.
---
Goblet squat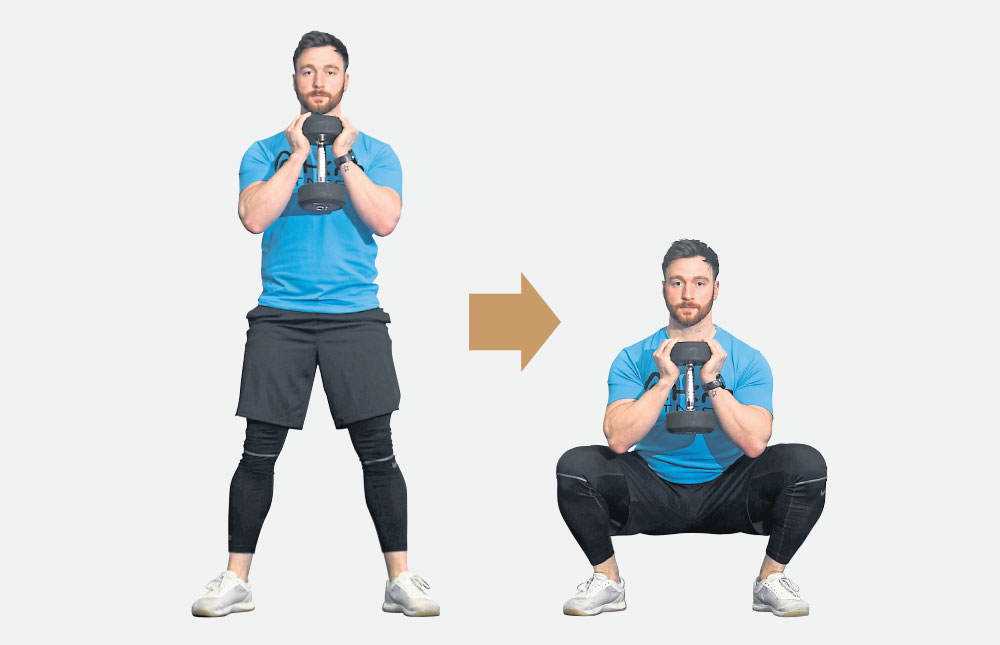 The second exercise to work your legs is one of the less daunting squat variations.
Hold a dumbbell to your chest as shown.
Place your feet shoulder-width apart and squat down, maintaining a straight back. Think about pushing your hips and backside out as you descend.
Lower yourself until your thighs are parallel with the ground, then push back up explosively through your heels. Repeat.
---
Overhead single arm press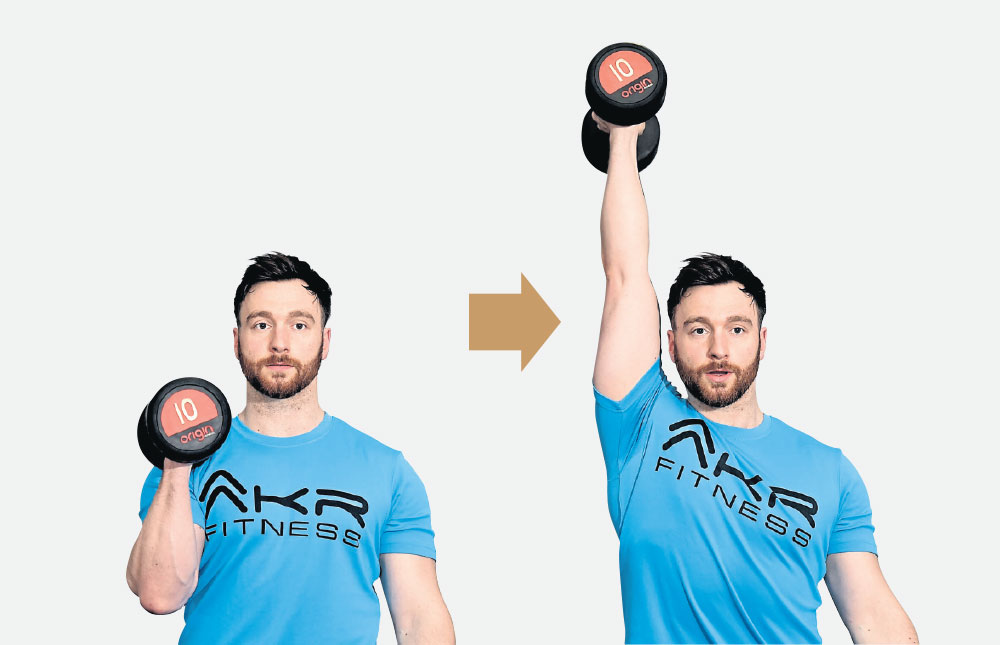 Here's another exercise for your shoulders.
Hold a dumbbell in a neutral grip (the direction Jason is demonstrating) at shoulder height and press up, before lowering back to the starting position.
Then swap arms.
---
Kettlebell swing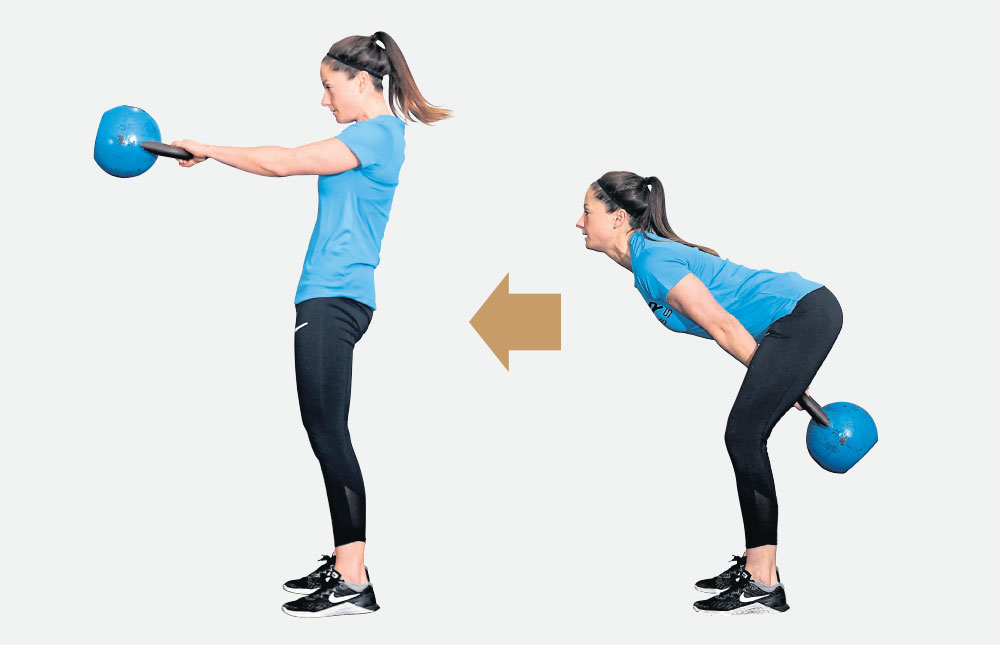 The classic kettlebell exercise.
Hold the kettlebell in both hands in front of you. Bend your knees slightly and lean forward – again, maintaining a straight back – while lowering the kettlebell between your legs.
In one powerful movement, stand up and swing the kettlebell in front you, before returning to the starting position and into the next swing.
---
Split squat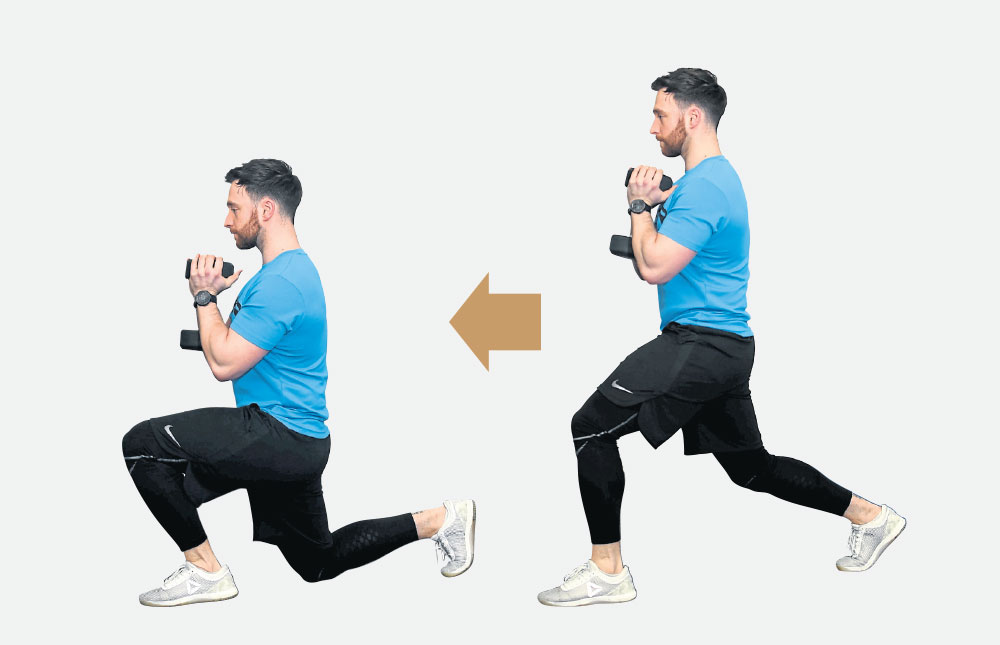 This is another lower body movement.
Hold a dumbbell to your chest – like the goblet squat – but place one foot in front and one behind.
Slowly lower yourself down focusing on using the leg which is in front to control your descent and to push you explosively back to the starting position.
Perform 10 reps, then swap sides.
---
Overhead tricep extension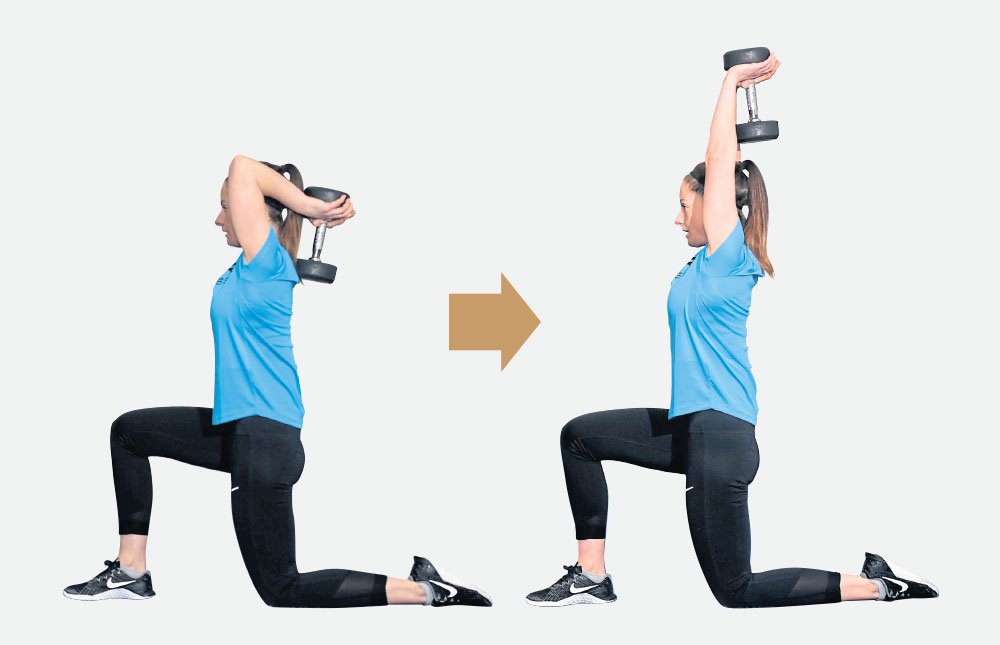 Lynsey is demonstrating it in a split-squat position, but stand up or sit if you prefer.
Hold one dumbbell straight overhead with two arms.
Bend at the elbows only to lower the dumbbell behind your head to the back of your neck.
Push it back above your head to complete the rep.
---
Plyometric skater jumps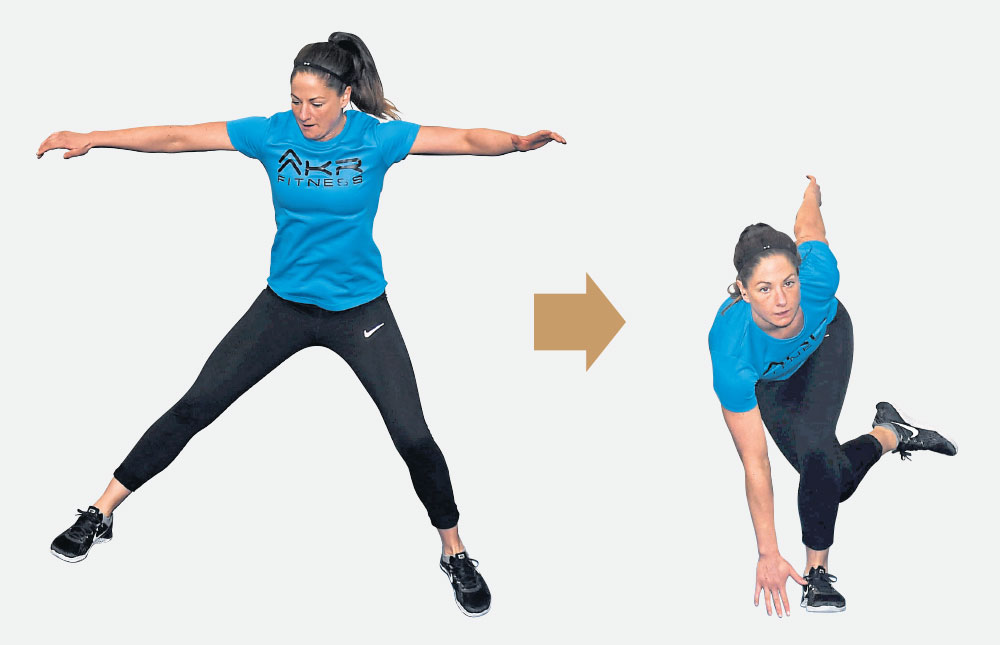 Start with the most demanding of the movements.
For this exercise, jump to the side, landing on one leg. On impact, pull your non-standing leg behind you.
Use your hands to maintain your balance.
You should resemble a speed skater in this position.
Jump to the other side, performing the movement with the opposite leg.
That's one rep.
---
But what about nutrition?
If you want to eat in a way that supports your health and helps you manage your body weight, then you need to ditch the idea that foods are "good" and "bad".
Instead describe your food choices in a more logical, rational way:
1. How calorie dense is the food?
Considering calories is about considering the quantity of food you eat. As far as weight loss or weight gain is concerned, calories are king.
2. How nutrient dense is the food?
Considering nutrients is about considering the quality of food you eat. To support health, the body needs an abundance of nutrients – vitamins and minerals – from our diet. Some foods are more nutrient dense than others. It would serve you well to include an abundance of nutrient dense foods – like fruit and vegetables – in your diet.
3. How filling is the food?
Some foods satisfy us, others seem to drive cravings. If you're trying to control your calorie intake, it would be helpful to include plenty of filling foods in your diet and only a little of the foods that drive cravings. Protein-dense foods have been shown to help keep us fuller for longer.
4. How enjoyable is the food?
If you "never" allow yourself to eat the foods you love, you're sitting on a binge-shaped time bomb. If you don't like what you eat, it's a matter of time before you choose to eat something you do like.