Tinto Architecture bring outside in with stylish upside down home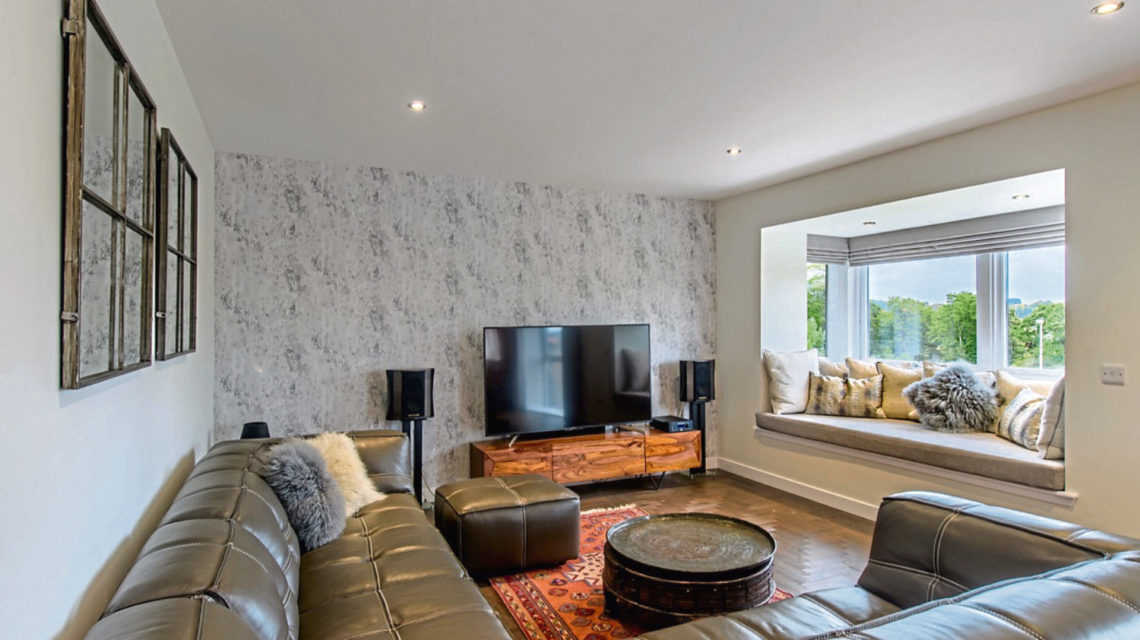 Creating a bright and functional space that all the family can enjoy is sometimes easier said than done.
Redesigning the interior of a client's four-bedroom detached home in Primrose Bank Drive in Cults, Nina Cradock, an interior architect for Tinto Architecture, did one thing not many designers would do, she consulted the children.
Taking advantage of the stunning countryside views, the upside-down house is perfectly suited for entertaining with the living areas upstairs and the private bedrooms downstairs.
Nina, who has worked at the firm for 18 months, said the brief was simple – to bring the outside inside and open up the family spaces.
She said: "The house is upside down – all the bedrooms are downstairs and the living area and kitchen is upstairs – that's where you can see those phenomenal views they have.
"The clients are both Italian and they've lived in Italy, London and have now relocated to Aberdeen. They always knew Cults was where they wanted to stay but the interior wasn't what they were looking for so we completely changed it.
"They wanted to bring the outside in and really open up all the space and the upstairs is one big open area, so we used a number of different designs and styles to create this really fabulous space."
Enthusiastic entertainers and regularly inviting friends and family over to visit, Nina ensured there was plenty of open space and storage areas as well as a cosy snug for the family to enjoy together in the upstairs open-plan kitchen and living area.
She said: "They love to entertain and get friends and families over. With the space being so big, the palette had to be quite muted and be able to add in or change out a pop of colour.
"There was a lot of nice furniture the clients had accumulated from different countries, so it was important to be able to have a colour palette that suited all of that, hence why we went for the greys and the red accessories to complement the space.
"Just around the corner from the big family area, there's also the cosy snug area that is perfect for just cuddling up with a glass of wine."
Working down the stairs, the hallway and ground floor bathroom incorporate a relatively new trend to the interiors world – geometric and linear designs.
"I'd definitely say more linear designs are very much in just now," said Nina.
"I think people, lots of people like these lined looks and that hallway wall really lent itself to being able to carry it off as it goes from downstairs to upstairs which is really funky. That sort of geometric pattern is really popular just now.
"We've done really funky wallpapers for both the hallways and the smaller bathroom. The clients wanted to have fun with it so we used different wall coverings in the hall space to add a bit of character to it."
One space which has been kept entirely private is the master bedroom – a pocket of tranquillity where the owners of the house can relax in peace.
"The master bedroom is the one space the owners of the house like to keep as their cosy space," said Nina.
"The rest of the house is very much suited to their two girls and family life, but they wanted to keep their bedroom as this relaxing space where they can just chill out.
"We've put a darker blue pantone throughout this space and complemented it with additional white walls. Dark blue is a very popular colour just now and the fabrics really complement that with the blinds and the curtains. The bed itself is a lighter grey hue and is more about lifting the space and adding lighter tones to the room, giving it a little bit of a contrast, and the big mirror is great for reflecting light."
The final piece to the puzzle was ensuring the two girls had a say in what their own rooms looked like.
Treating them as separate clients, Nina explained that it was the opportunity to make them feel included in the exciting changes throughout the house that really unleashed their creative spark.
She said: "I had mini client meetings with the girls and took some inspirations from what they wanted for their own rooms. It was a great chance for us to really appreciate what their wants were and showcase their individual personalities. Both rooms are really trendy and we've brought in these cool vinyl wallpapers in them.
"In one, we've got a more linear wallpaper with a touch of Dalmatian print, too, which really brings in that super popular animal print that is everywhere right now – and it fits in nicely with fashion trends too.
"The art splats in the second room are great.
"The wallpapers are from a company called Ohpopsi – they do heaps of cool vinyl designs for children's rooms especially."
Adding accessories to personalise and customise each girl's bedroom, both now have individually styled spaces to enjoy.
"The two girls are very different, one's more outgoing and the other really likes to read so we created a canopy bean bag area in her room to give her a tranquil space just to enjoy," said Nina.
"Customising the room with one of the girl's names was a nice touch too and made it feel more personal to her. They used to share a bedroom so they now have full ownership of their own space – although they can go and use their playroom where the two of them can hang out together.
"The unicorn light is cute too and adds a nice girly touch to it for sure and the different colour chairs add an extra splash of colour into the mix too."