The Stonehaven Candle Company offers sweet-smelling wares in the north-east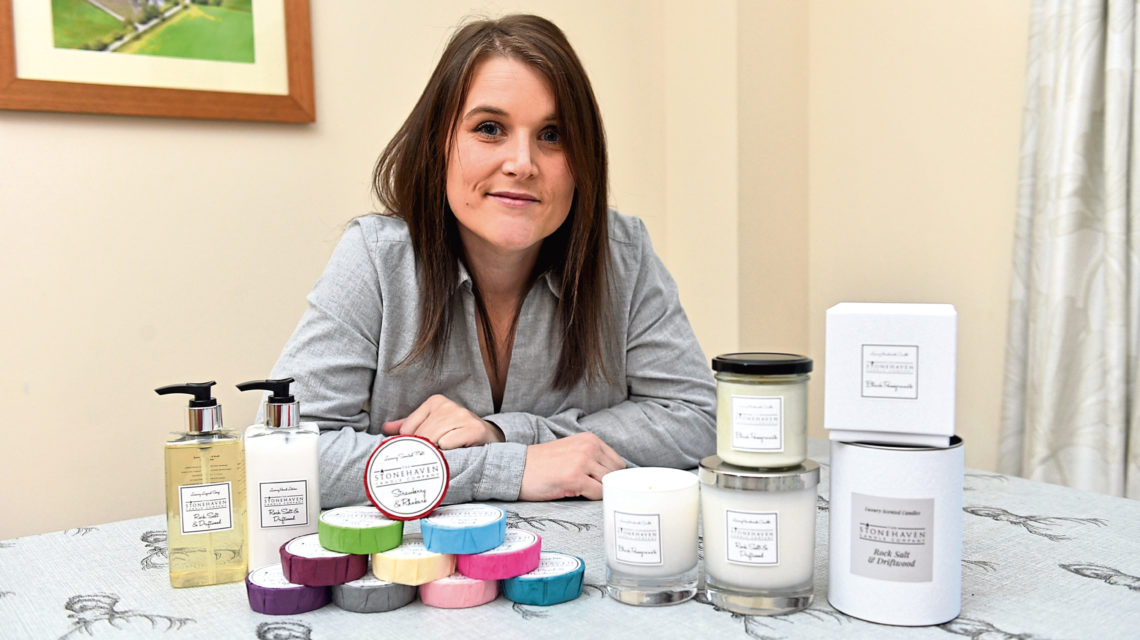 After turning her hobby into a profitable business, Stephanie McCullough now hopes to open a candle shop in Stonehaven.
The talented Aberdeenshire creative set up her candle-making business The Stonehaven Candle Company in late 2016 as a way to be crafty during motherhood.
"I have three children and I found that all my time during the day was spent cooking, cleaning and looking after my children. I did not have any hobbies to do on my own," said Stephanie.
And while she thought about learning how to make melts and candles for a while, it always seemed like the timing was wrong. But when her youngest daughter was two years old, she finally decided to take the plunge.
Stephanie said: "I originally started off by making melts only and then I progressed to candles. The Stonehaven Candle Company started trading in December 2016 when I attended my first event in Bon Accord.
"I was extremely nervous as this was the first time I had sold my products and with it being December, it was very busy with people doing their Christmas shopping."
Fast forward a few years, the festive period is Stephanie's favourite time of year.
She said: "I attended many events over the Christmas period. I really enjoyed the American Women's Association Holiday Craft Fair, but my favourite will always be the Aberdeen Christmas Market on Broad Street. I just love the Christmas atmosphere and I 100% want to attend these events again in 2020."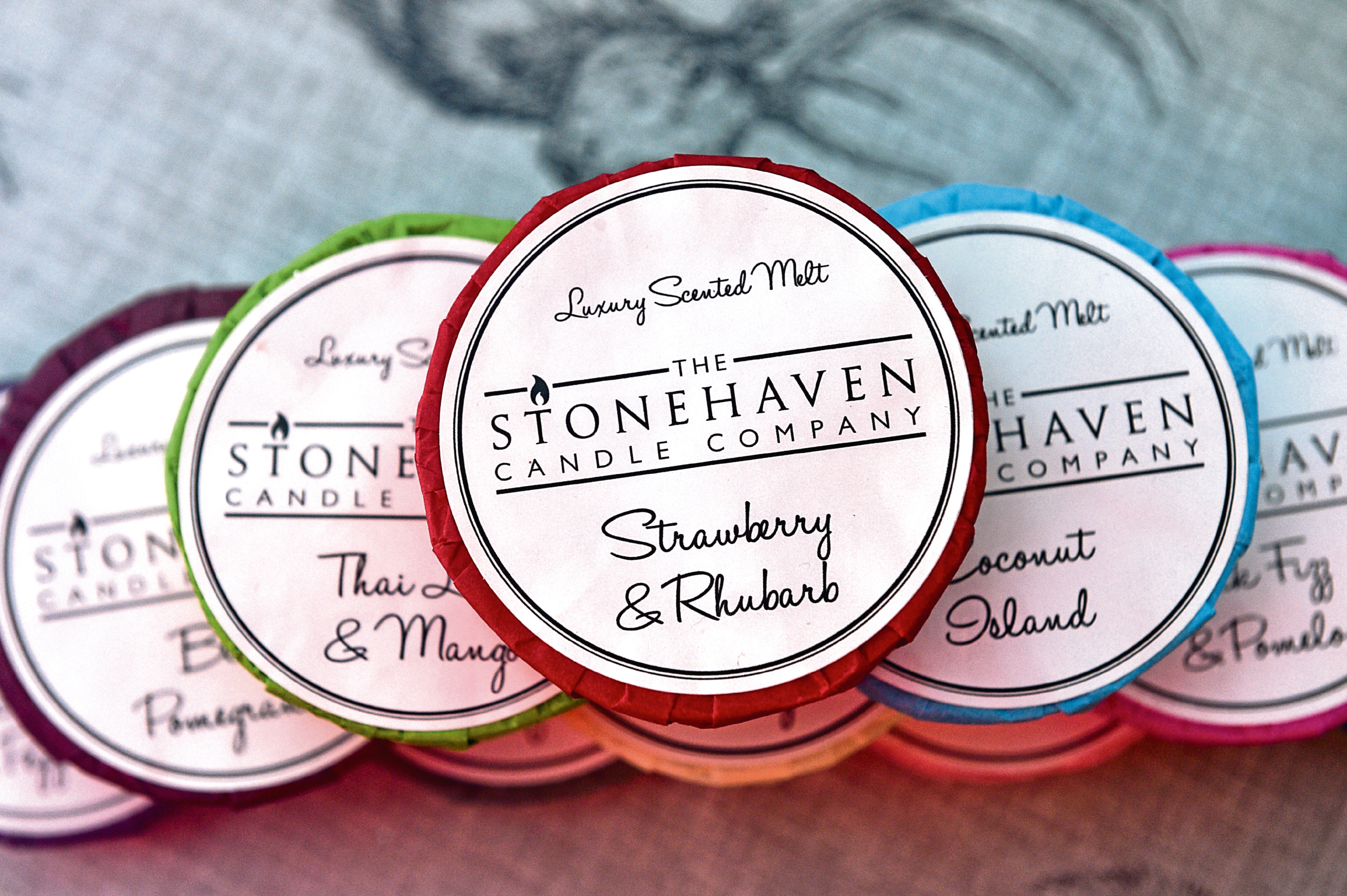 Candle-making is now Stephanie's full-time job. However, she also sometimes works as a bank domestic assistant in Kincardineshire Hospital in Stonehaven.
She said: "I help out when they are short staffed and need extra cover. I like this as I can choose my shifts to suit my family and my candle business."
At the moment, Stephanie's loyal customers can choose from four different candle sizes.
"My largest candle is the twin wick-candle which is in a white glass with a stainless-steel lid," said Stephanie.
"I also had boxes custom-made for these candles because I wanted to bring something unique to the market. Jar candles are definitely my best-seller and they are the smallest.
"I offer wax melts in a variety of scents, too."
Stephanie has now also added hand washes, lotions and room sprays to her offering.
She said: "I wanted to branch out and add to my product range. My soaps and lotions come in Rock Salt & Driftwood, Cassis & Fig, Strawberry & Rhubarb and Peony & Blush Suede scents.
"I would also like to start offering gift sets."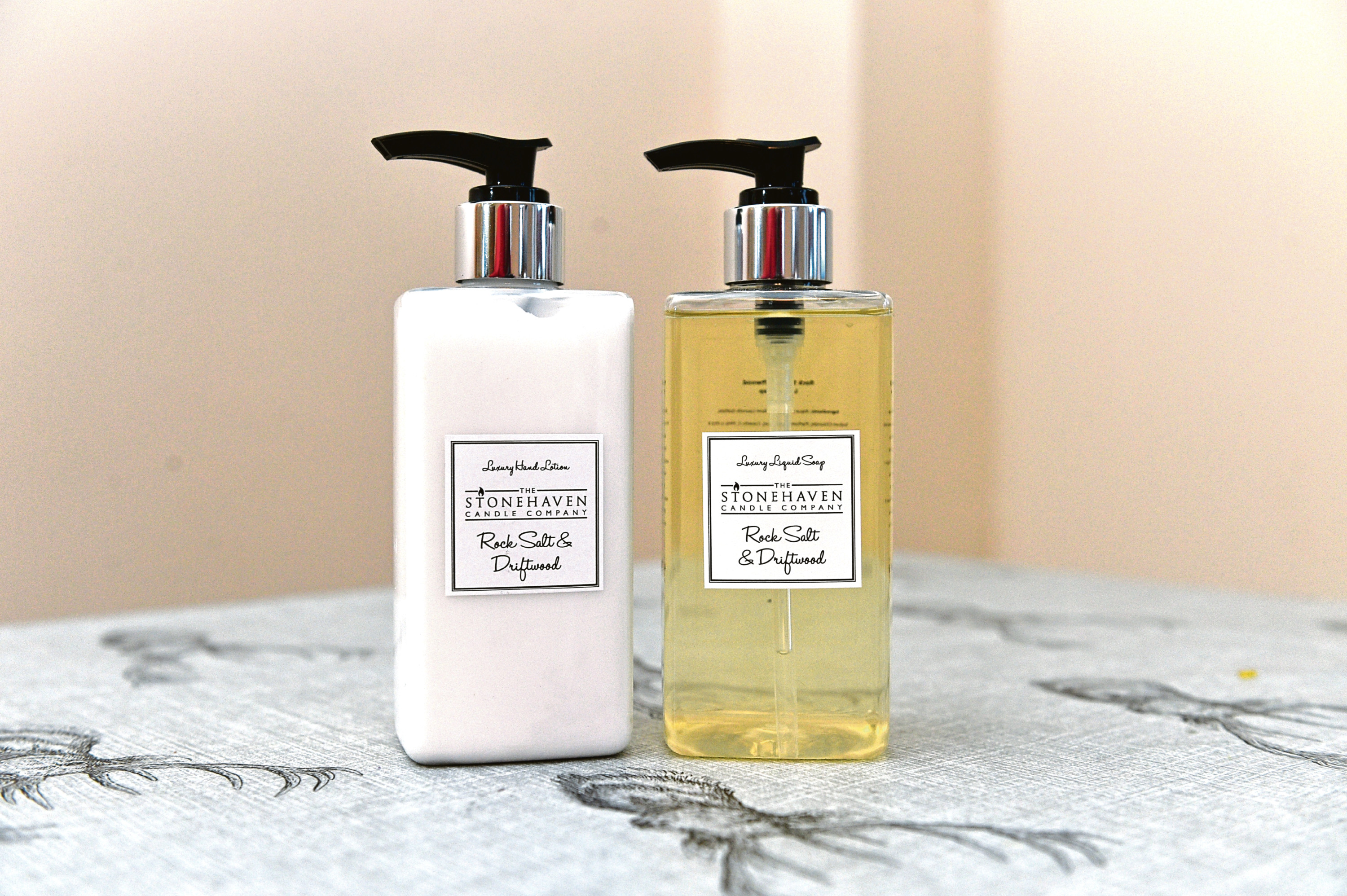 Stephanie said she found choosing the perfect scent a bit challenging.
"I am currently in various Facebook groups for candle makers where we share tips and ideas on everything about candle-making," said Stephanie.
"Since I found it very difficult to decide which scents to use for my candles, I started with core fragrances which covered a broad range of scents such as florals, fruits, citruses and more feminine scents.
"I built on from that and now my most popular are Thai Lime & Mango and Strawberry & Rhubarb."
All of Stephanie's candles are made from a soy and rapeseed wax blend and her melts are made with a mixture of soy and coconut wax.
She said: "I wanted to be absolutely sure I chose the right wax for me so I tried everything from soy to rapeseed and paraffin to coconut.
"I finally settled for my blends which I love because they burn evenly."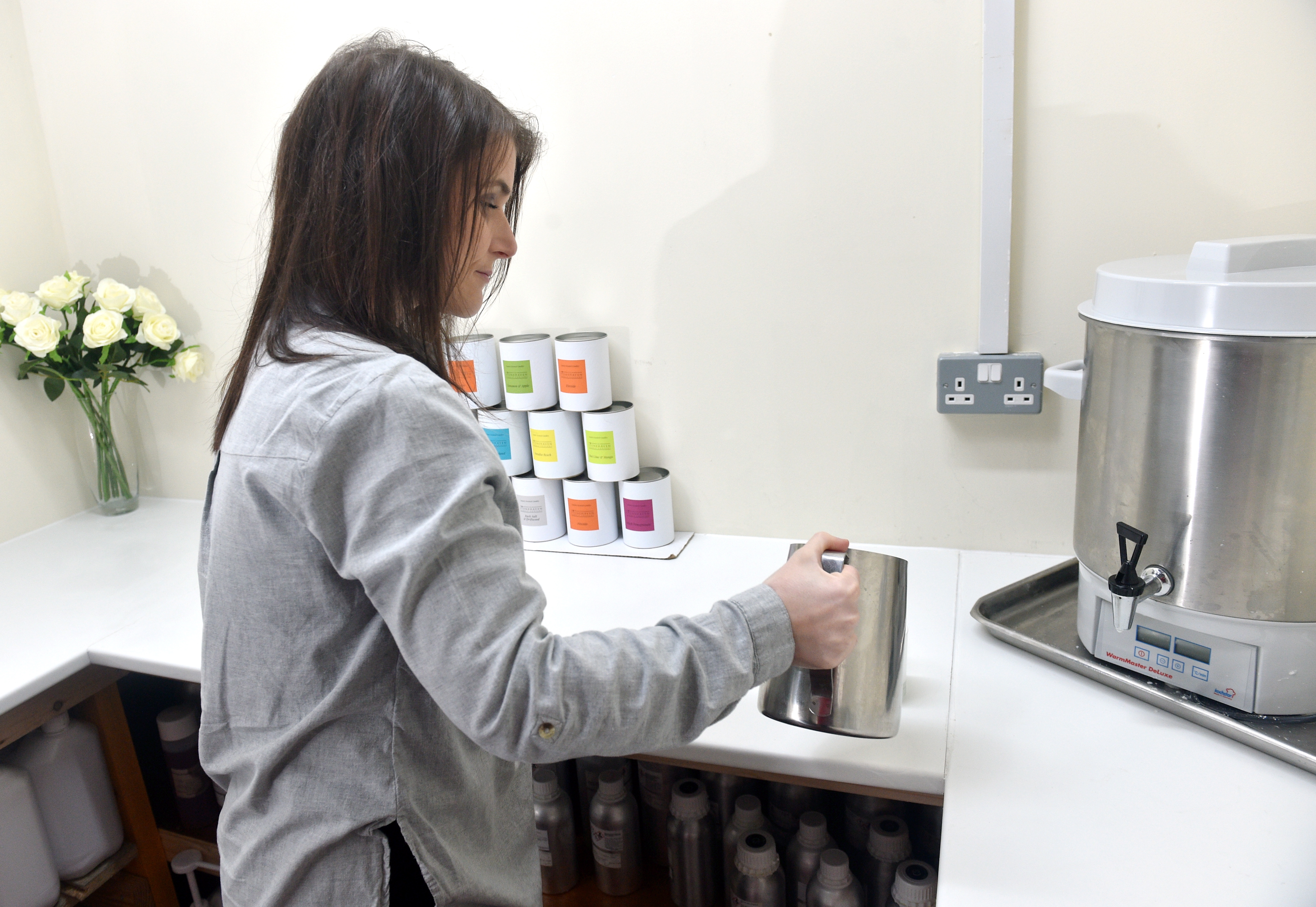 Sustainability is something the candle maker is also very passionate about.
She said: "My wax, which is made from sustainable crops, is manufactured in the UK.
"Where possible, I also try to use recyclable materials for packaging to be more eco-friendly.
"I previously put my melts into small plastic bags, but now I wrap them in tissue paper. This also allows my customers to smell the melts before they buy them."
Just like many other creatives, Stephanie also started making her candles and melts in her kitchen.
She added: "Once my candles were taking up to much space, my husband converted the spare bedroom into a workshop.
"But as my children and business began to grow, the house became far too small for us. We moved to a beautiful property on the outskirts of the town of Stonehaven and my husband converted our new double garage into a workshop.
"I have all my equipment and my melting machines there which allows me to completely separate my business from my family life.
"It was also very important to me to stay within the Stonehaven postcode for my business."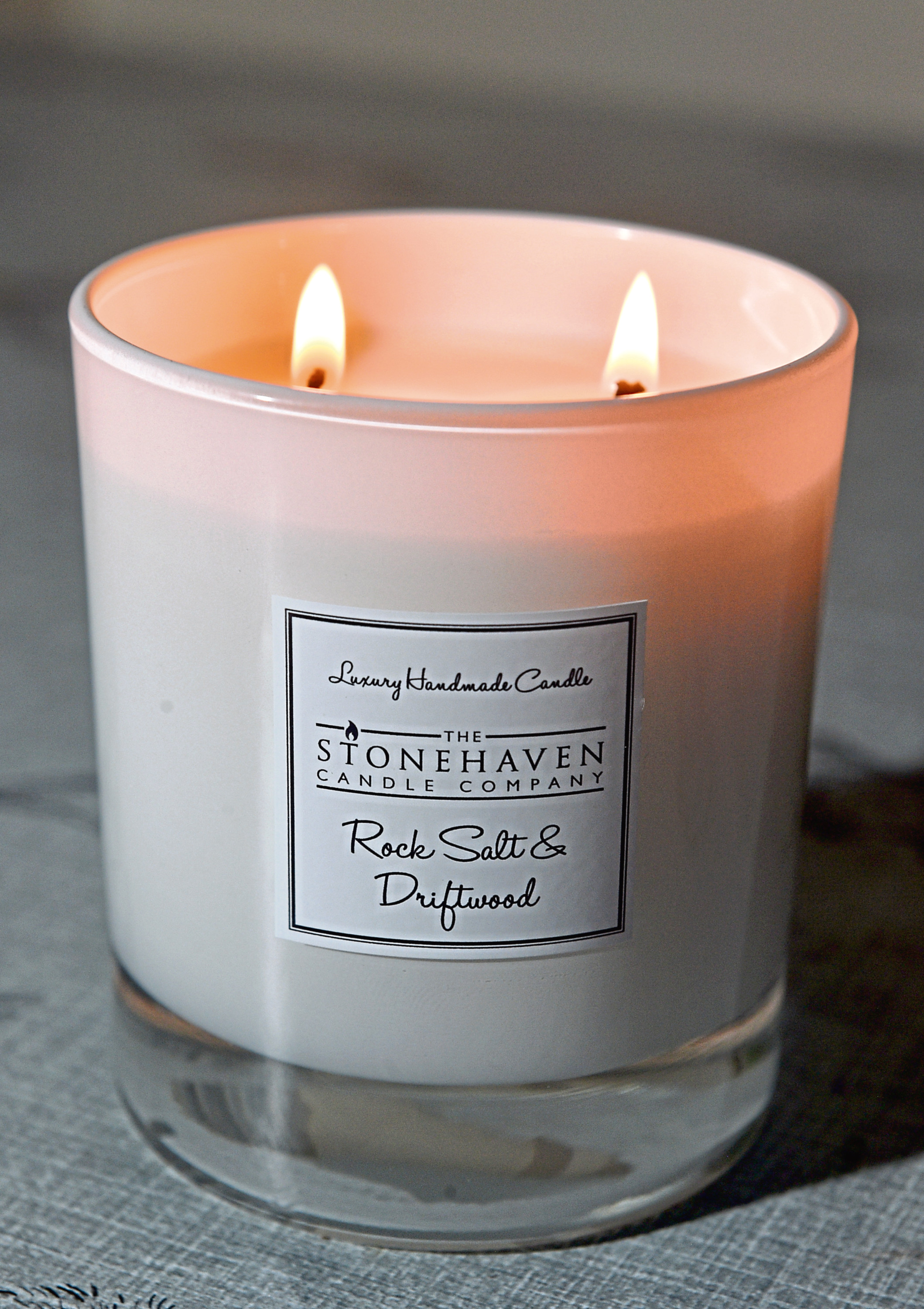 Stephanie's products can be purchased in Stonehaven-based shop My Beautiful Caravan, Baxter's Highland Village in Fochabers, Kemnay Pharmacy, The Gift Alley in Turriff and Peterculter Pharmacy. She also takes orders on her Facebook and Instagram pages.
Stephanie added: "I would love to open a shop in Stonehaven one day, but in the meantime I will continue to grow and develop my business and products."
Visit facebook.com/stonehavencandlecompany for more information