Handmade ceramics inspired by the beauty of Aberdeenshire nature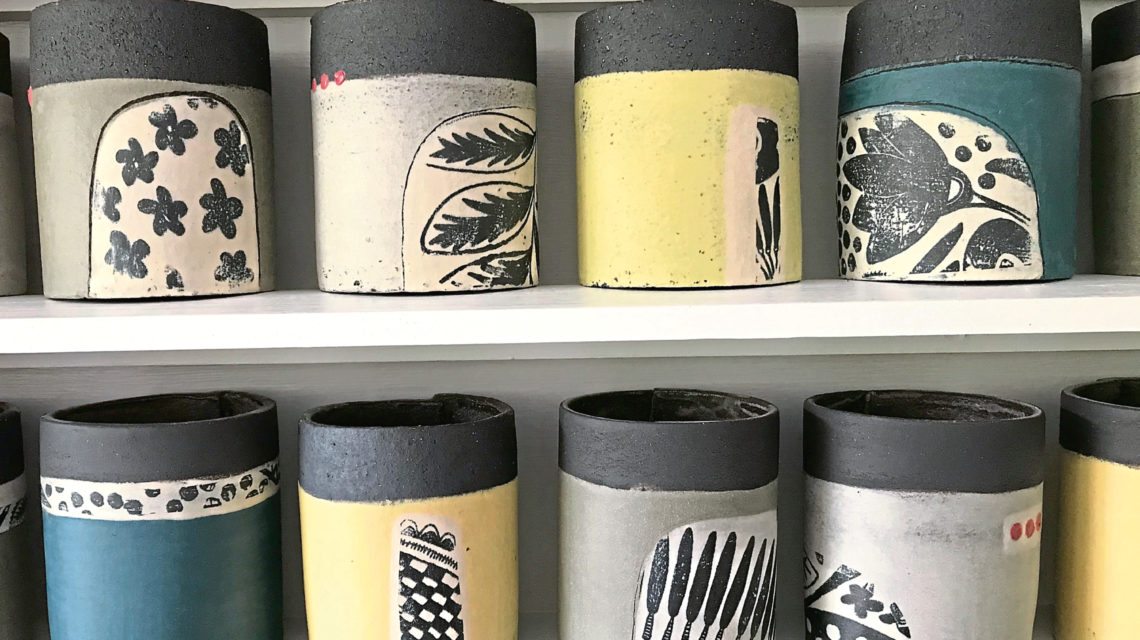 Inspired by landscapes and narratives of the north-east, talented Aberdeenshire creative Hilary Duncan makes a range of ceramics in her Banchory home.
"I am surrounded by beautiful countryside, wildlife and nature, so that influences my work," said Hilary.
"I walk or cycle along the river or into the hills most days, observing the changing colours in the landscape and watching different plants and animals."
Hilary is well known in the north-east for making a range of vessels, mugs, jugs and bowls, but she also sometimes works with her sister Sarah Pooley on some exciting collaborations.
She said: "Sarah is a textile artist, so we work together to make lamps.
"I make the bases and Sarah makes beautiful machine-embroidered shades."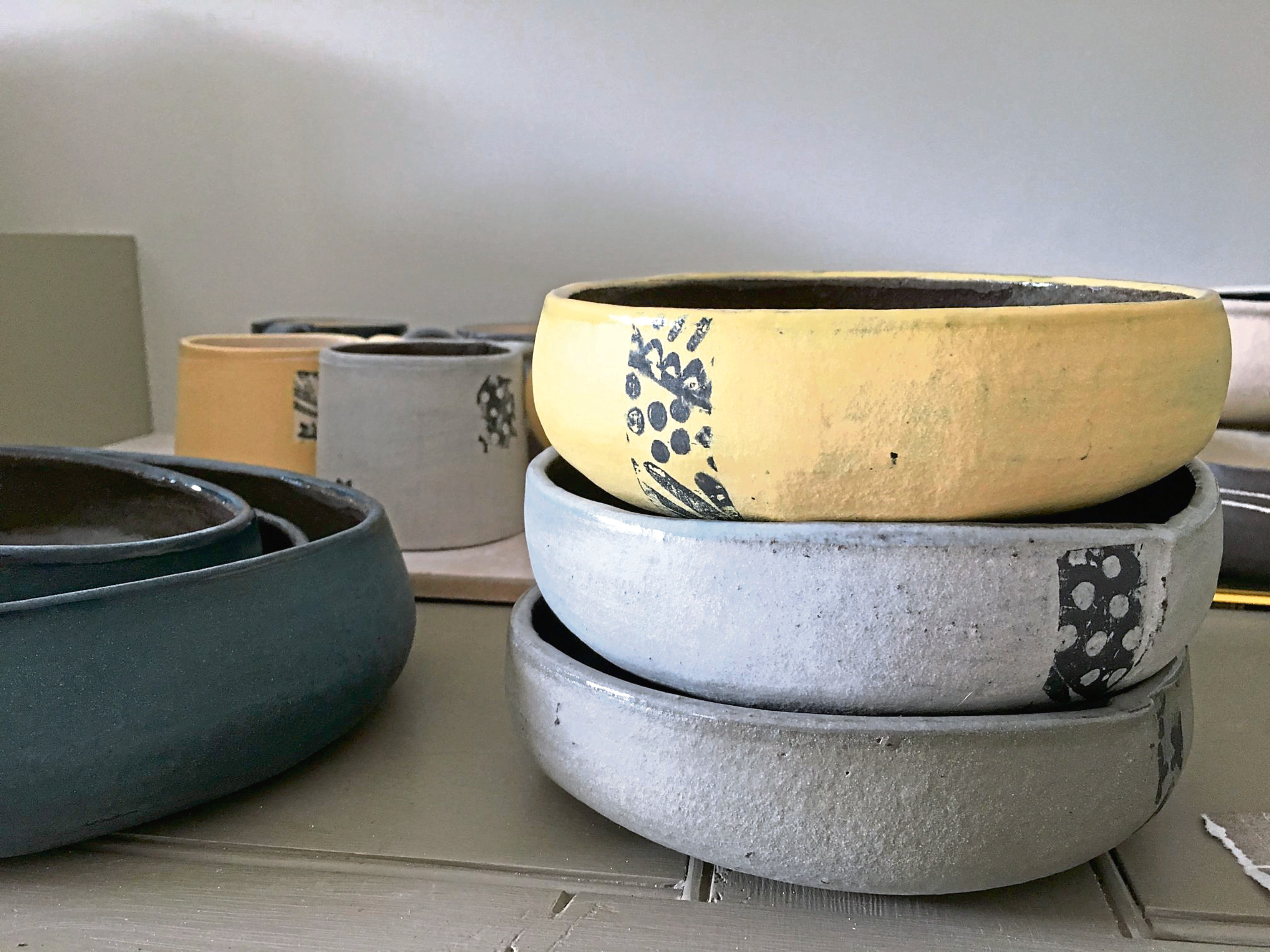 Every piece Hilary makes is handmade rather than thrown on the wheel.
She explained the process: "I roll the clay into slabs, sometimes mixing different coloured ones to form patterns in the surface.
"I make templates using paper or card and cut the slabs into shapes which are then formed round plaster moulds or stones.
"Depending on what I'm making, I'll add coils to make the final shape and spend time finishing the surface to the desired thickness and finish.
"I make coloured slips (runny clay) by adding metal oxides to white stoneware clay and I use these to get my palette of colours, experimenting with different oxides to get the colours I'm looking for.
"I make printing screens from my drawings, print them on to tissue and transfer these prints on to the surface of the pot.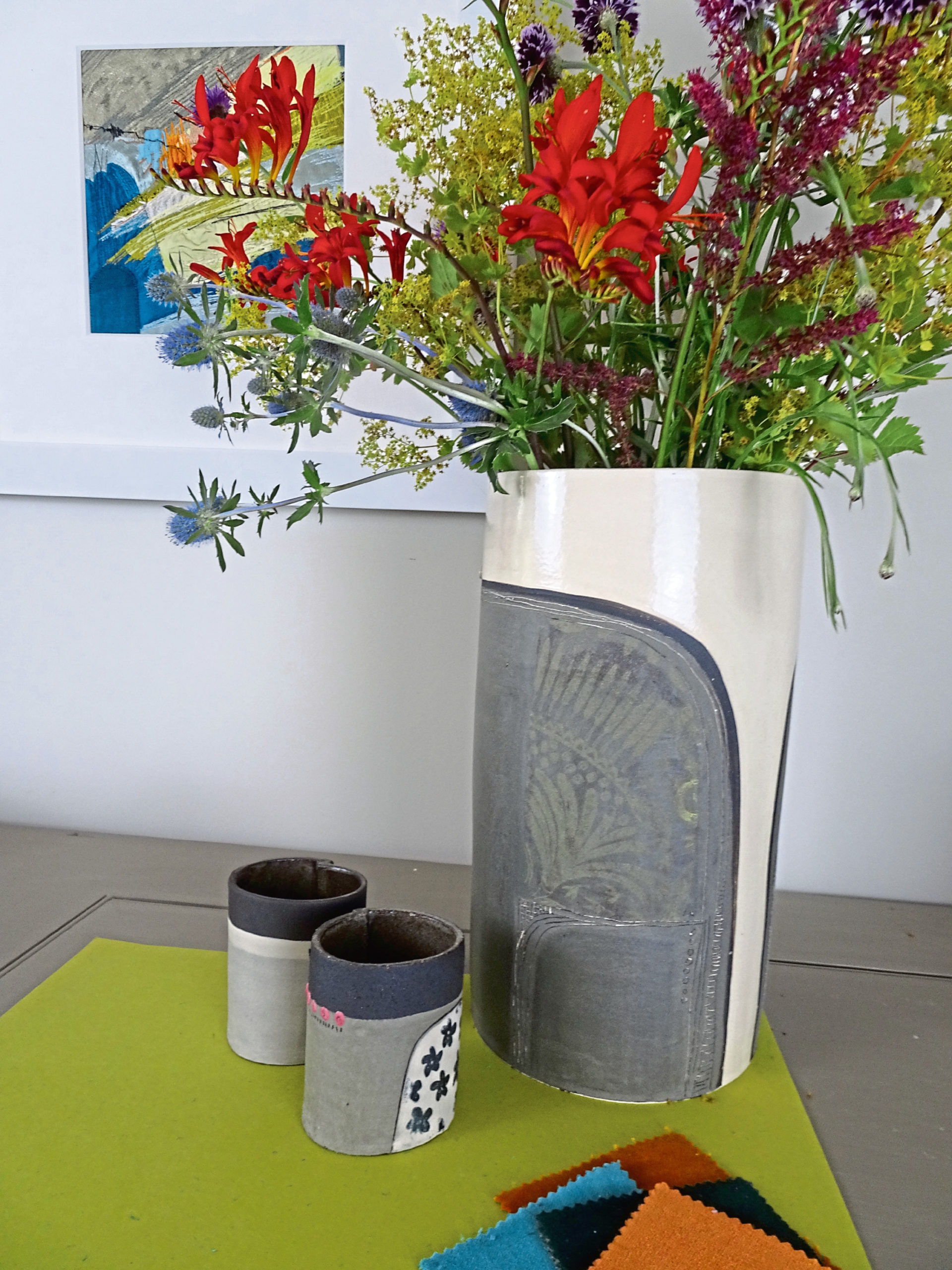 "I also scratch marks in the clay when it is almost dry.
"I like to burnish the surface of the pot before it is fired, so I can get a matt finish without using glaze.
"When the pots are completely dry, they are bisque-fired in an electric kiln, then glazed on the inside and fired again to stoneware temperatures so they are robust and functional." Hilary creates all her products in her home studio, which is on the edge of Blackhall Forest.
She said: "We bought a ruined steading about 20 years ago and converted it into our family home.
"When the boys grew up and moved away, I reclaimed their playroom as a beautiful gallery space which is right beside the studio, so I'm well set up for workshops and exhibitions."
And Hilary is really looking forward to exhibiting her work at this year's North East Open Studios (NEOS), which sees Aberdeen and Aberdeenshire artists opening their studio spaces to visitors. The event will take place from Saturday September 12 to Sunday September 20.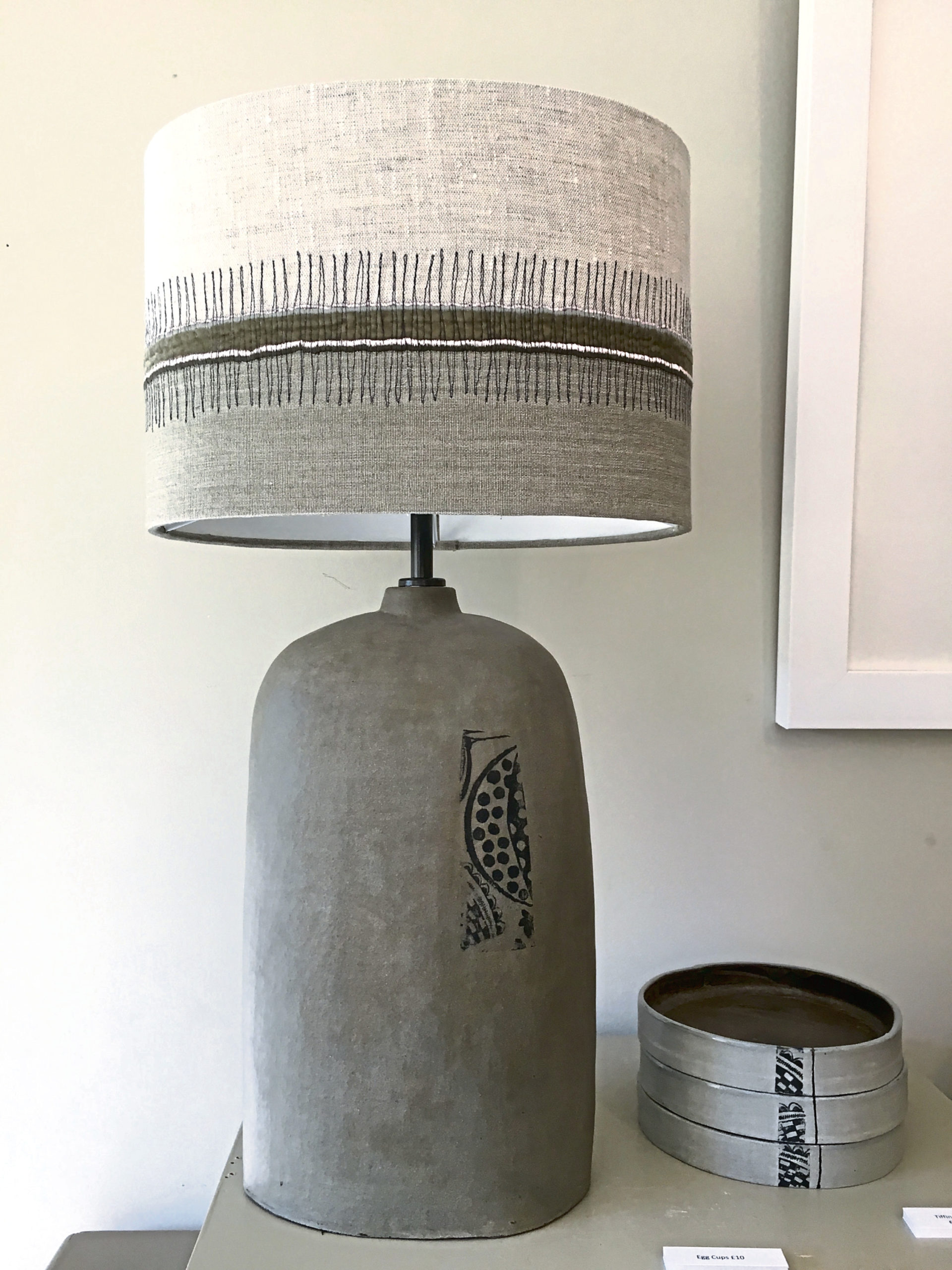 Hilary said: "NEOS is a big event for me.
"My sister Sarah, artist Mel Shand and basket-maker Helen Jackson bring their work to my studio and we set up an exhibition together.
"It's different this year as the event will be mainly online, but we normally hold workshops and demonstrations and organise an event such as building a kiln in the garden and firing pots made in classes.
"We normally have huge numbers of visitors as it's a great venue to visit."
Pre-coronavirus, Hilary also hosted a range of classes in her Aberdeenshire studio.
She said: "The classes I run in my studio are generally for adults.
"A small group will either attend a block of classes designed to introduce them to working with clay or to develop skills and knowledge of the process.
"Shorter courses might include making a piece or two for a raku firing, or making a specific piece like a lamp base or a bowl."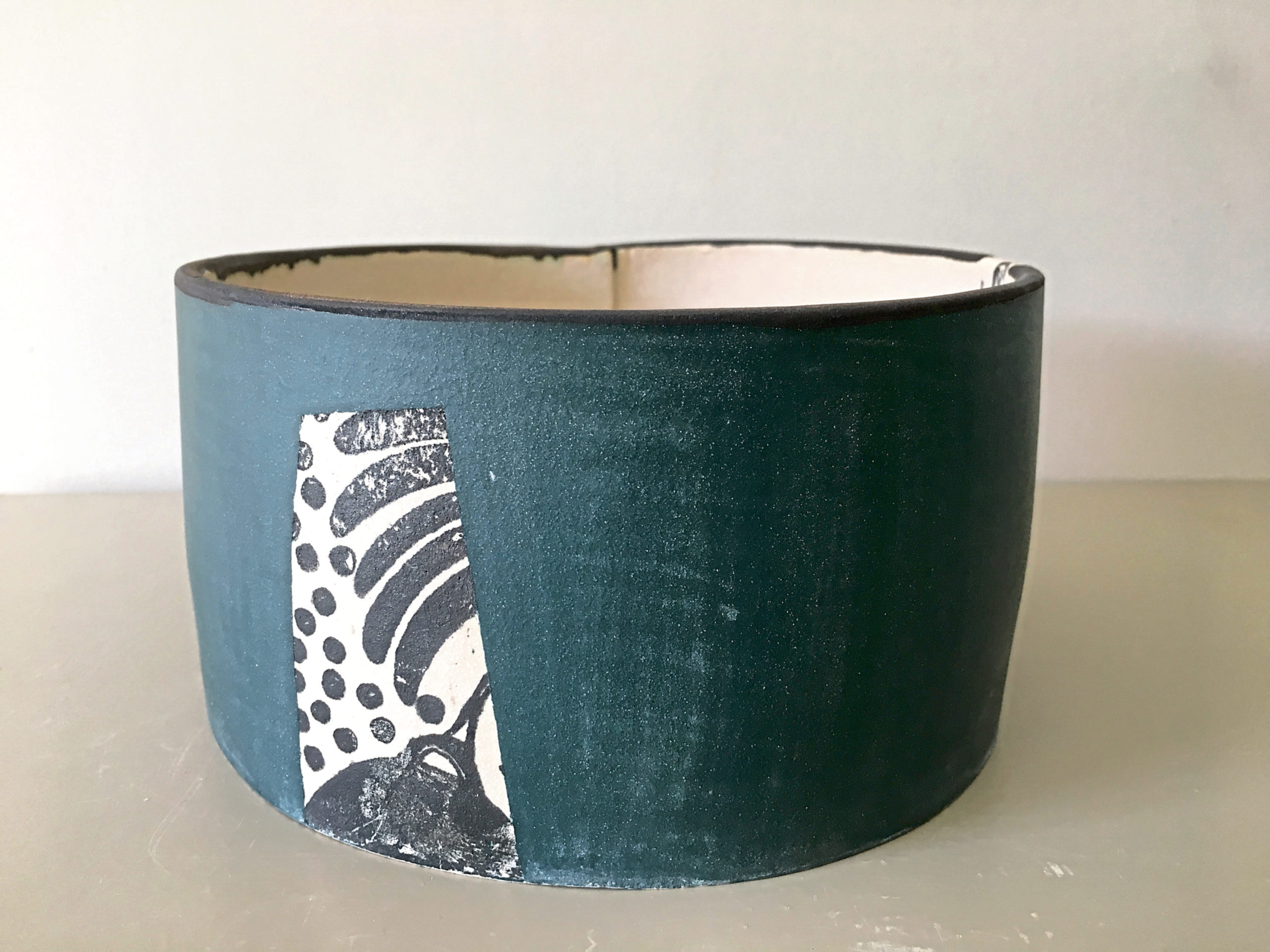 Prior to obtaining her degree from Gray's School of Art, Hilary attended a few Open College of Art courses in drawing and textiles to build up her portfolio.
She said: "I took several Open College of Art courses in drawing and textiles to build up my body of work, and I also attended short courses in ceramics at Gray's for several years and then I completed my degree in 3D design – specialising in ceramics – in 2009.
"Since then, I've had residencies at Gray's and in the geology department at Aberdeen University.
"I also worked on several community projects at The Barn in Banchory and local primary schools, and received the Aberdeenshire Visual Arts and Craft Makers Award a couple of times."
Visit www.hilaryduncan.co.uk for more information