Get the showhome look in your north-east home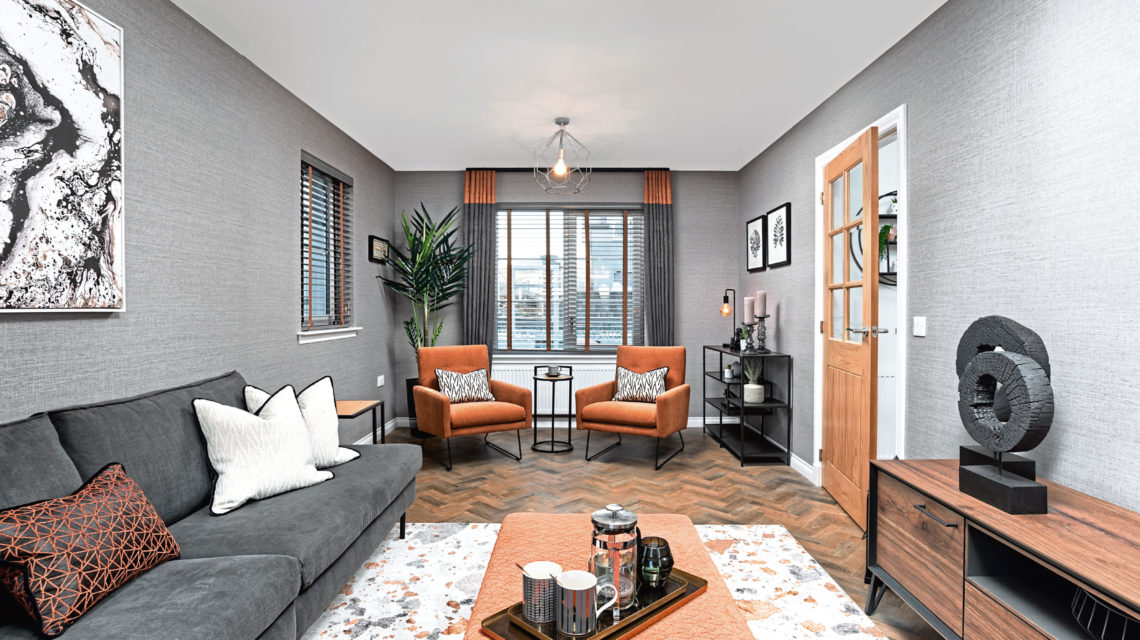 Have you ever walked into a show home or spotted a photo on Instagram and thought "Why can't my home look like that?"
Amy Bruce, head of interior design at Andersons of Inverurie, is certain it can and says it's a lot easier than you may think.
She said: "When people think of show homes they often think 'completely impractical' and 'not suitable for our lifestyle' but this really isn't the case.
"A show home is designed to make the most of the space available and show how to narrow down the endless possibilities in the world of interiors for that specific space."
Amy, who has worked as an interior designer for more than 10 years and has been part of Inverurie-based furniture shop Andersons of Inverurie for five years, recently transformed Kirkwood Homes' The Birse show home in Dunecht using products from the Aberdeenshire store.
Amy said: "The brief for this Kirkwood Homes show home was to create a home for modern living and to complement the open plan layout of the Birse house type.
"The home should appeal to families who would like to benefit from outdoor living, but with a short commute to Aberdeen."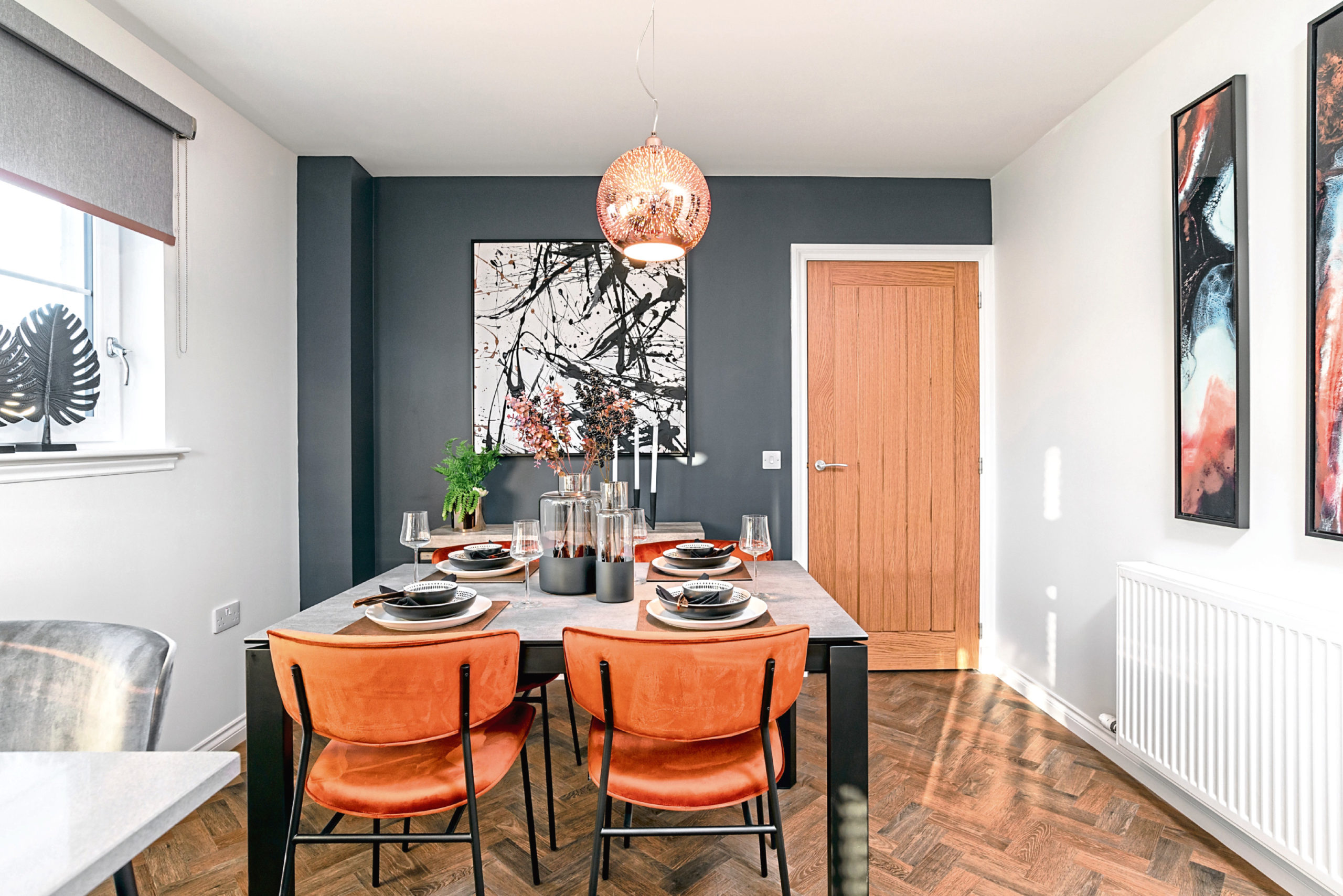 The three-bedroom house boasts a contemporary grey, white and orange colour scheme, which is dominant in the property's lounge and dining areas.
Amy said: "I think the colour scheme in the lounge works really well because the main pieces in the room are a neutral base for the textures and flashes of colour I have layered up.
"The punchy orange in the border of the curtains, the design on the rug and corded accent chairs really catch the eye."
Amy thinks people can find walking into their brand new house and seeing a blank canvas quite daunting and overwhelming.
She said: "Many don't know where to start and others see it as a real challenge.
"Either way, I hope everyone can take away small elements for ideas for their own home."
Amy said it's important to plan your project from start to finish with professional advice from a design team. She also thinks it's usually the smallest things which make the biggest difference.
She said: "For example, adding a contrast piped edge to a pelmet or a cushion, or grouping five or more different textures together to create subtle interest to a room can make all the difference.
"Furniture placement, scale and layouts are so important when re-creating the show home look."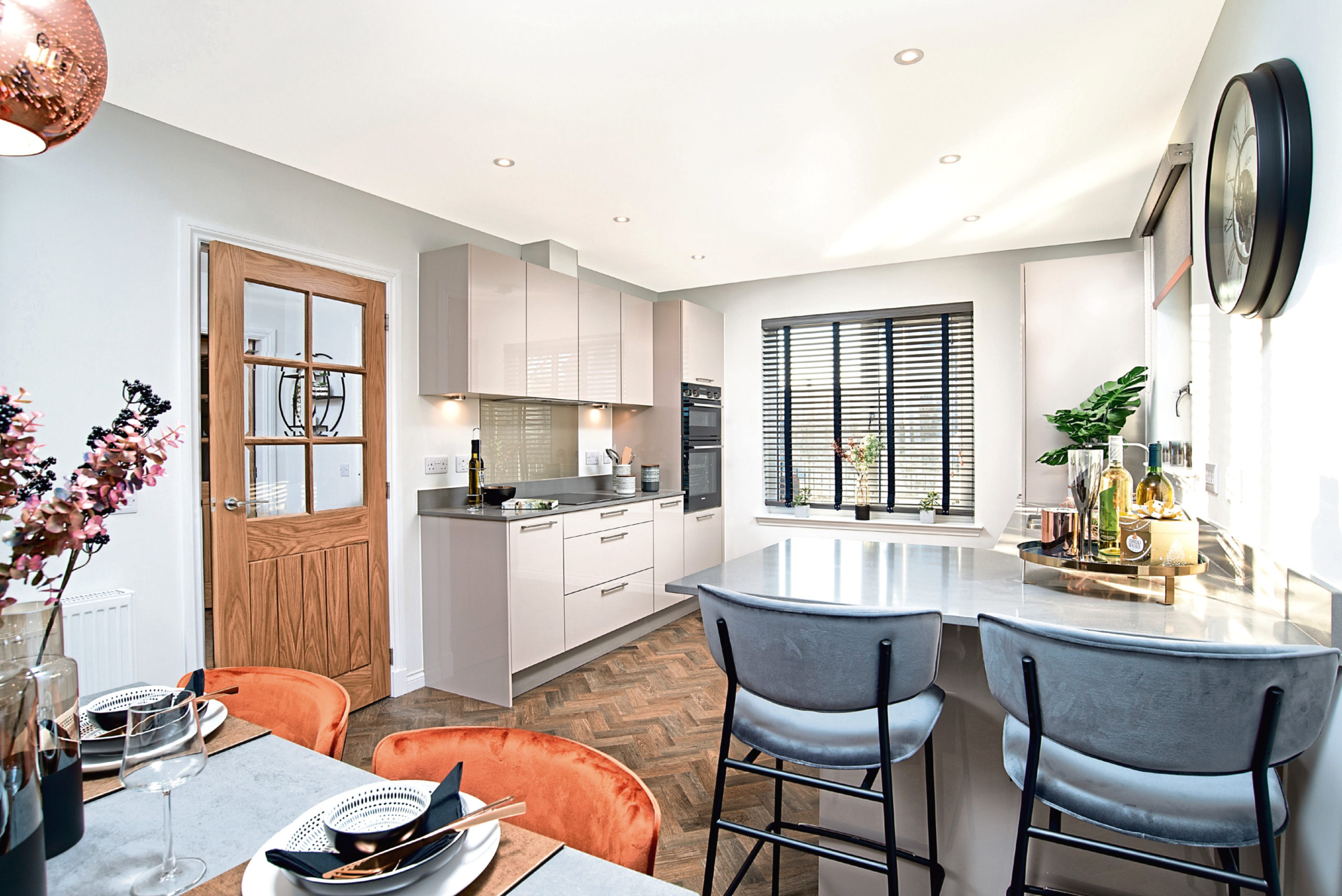 While most show homes look really spacious, Amy said it's not always the case.
She explained: "If you are designing a small space, the initial thought is to choose small accessories and small pieces of furniture, but this makes the space feel even smaller.
"Oversized accessories, furniture and patterns in a small space can make it feel bigger and make the room more balanced."
The talented designer said bold statement furniture is one of the biggest interior trends of this year.
She added: "Block colours and geometrics with a retro feel are also in just now."
And unlike her recent design, you don't have to use orange as an accent colour in your home.
Amy said: "You can really add any blast of colour to a room as long as the main elements give you a neutral base to work with."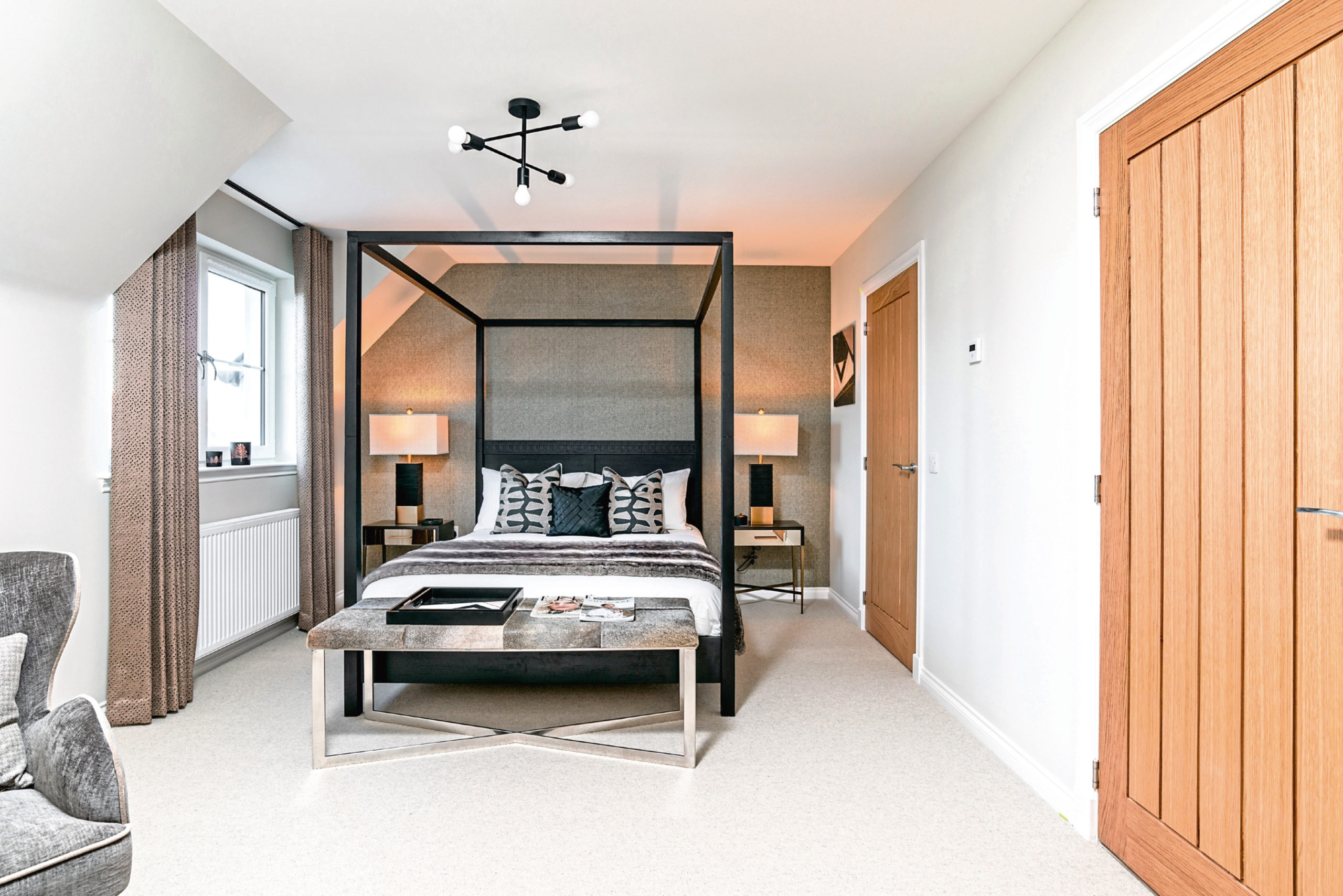 And what about Pantone Colour of the Year 2020 – classic blue?
The interior designer said: "Similar to fashion, interiors can be adapted to incorporate the latest trends and classic blue is a strong contender. But I would certainly say less is more with this colour.
"The emerging hue is really versatile and sits well alongside dusky pinks and rusty oranges.
"The perfect way to incorporate the classic blue tone would be to upholster a headboard with a tactile velvet or simply piping the edge of a cushion."
In addition to The Birse's eye-catching lounge, Amy also set out to create bold bedrooms in the Dunecht show home.
She said: "Four-poster beds are a great way to define the master bedroom within a home. The grand luxurious style of a four-poster bed creates a real statement.
"These beds are thought of as a more traditional piece of furniture, but in the master bedroom the contemporary black wedgewood, four-poster bed provides a timeless look."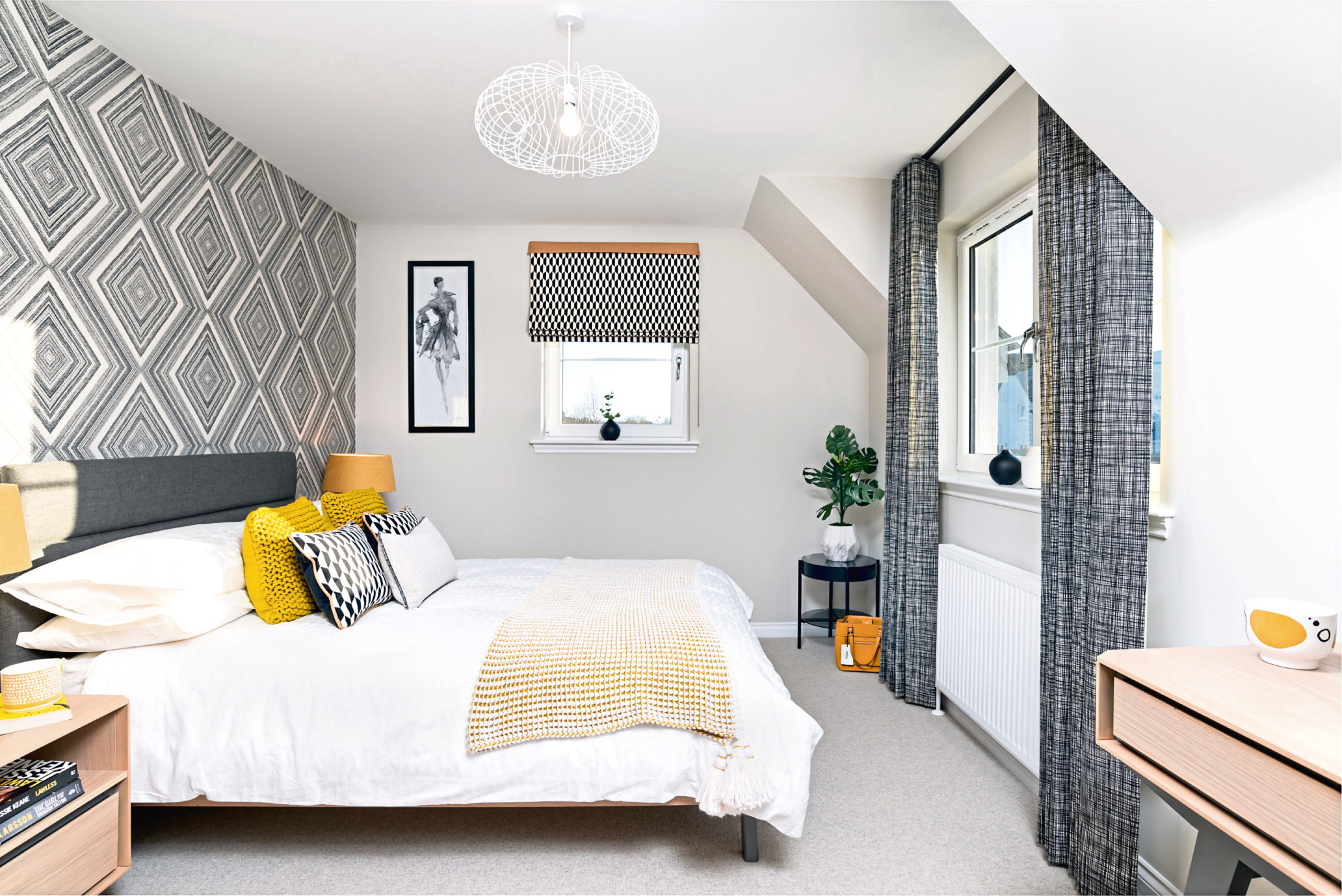 The second bedroom was designed to appeal to teenagers, but it could also be used as a striking guest bedroom.
Amy said: "The varying scales of black and white geometrics really offset the beautiful yellow ochre accents and the Scandinavian style furniture gives the rooms a modern edge."
Whether you want to go for a contemporary look or a more rustic feel, the interior designer thinks you should only buy furniture and homeware accessories which you love because your home is an extension of your personality.
Amy added: "A home is a place where you should feel comfortable with the objects, colours and pieces which surround you."
Visit www.andersonsofinverurie.co.uk for more information