Everyday items can make your Christmas sparkle says Nikki Brown of Westholme Interiors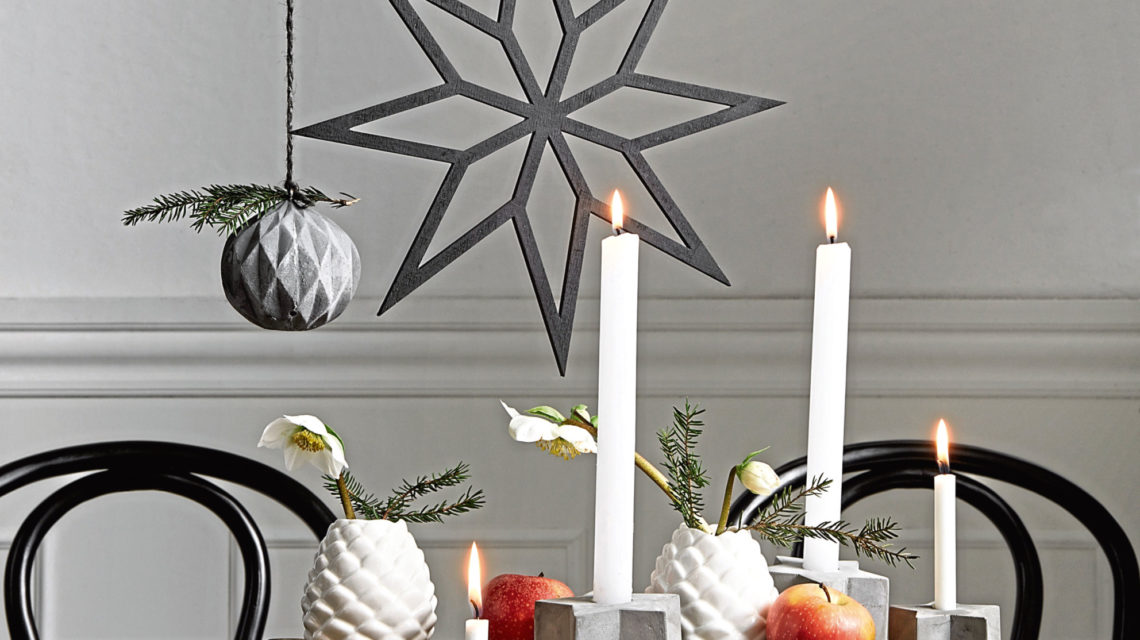 Decorating your home at Christmas time is arguably as important as the main event itself.
Year after year we go up to the loft, pull out our artificial trees – or go collect our real ones from the Christmas tree farm – and dive into the bundle of decorations we've accumulated over the years.
But what if we told you that you could style everyday items and make them more festive?
That's exactly what online interior retail business owner Nikki Brown of Westholme Interiors in Aberdeen says.
"People think you can't use everyday items for Christmas, but you really can. We've got a big range of candleholders in and although they fit perfectly in with the festive period, they're suitable for everyday use, too. We've got lots of black and brass candleholders and the brass one feels very Christmassy and it looks brilliant."
Launching her latest collection and her first Christmas range next week, Nikki is excited about the variety of everyday items and stunning decorations she will be revealing on the site.
Styling these items, like candleholders, can be extremely easy – it's just understanding which items go together and how to marry different items together.
Nikki said: "The good thing about candle holders is that you can style them in a number of different ways. They can be quite plain throughout the year and just by making a few changes can be totally transformed into a more festive piece.
"We've brought in Christmas candles from our Ester & Erik collection, like Christmas red colours and dark wine colours, as well as gold and silver. The tapered candles add a real sense of luxury and just replacing your traditional ones with these completely transforms the look.
"We've got artificial holly, Christmas fir tree branches, and red berries, too, on the website, which will be great for dressing the table and can be wrapped around the candleholders to create a real Christmas vibe. It's just little additions like this that can make it totally change."
Adding accessories into your home is one of the most exciting parts about Christmas. From reindeers to gingerbread men, nutcrackers to angels, there's nothing more fun than dressing your home with stylish decorations.
Incorporating a number of items into her collection, Nikki is looking forward to releasing the accessories due to the uniqueness of the exclusive pieces.
She said: "We've got beautiful reindeers, polar bears, nutcrackers and Christmas trees that people can style in their home. They're just great accessories to add to your Christmas decorations.
"The reindeer come in white and silver and white and gold, and are very similar to our pumpkin range. We've got them standing and lying and they just look brilliant – they're extremely glam.
"We also have decorative acorns and pine cones in traditional styles and in silver metal, too. There's ones that are white and glittery and would be perfect for decorating the Christmas table and then there's actual silver ones that are much more luxurious."
But it's decorating the Christmas tree with the whole family that really gets everyone in the festive spirit with a sea of colours and beautiful items scaling the tree.
"Westholme Interiors collection is quite similar throughout, but when it comes to Christmas, everyone's style is so different and some people really like experimenting at this time with their interiors," said Nikki.
"I concentrated on a wide range of the Nordic/Scandi decorations with leather-look and matte baubles and very monochromatic tones.
"I'm in love with navy and white and it's such a popular combination so I wanted to bring a lot of those baubles in. They are colours that are simple yet versatile. Some of them are quite glitzy like the white plain and ceramic stars and they just add a little glamour to the tree.
"I also wanted to have some really 'out there' and over the top ones as well and Vondels of Amsterdam was the perfect fit. They've got a huge range of items with feathers, big bows and they're extremely eye-catching. I've got a range of more bold colours like greens, reds, blues, metallics and I've also got a few quirky ones like the doughnut and the flamingo."
Nikki reckons her Nordic stars will be the most anticipated and popular decoration of the year.
She said: "The Nordic stars are definitely going to be the ones to watch this year. We've got black, white and grey stars in two different sizes. They're so versatile and you can have one as a statement piece or stack them together.
"You can even have them hanging from the wall. I think these will be the must-have piece and are going to be super popular this year."
To see the full Christmas collection when it launches next week visit www.westholmeinteriors.com