Eileen created home full of serenity and style for house builder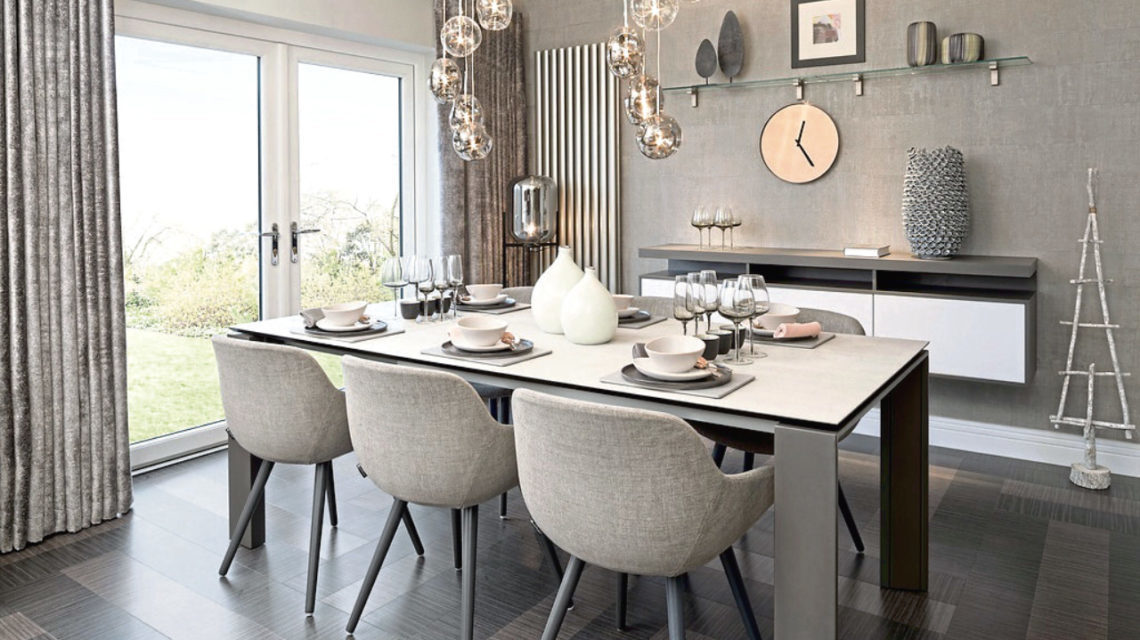 Embarking on a new architectural style, house builder CALA Homes needed to ensure the interior design of its new Beaufort show home in Grandholme was up to scratch when it came to top trends and must-have items.
Blending city style with family comfort, Eileen Keeson, owner of interior design firm Envision, did just that with the company's three-bedroom semi-detached show home.
With more than 20 years' experience and having worked with the housebuilder on previous show homes, Eileen brought her expertise and understanding of key trends into the new style of CALA's first Enlightened Space project.
"The brief was quite interesting as the house type is a new style to CALA so they wanted the interior spec to demonstrate that," said Eileen. "They are in the process of launching their Enlightened Space programme and this is one of the first properties to be showcased so it's very exciting. They wanted to approach this show home differently because of that and it's very different to what they usually do."
Focusing on modern family living, the house is much more open-plan than the usual CALA homes available on the market.
Eileen said: "There were a few features here that don't feature in current CALA homes like the much bigger living, dining and family area which is much more open-plan. The essence of it was how families are living now. There's the luxury of space in this home such as the odd little pockets in the hallway and an upstairs utility room."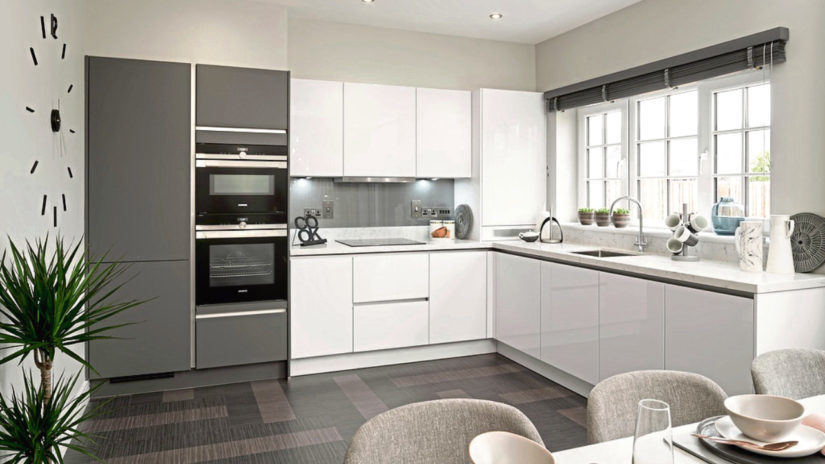 Specialising in designing show homes, Eileen has brought top and up-coming trends into the space to showcase how this fresh, clean, contemporary look can be easily executed.
She said: "The kitchen is really where it all started. It's a very sleek design in a matte finish which we have noticed is a big up-coming trend. Kitchens are very much coming away from the glossy look and are now into a satin, slightly softer look. It's been finished off with a beautiful kind of stone-look worktop. The whole thing is very clean, crisp and modern."
An open-plan space with the option to close off the lounge, the dining area had to emulate the style of the kitchen to ensure both spaces married well together.
Eileen said: "The dining area is within the kitchen space so it was necessary for it to be good to use practically and also for entertaining. That's why it's quite fancy and glamorous.. Our kitchen designers created a bespoke media unit for the other end of the dining area which linked the two areas together.
"We put in the gun metal vertical radiators which are very on-trend in that area too to make sure the whole thing continued its pared-back contemporary look."
But it's not just accessories and artwork that can dress up a room. Simple additions such as statement wallpapers add a luxurious and elegant touch to any room, especially with bolder prints.
"The wallpapers in the house are actually all very different and they're quite high-end," Eileen said. "We wanted to create a glossy feel to the house where it felt very luxurious and glamorous in an understated way. The wallpaper in the kitchen is quite wild but it's amazing."
Lighting played a key part in accentuating different levels in the more open space. By using lighting which hangs from the ceiling, side lights and free-standing floor lamps, Eileen has created different elements of height in the show home.
She said: "The palette for the house is very much charcoal with a bit of copper and you can see that echoed in the lighting, too.
"The lighting was very different to other show homes we've designed as it's really helped in creating different levels to the rooms. Take the lounge for example, there's those special drop down pendants in the corner which has helped create a cosy nook and there's all sorts of lighting creating a real ambiance throughout."
But the real conversation starter in the lounge has to be the elegant and stylish electric heater which Eileen states is a "hassle-free statement piece".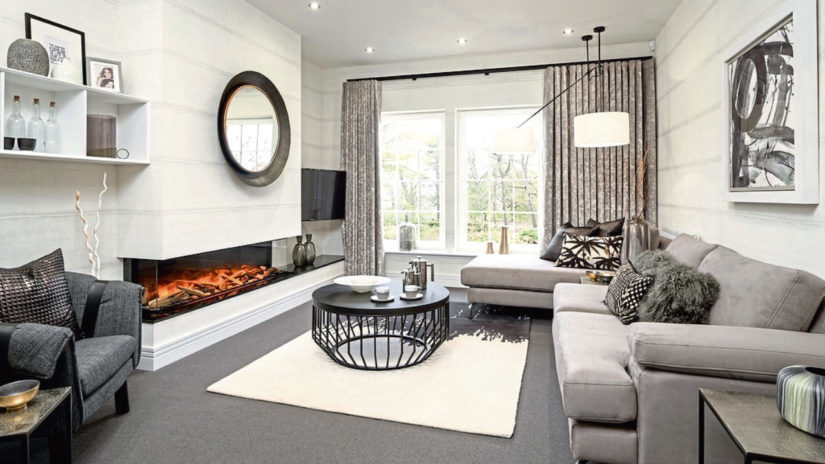 "It just works so well when you've got one room that has to double-up as your relaxing space and public space in one," she said. "You need to think outside the box, especially when it comes to statement pieces. The whole elevation of the room is working really hard with the different lighting levels, the TV and the artwork, it leaves the rest of the room to just kick back and relax with the big super-scaled sofa. The fireplace is an electric one and it's easy to incorporate into a room. We needed the wall to create a homely feel and in the winter time that will make the room feel super cosy and just look so wonderful."
Upstairs lies three bedrooms with fitted wardrobes which further continue the metropolitan meets Scandi theme. With texture and layering a must when trying to create a feeling of opulence and serenity, it was important for Eileen to capture this so potential buyers could envision what their homes will feel like.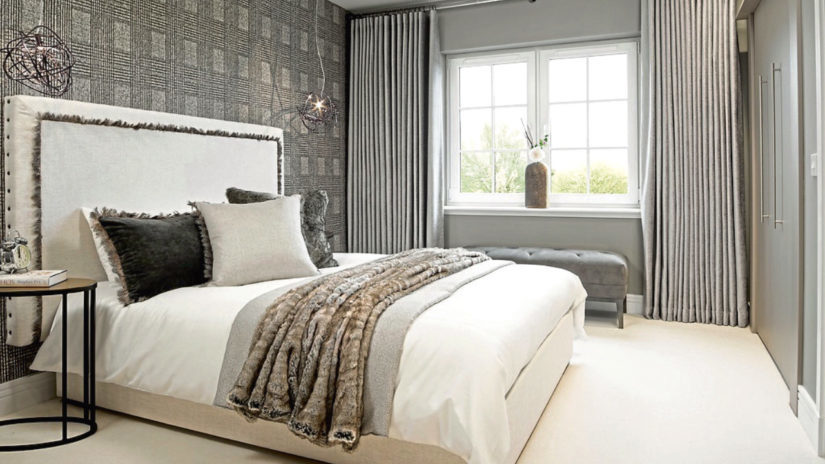 "We wanted a lot of fabrics to layer up and bring a feeling of opulence and touchy-feeliness about it. It needed to look stylish but be somewhere you can relax. The master bedroom has that slightly moody, boutique hotel feel to it with the gun metal look. One of the bedrooms has been done as a pebble grey glossy Swedish looking room and the other one is neutral and Scandi because it's really popular just now and is that lovely quality without frills and fuss. The real beauty lies in being able put everything away in the built-in wardrobes it creates a very tranquil and clean effect which works really well."
Serenity is a big part of the show home and its overall look, but there's only one room where real Zen and relaxation can take place, and that's the main bathroom.
Eileen said: "The bathroom is very much like a spa type experience. It's one of those places you'd want to spend all of your time chilling out in. It's very spacious and the neutral tones throughout makes it an even more relaxing space."