Designed by Scotia Homes, Knockhall in Aberdeenshire would make a perfect home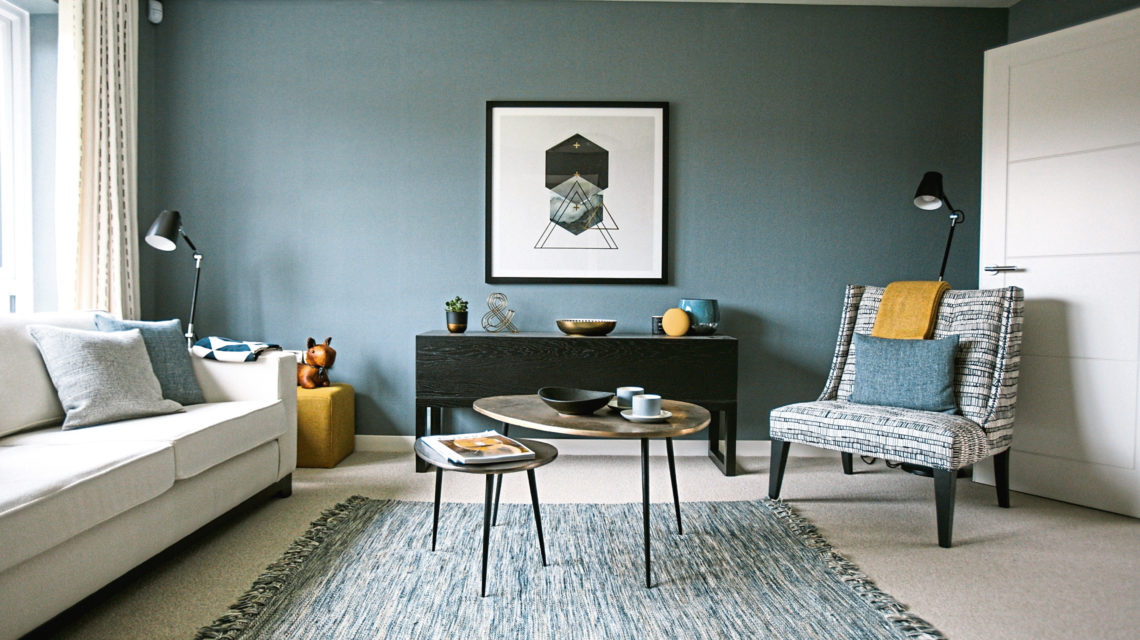 Nestled in the coastal village of Newburgh in Aberdeenshire lies one of the north-east's newest developments.
Designed by housebuilder Scotia Homes, Knockhall in Newburgh is ideally situated and just a stone's throw away from the picturesque Ythan River.
Featuring three and four-bedroom properties, there is a range of bungalows, detached and semi-detached houses to choose from throughout the Knockhall development.
Designing Scotia Homes' four-bedroom detached show home was Aberdeen interior designer Karen McKimmie from Ambiance.
Using a portfolio of Scandi-inspired colours and adding texture into the home with accessories, stylish wallpapers and more, this show home is extremely modern and oozes sophistication.
Giving potential buyers a flavour of the lifestyle they could have at Knockhall, Karen says it's important to give people a taster of the stunning space, showing them how they can use it for themselves.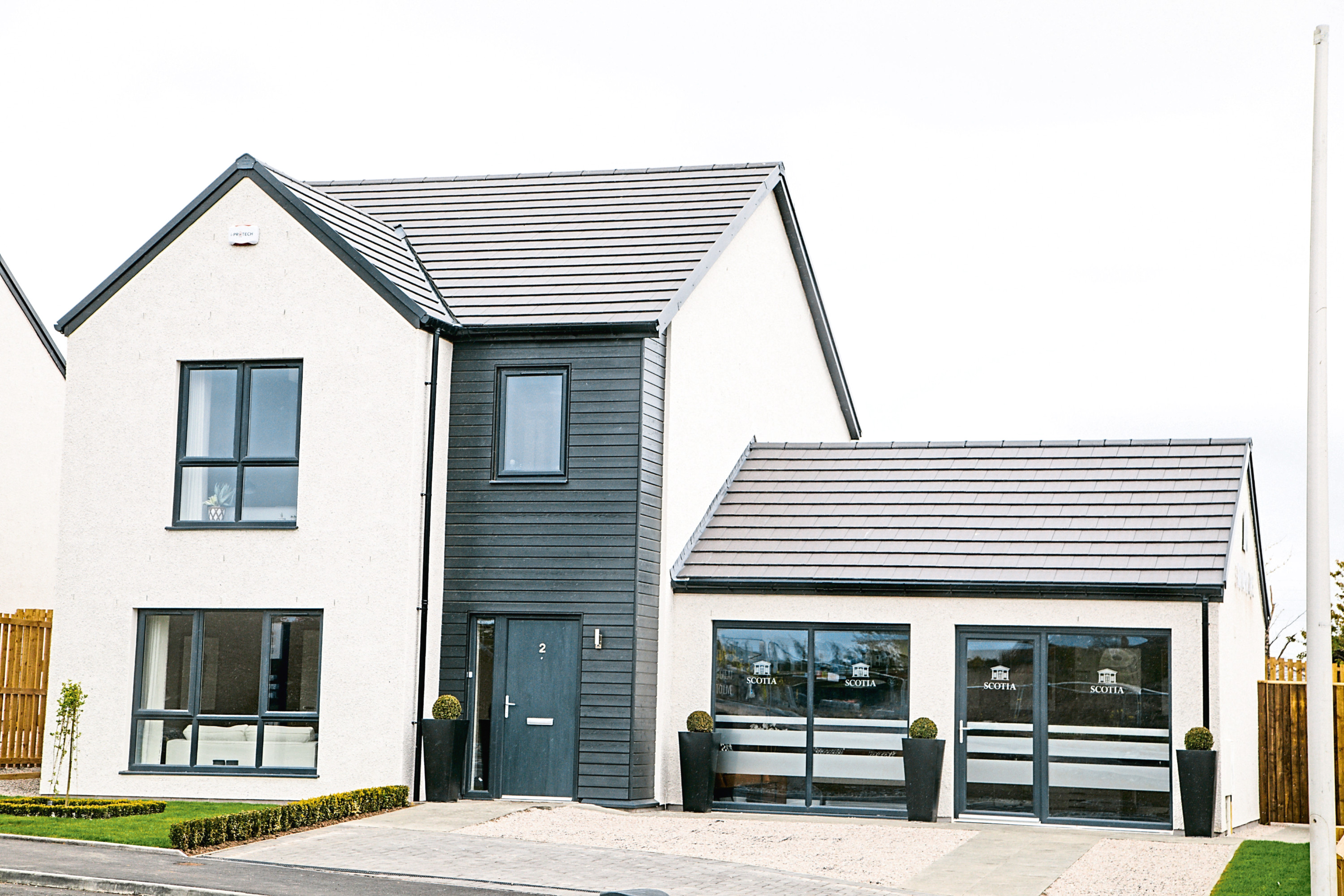 "Scotia always want something that's quite current and fresh, so we went down the Scandi style route using natural Nordic colours," said Karen.
"The location of Newburgh inspired us to use those grey/blue hues throughout the home and it's more about creating a lifestyle than overthinking the actual design."
The home's inspiration from the Newburgh coastline and surrounding area is evident in the stylish space, especially the lounge and kitchen area which boast those grey/blue tones.
Karen said: "We like to incorporate geometric designs and we also pop areas with colour, but more so these days it's quite monochromatic and using even patterns to enhance the space. I think it's just as effective as a bright, contrasting colour.
"There's a soft brushed gold throughout the lounge that we used with the accessories and it's very in just now. It's much softer with these blue and white tones. This then allowed us to use the oakier tones as a contrast.
"The space is contemporary but retains that elegant vibe and there's beautiful double doors that lead through to the kitchen area. We like to add personality to rooms to warm them up. A white kitchen can so easily be clinical and the use of different accessories and the colours often softens the space. We've moved from that brushed gold in the lounge to an oakier mustard colour just to lift the space.
"The geometric curtains and the blinds are where we've taken inspiration from for the slight additions of black we've incorporated. It adds a different level and excitement into the room."
Dining with a view of the lovely rear garden, it's not just inside that has been designed beautifully.
"There's a beautiful view of the back garden which French doors lead out to. Scotia use Kirsty McLean from the Garden Design Company and she has created this wonderful space. It's got that abstract, slightly more complex look to it.
"This style of garden is very in at the moment and because there's the French doors and lots of windows, the natural light inside the house is fantastic. The under-cupboard lighting in the kitchen can also create an atmospheric feel and is very soothing and calming."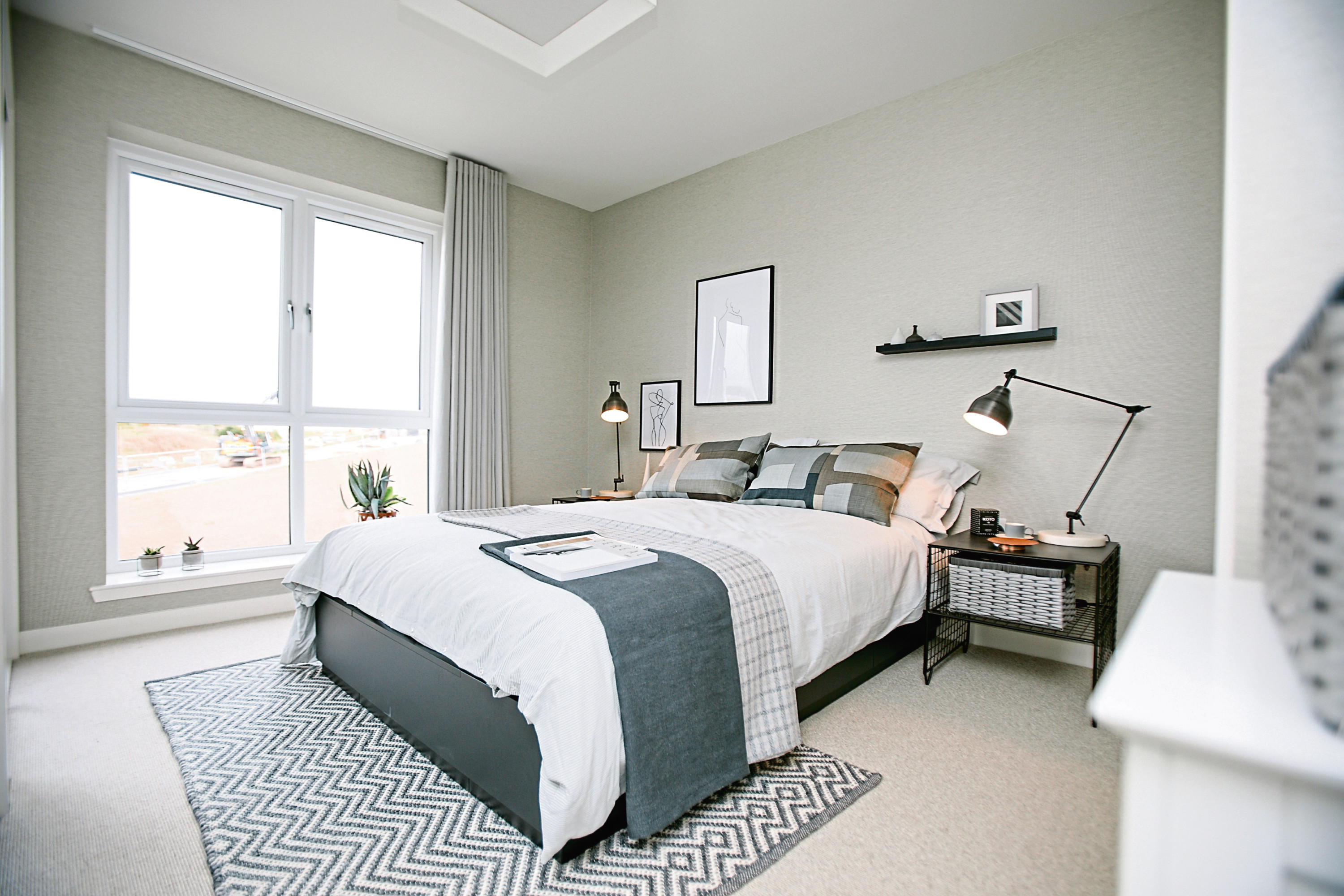 Upstairs lies four bedrooms, one of which is styled to be used as a study. Featuring mustard yellow and brighter blue hues, the atmosphere of this room is very different from the bright downstairs open area.
"The wallpaper has that kind of material look to it. It's a very tactile and being a study, we wanted to use the darker walls to give it some atmosphere and cosy it up," said Karen.
"We added the mustard yellow and the blue to continue the flow of the house. It's a room where we've popped the colour more to give it that exciting edge."
Marrying in a variety of wallpapers and textures into the three bedrooms by adding statement cushions, throws, rugs and styled accessories, Karen says this adds a cosier, homely feel to the house, making it very easy for potential buyers to feel at home.
"The oakier leather head board of the bed is just wonderful. For the bedrooms, it was about mixing the textures. There are rustic wood bedside tables and the cushions have different designs on them – some are woven and some patterned, all complementing one another.
"The rough linen weave on throws also adds depth. There's a slight industrial, rustic look with this room and it's trendy to mix styles, textures and patterns.
"For the children's room, we brought in a traditional wallpaper with a contemporary slant on it. Mixing all of these patterns is very fresh and exciting. We took all the colours from the wallpaper and the main ones we've used have been the soft blue/grey colours and the burnt reds.
"You have to be brave when mixing patterns and colour – it's all about doing it with confidence.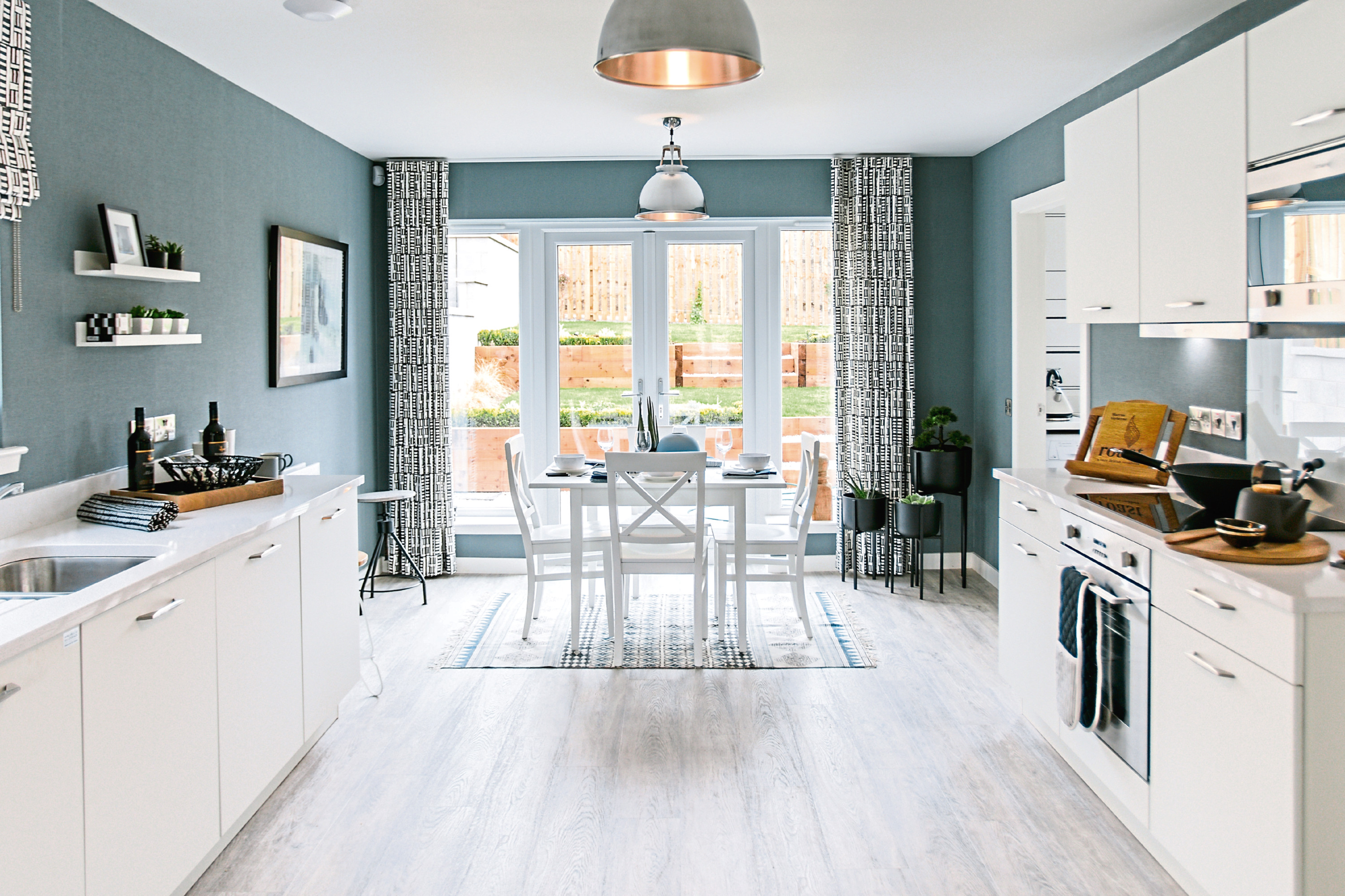 "For the master bedroom, to make it a little different, we decided not to put a head board on the bed and create the interest behind by offsetting the pictures to the side and adding little objects. The artwork actually marries in with the en suite and has a lovely flow to it. They breathe together without being too matching.
"It's a much more monochromatic room and by swapping the big patterns on to the bed, there is much more composition in this room than any other."
But it's not just the bedrooms that boast stunning wallpapers, the bathrooms also have impressive finishes which can be easily changed up thanks to the versatility of the design.
She said: "We've used chevron wood in one of the bathrooms and in the en suite we've used a linear print of faces which marries into the master bedroom.
"We're very fond of just using white wall tiles as they are totally timeless and we use wallpapers to liven up the room – and you can change them as and when you please, which makes it very versatile.
"We use a lot of accessories to finish off rooms and try and support as many local businesses as possible. For this home, we've used Westholme Interiors, Curated Stories, Hammerton Store and more. We try and get all our books that dress the rooms from local bookshops too."
A short drive away from Ellon and Foveran, there's plenty of amenities and space to enjoy. And if you love the outdoors, it's a short walk from Newburgh beach where you can enjoy breathtaking views of the coastline and possibly spot a few seals basking in the summer sun.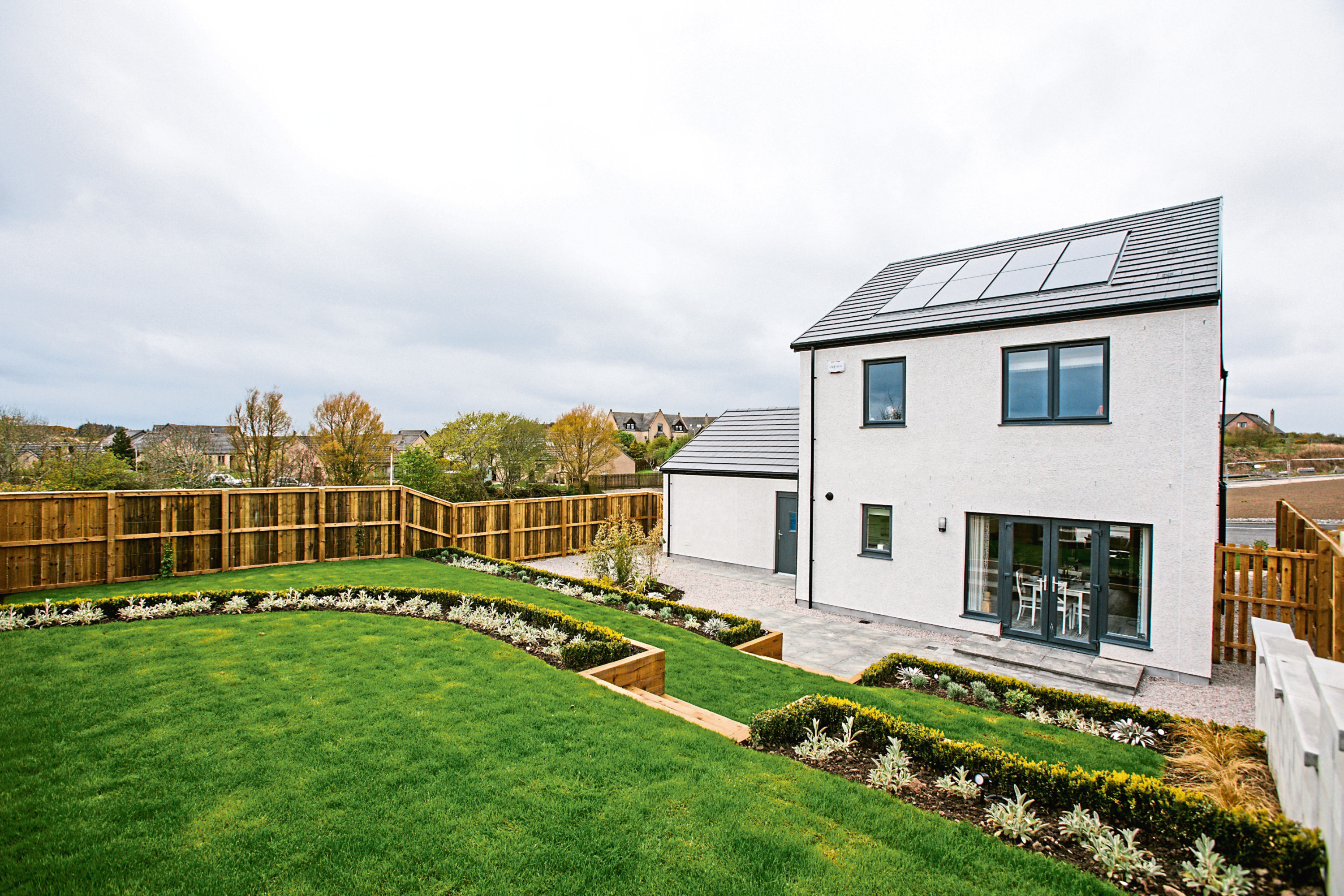 The house itself is right in the centre of town and is just a few minutes' walk from the shops, meaning it's perfect for families, singles and couples alike.
For more information, visit www.scotia-homes.co.uk or head along to the marketing suite which is open from Thursday to Monday, from 11am to 5pm.
All photos by Grant Anderson.