Blue bling brings sparkle to north-east show home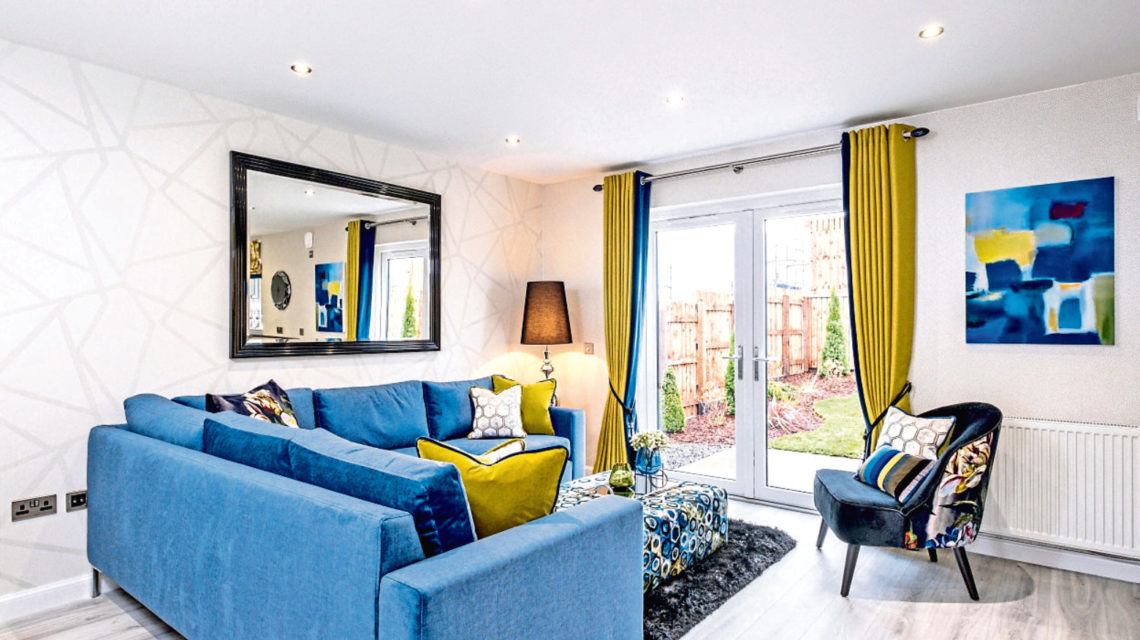 Karen Wooton has used a touch of blue bling to bring sparkle to Bancon Homes's new Aberdeen show home The Roses at Eden.
The talented interior designer, who owns The Design House, has been creating beautiful interiors in north-east homes for more than two decades.
In addition to working with a range of private clients, Karen also exclusively works with Bancon Homes.
Situated at Maidencraig Crescent, off the Lang Stracht, the designer aimed to turn the three-bedroom house into a glamorous home which would appeal to both first-time buyers or those who wish to downsize.
She said: "The brief for this show home was to create a home for a family and we were also going for a contemporary feel."
The Aberdeen property has a well-proportioned kitchen, dining area and living room on open plan.
Karen said: "The whole kitchen area is very roomy, but it's broken up with a breakfast bar. On the other side of the breakfast bar, there is a lovely corner blue sofa and behind it, there's a dining table.
"It just shows how versatile the space is. Sometimes when you're viewing a house, you cannot fully imagine how it'll look and how the open space areas can be utilised."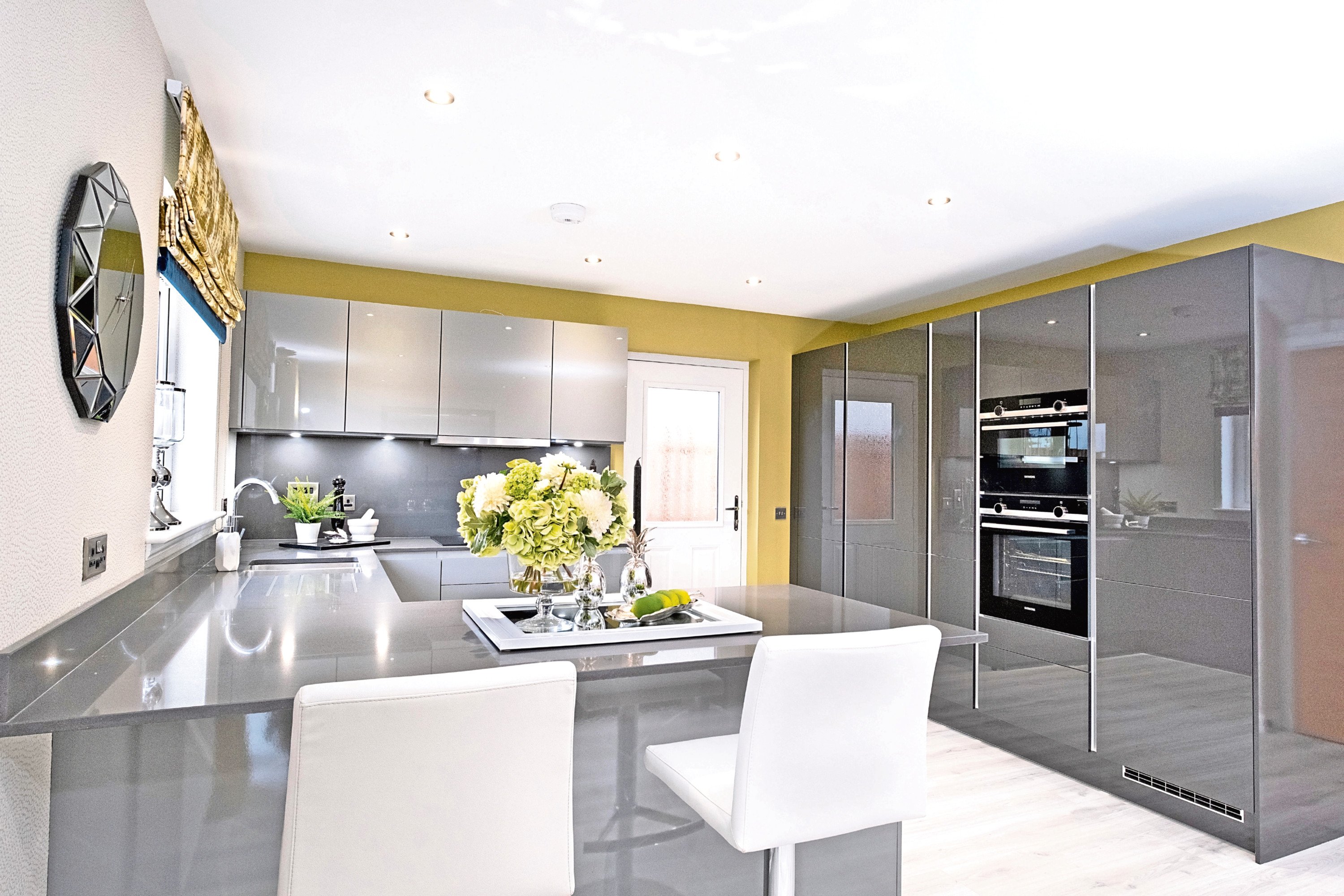 Karen decided to go for a stunning blue and green colour combination with a touch of geometric style when she was designing the property's generously-sized living room.
She said: "There's a beautiful denim blue-coloured velvet corner sofa in the living room. So I mixed that eye-catching blue with ivory and greens to create an overall flowing theme.
"There's a stunning geometric wallpaper on one of the living room's walls. It's a neutral colour, but the design really stands out and makes a statement in the room.
"And leading into the hallway, I also used a yellow/green geometric chevron up the staircase to give it a bit of a dramatic feel."
The blue theme also continues into the property's bedrooms.
She said: "In the master bedroom, I used a moody deep navy blue on the walls. The wall behind the bed's oversized velvet suede headboard has a really nice abstract feature. The colour blue filters through the gold broken-up stripes really nicely. And to emphasise the width of the master bedroom, I decided to use an oversized bedside table and there are two large fitted wardrobes too.
"And to complement the bedroom, I also went for an extra large mirror that stands on the floor and leans against the wall to give it a more dramatic effect."
In the guest bedroom, the blue theme is still present and Karen has also added in additional themes, too.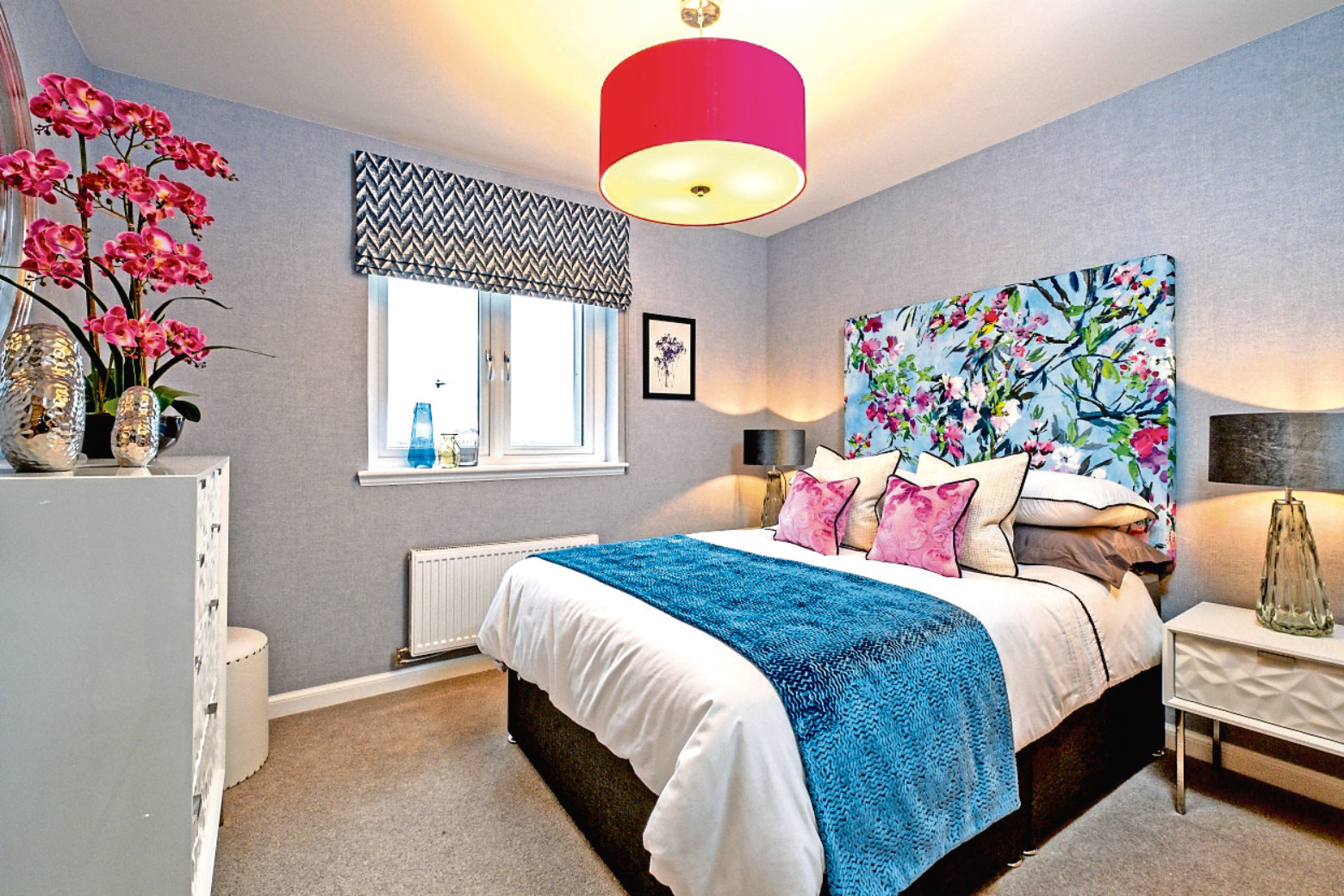 "The boy's bedroom is also blue-based, but it has an urban chic theme too," said Karen.
"It has a graffiti effect wallpaper on one wall and brick on the other.
"The family bathroom is also in a soft blue colour, which I mixed with nice greens and pinks."
Since blue can be quite cold, Karen needed to find a way to make the property look more homely.
She said: "I managed to achieve the nice homely feel by dressing out the property. I used a lot of texture. "There's a smooth hardwood floor downstairs to make the area look really spacious. So I softened the flooring with the lounge's velvet sofa and curtains.
"Nothing is super matchy, but everything complements each other."
Karen said flowers and accessories can also soften the edges and make the house feel more like a home. The interior designer also thinks the popular geometric design works very well with the ever-popular florals.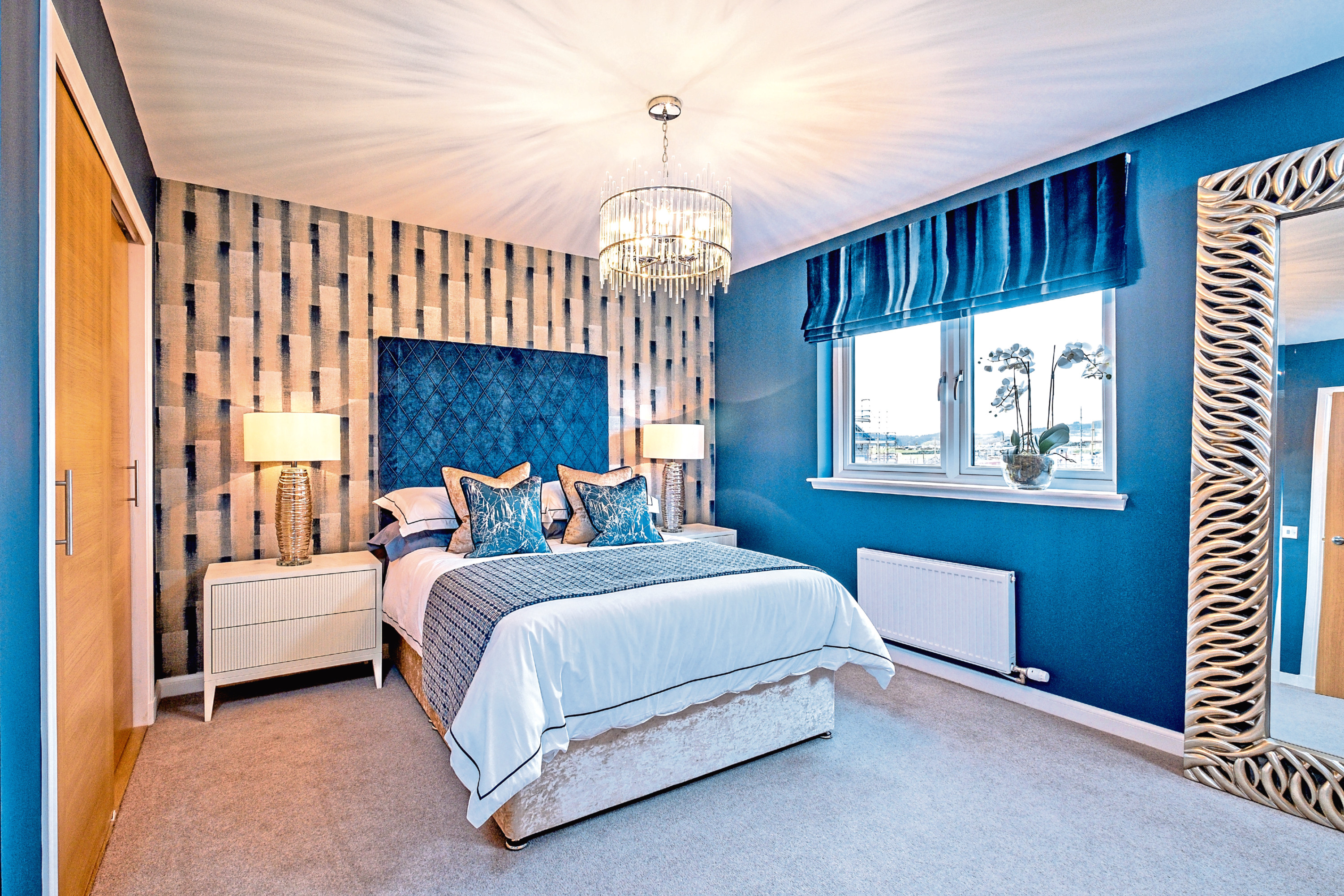 She added: "I think geometric designs are very simple yet chic. And flower designs are also very in just now – it's a trend that has carried through since the start of this year.
"So in the lounge, I mixed geometric styles with floral cushions and the room's arm chair is also embellished with florals.
"In the guest bedroom, I used a blue but very striking floral headboard which also has a lot of pinks and greens in it.
"Flowers and geometrics really complement each other nicely."
Karen thinks the floral trend will continue to be big in 2020.
She said: "I think florals will continue to be popular – not just traditional flowers, but also flowers with a contemporary twist. I think we'll see more florals on velvet next year too and that's why I introduced it in this show home. Florals also have the power to soften any room."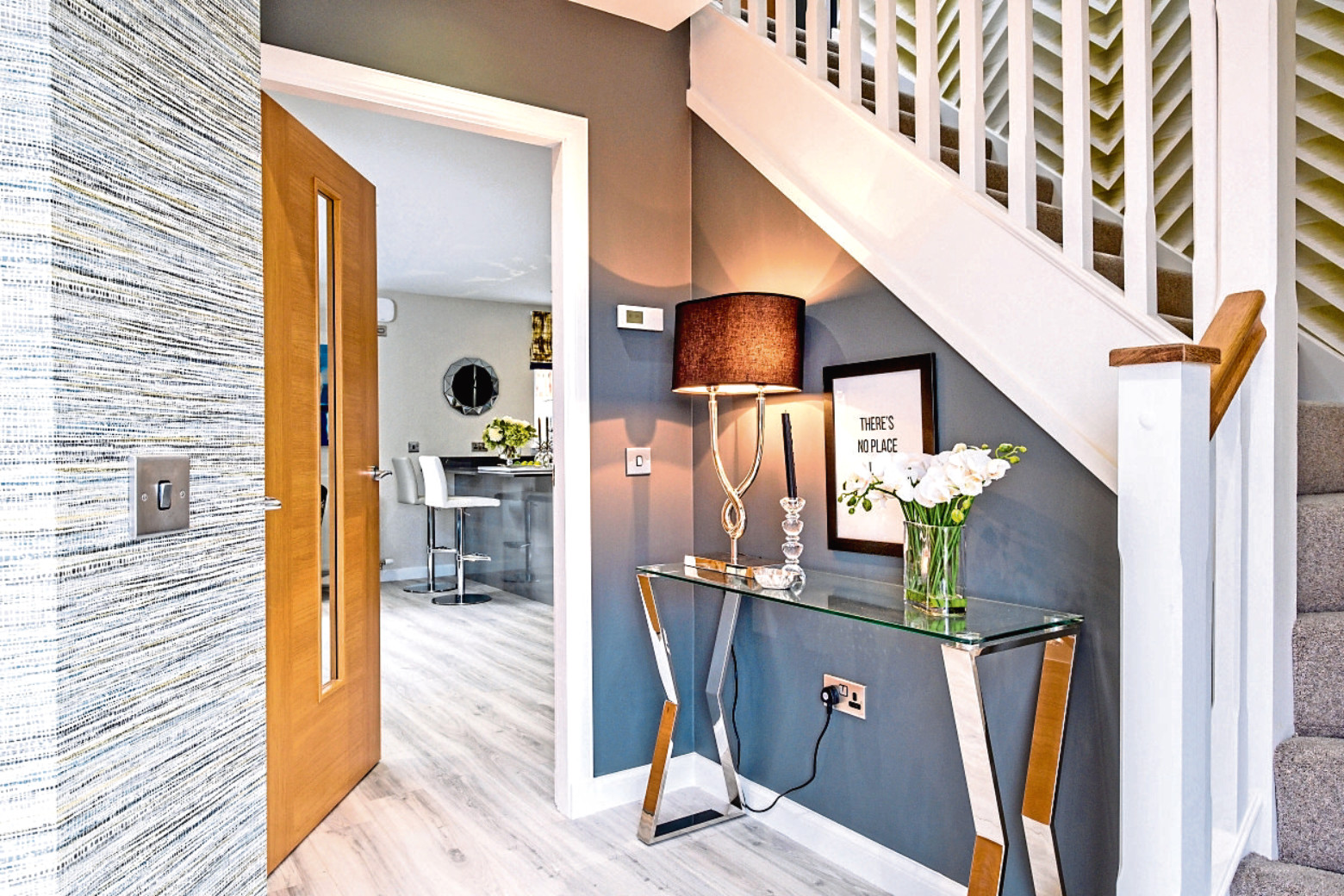 In terms of materials, Karen is certain velvet is here to stay.
She said: "Velvet is incredibly popular. I've used the material for many, many years and nowadays, it's not just plain velvet that's available.
"Many companies are now introducing patterned or abstract velvet. And on curtains, for example, the tie dye effect is also very in just now.
"Ultimately, velvet can also add a bit of luxury to any room too.
"I would say the property would be ideal for someone just starting out – maybe a young family.
"The space downstairs is very sociable so I think the property offers very easy living. All the rooms are spacious so it'd make a nice family home."
Visit banconhomes.com/our-developments/current/the-roses-at-eden for more information