Aberdeenshire artist Bryan Angus creates eye-catching lino prints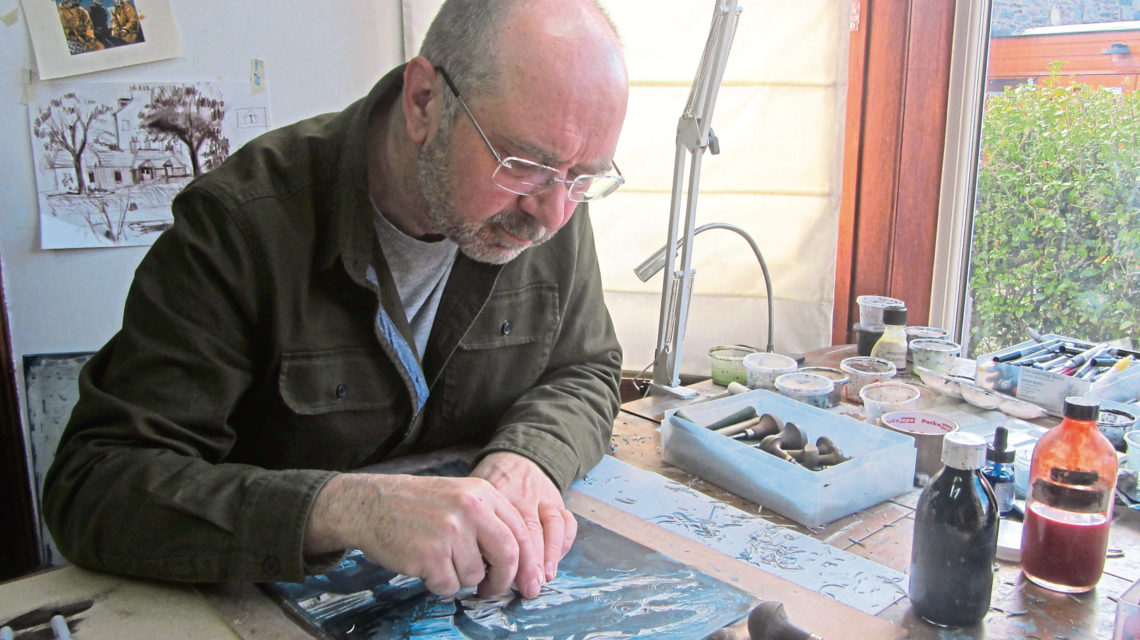 Working from his Aberdeenshire studio, talented artist Bryan Angus says he is inspired by the drama of the land and weather hereabouts.
"There are a number of cycles of change that a daily dog walk reveals and infuses my work – the colours of growth and decay in the seasons, the angle of the sun, the constantly changing weather – a day is never replicated," said Bryan.
"The fabric of the land and the construction of the buildings up on this coast has retained its history, written on its face as it were."
Graduating from Gray's School of Art with a diploma in painting in 1978, Bryan spent the following three decades working in the arts and culture sector.
He said: "I worked as a theatre designer, arts company manager and arts officer.
"It was setting up and running an art retreat in Gardenstown where I could rediscover my own art practice that changed things."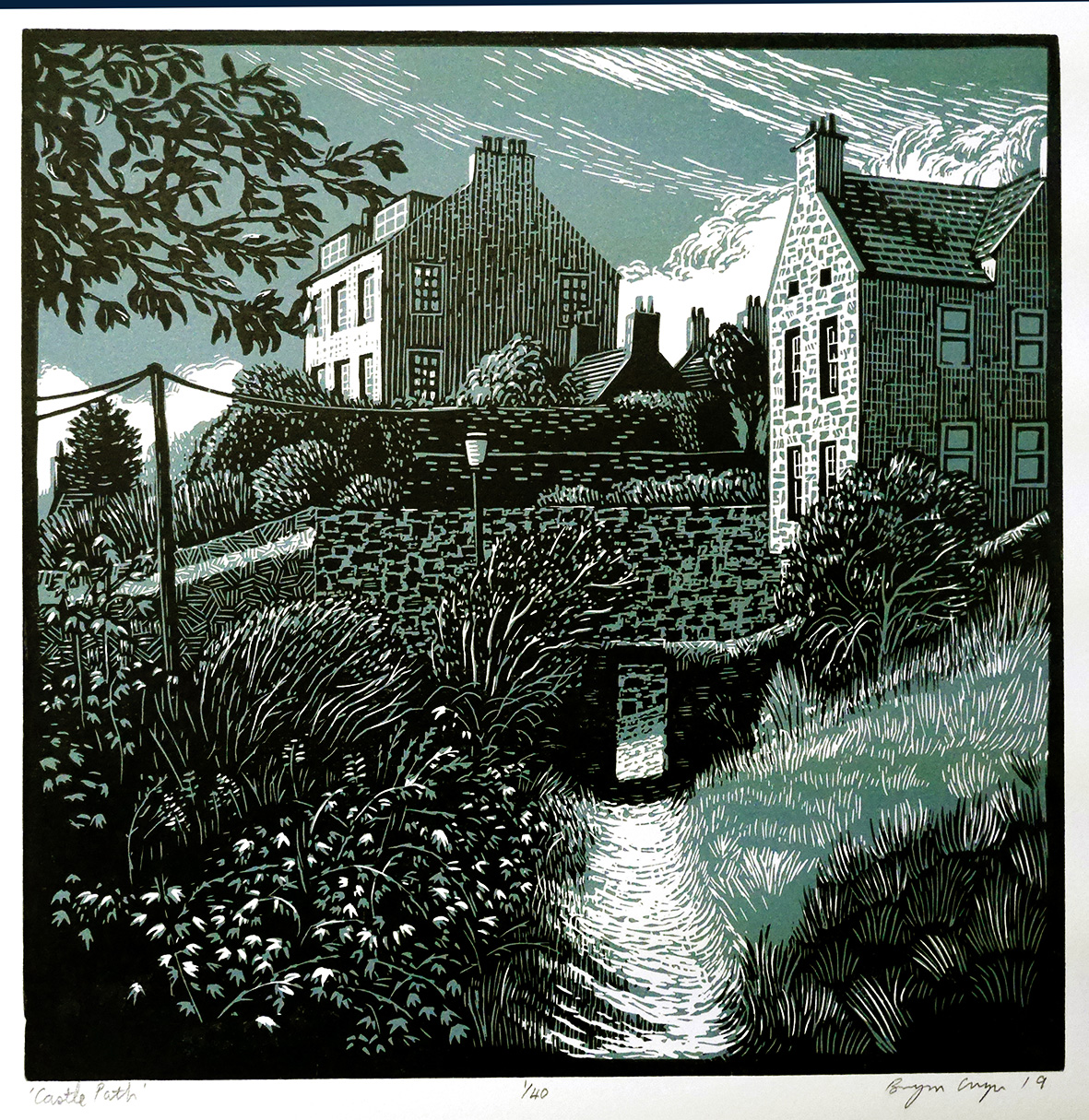 When asked to describe his art style, Bryan said he mainly falls into the landscape and realist category.
"But some of my work – particularly the images linked to my days as a theatre designer – would be called magical realism," he added.
"The style of my lino prints and much of my drawings is reminiscent of a number of mid 20th Century British landscape artists – I spend time looking at the Nash brothers, Ravillious and much closer to home, Sylvia Wishart and Frances Walker.
"I was briefly taught by both at college and I've just been to the Pier Arts Centre in Stromness to see Sylvia's wonderful work in the flesh."
When Bryan restarted painting, his main materials were oil and pastel, but he knew his core love has always been drawing. And that's why he decided to focus on creating lino prints.
He said: "I could see in making prints that I could extend my drawing and tonal skills, with the added joy of having multiple handmade objects at the end. I chose lino because it's a process where, at least initially, you don't need to invest in a lot of equipment.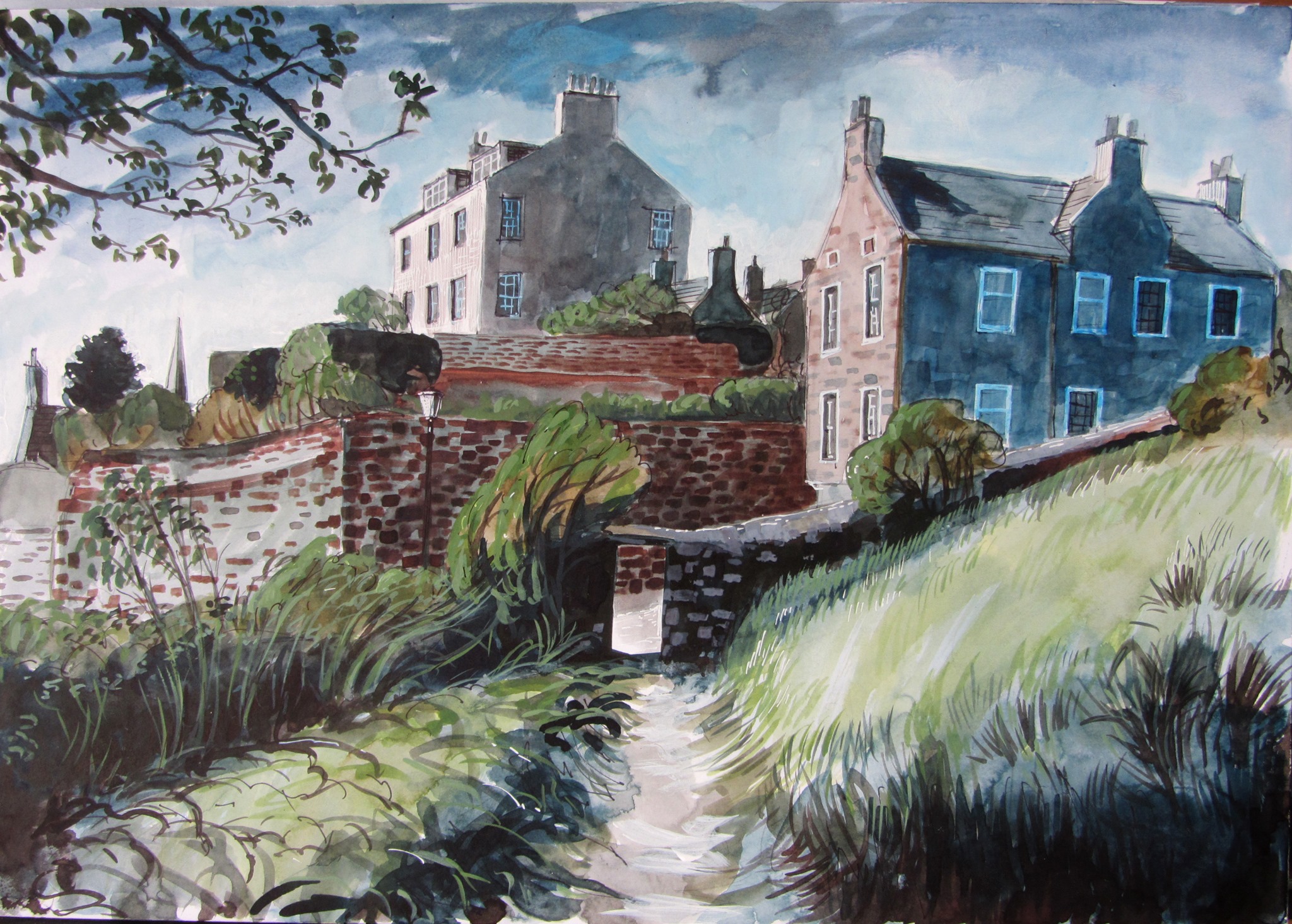 "But also because I have always enjoyed manipulating three dimensions, so the process of carving away a surface immediately engaged me.
"The nature of the cutting, the pattern making, has become integral to my style.
"I generally keep to a small number of colours, as the images are about shape and light, closer to drawings than paintings."
Bryan always starts with a sketch on paper, using drawing inks to work out the composition and placing of tones.
He added: "Then it's traced and reversed on to a lino block and the image recreated. To do a two-colour reduction print, the first stage is to cut away where you want the lightest colour, bare paper.
"I then print a mid tone, usually a blue-grey, on to as many sheets of paper as I want prints.
"Then I take the same lino block and cut away the areas that I want to remain the blue colour, in the process defining which bits I want to be black.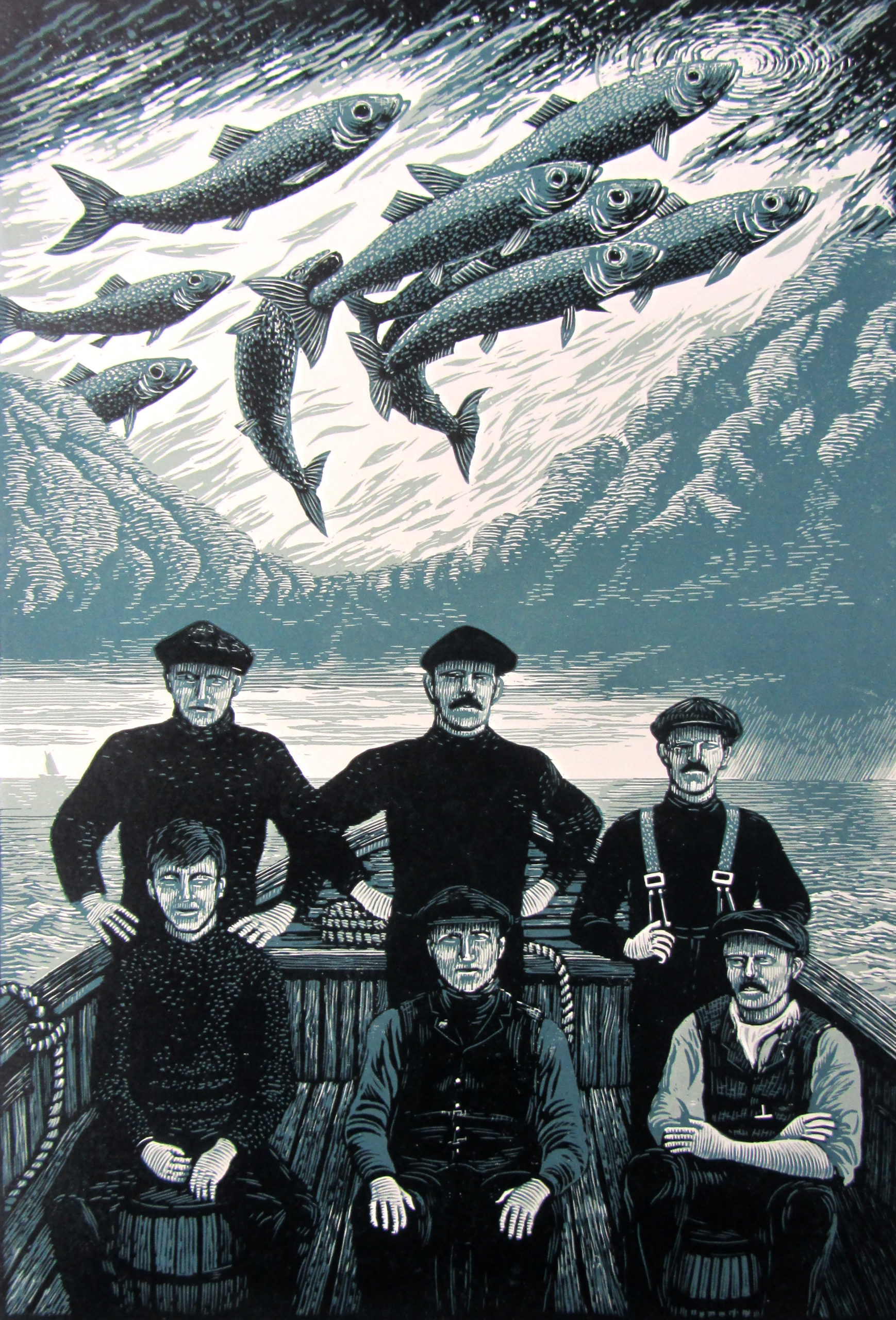 "I then print a second time on to the blue prints and it's done.
"But you can do many more layers of reduction – I like to squeeze the drama out of two or three reduction layers.
"I use a variety of blue more often than not for a number of reasons – other colours don't work quite as well, blue suits the subject, but mainly use it because I like it."
Even though Bryan often uses a camera when working, he thinks drawing is an essential part of his creative process.
"It lets me capture what it is that's engaged you, not just the general surroundings," said Bryan.
"The process of drawing, observing deeply, carefully learning the twists and turns of your subject leaves you with a much greater understanding of what it is you are looking at.
"When I get home to my studio in Banff, I will take the original drawing and photos and compose from them all, including from my memory, using the experience of being there as part of the whole."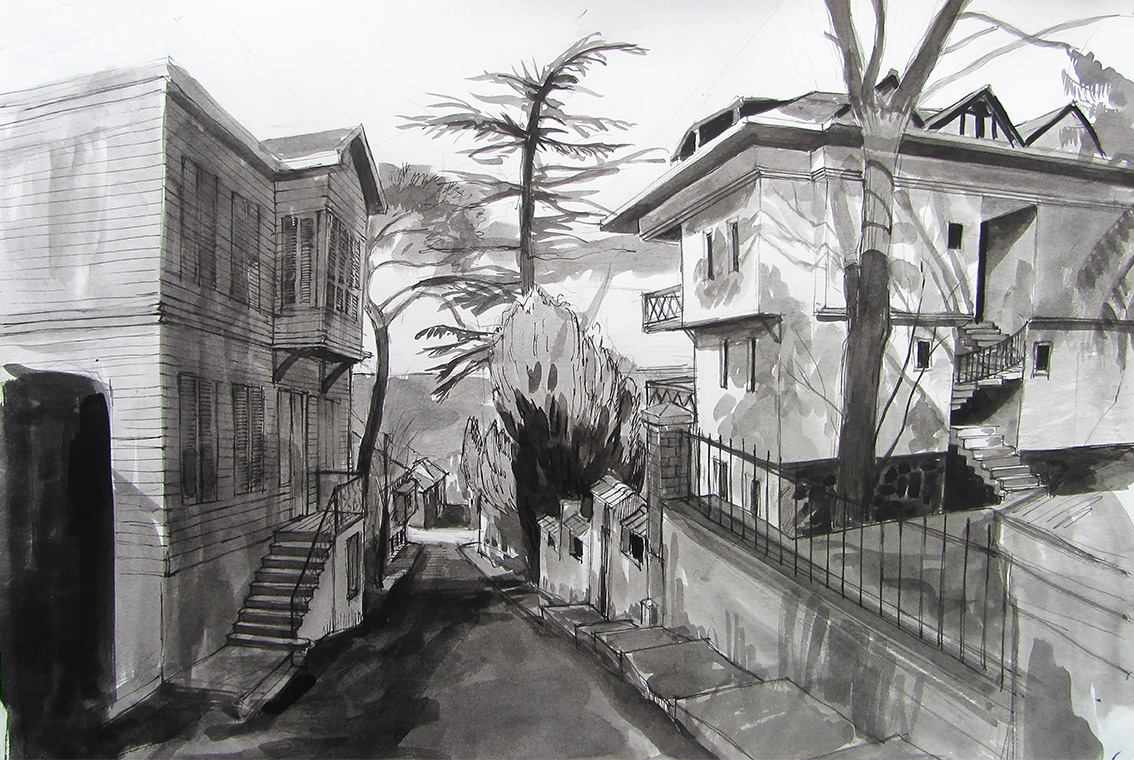 The artist has worked on a number of exciting commissions over the years.
He said: "I have done a number of spirit labels, including a 20-year-old Oban special edition.
My first commission for the drinks industry was for Arbikie.
"I started working for them about four years ago and created a special print for their Highland Rye, which features on the box and label.
"During lockdown – I'm sure they won't mind me saying – I created five new images for label designs you'll see in the bars and shops soon, for their excellent vodka and gin.
"In the last few years, I've also undertaken commissions for the redesigned Wallace Monument, my images being throughout the visitor information panels – and for SAGA, creating three pieces for a new cruise liner, The Spirit of Discovery, which launched last year."
Gallery Heinzel on Thistle Street in Aberdeen showcases Bryan's work fairly often. In addition, the artist's lino prints can also be seen in Cullen Antiques Centre and Imagine in Banff, however, the latter hasn't reopened yet.
Bryan said: "Some people may have seen my work in the Granton Museum in Grantown-on-Spey recently, and I have been invited to show at the Rheged Centre in Penrith this coming winter.
"Most of my work can also be seen and bought through my website."
Visit www.bryanangusart.com for more information