Aberdeen artist Claire Kidd gets to art and soul of everyday human life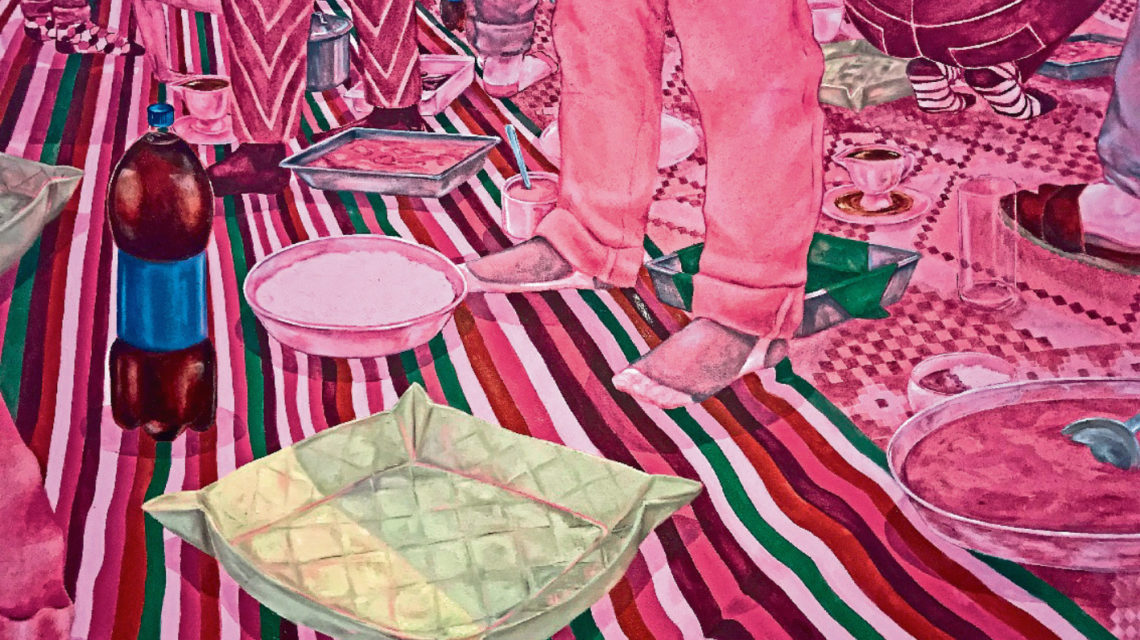 Influenced by the people around her, Aberdeen artist Claire Kidd likes to capture human intricacies, cultural differences and compassion in her eye-catching work.
"This year has been full of incredibly quick changes and absurd realities and I've been really inspired by the ways in which people have responded to these changes," said Claire.
The talented artist said her recent trip to Pakistan was a real source of inspiration.
She stated: "Having recently visited Pakistan, I've become quite interested in displaying cultural difference in my work and showing the humane moments of compassion that bridge the gap these differences sometimes form.
"While in Lahore, I lived with 35 people, all of whom were friends of the groom whose wedding we had travelled to attend.
"I wanted to capture the community and chaos of this and so I began taking pictures of our floor dining experiences. The first time we ate on the floor, plates were smashed, forks were trodden on and water was spilled everywhere.
"By the second or third attempt nothing was broken, people moved around one another seamlessly and I felt strongly about attempting to express the joy this gave me in paint."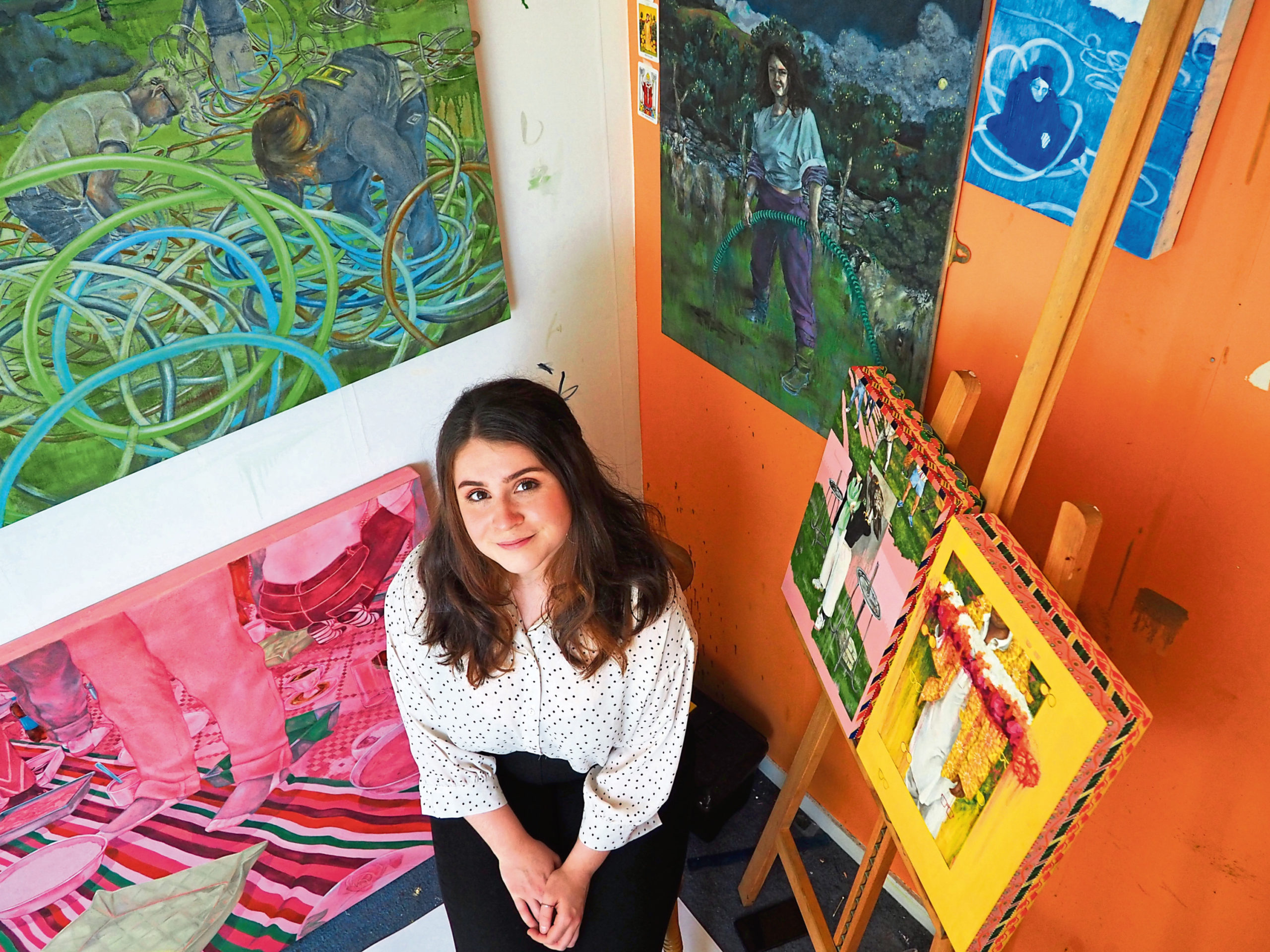 Claire created her pink-focused painting titled 'I think we broke something' once she returned home.
"I wish I had a better story for the pink colour palette, but I was just slightly obsessed with this colour for a time," said Claire.
"I was seeing it everywhere – from the lanyard I had to wear to the clothing the boys had worn during the ceremony while we were away."
Another interesting painting inspired by her travels is called Are you going to kill an elephant?.
Claire said: "Lahore had been wonderful and overwhelmingly fast, so when I returned home my memories felt unclear and jumbled, as though they had been compressed together.
"I used this composition to try and describe my fragmented memories and to highlight that the photographs I was painting from were really limited versions of my experience there.
"I painted this through isolation and the pandemic, which separated me from the sensory feeling of being in Pakistan and furthered my confusion and disorientation.
"The edges of these paintings were highly decorative, inspired by the bin lorries in Lahore that drove by like masterpieces with bells jingling to sound their passing.
"I felt so deeply at home in the maximalism of Pakistan, I've always wanted life to be more colourful and for the everyday to have more flair.
"Painting the edges allowed me the space to add this flair and gave the works a slightly souvenir-like quality."
Like many influential artists, Claire has also decided to create a self-portrait.
She said: "Self-Portrait with Mullet Sheep is one of my most recent paintings.
"My time in Glenshiel was really disorientating because I had no farming experience, we had little internet connection and I had been quickly wrenched away from my studio and my degree.
"I looked and felt so out of place in this landscape, ambling around in city clothes with no idea how to fill my free time.
"I took to wandering around at all hours trying to locate one wild sheep that had scratched all the wool off the front of its body, hence my naming it Mullet Sheep.
"The whole thing seems hilarious now, but at the time it all felt quite serious, you'd never tell just by looking at the painting, but it documents my reaction to the pandemic really well."
Claire says she is very interested in the magic-realism movement in art and literature.
"It has certainly affected the style in which I paint," said the artist.
"I enjoy tip-toeing along the lines between reality and absurdity, without ever committing fully to one or the other. I am in an enjoyable period of exploration and experimentation right now."
Claire has been inspired by Peter Doig for a few years now because of the "timeless feeling" she gets from viewing his work.
She added: "The other-worldliness of his art is something I can only hope to emulate in my own work.
"I love Lisa Brice and Ruprecht von Kaufmann for their figurative compositions and limited colour palettes.
"And I'm also really inspired by local artists, people like Joe Fan, Julie-Ann Simpson and Barry McGlashan."
While Claire likes to take a lot of pictures of people and things which catch her eye, she doesn't try to copy her photos when painting any more.
She said: "When I was really young, all I cared about was how perfectly I could reproduce a photograph.
"With time, I realised I was just becoming a camera and that there is so much to be learned in selectively using photography and loosening up a bit.
"My head of department told me once I had to just 'let paint be paint sometimes' and to enjoy it as a physical element and not just as a vehicle for pushing a narrative.
"I think it took some time to understand how to do this but it was has been really rewarding to let it run or slap it on thick in places."
After studying Art and Design at NESCOL for two years, Claire went on to study at Gray's School of Art.
She said: "I studied Fine Art Painting, but still managed to find some time to explore sculpture, performance and dabble in a little bit of ceramics."
Claire then obtained her master's degree at Glasgow School of Art.
She is currently working from her mother's home in Dyce.
"It was surreal to return to this 'art room' which is my brother's childhood bedroom," said Claire.
"The last time I had used it I was 15 and the materials in here felt really personal and nostalgic.
"I am excited to be moving into a space run by Edinburgh Printmakers in the H1 Rubislaw building very soon."
Claire, who is looking forward to working on commissions later this month, would like to teach painting in a few year's time.
She said: "The conversations I have with other artists are as important to me as making my own paintings and to see a young artist grow is really rewarding.
"Part of this desire is a need to give back to the arts community in Aberdeen as I feel it guided me and gifted me with so much support."
Visit www.clairekiddart.co.uk for more information