Mac's Pizzeria is becoming the go-to place for authentic pizzas in Aberdeen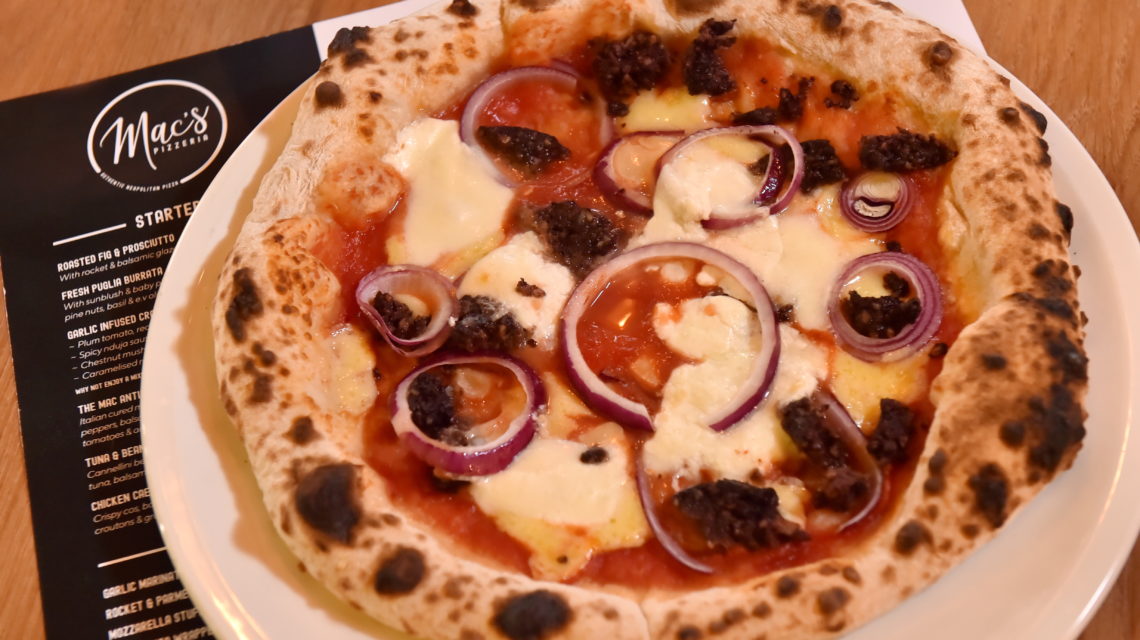 Mac's Pizzeria is fast becoming the go-to place for authentic pizzas in Aberdeen.
The Neapolitan-inspired eatery, which opened in late August above The Esslemont on Union Street and was once the Esslemont & Macintosh department store, serves up freshly-made pizzas cooked in a roasting-hot clay oven.
With a range of toppings, vegan and vegetarian options available, Mac's talented chef team can rustle up something to suit all tastes. It's a great place to grab a slice with friends if you're planning on making a night of it during Aberdeen's International Comedy Festival this month.
From street art by The Globel Brothers – Ciaran Globel and Conzo Throb – to Vespas hanging from the ceiling, Mac's is full of attention-grabbing quirky features.
Pizza-lovers can also enjoy freshly-made dishes in a semi-private area where they can snap pictures of themselves and their friends with funky pizza angel wings.
We caught up with the venue's head chef Irene Duguid and the eatery's second chef Johnpaul Johnston, who have worked together for two decades, to find out more about the mouth-watering dishes and authentic desserts on offer at the new city centre restaurant – which is owned by a partner of Aberdeen's comedy festival, The McGinty's Group.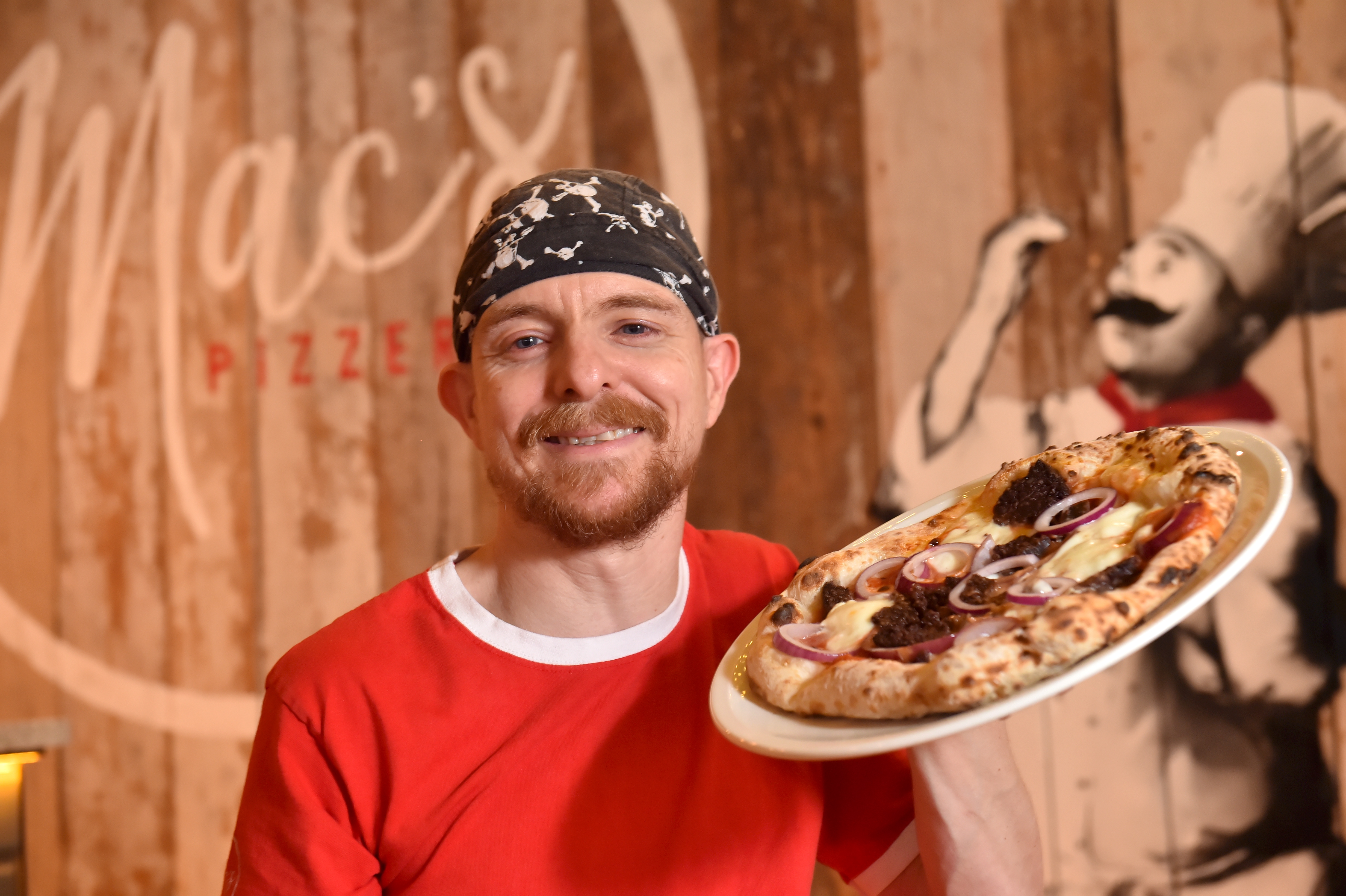 You've previously worked together in other Aberdeen restaurants. Would you say you're a good team?
---
Irene: We've known each other for 30 years and worked together for more than two decades. We worked in Pizza Express together for 11 years and we were together at Pizzaland and Bella Pasta too.
Johnpaul: When we both left Pizza Express, we joined the McGinty's team and we worked there for approximately 10 years.
I: Where I went, he followed.
J: That's right. We're a great team. We really do work well together.
I: There is only seven of us in the kitchen. We've not all been together for long, but we all learn from each other. They've taught me things, I've taught them things… we are all still learning.
---
It's Neapolitan pizzas the new restaurant offers, isn't it?
---
I: Yes! We offer authentic Neapolitan pizzas. We have an amazing thermally-resilient stone oven, which weights 1,500kg. The pizza itself only cooks for around a minute or two and we can make up to seven pizzas at once. The base is very light and we make the fresh dough on the premises every day. All our ingredients are sourced from Italy, apart from the ingredients we use in our Signature Scottish pizza which we've invented.
J: We decided to make a Scottish-themed pizza because the restaurant is in Aberdeen and it's owned by a Scottish company. It's definitely the most popular one on the menu. We put tomato sauce, mozzarella di bufala, blaggis – which is a mixture of black pudding and haggis – Scottish cheddar and onion on the pizza. It tastes absolutely amazing.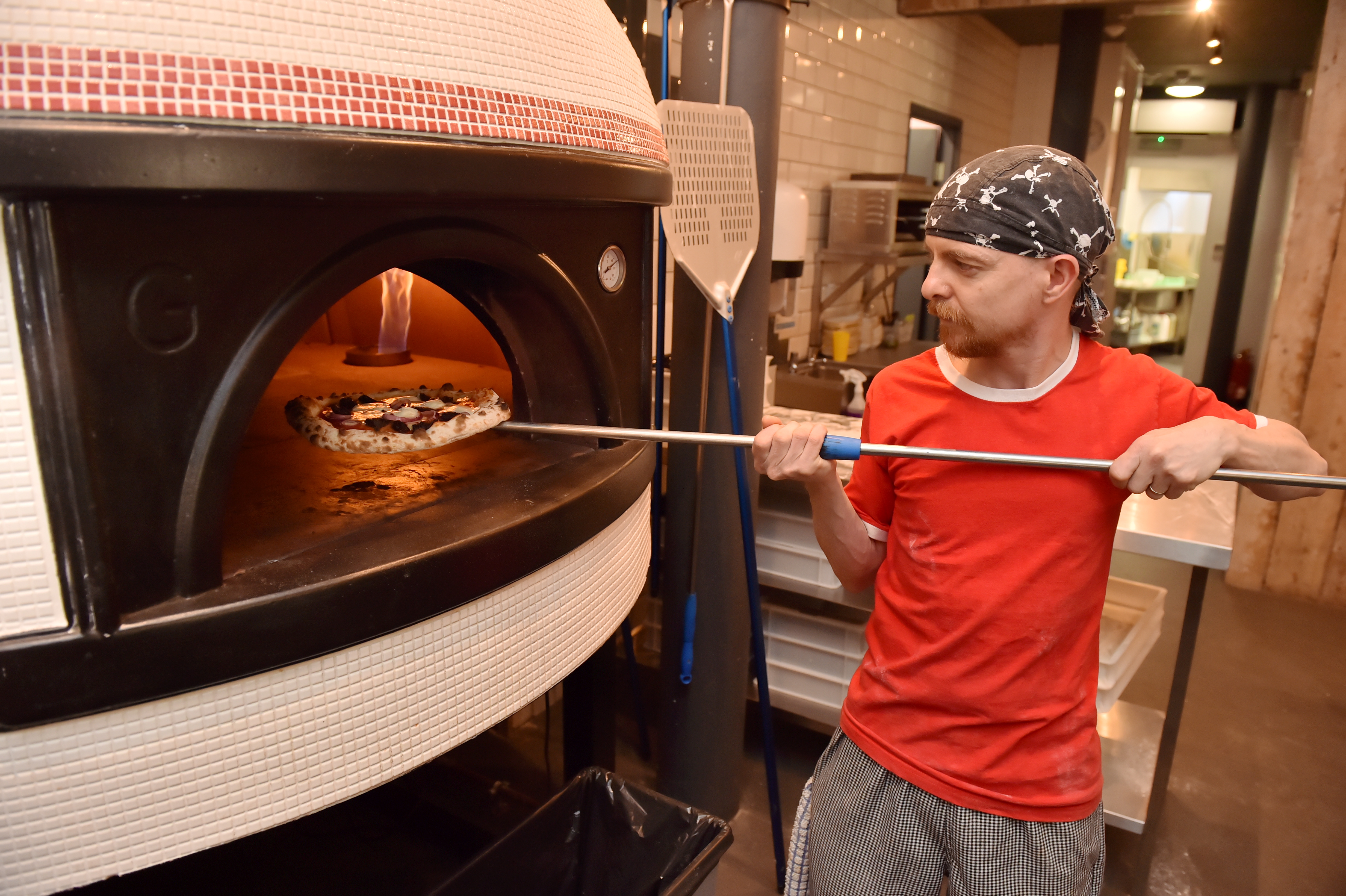 What is it that makes a great pizza?
---
J: I would say it's definitely the dough and fresh ingredients.
I: Yes, it's all about the good quality ingredients we use. While most of our core ingredients are from Italy, we source blaggis in Aberdeenshire for our Scottish pizza. You can get blaggis in any good butcher but we get ours from King Foods in Aberdeen.
J: We get our vegetables locally too. We source them from Turriffs of Montrose.
---
Which pizza is your favourite at the moment?
---
I: My favourite pizza changes all the time, but at the moment, I really like the asparagus, prosciutto, honey and truffle pizza. If people wanted a vegetarian version of the pizza, we can easily serve it without prosciutto.
J: I like my spicy pizzas, so my favourite must be the one with chicken and nduja, which is a spicy sausage from Calabria.
---
Catering to vegans and vegetarians too, it seems you've got a well-rounded offering for everyone.
---
I: We have vegan cheese which we can use and we also have a few vegetarian pizzas on the menu. And the majority of our starters like the fresh puglia burrata and the garlic-infused crostinis are vegetarian. I'm not a vegetarian, but I really enjoy our meat-free pizzas too. We've got 10 pizzas on the menu and a whole range of sides for people to enjoy too, not to mention extra toppings you can add as well.
J: We sell a lot of pizzas with aubergine, roasted peppers and pesto. They're really popular with many people, not just vegetarians.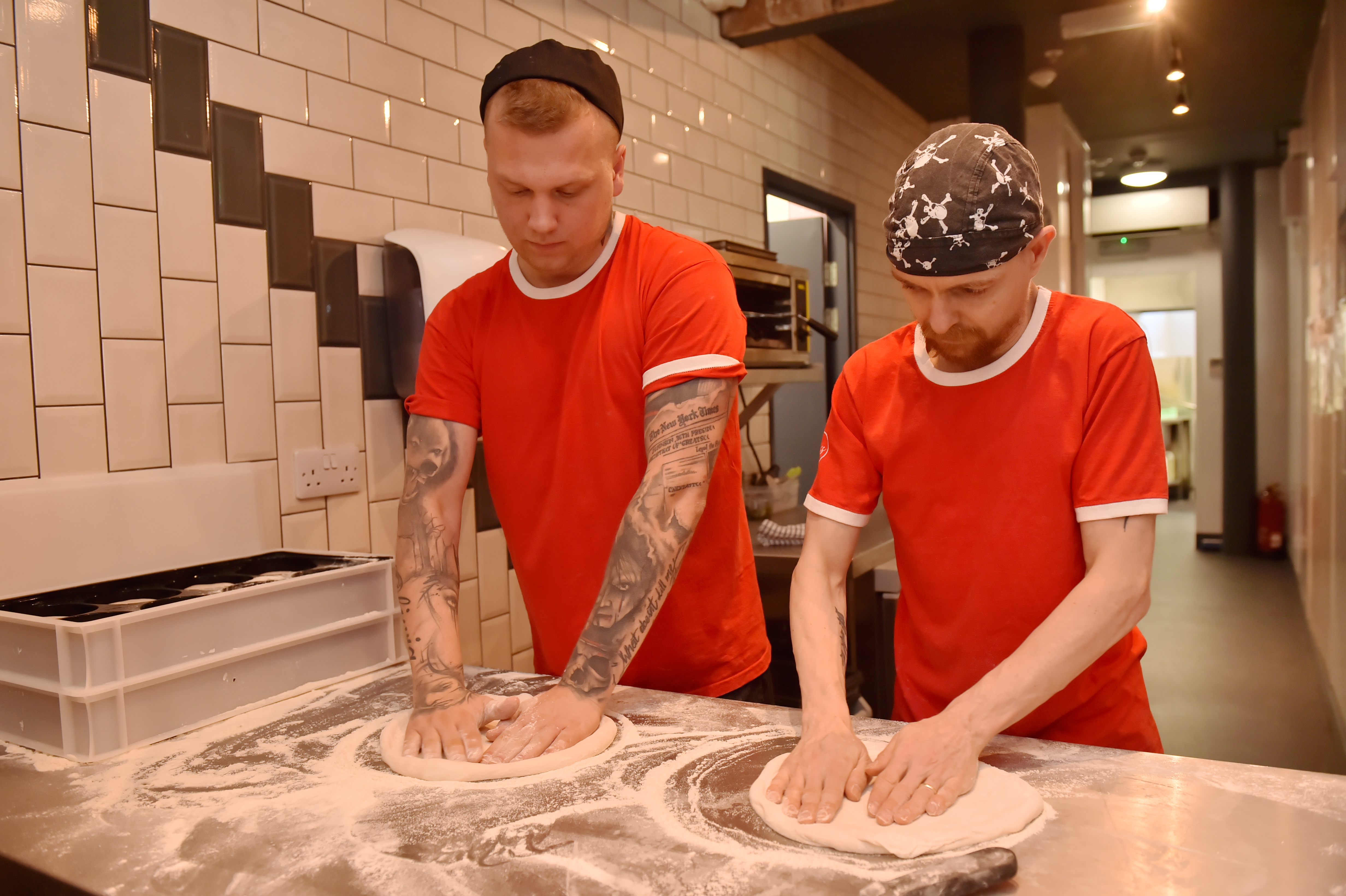 In addition to traditional pizzas, Mac's also offers a Nutella pizza. Is it quite popular with your customers?
---
J: It's actually a lot more popular than I thought it would be! We sell a lot of them.
I: It's quite big so it's really nice for sharing. We put strawberries and marshmallows on top of it. A lot of people like to have our Nutella pizza after they've had their meal as a dessert. To be honest with you, I wasn't sure if I was too keen on the idea of it, but when I tried it I had to admit it's really good. Many people are surprised at how nice it is.
J: Parents often order the sweet pizza for their children who love it. It's not on the children's menu but we can make these pizzas smaller. We are happy to make changes and accommodate our customers' requests.
---
What other desserts can your customers order in the pizzeria?
---
I: We offer a fantastic home-made tiramisu, the classic Italian dessert. We also have Italian gelato ice cream, which has a shot of Limoncello on top and Amaretti biscuits too. We also serve up affogato, which is an ice cream drowned in espresso. I would say the ice cream is the most ordered dessert in the restaurant.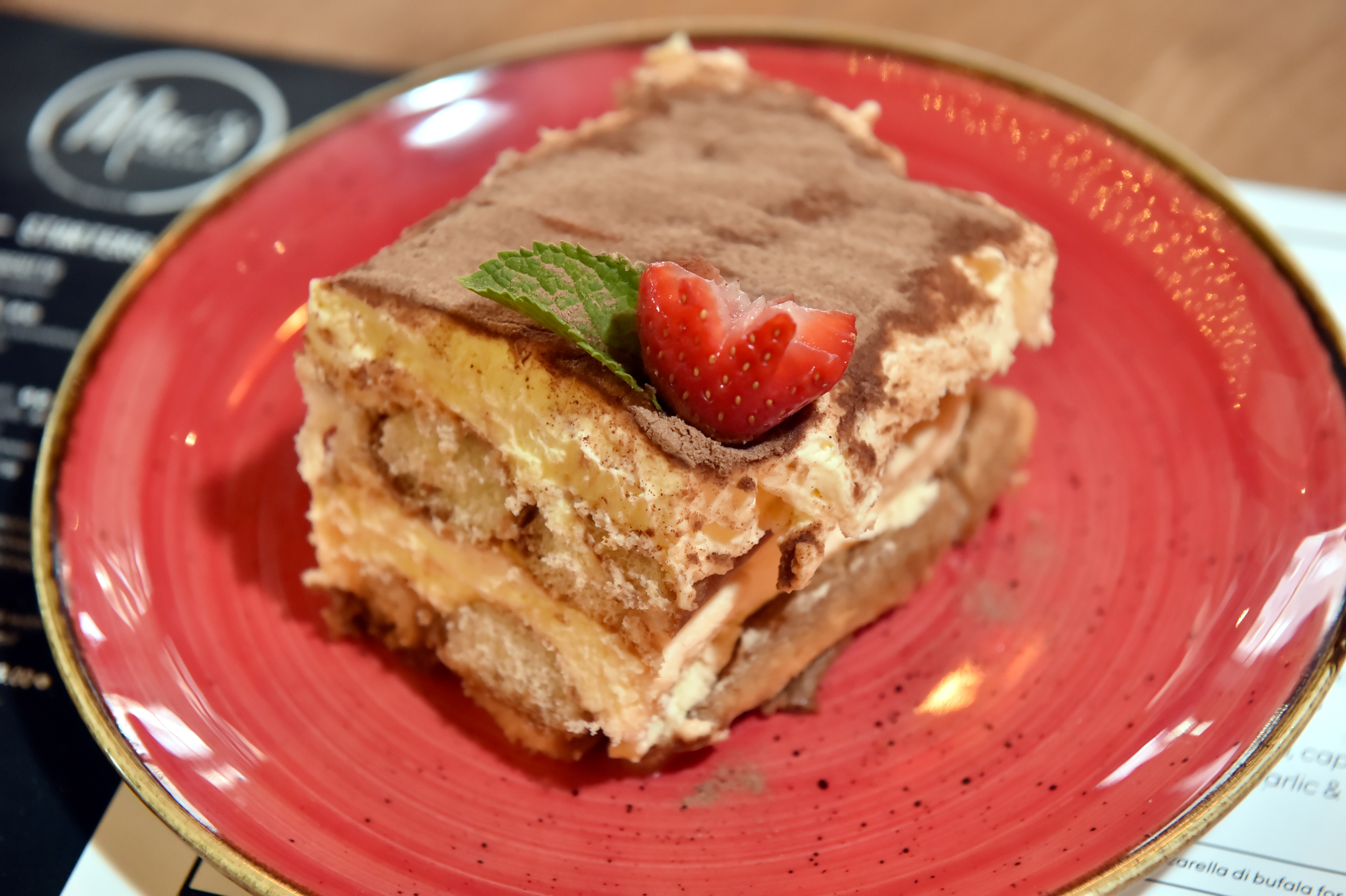 What do you like about the new restaurant's decor?
---
I: I really like our big open kitchen. I love the openness of the whole restaurant. Even thought it's a an older building, everything in the restaurant is brand new. I really like the Nuart and the scooters we have too.
J: I like the quirky features too – it's a really nice place to work.
---
There's going to be a night of pizza and comedy as part of the upcoming Aberdeen International Comedy festival next week. Are you looking forward to the event?
---
J: I think the venue will be great for a comedy night. We'll probably be working through the night. I imagine it'll be busy but hopefully we'll be able to listen in and catch some of the material.
Customers will be able to come in for a pizza at 6.30pm and can enjoy a night of comedy with Matt Hoss' show A Slice of Comedy from 8pm on Monday October 7. The tickets are only £8 too and the price includes a pizza so it's a great deal if you ask me.
Visit macspizzeria.co.uk for more information and to see the restaurant's menus. For tickets to the show call Mac's on 01224 643272