Head chef of Kirk View Cafe Sam Dagostim steps up to plate in first chef role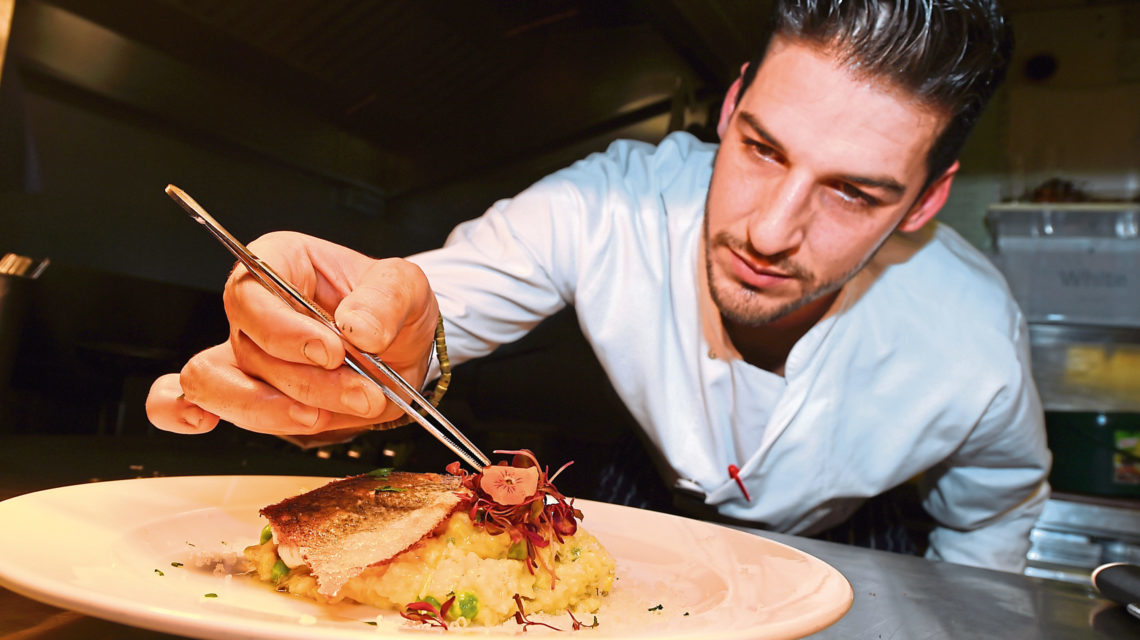 Having never worked as a chef until he owned his own business, Kirk View Cafe, there was one thing Sam Dagostim knew he had to do by the time he and his business partner launched their cafe – learn how to cook.
Relocating to Aberdeen from Brazil with his brother 13 years ago, Sam had never envisioned that he'd own his own business. That was until he met Rob Milne.
Opening Kirk View Cafe on Union Terrace a year-and-a-half ago, Rob and Sam never anticipated it to be the success it is today. Friends for 12 years, the duo instantly bonded during their time at The Patio Hotel in Aberdeen and ended up working together again a few years later at now closed restaurant La Tasca.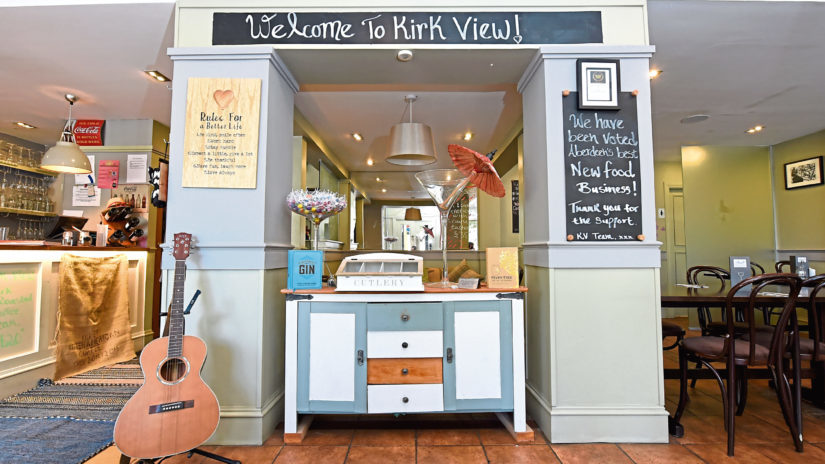 Deciding to open their own place over dinner one night, Sam immediately knew the responsibility of heading up the kitchen was very firmly placed in his hands. With no experience, he turned to Google, observed as much as he could and used his Brazilian and Italian heritage to bring exotic flavours into the local, high-quality food concept the casual eatery offers.
Open seven days a week and seating 30 to 35 people at any one time, the cafe prides itself on fine dining in a casual surrounding. And with service and good food at the heart of what they do, it's no surprise Sam and Rob have turned the eatery into an award-winning business.
---
You and Rob have known each other a while now – how did you guys meet?
---
Rob and I met more than 12 years ago. We were working together at The Patio Hotel at the beach and we became best buddies there. We went our own way and did our own things for a bit and then we both ended up working at La Tasca where we first started talking about potentially opening our own business.
We went to Pavarotti's one night for dinner and discussed what we wanted to do. We needed a place that wasn't overly big and was manageable. Ten years later we have just that.
---
Now I'm not going to lie, you're the first head chef I've met that has no cooking experience. How did you tackle this challenge?
---
I've now worked in hospitality for around 13 years, but this is my first cooking gig.
I'm the head chef here, but there's really two head chefs here as he – Peter our second chef – works just as hard as I do. I'm half Italian and half Brazillian so I've got a different view on flavours than other north-east chefs and to be honest, the only reason I became a chef in the first place was because it was a necessity first and foremost.
We didn't have a chef and we needed one, so I took on that role and Rob took care of the front of house. I've had to learn a lot in a short space of time and it's been really interesting learning all the things I have.
I've observed a lot over the years and I spent six months in the kitchen at The Patio when I was there. I wanted to challenge myself and see if I could do it, and it seems I can.
---
So are you enjoying being in the kitchen?
---
I love being a chef. Yes, it's been a major necessity for the Kirk View Cafe, but I'm so glad I've been able to support our business in this way. We've got two other chefs here and a kitchen porter too so it's a small team, but we're a strong team for sure.
Peter is our second head chef – he really does work as hard as we do and he completely deserves that title. Roddy is Rob's brother and he's been going to college for cooking school – he's been great in giving us a hand in the kitchen and the whole team has gelled really well. It's a small team, but we work really well together, everyone knows their role and I trust them to just get on with it.
---
Tell the readers about Kirk View Cafe's ethos. Any must-try dishes?
If we're going to make a burger or a veggie burger it's going to be homemade. Our cakes are all homemade and we're really proud of this. We might have a smaller menu of 12 to 15 items, but every single thing is made here and made with high-quality ingredients. Everything looks and tastes exactly the way we want it to.
The smoked haddock risotto with the pan fried sea bass is beautiful. Our head chef Peter created it and it's definitely one of the most popular dishes we have. For lunch, the smoked salmon pasta is another favourite of our customers and the garlic and chilli sizzling king prawns are also popular and have that real wow factor.
---
Is there anything your team are doing differently to everyone else?
---
We've modernised afternoon tea. Looking at what we do, we're miles ahead. We took something that can be classed as a lazy chef thing, something that's really easy to do – and we've flipped it. All our cakes are homemade and we use bruschetta instead of sandwiches. Everything is made to order fresh and you can really taste it in our food. We're really proud of what we've achieved since opening and the offering we have.
The whole place connects from the front to the back of the eatery. It's a relaxed space to come and enjoy and we want guests to be like 'wow, that was so much better than we could have ever thought'. We want to surprise people in that way and show them how good our food and service is. Rob is very passionate about providing outstanding service and all the customers love him.
---
But with no chef background as such, how do you go around creating new menus?
---
I Google quite a lot, especially about seasonal food. When it comes to summer time I always try to lighten the menu and introduce salads, quinoa, super foods and stuff like that. In winter time you want something more warming so we utilise roast potatoes, stews, root vegetables and that sort of thing. We also pay close attention to what our customers like and what's well received, and play on that.
---
And you seem to put on a lot of events, how have they been received?
---
Because we used to work in a really lively place (La Tasca), salsa dancing and stuff like that was always really popular. The events are something that really helps the business. It allows us to showcase things we don't usually do, so it's always really nice to be able to do that.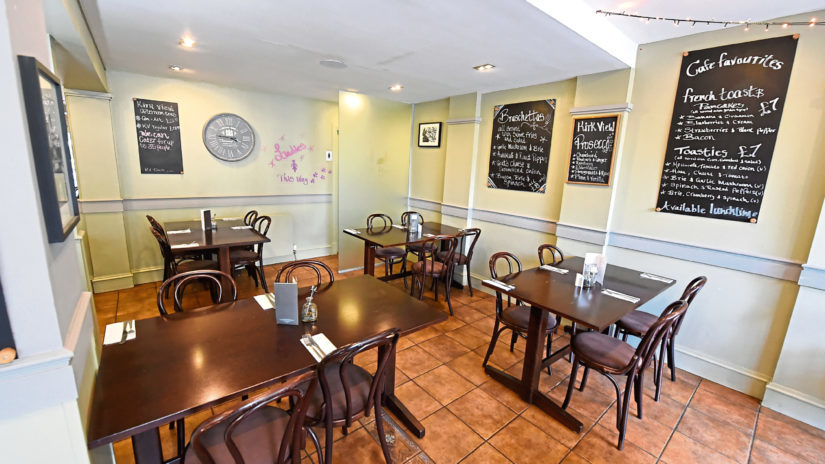 It gives the chefs some freedom to try specials and come up with different ways to serve the tasting menu. It allows us to grow our skills and develop the team. It keeps us all really creative. The steak and live music nights and the gin and cocktail experience events always seem to be very popular.
We're trying to serve four and five star food in a cafe. It's like comfort food but with a very high standard. Everything from the flavours to the presentation are taken into consideration for all dishes. The chefs adapt to what our customers want and need and are always developing.
---
You're an award-winning business now. How does it feel to get this sort of recognition for all your hard work?
---
Over the past year-and-a-half the best moment without a doubt was when we won at the Aberdeen Business Awards. That was a very special moment. It was a year after we'd opened that we won it. We'd worked so hard and when you get an award it really inspires you to work that little bit harder, throw events and showcase our skills even more. It's an extra drive for sure.
---
And what do you love the most about being the Kirk View Cafe's chef?
---
The freedom to be myself with no fear of being told off for doing something wrong. I thrive when I'm comfortable with my surroundings and team and honestly, it's having a team that works as hard as you. When that happens you can go even further than what you thought you could. I love it, and I love sharing ideas.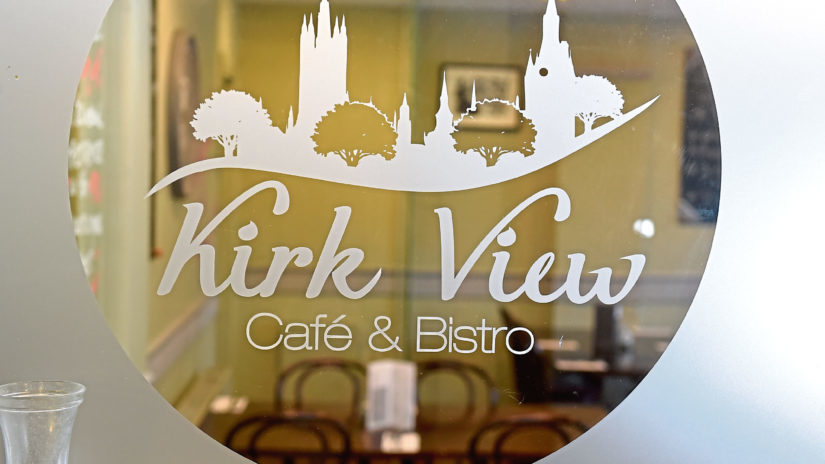 ---
What's next for Kirk View Cafe? Do you guys have much in the pipeline?
---
We've seen a lot of customers coming in before the theatre, and it is great that they are using us as a pre-theatre restaurant. We're pretty much fully booked every night there's a show on, but after seven o'clock – when everyone leaves – is where we really want to try to revitalise and adapt. And we are very ambitious and we really want to grow the business. There's a lot of exciting plans in the pipeline but it would be great to get a second and possibly third place.
Kirk View Cafe offer £5 cocktails for students and two-for-one on all burgers.
See all Society's food and drink features here.