How to recreate Eat on the Green's Gin Bothy washed chocolate torte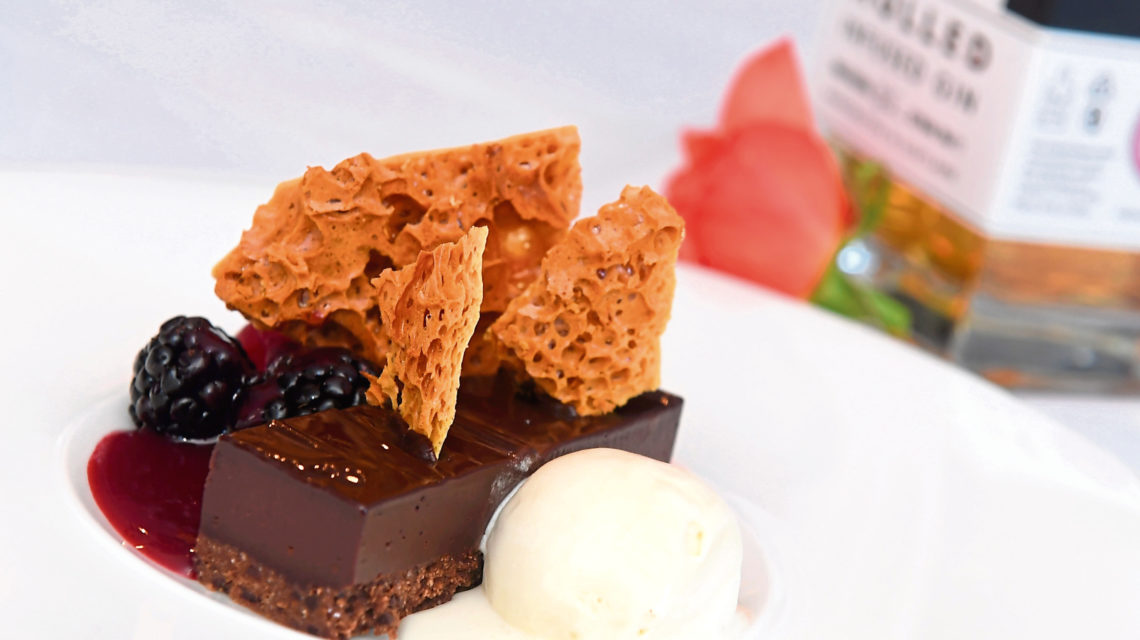 When it comes to dessert, nothing quite beats chocolate.
And this Gin Bothy washed chocolate torte with mulled berries, Mackie's ice cream and honeycomb is exactly the ticket if you're looking for something sweet that's packed full of flavour.
Boasting mulled berries which brings a slight acidity and sour profile to the dish, this is beautifully complemented by the rich chocolate torte and creamy vanilla ice cream.
Like the look of what you see? Why not give the recipe a bash.
Ingredients
For the brownie base:
5 eggs
400g caster sugar
200g flour
220g Vairhona 70% dark chocolate
350g Scottish butter (small dice)
Sea salt (pinch of)
90g heather honey
800ml Scottish double cream
For the raspberry puree:
100g Aberdeenshire Barra raspberries
50g sugar
Splash Gin Bothy Mulled Infused Gin
½ lemon (juice of)
For the gin wash:
100ml Gin Bothy Mulled Infused Gin
70g caster sugar
For the honeycomb:
300gm caster sugar
20g honey
24gm bicarbonate of soda
40gm glucose
To serve:
Mackie's Traditional dairy ice cream
Aberdeenshire raspberries
Edible flowers
Method
For the brownie base:
Preheat the oven to 180C.
Whisk the eggs and sugar until light and fluffy. Sift the flour and add to the egg mixture.
Melt the chocolate and butter in a pan, add the sea salt and mix well into the egg mixture.
Pour into the prepared tin and bake for 20 minutes. When cooling, place parchment with another tray on top and a weight to condense the brownie.
For the chocolate ganache:
Put the chocolate in a bowl with the butter, salt and honey. Bring the cream to the boil, pour over the chocolate and mix until all lumps are gone. Pour over the cooled brownie and leave.
For the raspberry puree:
Gently simmer the fresh raspberries and sugar with the juice of half a lemon. Pour through a fine sieve and chill.
For the gin wash:
Simmer the gin and sugar together for a few minutes. Leave to cool.
For the honeycomb:
Bring the caster sugar, honey and glucose to boil to 132C (use a sugar thermometer), add the bicarbonate of soda and whisk well. Line baking tray with non-stick paper and pour mixture and leave to cool.
To assemble:
Neatly cut up strips of the ganache-covered brownie and place in the centre of the plate, garnishing with the raspberries, puree and edible flowers.
Add a generous scoop of Mackie's Traditional dairy ice cream.
Pour the gin wash into a small atomiser and lightly spray over the chocolate ganache and raspberries.
Chef's tip
Ensure each ingredient purchased is of the finest quality, as the flavours will be equally complementary when served.