How to make The Esslemont's raised shin of beef with chive and mustard mash and seasonal vegetables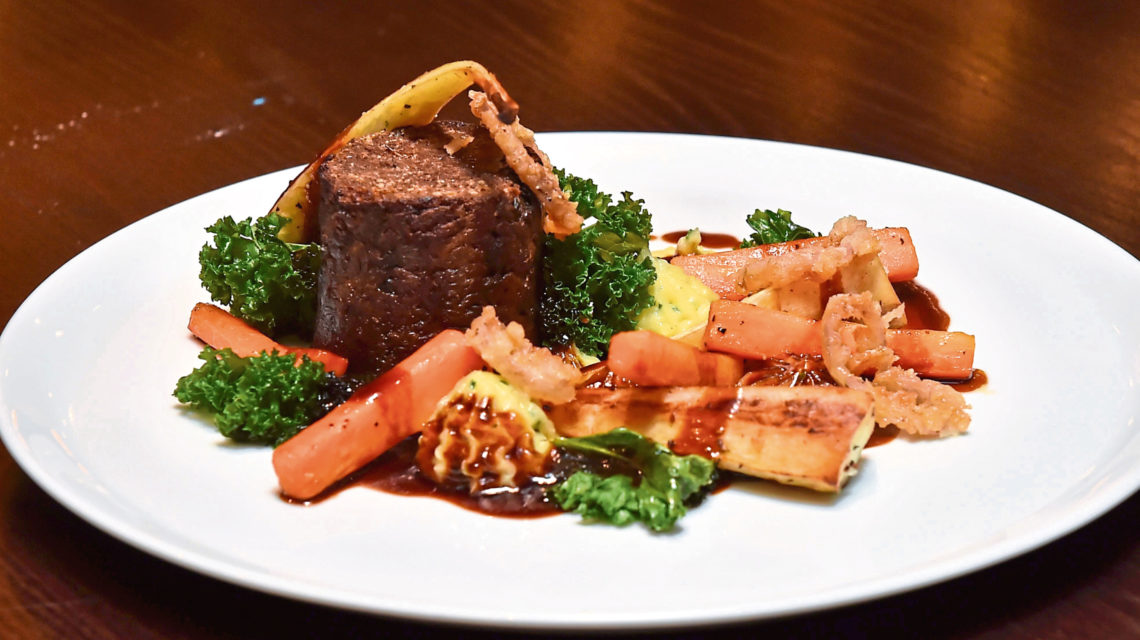 Follow the recipe below to recreate The Esslemont's braised shin of beef with chive and mustard mash, seasonal vegetables and beef gravy.
Ingredients
2kg beef shin
Oil
Salt and pepper
2 carrots, chopped
2 onions, chopped
1 leek, chopped
1 celery, chopped
3 garlic cloves, crushed
4tbs tomato puree
1 bottle red wine
500ml beef stock
Rosemary, thyme
Method
How to make the beef:
Trim excess fat off shin, oil and season all the shin. In an ovenproof pan, sear off the shin to get a golden brown colour, then remove and keep to side.
In the same pan add oil then sweat off all the vegetables until soft but not too coloured, add the red wine and tomato puree, place the shin back in the pan and cover with the beef stock, making sure it's all covered (add more if needed), add the thyme and rosemary and season a little more.
Bring the pan to the boil then pop on lid, place in a pre-heated oven and cook for 4-9 hours or until meat is tender/falls apart when touched.
Carefully pass the liquid through a sieve into another pan and place back on stove and reduce until thick like syrup.
With the shin, use two forks and start pulling it to remove sinew/fat or veg, so you end up with just meat.
Add half the reduced liquid back into shin and mix well.
Pile the shin on to a bit of the cling film into a sausage shape, pull the end piece of cling film over the shin and start rolling the mix tightly until it's a uniform sausage shape.
Tie the ends, repeat this with the rest of the shin.
Chill in fridge then portion into 160g portions, reheat in a preheated oven of 180c for 10-15 min with a little bit of water and a knob of butter placed on each piece of shin to create a crust,
With the rest of the sauce you kept at the start, add some more wine and simmer till it comes together, use this for your sauce.
Serve with your choice of potato or vegetable. Try adding cream and butter finished with chives and wholegrain mustard in your mashed potato.
Honey roast parsnips and carrots are a perfect garnish and some butterd kale.