How to make Mac's Pizzeria's signature pizza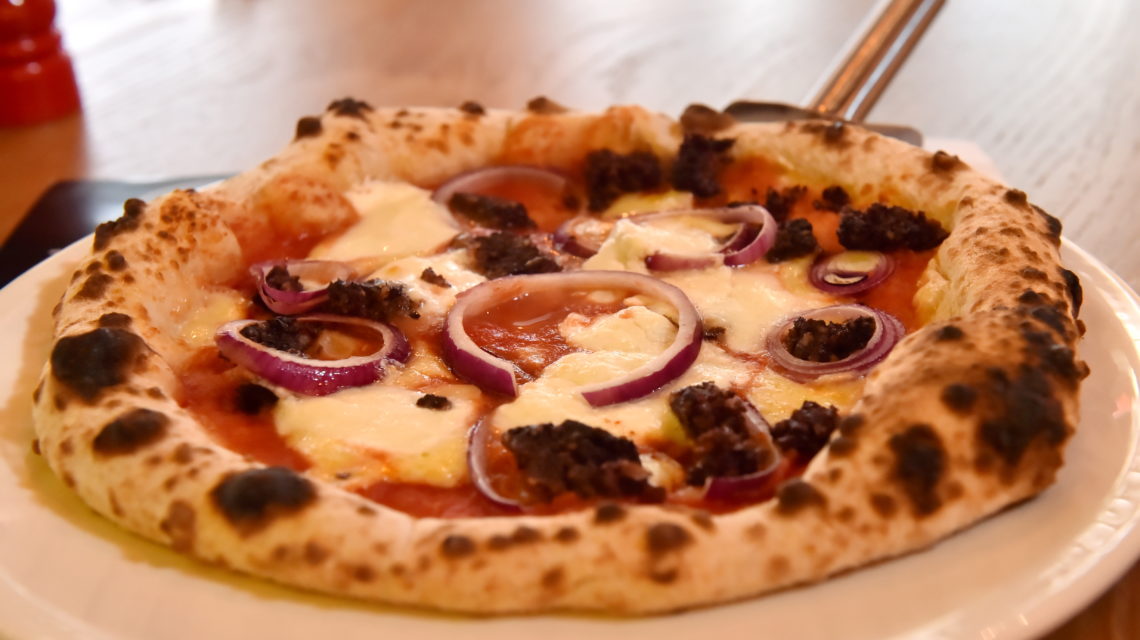 Follow the recipe below to recreate Mac's Pizzeria's signature pizza at home.
Ingredients
For the dough:
875g "00" Neapolitan flour
1.5g fresh yeast
500ml cold water
25g salt
For the pizza:
66g of Strianese
Italian tomato sauce
84g of Mozzarella di Bufala
Campania cheese
47g of diced Scottish cheddar cheese (white)
62g of Blaggis (black pudding and haggis mix) from butcher
34g of red onion
sliced2g of extra virgin olive oil
How to make the dough:
Mix flour with water in a bowl for 10 minutes and leave to sit for 30 minutes.
Add salt and yeast to the mix and continue to mix for up to five minutes until the dough appears smooth and is coming away from the edge of the bowl.
Put it into air tight containers and leave for 24 hours at room temperature.
When you are ready to ball the dough, tip it onto a lightly floured surface before folding up into a tight ball.
Section the dough into around 275g portions before folding each of these inside of themselves and pinching the bottom to create a tight ball.
Leave the dough balls in an air tight container for two to three hours before using or keep in the fridge for two to three days.
If using from fridge, take dough out in advance of cooking until it reaches room temperature.
Method
Once the dough has been proofed for 24 hours, it can be formed into pizza bases.
Working on a well-floured surface and using your fingers, press and stretch a dough ball out to a 10-inch round, working from the centre of the ball toward the edge. Avoid pressing on the outermost edge.
Move the dough round to a lightly floured peel and add the tomato sauce to the middle of the base. Add the rest of the toppings, layering them as you please.
Place the pizza in a pre-heated oven and cook at the highest temperature for 15-20 minutes (between 200 and 250 degrees celcius).