How to make Kingsgate Preserves' Onion Tart and Goat Cheese Salad with Balsamic Fig Dressing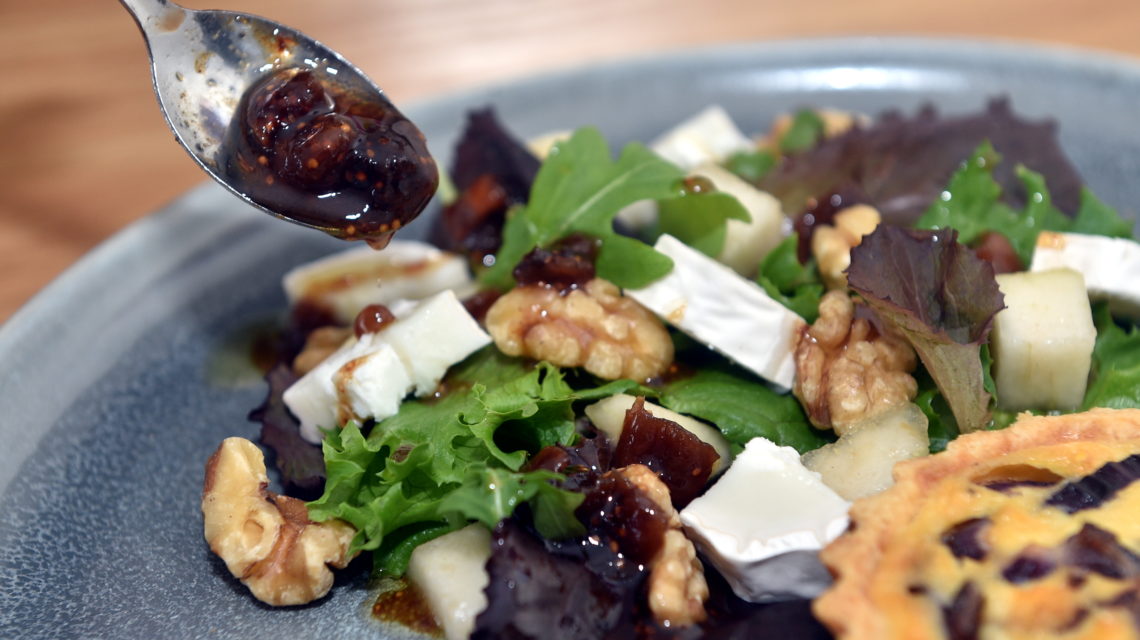 Follow the recipe below to recreate Kingsgate Preserves' onion tart and goat cheese salad with balsamic fig dressing.
Ingredients
For the onion tart:
Shortcrust pastry
3 large red onions
2 tbs of olive oil
1 tbs unsalted butter
2 large eggs and 2 large egg yolks
150ml cream
1 tbs of Dijon mustard
Pinch of salt and pepper
6 individual 10cm tart cases or a 20cm tart case
For the goat cheese salad with Balsamic Fig dressing:
1 large pear, peeled and diced
100g goats cheese, cut into bite sizes
80g bag of salad leaves (in this case Italian leaves)
50g chopped walnuts
6 tbs of extra virgin olive oil
1 tbs of balsamic vinegar
2 tbs of Balsamic Fig preserve
Pinch of salt and pepper
How to make the dressing:
Place the salad leaves, pear and walnuts in a bowl.
Whisk the olive oil, balsamic vinegar and Balsamic Fig preserve with salt and pepper until combined.
Toss the salad and dressing together and top with goat cheese, drizzle a little more dressing on top.
How to make the onion tart:
Grease the tart cases with butter and dust with flour.
Roll the pastry and place in the cases, with a little over-hanging. Cover in film and chill for 30 minutes. 3
Slice the red onions and cook slowly over a low heat for 30-40 minutes until they are soft and caramelised. 4
Place the chilled pastry in the tart cases – lined with a baking paper circle – making sure it comes up the sides and fill the tart with baking beans. 5
Bake blind in a pre-heated oven 200°C/180°C fan for 15 minutes. If using a 20cm tart case bake for 20-25 minutes. Remove the baking beans and paper and bake for another 5-10 minutes.
Remove and leave in the cases to cool then trim the excess pastry and place the tart cases on a baking tray.
Whisk the eggs, egg yolks, cream and mustard with salt and pepper.
Layer the onions into each case; pour over the mixture.
Bake for 15 minutes or 20 to 25 for a 20cm tart case.