How to make Kildrummy Inn's lemon posset dessert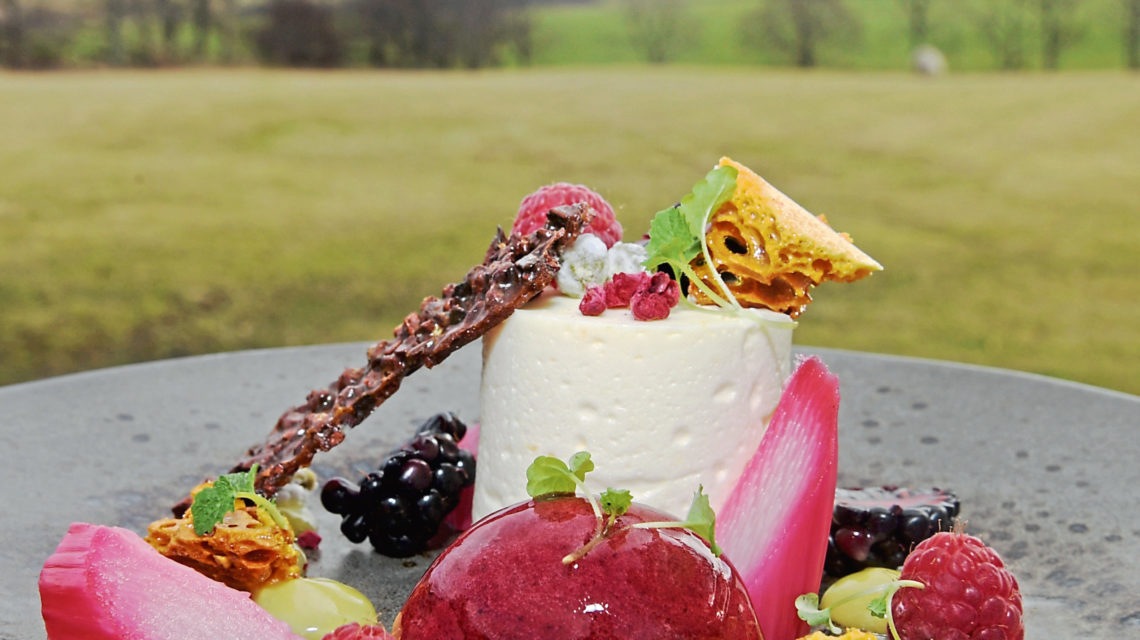 When it comes to looking forward to spring, nothing screams lighter nights and fresh ingredients like a zesty lemon posset. And this version does exactly that.
Created by head chef Alex Hay of Kildrummy Inn with picturesque views of the countryside, this citrus dessert is perfect for those looking to tuck into something refreshing and light.
Find out how to make the gorgeous dessert below.
Ingredients
For the posset:
1 x tin condensed milk
330ml cream
Zest of 2 x lemons
Juice of 3 x lemons
For the poached rhubarb:
1kg of rhubarb
100ml water
100g sugar
1 tbsp liquid glucose
For the cocoa nib tuille:
150g sugar
125g butter
50g liquid glucose
2.5g pectin
10g water
175g cocoa nib
For the crystallised nuts:
100g Pistachio nuts
100g Sugar
60ml Water
Method for posset
Lightly whip the double cream until it is at the soft peak stage. Zest and juice the lemons, place to one sideAdd the condensed milk into the whipped cream and mix for another 20 seconds to combine. Add the lemon to the cream mixture and you will see it start to thicken.
Place in a piping bag and place into lined moulds. Chill for 2 hours.
Method for poached rhubarb
Heat the sugar, water and glucose until dissolved.Cut the rhubarb to the required size and then place in the stock syrup. Poach on a low heat until the rhubarb becomes tender, depending on the size this may take from 3 to 10 minutes. Remove from the heat and chill.
Method for the coca nib tuille:
Mix the sugar and pectin together and boil the glucose, water and butter until it reaches 102C.
Add the sugar and mix well until it comes to the boil
Remove from the heat and add the cocoa nibs
Spread out on a lined baking sheet and bake at 180C for 10 to 12 minutes until it becomes toasted and brittle. Leave to cool and then break into shards ready for plating
Method for crystallised nuts:
Bring the sugar and water to the boil until it reaches 121C celcius. Remove from the heat and add the nuts stirring continuously until the sugar starts to crystallise and turn white. Place to one side to cool down.
To assemble
Remove the posset from the fridge and place on the plate. The ring mould should slip off but if needed use a blow torch to slightly heat the ring. Take a shard of the cocoa nib tuille and place on top of the posset, sprinkle the nuts around the plate. You may wish to garnish with a few berries and a sorbet of your choice.Seared Sea Trout, Langoustine and Salmon Cannelloni, Spiced Bisque Foam