How to make Ferryhill House Hotel's Loin of venison with braised cabbage and a red wine jus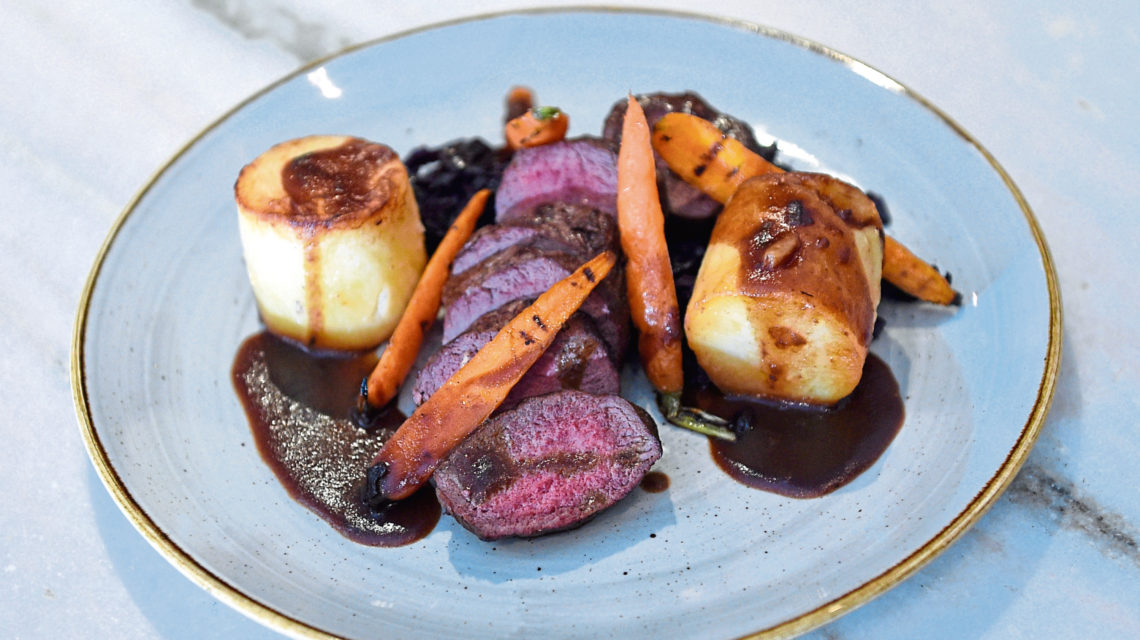 If you're looking to try out something new and replace chicken or beef for something a little more exciting then why not give this venison dish a try.
A lean game, venison is light and is the perfect meat to enjoy, especially during these colder months.
With fondant potatoes, baby carrots, braised cabbage and a rich red wine jus, it could easily replace your Sunday roast.
Ingredients
15 baby carrots
Venison loin
For the braised red cabbage:
1 red cabbage, finely shredded
125ml red wine vinegar
100gm brown sugar
750ml red wine
1 cinnamon stick
3 star anise
2 tablespoons redcurrant jelly
For the fondant potato:
3 large potatoes
Vegetable oil
1 litre chicken stock
2 cloves garlic
Sprig of fresh thyme
Knob of butter
For the jus:
50g diced onion
50g diced carrot
1 clove garlic, minced
200ml red wine
500ml game/beef stock
Method
Prep the venison loin by trimming it into 6oz chunks and seasoning it with salt and pepper.
Add sugar and vinegar to a large pan and bring to a simmer. Reduce this to a thin, syrup consistency. Add the shredded red cabbage and sweat for 15 minutes. Add the redcurrant jelly, brown sugar, cinnamon, star anise and red wine. Cook on a low heat until the cabbage is tender and of a syrupy consistency. Remove the cinnamon and star anise. Season with salt and serve.
Use a turning knife to shape the potatoes into cylinders. Heat some vegetable oil in a pan and sauté the potatoes until golden brown. Add the chicken stock to the pan and bring to the boil. Add garlic, thyme and butter and transfer to the oven. Cook for around 8-10 minutes until soft. This will depend on the size of your potatoes. Check with a thin skewer.
Bring a pan of salted water to the boil. Part boil the baby carrots until al dente and then cool. When assembling the dish, chargrill them and season with salt.
For the jus. Fry the onion, garlic and carrot in vegetable oil until lightly golden. Add the red wine and reduce by two thirds. Add the game stock/beef stock and simmer and reduce by half. Strain and serve.
Place a large frying pan on a high heat and add vegetable oil. Place the venison in the pan and cook for 5 minutes. Turn over the venison. Add the butter, rosemary and garlic. Baste the venison and cook for a further 3 minutes. Remove the venison from the pan and rest for 5 minutes. Times can be adjusted to your preference of cooking.
To assemble the dish, make a bed with the braised cabbage, place the fondant potatoes around the cabbage. Slice the venison and arrange on top of the cabbage. Place the baby carrots and finish with the jus.