How to make Cafe Ahoy's Breaded Mozzarella with a Pineapple Salsa Dressing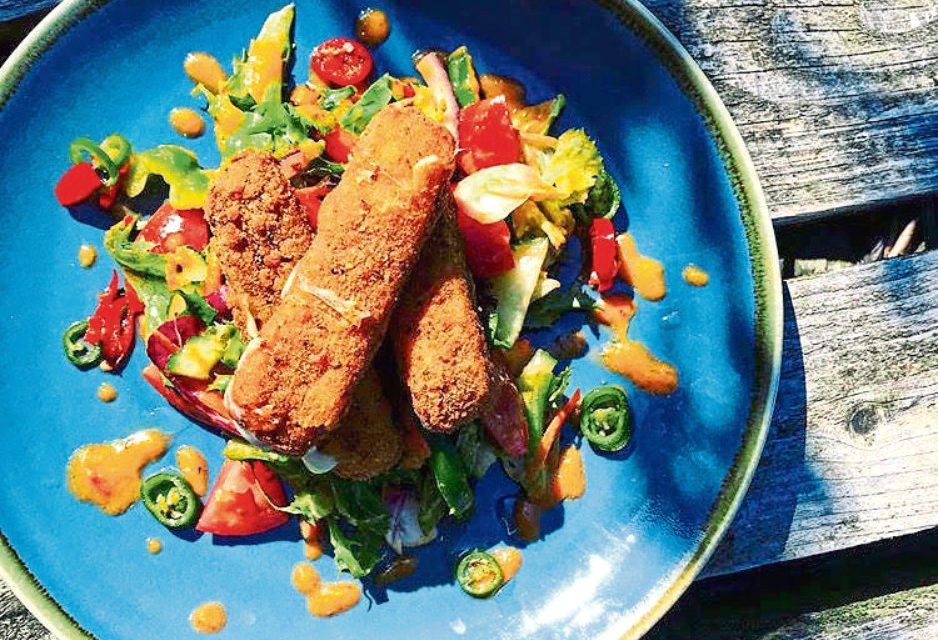 Follow the recipe below to recreate Cafe Ahoy's breaded mozzarella with a pineapple salsa dressing.
Ingredients
400g block mozzarella
50g flour
2 eggs
150g breadcrumbs
2 tsp smoked paprika
2 tsp dried oregano
Vegetable oil
For the garnish:
Red/green chili (slices)
Mixed salad/peppers
50ml lemon juice
1 tsp lemon zest
220g brown sugar
1 tsp garlic paste (or chopped)
1 tsp lemon zest
1 red chili (finely chopped)
1 tsp salt
3 tbsp cornflour
60ml cup water
180g fresh pineapple (diced)
115ml pineapple juice
60ml rice vinegar
How to make pineapple salsa dressing:
Blend pineapple and garlic in a blender to make a coarse mixture. This doesn't need to be smooth, it works better if it is a lumpier puree.
Add the pineapple mixture in a pan along with pineapple juice, vinegar, lemon juice, lemon zest, brown sugar, red chilli and salt.
Bring the mixture to a boil and cook for 5-6 minutes.
Mix cornflour in water and add it to the pan, then cook until the sauce thickens.
Remove the pan from heat and let the sauce cool down. You can store in the refrigerator for up to a week to use for other recipes.
How to make the mozzarella:
Cut the mozzarella into finger-size slices.
Tip the flour into the bowl and season well with salt and pepper. In a second bowl, whisk the eggs.
Combine breadcrumbs, paprika and oregano into a third bowl.
Coat the mozzarella sticks in the flour, then the egg, then the breadcrumbs.
Transfer the mozzarella to a parchment lined tray and freeze for at least two hours.
Heat enough oil to come 2-3cm up the side of a saucepan.
When hot, drop a test stick – it should sizzle straight away and become brown within a minute or two.
Cook long enough to make sure the mozzarella strips are crisp on the outside without the cheese oozing out.
Cook the chips in small batches and drain on kitchen paper.
Serve hot with generous drizzles of pineapple salsa.