James Martin aiming to serve up more tasty dishes at Taste Of Grampian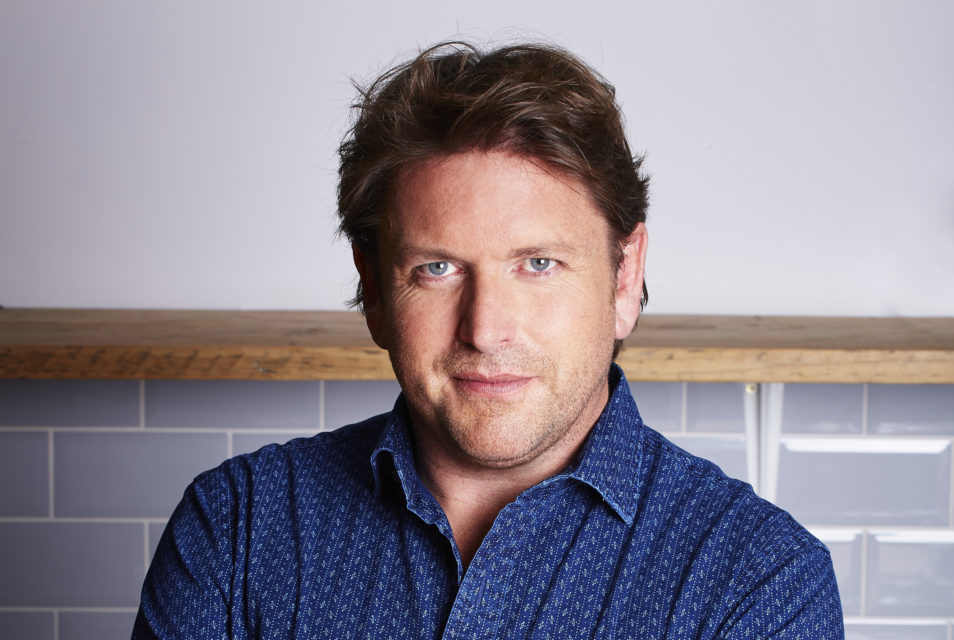 He's wowed crowds at the north-east's largest food and drink festival before, but now he's back for another serving.
That's right, celebrity chef James Martin is set to return to Taste Of Grampian this Saturday with a number of exciting cookery demonstrations.
With his TV series, James Martin's American Adventure, and a recipe book to accompany said adventure under his belt since his last visit to the north-east, James has been incredibly busy.
Last year's Taste Of Grampian event, which is held at Thainstone Centre, saw a turnout of more than 14,000 people. This year, with three cookery demonstrations from James set to draw in lucky ticket holders, the event is set to be a big success once again.
Ahead of his appearance this weekend, Society grabbed a chat with James, who said he is keen to come back to explore the "great produce" on offer right here in the north-east.
---
It's great to know you're coming back to us James, how are you feeling about returning to Taste Of Grampian?
---
I'm feeling fantastic about it all. It's great to be invited back and I'm looking forward to celebrating all of the great produce you guys have in the north-east. I've now been involved for around five years – although there was a bit of a gap – but this is my first consecutive time returning to the festival so I'm looking forward to being back. I was last at the festival a good 10 or 12 years ago before so it's nice to be asked back two years in a row. The producers and everyone involved in the festival really make the event, so it will be good to meet lots of them too.
---
With such a busy schedule yourself, what is it about Taste Of Grampian that draws you back?
---
I've always been a fan of great produce. Obviously with being a farmer's kid when I was growing up supporting the local producers is a must for me. Celebrating them and putting new ideas out there is also really exciting and I'll no doubt bump into some producers I've never met before. I guess the best bit is getting the chance to maybe use some of them and get them involved in the demos and future projects like TV shows – it gives me real inspiration as well as the public. Scotland has one of the best larders in the world and for a chef or a cook, it's the place in my opinion. It's amazing, you're all very lucky!
Supporting great produce has always been the key for me. Scotland has incredible produce – I've talked about it for years! The shellfish is amazing, the beef, the berries and everything else Scotland boasts. It's making people aware more than anything else. As people travel a lot more we look at what's available across the world and sometimes you can forget what's on your doorstep. The north-east truly has such an incredible offering.
---
Tickets for your cookery demonstrations sold out in 40 minutes this year – what can those who were lucky enough to grab a ticket expect?
---
Each demonstration is going to be completely different. Obviously we celebrate the great produce in the north-east like lobster, langoustines, great fish and beef, and we'll have raspberries and strawberries in there too.
We'll be celebrating lots of different foods throughout. It's a selection of everything. We have a rough idea with what we'll be doing for demos, but last year I found this amazing fish stall and so I grabbed a few bits and pieces off it and made something up.
You have an idea in your head, but it's not until you get there that you can finalise everything. It's the best way to do it.
We've obviously got desserts in there, too, and I'm not known for my lack of butter or cream. People like what they like and Scotland is a prime example of that. People in Scotland love their food and I'm not going to tell them otherwise.
I just want to be able to inspire them to cook a few dishes at home.
---
So you're not afraid to wing it a little bit if need be – easy for an expert like yourself! How many dishes might you cook on the day?
---
We've got a bank of about 10 recipes we could use on the day. I usually like cooking in real time – I don't really like that 'here's one I made earlier' carry on, I really try not to do that. Everything we do is trying to show people that they can make these dishes at home. Although I do cook three courses in around 45 minutes, we're not expecting everyone in the audience to be able to do that. We just want to encourage people to do something different. We've got to take into account the equipment and oven space we have too – so there's lots to think about when prepping for these kinds of events. I've just cooked on a barbecue at an event in Nottingham, so it's all about having a rough idea of timings and what will or won't work. I'll hopefully inspire people to pick up a pan and try it out for themselves!
---
Taste Of Grampian aside for a moment, you were in the US filming for your TV series – how was it across the pond?
---
As holidaymakers, you'd usually go to the east or west coast of the US, but if you go to Texas, it is phenomenal. The meat is incredible and unlike anything I've experienced. And if you think you do decent portions in Scotland, you ain't seen anything until you've been to America. The food was fantastic, especially in Texas. I had a great trip and also ended up in New York. The highlight for me would probably be down by San Antonio, the Mexican border, New Orleans, Louisiana – stuff like that. Middle America – Texas right the way down was truly incredible. It honestly was unbelievable. To cook in the swamps of Louisiana, it was mega.
---
You're used to cooking in a TV studio or at home usually, how does cooking on the road compare?
---
I think it gives people the inspiration to cook at home. People realise I'm cooking on two gas hobs on the road. I generally don't have an oven – it's just camping gas stoves. I like that style of cooking, the simplicity and creativity you get from it. You're in the middle of a field and you're cooking away – I quite like that! I've spent so many years in a studio so it's great to get out and experience real live cooking. We do everything in one take on the road and we only cook it once. Mistakes and everything like that are left in – it makes it more real. If there's a fly or wasp pestering you, we keep it in. So often TV cookery can be so clinical and perfect, but it's not really like that at home, on the road cooking is more similar to reality.
---
So cooking on the road was more basic, but you travelled in a Mustang and on a Harley Davidson – that must have been a nice perk of the job?
---
Travelling 2,000 miles on a motorbike in 40 degree heat is not that glamorous to be honest, but it was an experience in itself. Travelling around and getting to visit different places was fantastic. You're constantly looking for new things, you're just looking for different things around every corner.
America is absolutely massive. You don't realise how big it is until you've travelled across it. It's a bit like the UK, you can't tell the Yanks what to do and I quite like that. Their attitude towards business and their go-get-it attitude is great – I like that a lot, we need more of that here.
---
Bringing it back home to the north-east, if you have any spare time during Taste Of Grampian, what will you be getting up to?
---
Well last year I nearly bought a Highland cow calf so God knows what's going to happen this year! I think that's one of the best things about the festival. There's going to be old faces and new faces, including lots of producers I'll have never met before so I'm really looking forward to it. There will be heaps of new foods for people to try which is brilliant. Now is the time for food festivals across the UK, there seems to be one every weekend throughout summer.
Thousands of people descend on food festivals and I think this year the biggest one I'm doing is in Bolton which sees over 450,000 people attend over five days. Those numbers alone tell you exactly why people love food festivals. They are events like no other and it's somewhere everyone can wonder around and enjoy lots of different food. There's no hard sell, it's just a great day! Especially with all the live music mixed in there.
---
Who knows what you might nearly buy this year then! Are you planning on sticking around the north-east after the festival? Or is it straight back on the road?
---
Last year I played Trump International which was amazing. I'm hoping to do it again this year if I have time. I'm flying to Orkney the day after Taste Of Grampian so it's a short few days there. I'll be touring Scotland for three to four days after that. I'm keen to try out as many places as I can when I'm up – they always keep me really busy when I'm visiting. If anyone at the show has any advice please do let me know! I'll also pop in and see my old friend Nick Nairn too. The breweries and distilleries are things I really want to visit too.