How to make Kate's Of Inverurie's Beef Fillet with Textures of Onions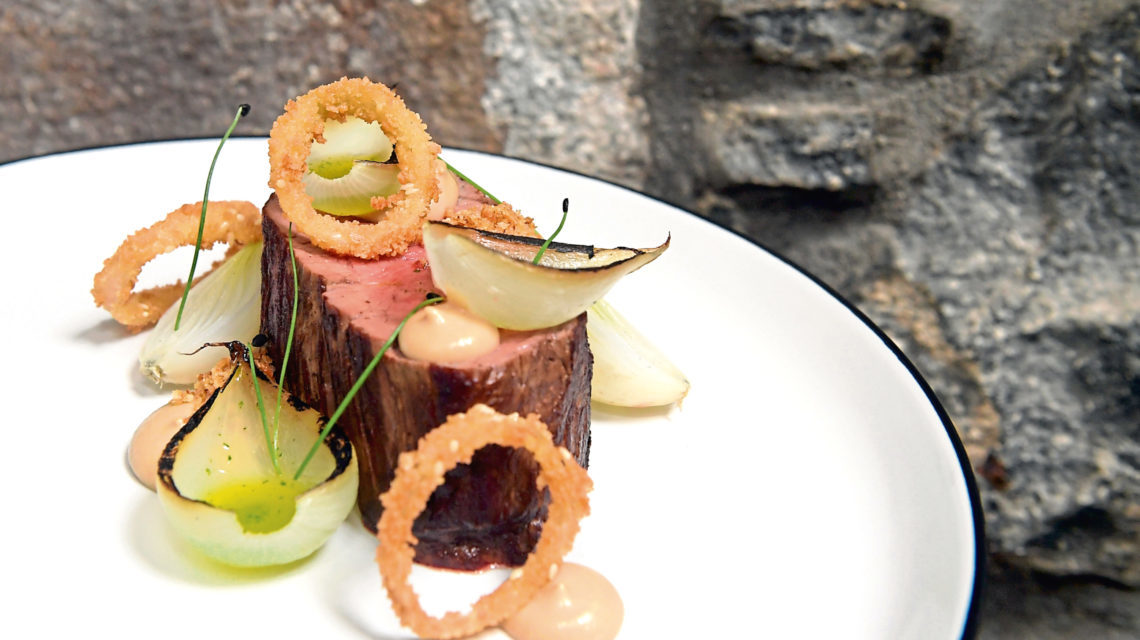 Like what you see? You can make this beef fillet yourself and impress you friends and family if you follow Liam McKenna of Kate's of Inverurie's recipe. Happy cooking!
Ingredients (serves 4)
For the beef:
450g beef fillet (trimmed from butcher)
For the onion cream & onion crumb:
For the scorched onions:
1 small onion
200ml vegetable stock
20g flat leaf parsley
100ml oil
For the onion rings:
1 small onion
1 egg
50g plain flour
50g breadcrumbs
1 spoon sesame seeds
Garlic chives to garnish
Salt for seasoning
Oil for cooking
How to make the beef fillet:
Prepare the onion cream by peeling and thinly slicing all the onions. Heat a pan with a little oil and fry the onions off until brown and caramelised. At this point remove half the onions and place them on a non-stick tray. Add the cream to the remaining onions in the pan, season with salt and bring to the boil. Once they have come to the boil, remove and blend the mix in a blender until smooth and then set aside.
Place the reserved tray of fried onions in a preheated oven at 140C until they have dried out – roughly four hours. Remove from the tray and using a knife, chop into a crumb and set aside.
For the scorched onions, cut the onion in half keeping the skin on and fry the exposed part in a frying pan until almost burnt. Cover in the vegetable stock, season with salt and cook until the onion has softened. Remove from the heat and once cool peel off the skin then remove the individual layers of onion revealing the small torched cups, set aside.
Blend the parsley and oil in a blender, strain the mix through a tea strainer, keeping the smooth oil to fill the onion cups when assembling.
Slice the last remaining onion into thick slices for the onion rings. Using the smaller inner rings, cover in flour then egg and finally the breadcrumbs mixed with sesame seeds. Deep fry in a fryer at 170C until golden brown, season with salt and set aside.
Heat a non-stick pan with a little oil, season the beef with plenty salt and seal off until golden brown. Place the beef in the oven at 180C for about 10-20 minutes depending on the thickness. The best way to test the beef is using a thermometer, once the temperature is 36C the beef is ready to serve medium rare. Remove from oven and rest for at least 10 minutes.
Bring all of the components together. Slice the beef into four equal pieces and assemble on the plate with spoonfuls of the onion cream, the onion crumb, the scorched onions half filled with herb oil, sesame coated onion rings and finally some garlic chives.
Read other food features and recipes here.