How to recreate Cafe Harmony's Panzerotto Meaty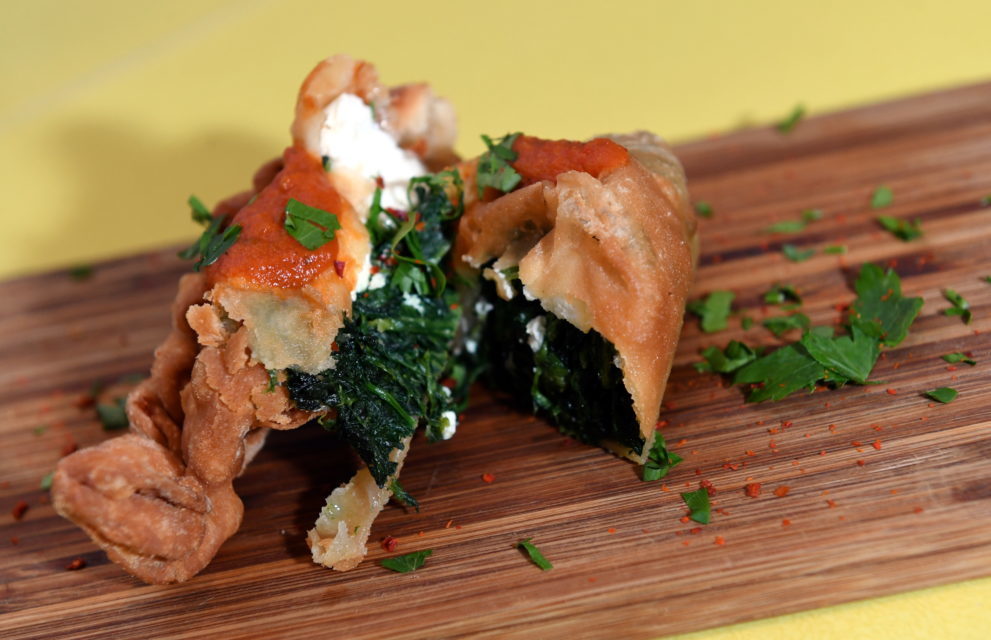 Panzerotto Meaty
3 ¼ cups of plain flour
2tbsp plus 1 tsp sugar
4tsp salt
3tbsp vegetable oil, plus more for greasing and frying
3tbsp olive oil
2 garlic cloves (peeled)
3 medium fresh tomatoes (cored and roughly chopped)
Salt and freshly ground black pepper
450g fresh mozzarella, finely chopped (or ricotta)
400g of minced beef
1tbsp basil
Make the dough: In a large bowl, mix the flour with the sugar and salt. Make a well in the centre of the flour and pour in the oil and 1 cup of water. Stir with a wooden spoon until the dough comes together, and then cover with a kitchen towel. Let the dough stand at room temperature for 2 hours.
Divide the dough into 12 pieces and then shape each piece into a ball. Work the dough until it becomes a thin disk of circular shape.
Meanwhile, make the Bolognese sauce. In a pot, heat the oil over a medium heat. Add the garlic gloves and cook, stirring until golden (about 2 minutes). Add the minced beef and cook until brown, add tomatoes and cook, stirring, until broken down into a sauce. This will take about 30 minutes. Remove the garlic cloves from the sauce, and then season with salt and pepper and stir in the basil.
Place 1 tablespoon of the Bolognase sauce on one half of each disc. Top with 2 tablespoons of the mozzarella or ricotta cheese. Fold the dough over the filling and press down with your thumb to seal it (half a moon shape).
Pour enough oil to come 1 inch up the side of a deep 10-inch skillet and attach a deep-fry thermometer to the side of the pan.
Working with one panzerotti at a time, add to the oil and fry, turning once, until golden brown on both sides. It will take about 4 to 5 minutes to cook.
Using a slotted spoon, remove each panzerotti from the oil and transfer to paper towels to drain.
Repeat with the remaining panzerotti and serve while hot.
Recipe © Franco Campo, head chef at Cafe Harmony
A great appetiser that's quick to make, panzerotto is a popular dish in Italy and a top-pick for diners at Cafe Harmony.
Featuring mixed meats and mozzarella, this delicious recipe makes the perfect starter for any dinner party. Want to make it vegetarian? Swap in the meat for spinach and add in a little ricotta for some extra flavour.