How to recreate Cafe Harmony's Misto di Pesce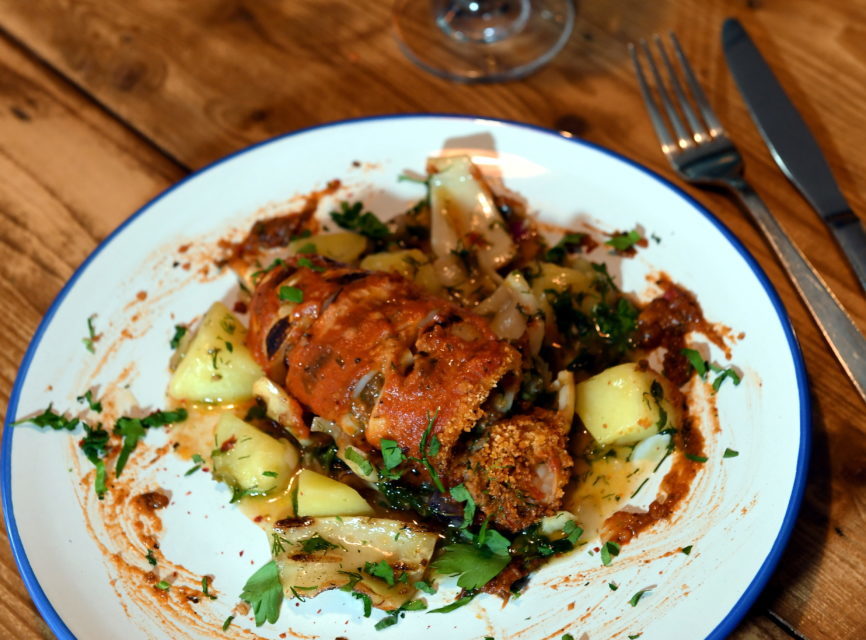 Misto di Pesce
3 monkfish cheeks
5 king prawns
1 squid tube
Olive oil
Salt & Pepper
Roasted vegetables (as much as you want)
A few garlic cloves, crushed
Couscous (as much as you want)
2 litres of tomato sauce
In a pot, heat the oil over medium heat.
Add the garlic and cook, stirring, until golden for about 2 minutes. Pour in the tomato sauce and cook at low heat for 40 minutes.
Once the sauce is ready, add previously roasted vegetables to the tomato sauce and blend it all together. Now is the time to check the flavour, adjusting if needed with salt and pepper (the vegetables will have been seasoned when roasted).
Cook the monkfish cheek for a few minutes with a hint of butter and white wine in a large pan. Once the squid tube has been cleaned, remove one inch from one side creating a pouch out of the squid.
Cook the prawns for 5 - 8 minutes with salt and pepper. Once ready, add them to the tomato sauce. Do the same with the monkfish.
Put the squid in flour and then deep-fry it until it is golden brown and rises to the top of the oil.
Place the squid in the middle of the dish and fill it with the couscous. Place the monkfish and the king prawns around the squid.
Plate and serve hot.
Recipe © Franco Campo, head chef at Cafe Harmony
A firm favourite on the menu the Misto di Pesce dish at Cafe Harmony shows that even the Italian's can do fried food exceptionally well.
Recreate this delicious dish which incorporates squid, monkfish and King prawns.