How to make The Silver Darling's Seared Shetland scallops starter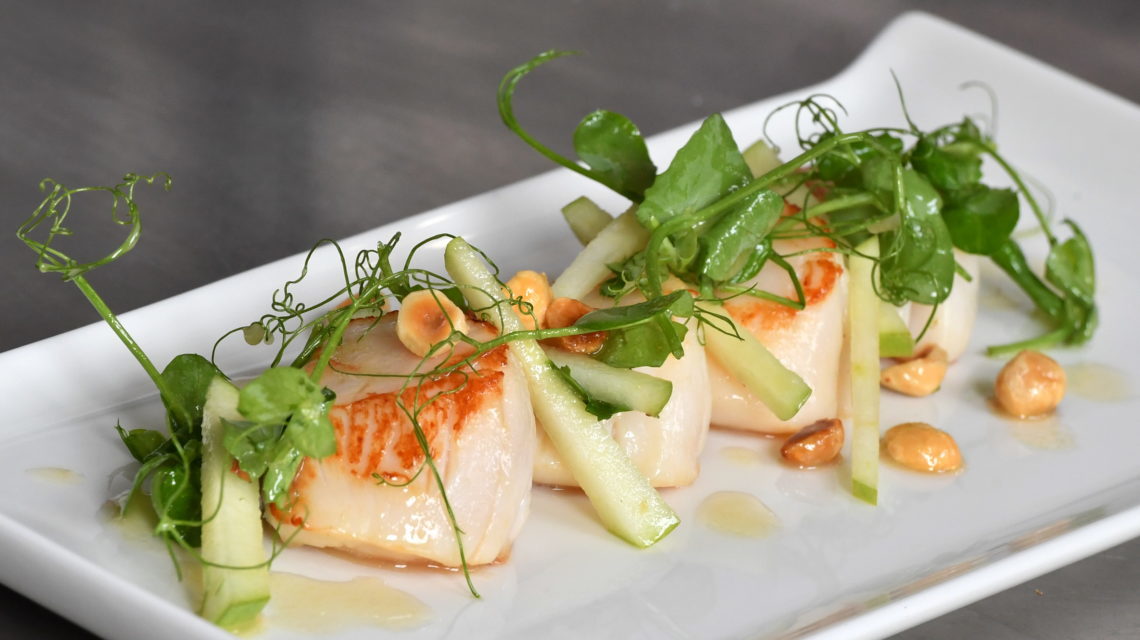 Fancy trying your hand at The Silver Darling's seared Shetland scallops dish? Well now you can with this handy recipe.
Ingredients:
16 medium scallops
50g pea shoots (washed)
1 Granny Smith apple
1 lemon (juiced)
85g roasted hazelnuts
60g olive oil
10g sherry vinegar
Method:
First slice the apple, discarding the core, and chop into strips. Mix with half of the lemon juice and leave to pickle for at least an hour.
Blitz the hazelnuts in a food processor until finely chopped but not too powdery, or chop by hand.
Mix with the oil, the other half of the lemon juice and the vinegar and season.
When ready to cook, place a large non-stick frying pan on a medium to high heat for a couple of minutes, mix the scallops with some vegetable oil and season well.
Place scallops flat side down into the pan and sear until lightly caramelised (about 1 and a half to 2 minutes) turn over the scallops and lower the heat slightly and cook for the same length of time on the other side.
Remove from the pan onto a piece of decent kitchen roll or a cloth to absorb the oil.
Add four scallops to each plate and top with the apples, pea shoots and vinaigrette.