How to make The Silver Darling's grilled lobster with garlic and parsley butter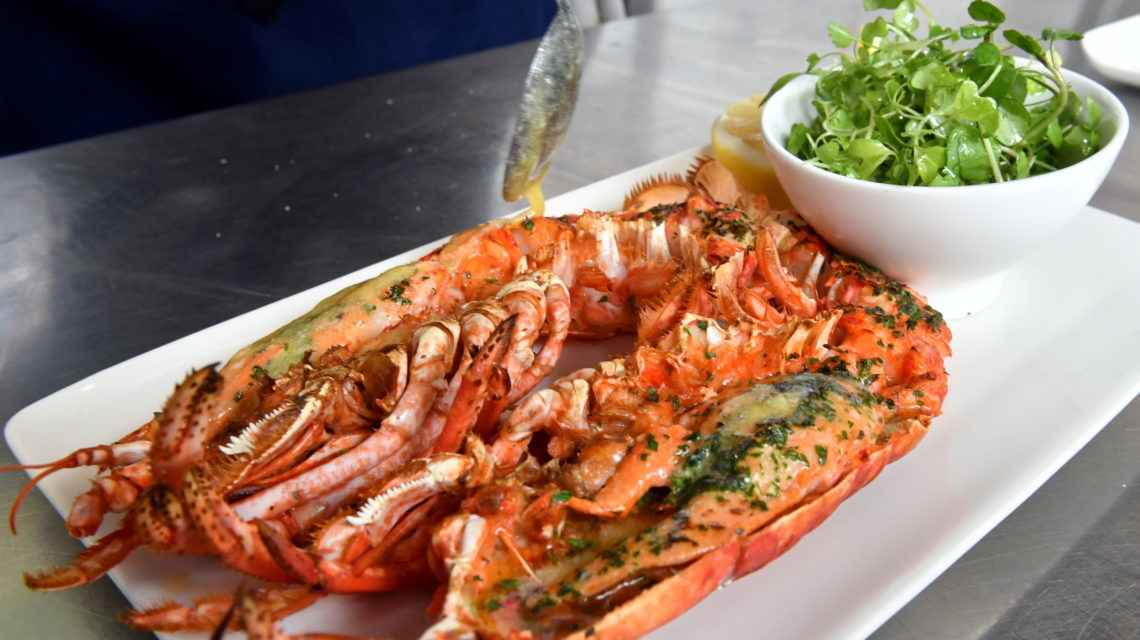 Lobster is luxury, but with this recipe from The Silver Darling you could make your own mouth watering seafood dish. Served with garlic and parsley butter,  you will seriously impress with this meal. Why not give it a go?
Ingredients:
1 500-750g lobster
2 bay leaves
Sprig of thyme
5g black peppercorns
1 bulb garlic (peeled)
125g unsalted butter
15g parsley (chopped)
1 lemon
30g Dijon mustard
30g sherry vinegar
90g groundnut oil
Mixed micro salad leaves
Method:
First put the lobster in the freezer for an hour. Put the peeled garlic, zest and juice of the lemon into a small sauce pan and melt together over a very low heat until the garlic is cooked.
Blitz with a blender and set aside somewhere warm so the butter doesn't set.
Next make the dressing for the salad. Whisk the vinegar with a pinch of salt until dissolved, then whisk in mustard. Slowly drizzle in the oil until emulsified and set aside.
Place a large pan of water on to boil with the bay leaves, thyme and peppercorns.
When at a rolling boil plunge the lobster into the water allowing 4 minutes cooking time for every 500g. Remove from the water and place into a sink of very cold (preferably iced) water to stop the lobster cooking.
Leave to cool completely. When cold place the lobster onto a chopping board, remove the claws and separate them into three pieces. Using a sharp knife cut down into the head of the lobster through the middle. Repeat with the tail while keeping the head and tail attached, which will give you two halves.
Scoop out the stomach sack from the front of the lobster and discard.
Using the handle of a spoon, scoop out the two smaller pieces of lobster from the parts that were joined to the claws and place in the head cavity.
Using the back of a knife smash the remaining pieces of the claws to release the meat and again place in the head cavity.
Preheat your grill and put the prepared lobster onto a baking tray and cover the flesh with the garlic butter and chopped parsley. Be careful not to grill the lobster too much as you just want to warm it, not cook it any more.
Dress the salad with the vinaigrette and serve.