How to make Pittodrie House's John Ross Jr smoked haddock, smoked eel, shrimp and pea risotto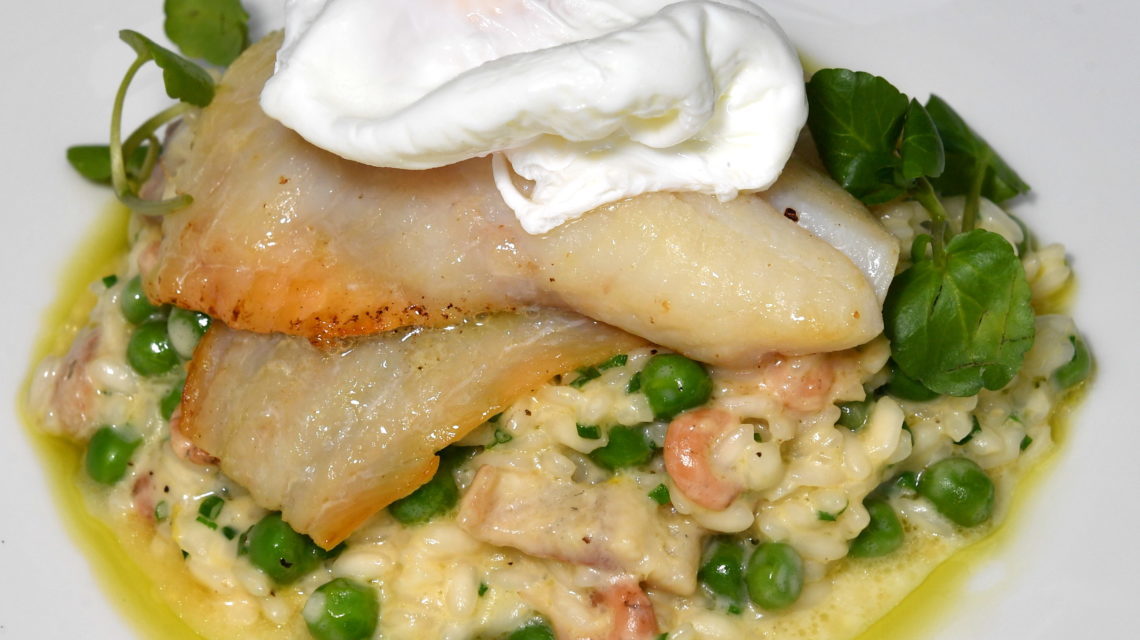 Ingredients:
340g smoked haddock
40g unsalted butter
40g diced shallot
150g Arborio rice
20ml olive oil
800ml fish or vegetable stock
40g smoked eel
40g brown shrimp
60g peas
20g chopped chives
2 lemons
100ml double cream
2 hen's eggs
100ml white wine
Salt & pepper
Dash of white wine vinegar
Method:
For the risotto:
Heat a heavy bottomed pan on the stove.
Add the olive oil. Add Arborio rice and shallots stirring to ensure it doesn't colour.
Add the white wine. Once the wine has evaporated, add the fish stock again stirring continually for around 10 to 12 minutes until the rice is almost cooked then add the shrimp, eel, peas and double cream.
At the end add a squeeze of lemon juice and chopped chives, season to taste.
For the rest of the dish:
Place the smoked haddock on a tray. Dice the butter and place it over the haddock and grill for around 7 minutes or until flaky in texture.
To poach the egg, boil a small pan of seasoned water, crack in the hen's egg and simmer for around 3 minutes.  Remove from the water.
To serve, place the risotto in a large bowl, place the smoked haddock on top of the risotto and top the haddock with the soft-poached hen's egg.